Maria Isabel Lopez tells her side of the story after her red-carpet appearance at the 69th Cannes Film Festival in France gained more attention on the Internet than director Brillante Mendoza and lead star Jaclyn Jose.
Isabel was in the entourage of Director Brillante in Cannes, together with Jaclyn and Andi Eigenmann, for their film Ma' Rosa, which gave Jaclyn her Best Actress trophy at the filmfest.
Read: Jaclyn Jose wins Best Actress at Cannes for Ma' Rosa
In the article she wrote explaining the incident "Cannes is lovelier the second time around!" that was posted on glitter.ph this Saturday, May 21, Isabel apologized to Direk Brillante and Jaclyn for unintentionally stealing the scene at the film festival.
It turned out the red carpet incident has engendered memes and humorous hashtags that are currently going viral.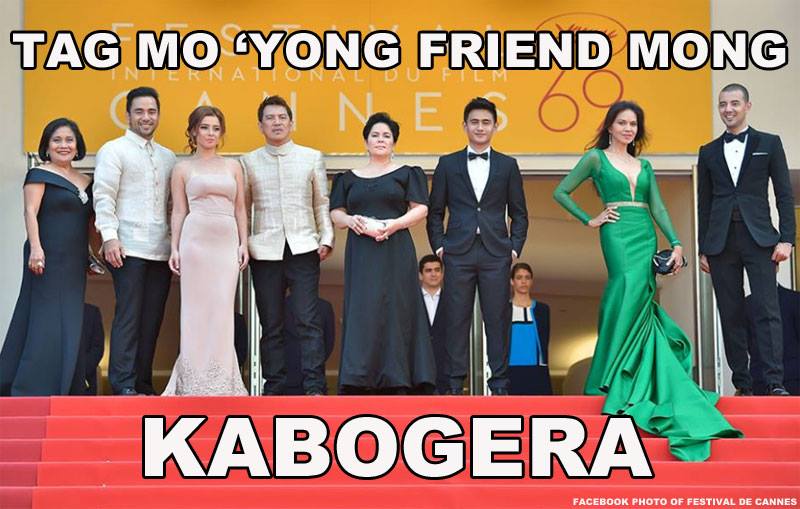 Read: Maria Isabel Lopez steals the show at Cannes red carpet
The actress wrote: "I'd like to take this opportunity to apologize to my director Brillante Mendoza and the lead actress Jaclyn Jose that there was no intention on my part to be a scene stealer and take the spotlight away from them. It was just being me."
Donning an emerald dress designed by Albert Andrada at the red carpet, Isabel gained attention for her conspicuous poses during the group photos, which showed noticeable "space gap" from her companions.
She explained that when their group returned to the hotel after the red carpet, she was informed that she was all over social media.
"Then, Jaclyn Jose with Ruby Ruiz and I went to Brillante's room at Hotel Gray D'Albion. Actor Jomari Angeles said, 'You're on Instagram in @redcarpet_fashion award and I was pleased because at least we were noticed.'"
Isabel mentioned that she then received a lot of text messages and private messages on her Facebook.
Links on her wall were also posted that included memes and hashtags like #BeLikeMaria.
The former beauty queen admitted that her social media accounts have accumulated a huge following for the first time.
"I was viral and trending. This is overwhelming! And I'm humbled by this experience."
Isabel wrote that she was overwhelmed, even by the criticisms and thanked everyone.
MARIA ISABEL EXPLAINED THE SCENES
In the article, Isabel explained that upon arriving at the red carpet, she was very cautious not to steal the spotlight from Direk Brillante and Jaclyn, who was the star of the movie.
She added that this was her second time in Cannes, since she also attended the 62nd Cannes Film Festival in 2009 for the film Kinatay, also directed by Brillante.
At the controversial group photo during the red carpet, the actress justified that the trail of her gown was being stepped upon and she constantly needed to push the trail towards her.
"That's the reason for the 'space' that I created between me and the rest of the actors. As they say inside the Paris metro, 'Please mind the gap.' My gown was being stepped upon and if you can only see how dirty it is on the tail."
Isabel clarified that she wasn't making a scene.
"I was simply protecting myself from falling down and from making the gown dirty."
She added that her walk, her smile, her projection and wave were exactly similar to her actions in 2009 at the same film festival.
MARIA ISABEL: "I SPEAK MY MIND."
In the same article, Isabel also wrote about an incident involving her boyfriend who was with her at the festival.
She related how she yelled at a security guard whom she saw pulling her boyfriend away from the red carpet.
"In my green flowing down with all its elegance and my queenly aura - in my typical palengkera way, 'Hey, you! He's my boyfriend and he is coming with us! Let him in and let him go through the gates."
According to Isabel, another member of their entourage had taken her to task for her behavior.
But she said, "At this point in my life and with what I have been through, I will speak my mind and act what I feel. I don't need anyone's approval because I already love and approve of myself."
She added that her significant other has been very supportive of her and accompanied her to the event in Cannes.
"Events, they come and go! But at the end of the day, it's still me with him and my God."