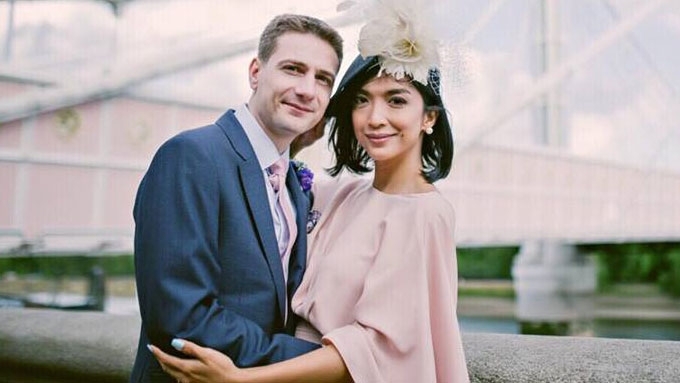 IMAGE lucabella.co.uk
---
Former stand-up comedian and impersonator Ate Glow opened up to PEP.ph (Philippine Entertainment Portal) about her married life, transwoman Angelina Mead King, and sexuality.
Ate Glow who was previously known as Rene Boy Facunla and now goes by the name Renee Hampshire.
It can be recalled that Renee became a hot topic in the Philippines when photos of her London wedding with her British boyfriend circulated online.
Read: Comedian Ate Glow marries British boyfriend in UK
PEP was able to talk to Renee via social media messenger this Thursday afternoon, July 14.
For those who do not know, Renee made a name for herself in local showbiz in early 2000 when she became an impersonator of former President Gloria Macapagal-Arroyo, using the screen name Ate Glow.
Currently, Renee is based in London and just got hitched.
"Talagang super busy ko po kasi rito, naglipat kasi kami ng bahay.
"Then, nag-aayos ng mga papers. Nag-change na kasi ako ng status dito sa London," she revealed to PEP.
One of Renee's last TV appearances in the Philippines was when she was featured in Kapuso Mo, Jessica Soho last year.
"I had some TV guestings pa [last year], pero I tried to limit.
"Mas careful na 'ko since it would reflect not just to me, but also my partner.
"Hindi naman sanay ang asawa ko sa mga publicity and showbiz news."
ON ANGELINA MEAD KING. Some of the questions that Renee entertained from PEP were those about Angelina Mead King, previously known as Ian King and husband of model-host Joey Mead.
Incidentally, Renee's London wedding came out about the same time Angelina admitted to the public that she is a trans woman.
Read: Joey Mead's husband Ian King is now a trans woman
Though Angelina said that she is a trans woman, she keeps her marriage to model-host Joey Mead intact.
ADVERTISEMENT - CONTINUE READING BELOW
Just like Angelina, Renee identifies herself as a trans woman.
Renee said about Angelina and Joey, "I don't know them personally.
"So, yung situation nila, it only proves that love knows no gender.
"Hindi naiintindihan ng ibang mga tao na yung situation ni Ian [Angelina], e, mahirap.
"Coming out is a personal battle."
She added, "May mga closet gay nga na hanggang sa kamatayan, e, hindi aamin.
"So, yung kay Ian [Angelina], she must have experienced a lot of struggles.
"Iba ang sitwasyon ng mga transgender women. It's a long road to finding one's self."
FINDING HERSELF. Renee also said, "Like in my situation, I didn't identify myself as a transgender woman before, mainly because I didn't know about it.
"Sa Pinas kasi, e, it's either you're a boy, girl, bakla, or tomboy.
"So, growing up, I thought that I was gay; although deep in my heart, I felt that I was a woman."
But her understanding about sexuality broadened when she attended college.
Renee graduated from the University of the Philippines Diliman.
She said, "I was exposed to more 'labels' and 'terms.'
"That's when I started to learn about transgender/transsexual.
"So, going back to Ian King's situation, e, she had to 'correct' herself so she can identify herself as a woman."
PEP pointed out to Renee that while Angelina is a trans woman, she maintains a happy marriage to wife Joey Mead.
She replied, "Puwede pa rin na woman ang partner. Male-to-female transition.
"She has to correct herself, tapos after nung transition na yun—either pre-op (hormone replacement therapy or HRT) or post-op, kahit woman na yung isang transgender, puwede siyang maging lesbian."
This explains Angelina's situation that while she is a trans woman, she is still attracted to women.
Unlike in the case of Renee, she explained, "I am a straight transgender woman.
ADVERTISEMENT - CONTINUE READING BELOW
"Kasi my partner is a guy and he sees me as a woman.
"So, actually, diyan na merong controversy. Kaya nga dini-debunk ng karamihan.
"Kasi if we seek for terms and labels, e, complicated talaga.
"Kumbaga sa isang chart, like an umbrella, e, maraming mga sanga tapos marami pang sub-terms.
"Sexuality is fluid."
But Renee stressed that love transcends the physical or one's sexuality.
"Kaya nga sabi, pag nagmamahal ka, e, nagmamahal ka.
"Walang kasarian yun.
"Minamahal mo yung isang tao hindi dahil sa kanyang kasarian, kundi sa kanyang pagkatao."