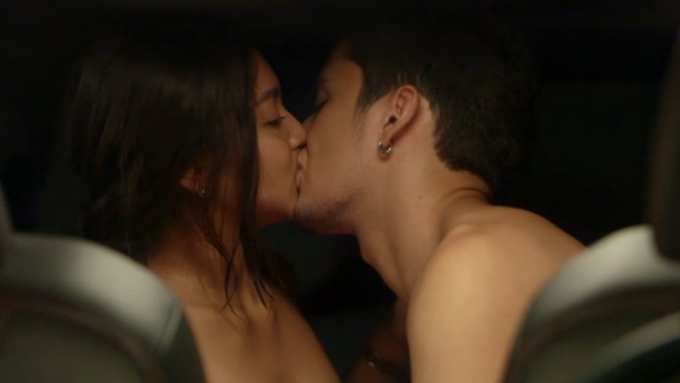 IMAGE Screengrab from Till I Met You
---
Movie and Television Review and Classification Board (MTRCB) Chairman Toto Villareal denied the "selective censorship" allegation in the the regulatory board's upcoming meeting with the top executives of ABS-CBN primetime series Till I Met You.
Addressing the issue, Atty. Villareal said, "First of all, there's no more censorship.
"Ang censorship, we won't even review you, we'll just ban you. That's no more.
"We ask our friends from the media to help explain that.
"We just classify.
"And it's also a matter of informing the public, especially parents, how they will be able to determine the type of entertainment their children will see."
This is in relation to the teleserye's October 25 episode that showcased a love scene of James Reid and Nadine Lustre inside a car.
Read: MTRCB summons Till I Met You heads over James Reid-Nadine Lustre love scene
ADVERTISEMENT - CONTINUE READING BELOW
As it happened, some avid JaDine fans expressed their protest by tweeting "no to selective censorship" via Twitter.




ADVERTISEMENT - CONTINUE READING BELOW
In an interview with PEP.ph (Philippine Entertainment Portal), Atty. Villareal explained that MTRCB's role is not to "play a policeman" but to help empower TV programs, as in the case of Till I Met You.
He added, "For the conference next, we see it as more of a dialogue.
"Notwithstanding the fact that we have received through email, social media, [and by] monitoring conventional media certain reactions to several scenes."
TILL I MET YOU'S SELF-REGULATION. The MTRCB chair also pointed out that the regulatory board "appreciated" the show's initiative to self-regulate by putting up an SPG (Strictly Parental Guidance) advisory on its October 25 episode.
"Because our records show, in fairness to TIMY [Till I Met You], for the so-called car episode, they previously wrote the MTRCB, advising us that for that particular episode, that they will impose an SPG advisory with indicators for theme and for sex.
ADVERTISEMENT - CONTINUE READING BELOW
"So, in that regard, that is on our record, that's appreciated.
"The purpose of that is not so much as to get our permission but to keep us in the loop."
Atty. Villareal also acknowledged the fact that Till I Met You's controversial car scene was aired within the prescribed timeslot for shows with more mature themes.
"The scene appeared after 9 P.M.
"According to the National Council for Children's Television, a separate government agency, their rules have prescribed that the safe harbor for children shall be from 6 A.M. to 9 P.M."
COMPLAINTS. Nevertheless, Atty. Villareal stressed the need for a dialogue so that Till I Met You can also "present its side" with regard to the complaints against the show's October 25 episode, as well as another episode that allegedly contained "sexually-charged bath-related scene."
He said, "Matter of factly, we mentioned [in our letter to Till I Met You execs] that in that particular episode, there are those who have written us without making any pre-judgment on our part, vis-a-vis the program, we said that there are those who are a bit affected by the scene, saying that it may be unfit for TV…
ADVERTISEMENT - CONTINUE READING BELOW
"Meron ding feedback, when eventually the protagonist got married, there was also the bathtub scene.
"And then dialogue about also allegedly disassociating sex with the institution of marriage.
"It's very healthy na mapag-usapan."
As for some netizens' claim that other TV programs supposedly contain more sensitive content than Till I Met You's October 25 episode, Atty. Villareal stressed that MTRCB is open to feedback from viewers.
"We have a monitoring and inspection unit.
"If they have complaints with certain shows, why they don't also write us? Why don't they send an email?
"And then we can also invite us to their conference."
Atty. Villareal also said that MTRCB has a separate ad hoc committee which will be in-charge of facilitating the conference on November 10.
He added, "Whenever the MTRCB releases an invitation for a conference, it is further not only to its regulatory function, but also developmental.
ADVERTISEMENT - CONTINUE READING BELOW
"Because, it is important for us to always get the side of the program, because any program is a stakeholder in this industry. We value its word on the matter.
"At the same time, we would want always to be that healthy bridge between the audience and the program — and sometimes its forgotten — from the program to the audience."