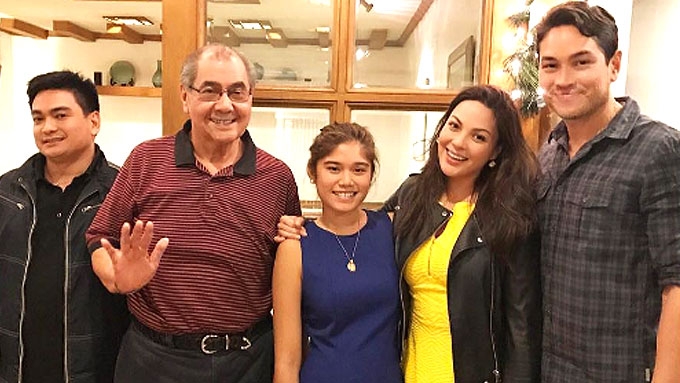 IMAGE @itskcconcepcion Instagram
---
For the first time, KC Concepcion posted a photo of her bonding time with rumored boyfriend Aly Borromeo's family.
In her Instagram post yesterday, December 26, KC happily shared that she had a great time spending Christmas dinner with the Borromeos.
Included in the photo were Aly's dad Pocholo, sister Annie, and another unnamed family member of the football player.
"Thank you for inviting me to your Christmas din din, Borromeos! Korean food & our own Italian wine ftw HAPPY HOLIDAYS loves!!! #KCChristmasChronicles"
SHARON'S MESSAGE TO ALY'S DAD. In the comments thread of the same post, Aly's younger sister posted a short but sweet message to KC:

KC's mom Sharon Cuneta saw Annie's post and expressed her gratitude to the Borromeos for treating her daughter like family.
Sharon wrote back to Annie: "We love Aly as much as you love KC. Thank you for embracing her and loving her.
"Glad your Christmas was Merry! Here's to a wonderful 2017! God bless you all."
The Megastar also hinted that the respective families of the celebrity couple approve of their newfound relationship.
Speaking to KC, Sharon added, "Tina please send to your Tito Pocholo. :) love you."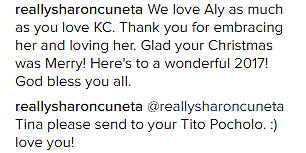 To date, KC and Aly have yet to confirm that they're officially in a relationship. But the two have been openly sharing photos of their out-of-the-country trips since mid-2016.
KC has also previously brought Aly to several intimate gatherings of her family.