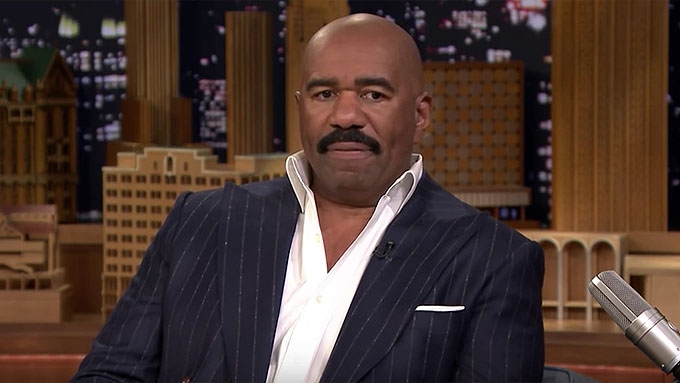 IMAGE Screengrab from The Tonight Show starring Jimmy Fallon
---
Steve Harvey commiserated with Warren Beatty after the veteran Hollywood actor-director and co-presenter Faye Dunaway mistakenly announced the wrong winner for Best Picture at the Oscars 2017 awards night last Sunday, February 26 (US time).
The Bonnie and Clyde stars announced La La Land as the winner, but it was actually Moonlight which won the Best Picture trophy.
Read: OMG! Wrong Best Picture winner is announced in Oscars 2017
It was dubbed as the "Steve Harvey moment," referring to Steve's faux pas when he incorrectly announced Miss Colombia instead of Miss Philippines as the Miss Universe 2015 winner.
Steve took to Twitter and his morning radio show to tell Warren the best way to handle the Oscars gaffe that has since turned into funny memes on social media.
"Yeah, I know all about this. I know more than anyone else in this world about this. I am the creator of these moments," the comedian-TVhost lightly remarked.
While he had made up for his mistake by hosting the Miss Universe 2016 pageant right here in the Philippines, Steve said that he remembered the so-called Steve-Harvey moment "like it happened yesterday."
Steve elaborated, "Warren, I know your pain.
"I can help Warren Beatty get through this. I will show him how to handle it with dignity and grace."
Steve also commended Warren for addressing his error before leaving the Oscars stage.
"At least the producers of the Oscars on that show stood with him…
"They corrected their mistake that night, at that moment. Unlike in my situation, nearly four minutes went by."
ADVERTISEMENT - CONTINUE READING BELOW
The comedian added, "Call me, Warren baby. Me and Warren are gonna take photos together!"
Previous reports mentioned that it was the first time in 89 years of the Oscars that there had been a mix-up in the announcement of the Best Picture winner.
Steve, for his part, made light of the whole thing by joking that he's now "free" from his reputation as the host who announced the wrong winner at an internationally-recognized event.
He quipped, "I'd like to say, in the words of Martin Luther King, free at last! Free at last! Thank God almighty, I'm free at last!"