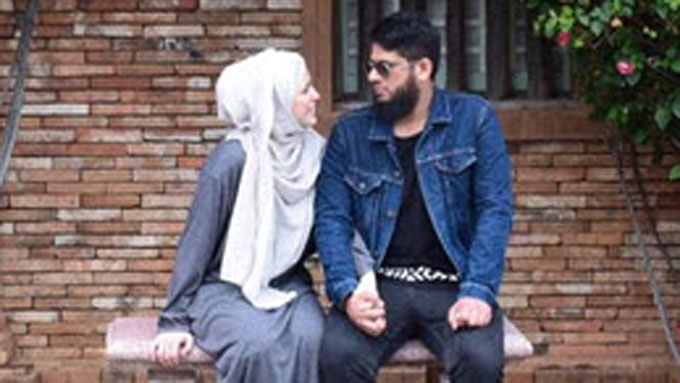 IMAGE @queeniepadillarevert Instagram
---
Queenie Padilla hit back at bashers who made discriminatory comments against her Pakistani husband, Usama Mir.
In her Instagram post yesterday, March 9, the former actress wrote that some bashers criticized her husband for being a Muslim.

Queenie furiously wrote, "Many people can say a lot of hate about me, I wouldn't care but when it comes to my husband...
"Seriously. You guys need to get a life!
"Calling my husband names just explains how 'narrow minded' and 'uneducated' you guys are!
"Suicide bombers are not not muslims!
"It goes AGAINST the very teachings of Islam, if however a muslim does commit these crimes THEY HAVE WRONGED THEMSELVES AND HAVE COMMITTED A GRAVE SIN."
Queenie also called out bashers who made uncalled-for "body-odour comments" against her Pakistani husband.
"About the body odour comments... Any HUMAN BEING who doesn't take regular showers will stink! No matter what race you are!
"You know what's smellier than body odour? Your (haters) ugly, disgusting personalities! May Allah give you guys hidayah ameennn (end rant)."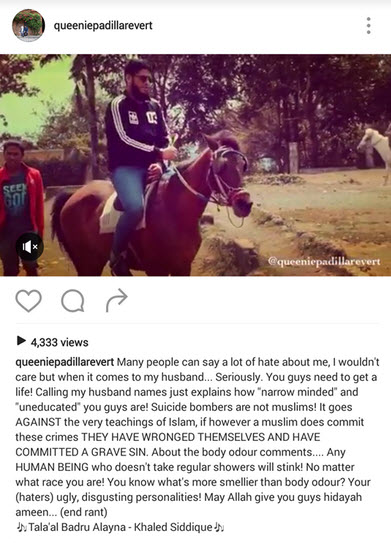 At press time, the 24-year-old daughter of Robin Padilla deleted her original caption and replaced it with the following statement:
"Despite the lack (hehehehehe only small in numbers) of negativity, there is an abundance of prayers and kind words.
"I am immensely grateful to everyone... Alhamdullillah for all the blessings Ameen."
HAPPY MARRIED LIFE. Queenie, whose Muslim name is Mashel Khadija Mir, has been married to Usama since September 2012.
Queenie first confirmed her married status in a brief interview with PEP.ph (Philippine Entertainment Portal) last June 2015.
At that time, Queenie said that she and her husband are based in Dubai.
Read: FIRST READ ON PEP: Queenie Padilla now happily married to non-showbiz guy; joins dad Robin Padilla in Spain for vacation
The couple is currently in the Philippines for vacation and for Usama to do the traditional "pamamanhikan" to Queenie's family.
ADVERTISEMENT - CONTINUE READING BELOW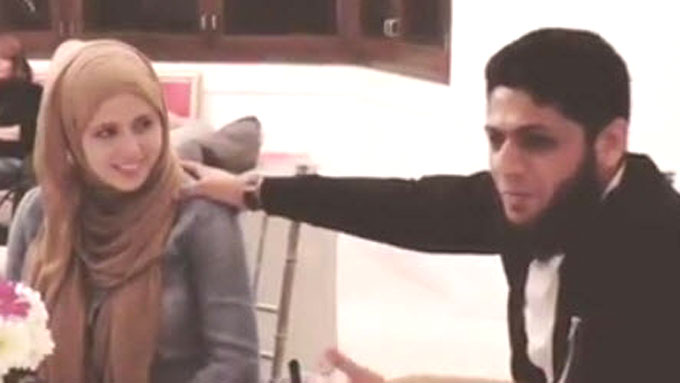 ---
Stories We Are Tracking
---