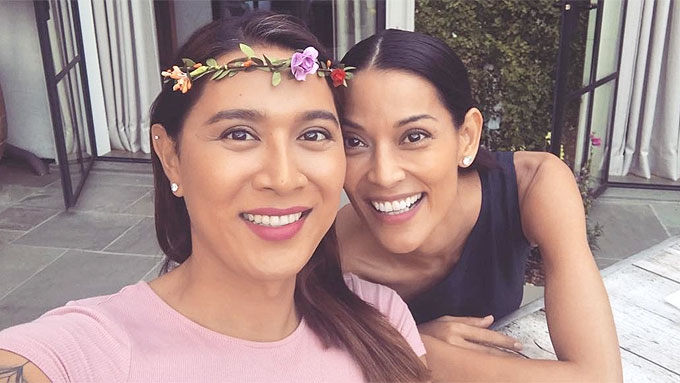 IMAGE Instagram @hailtothe_queen_
---
A year after coming out as a transwoman, Angelina Mead King said that her marriage with model-wife Joey Mead is stronger than ever.
Angelina is better known as Ian King, the car racer and heir of the late Archie King, owner of a chain of motels in the country.
Joey initially asked, "How deep is your love for me now, sweetheart?"
Angelina replied, "It's definitely very deep. And our connection stems from our great communication."
Beaming, the transwoman-racer added, "I love you, baby! And thank you for all the love and support... and the fashion sense!"
For her part, Joey also expressed her love and gratitude to her transwoman-spouse. 
The 40-year-old model-host told Angelina, "If it wasn't for you, I don't think I can be the woman I am today."
This was based on the couple's interview with ABS-CBN reporter Mario Dumaual, which aired on TV Patrol last night, June 8.
Angelina gave credit to Joey for supporting her journey as a transwoman for the past five years.  
The couple got married in November 2011; and Angelina started transitioning as a transwoman as early as 2012.
Read: Joey Mead's husband Ian King is now a trans woman
ANGELINA'S FATHER. Talking about their upcoming docu-special with cable show TLC, Angelina related that her decision to make her sexual orientation known to the public was spurred by her father's tragic chopper accident in July 2015.
Angelina elaborated, "The documentary where the crash is there.
"It hurts to see it, but it's a reminder that life is short and we only have one life.
"This is why I chose to face my fears and come out."
Read: Victoria Court CEO Archie King killed in Batangas chopper crash
DINNER WITH CAITLYN JENNER. At the same time, Angelina spoke about her recent encounter with transwoman Caitlyn Jenner, aka Bruce Jenner, the Olympic gold-medal-winning decathlete and stepfather of Hollywood's Kardashians.
ADVERTISEMENT - CONTINUE READING BELOW
Angelina had dinner with Caitlyn when the former was in Los Angeles last May 28. 
"She showed us that she adopted a new dog. And we're like, we adopted a new dog too! So, it's pretty cool," said Angelina, who first met Caitlyn last November 2016.
Talking about Angelina's kinship with Caitlyn, Joey said, "Because of Caitlyn, it made the coming out for Angie so much smoother."
Caitlyn had her coming out as a transwoman in international magazine Vanity Fair's July 2015 cover story.