Luis Manzano categorically denied allegations that he and Jessy Mendiola were having a secret romance way back in September 2015, when they were both part of the Kapamilya concert show ASAP Live In London.
The 36-year-old TV host and actor gave a statement following netizens' reaction to the social media posts of a certain Facebook user Han Carteciano Gob, who identified herself as the mother of Jessy's ex-boyfriend, JM de Guzman.
Han alleged that Jessy went on a "date" with Luis in London around the same time she got embroiled in the controversial plane incident with Enrique Gil.
During the said period, Luis and Jessy were still in a relationship with Angel Locsin and JM, respectively.
Han left her comments on PEP.ph (Philippine Entertainment Portal) Facebook page, particularly in the article about Luis's response to bashers nitpicking details about when he and Jessy became a couple.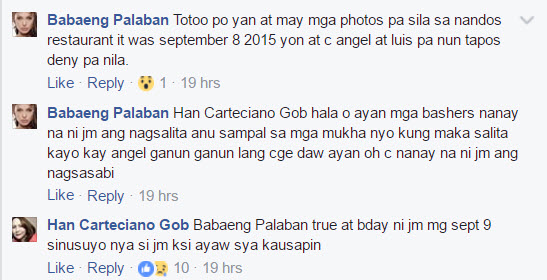 Netizens, in turn, reposted Han's allegations and even tagged Luis via Twitter.
PEP sent a message to Han via Facebook Messenger to verify her account, but she has yet to respond at press time.
LUIS ON 2015 LONDON TRIP. But in a series of Twitter posts, Wednesday night, June 28, Luis clarified that the sighting of him and Jessy during their 2015 London trip was not a "secret date" at all.
He explained that there were actually five of them, including Jessy and fellow Kapamilya star Robi Domingo, eating at a London restaurant.
Robi, for his part, tweeted back and confirmed that he was with Luis and Jessy in that London sighting.
The The Voice Teens host even cited his friendly exchange with JM back in December 2015, insisting that the London sighting with Jessy was a non-issue.
Luis also fired back at bashers insisting that he and Jessy were two-timing their respective partners at the time.
For his final message, he added, "Hindi mapipilit or mapapaliwanagan ang saradong isipan. basta nasabi ko ang totoo, time to sleep well"
BACKSTORY. To recall, it was Luis who came to Jessy's rescue during the controversial plane incident on London flight with Enrique Gil.
Without mentioning the said controversy, Jessy later posted on Instagram a photo of her and Luis with a caption that partly read: "Salamat sa protekta!"
Based on a PEP article dated June 3, 2016, the same photo was used as a meme by some netizens speculating that Luis and Jessy's romance began as far back as their 2015 London trip.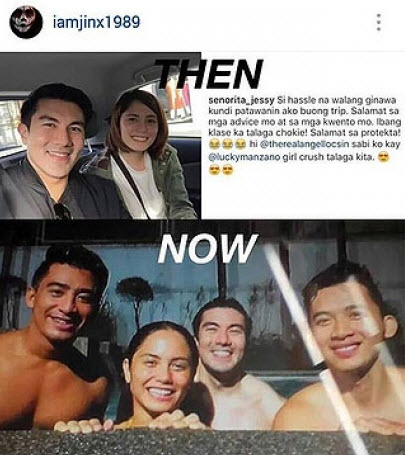 Angel, for her part, reacted to that meme pertaining to the dating rumors involving Luis and Jessy.
Read: Angel Locsin reacts to Luis Manzano-Jessy Mendiola dating rumors
But just recently, Luis made it clear that he had no overlapping relationships with ex-girlfriend Angel and current ladylove Jessy.
The The Voice Teens host revealed that the first time he and Jessy got to hang out was during his birthday bash back in April 2016; and they became a couple on June 25, 2016.
Still according to Luis, he and Angel were no longer together as early as January 10, 2016.