The term "Martial Law" trends after the government has imposed an 8 p.m. to 5 a.m. curfew, which will begin on March 15, the first official day of the Metro Manila community quarantine.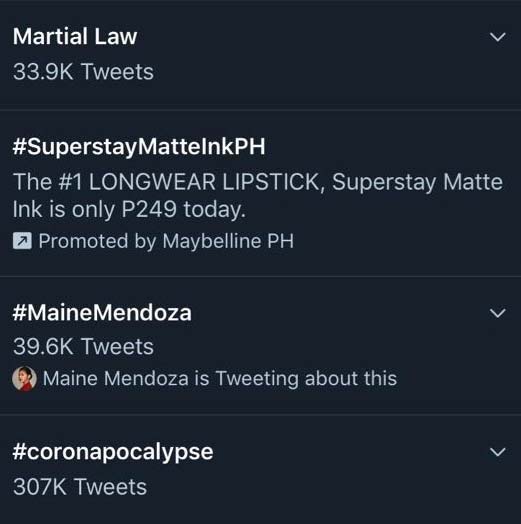 ABS-CBN News reports that the curfew is enforced to "limit non-essential movement during the month-long community quarantine."
Workers and "those involved in essential services" are exempted from the curfew.
In an article by CNN Philippines, Metropolitan Manila Development Authority General Manager Jojo Garcia is quoted saying police "will not arrest those who will be seen outside, but will just be advised to go home."
Still, netizens are asking on social media: is this Martial Law?
Celebrity host and social media influencer Bianca Gonzalez takes to Twitter to ask fellow netizens to "not call this 'martial law'" and cooperate instead.
In a series of tweets, the ABS-CBN talent says the term "martial law" only "creates more fear than there already is..."
But she asks for government officials to "kindly be patient" with all questions that citizens might have about the current situation.
Bianca also believes the government enforced the curfew "at the right time," while COVID-19 cases are still relatively few in the country.
"It's all for our good," she concludes.
President Rodrigo Duterte placed Metro Manila under community quarantine after addressing the public on Thursday night, March 12.
The community quarantine is done in efforts to contain the spread of the COVID-19 virus.