Alex Gonzaga is called out for posting fake news on Twitter.
Alex posted a forwarded message on Twitter, saying a trend has been observed among the new round of COVID-19 patients.
That trend is supposed to be that these patients contracted the coronavirus from trips to the grocery.
The forwarded message also suggests that people should now bulk-buy and, moreover, disinfect grocery items with "1 cup chlorox and 9 cups water."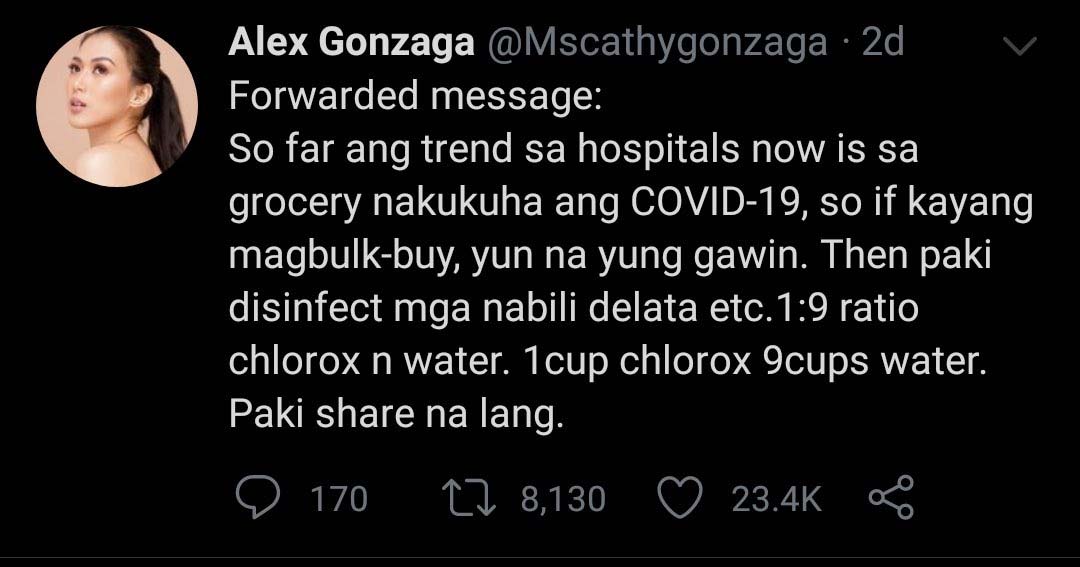 The Philippine General Hospital (PGH) debunked this news online, saying there is "no such observed."
PGH, which is now a COVID-19 Referral Center, says the two most important risk factors to the disease are "(1) travel history from areas with known local transmission, and (2) close contact with COVID-19 (+) patients."
A netizen tagged Alex on the PGH advisory.
The tweet also included a screencap of the actress's tweet, announcing the fake news.
Published as written, the netizen says: "Hello @Mscathygonzaga, you have 2M++ followers, i hope before you post something that has been forwarded to you, you may want to consider the ff:
"1. Contemplate on the msg first
"2. If you didn't understand, try to ask
"3. Or verify the info first.
"YOU'RE NOT HELPING SA TOTOO LANG"
In fairness to Alex, she responded to this tweet with a quick apology.
Said the ABS-CBN host-actress: "Hi yes! Sorry i deleted it na! It was forwarded kasi from a friend na may contact sa doctors. Pasensya na."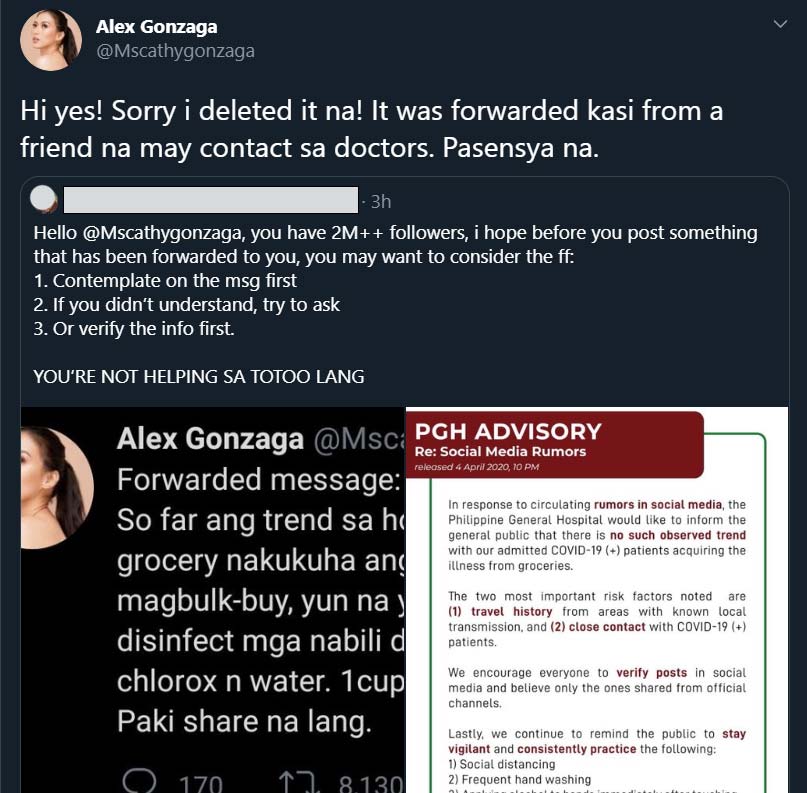 NETIZEN TO ALEX: "WALA ka na ngang ambag, nagkakalat ka pa bobita ka"
The Twitter user also dragged Alex's older sister, Toni Gonzaga, into the conversation, saying the sisters lack "character development."
This is may be a reference to celebrities who have shown their appreciation for frontliners, concern for the poor, and anger over the government's lack of a health-care strategy.
The Kapamilya talent argued back, saying she and Toni have been trying to give help "the best way" they can.
In Alex's words: "Lahat ng lumalapit kung pwede mabigyan tulong tinatry namin.
"Kung di pa ambag sayo yun, pasensya na."