Domestic and international travel has finally resumed, but not without added conditions. You're supposed to be fully vaccinated on public transport for one.
And some countries, like Thailand and Cambodia, are requiring tourists to have some form of travel or health insurance.
For the traveler's peace of mind, Cebu Pacific beefed up its travel insurance policy to include COVID-related expenses.
CEB Travelsure "Basic Protect," which starts at PHP492 for roundtrip flights, now includes "COVID Protect."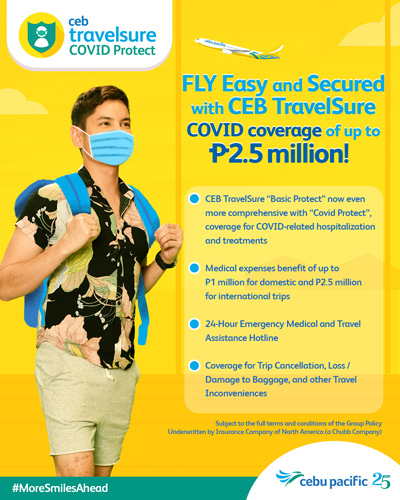 ALSO READ:
Underwritten by Insurance Company of North America, one of the world's largest publicly traded property and casualty insurance companies, CEB Travelsure "Basic Protect" now covers COVID-related hospitalization and treatments.
Passengers are also covered up to PHP2,500,000 for medical expenses in case of an injury or other illnesses as well as up to PHP2,500,000 due to personal accidents.
It is available for both domestic and international flights, as long as the point of origin is in the Philippines.
"As we continue to weather this pandemic, we see to it that everyJuan's health and safety are prioritized above all else. We know peace of mind is needed now more than ever and we want to provide this to our passengers so they can always fly safe and easy with us," said Candice Iyog, CEB vice president for Marketing and Customer Experience.
CEB Travelsure may be selected either while you're booking a flight or belatedly up to two hours prior your departure via the "Manage Booking" portal on the Cebu Pacific website. Insured passengers will receive their group policy Confirmation of Cover with the details of the travel insurance benefits via e-mail.
Aside from covering costs related to injuries or illnesses during travel, it also adds protection for instances related to loss of personal belongings, trip cancellations, emergency assistance, and other unforeseen travel incidents.