It never fails, the shockwave that follows a blooper in live TV news reporting.
The latest viral moment in local TV moment happened in the March 5, 2021 edition of Unang Hirit's news segment, "Unang Balita," with anchors Arnold Clavio and Susan Enriquez, and field reporter Bam Alegre.
Bam was doing a spot coverage of the COVID-19 vaccination program in San Juan City, where the transmission of the virus in the country was first reported in March 2020.
He was at the Cardinal Santos Medical Center in San Juan to report live on the vaccination proceeding over there, and Arnold was at the studio announcing Bam's report.
It was at this point that signals apparently went haywire.
Bam, momentarily stalling probably to wait for Arnold's cue, went on to deliver his report flawlessly without acknowledging the news anchor.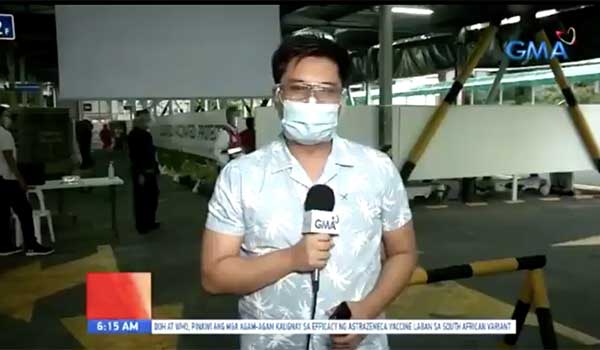 Bam Alegre reporting from San Juan
After Bam's report, Arnold, back at the studio, asked a follow-up question pertaining to San Juan Mayor Francis Zamora, who tested positive for COVID-19 on February 28, 2021.
Arnold said, "Bam, makakadalo ba si Mayor Zamora ngayong na-COVID-19 din ito?"
Bam could still be seen holding his microphone and looking at the camera seemingly in communication with Arnold.
But then he turned his back and walked away, unaware he was caught on camera.
Back to Arnold, whose face showed puzzlement all over.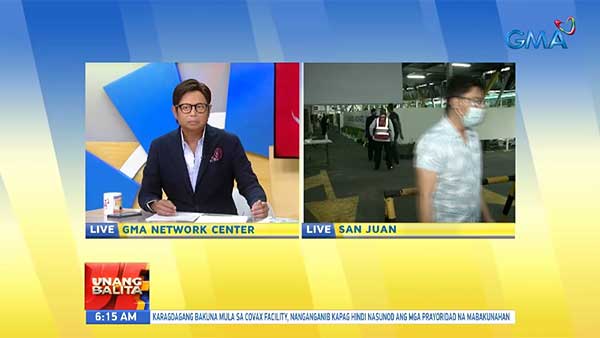 SUSAN'S REACTION
Catching the glitch, the technical director quickly switched to Susan, who was assigned to introduce the next report.
But Susan was caught off-guard and was still laughing at the comedy between Arnold and Bam when she came on view.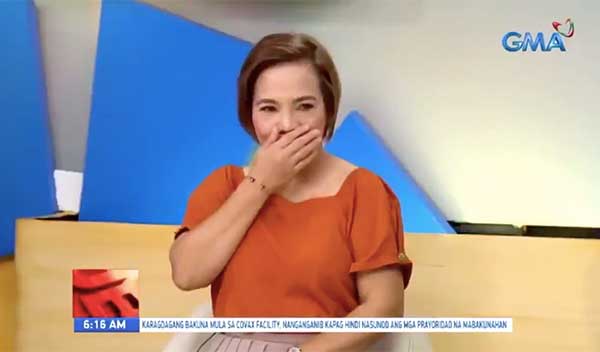 Arnold was heard in the background saying, "Okay, salamat" when Susan realized she was on camera.
As Susan started delivering her spiels, Arnold's voice was heard, saying, "Ano kayang nangyari doon?"
NETIZENS' REACTIONS
On March 6, a Twitter user named @imanyuwel reposted the clip on social media, and captionedit with, "Unang Hirit Untucked."
His post has so far generated 15.6K likes and 3.8k retweets.
Here are some funny reactions to the post: