One brief mention of her name on national television and already "Denise Millet Cornejo" has earned a spot in the local trending topics of the social networking site Twitter.
Unfortunately though, her newfound fame comes with the ire of some Pinoy Netizens, particularly the supporters of actor-TV host Vhong Navarro.
Who is Denise Millet Cornejo, and why did she earn so many haters?
DENIECE CORNEJO, THE FASHIONISTA. First of all, it's Deniece Milinette Cornejo, not Denise Millet Cornejo, as previously misidentified by certain blogs and media entities.
She was first mentioned by the It's Showtime host, in his interview with Boy Abunda on Buzz Ng Bayan on January 26, as the woman who invited him to her Bonifacio Global City condominium on the night of January 22.
As many may know by now, Vhong was mauled in the condominium by, according to him, six or seven men—including businessman Cedric Lee, a friend of Deniece.
The minute Vhong mentioned her name, Netizens, including PEP.ph (Philippine Entertainment Portal), turned to Google, where it was found out that she is a 22-year-old model who has done work for several companies, including the fashion label Mossimo.
Back in 2012, in a call center-industry magazine called After Call, writer Pio Granada described her as "independent, professional, and responsible."
On her Facebook account (Deniece Millinette Cornejo), she posted her appearances in several print ad campaigns for beauty brands Body Shop and KB Whitening, eyewear company Executive Optical, Standard Insurance, and did bit projects for BDO (formerly Banco De Oro), Smart Communications, Jollibee, and Shakey's Pizza among others.
She has also done work for advertorial videos and television commercials, including a part where she acted as a body double for Gretchen Barretto in the Ivi Ryo Collagen TV commercial.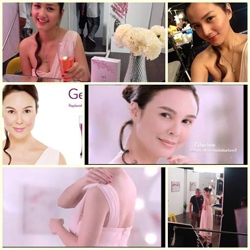 "#throwback The real person behind the "back of Gretchen" shown in the tv commercial" (via Deniece Milinette Cornejo Public page on Facebook)
Deniece is also a familiar face in runway shows and events.
Still on Facebook, her timeline showed recent participation in the Philippine launch of make-up brand MAC's Glamour Daze collection and an Esprit Watches fashion show.
She also mentioned representing the Philippines in an international modeling contest dubbed "One Woman Can," by beauty brand Mary Kay in 2013.
She also won in the hair and make-up modeling competition called FilHair Co-op Hair & Makeup Trends 2012, which was organized and hosted by Ricky Reyes.
Apart from being a model, Deniece said she is also fashion stylist, claiming to have worked for international label Forever 21.
Fashion is, apparently, one of her passions, as she also has her own company, Dark Closet International, which sells a variety of clothes, accessories, and beauty products online.
"Fashion is not just about style, it's about what works. In this business, there are two things you need to consider and that is fashion and sincerity. Your only secret is your originality," she says about her brand in a promotional video.
SHOWBIZ CONNECTION. Besides fashion, Deniece also dabbles in acting, playing bit roles in several ABS-CBN teleseryes.
One of her earliest television work was for the Piolo Pascual-KC Concepcion-starrer Lovers In Paris (2009), as an immigration officer who got to interact with KC's character, Vivian.
Recently, she appeared in the afternoon soap opera Dugong Buhay as a doctor in a scene that included the show's lead star Ejay Falcon.
Deniece also claims to have worked in the primetime series Honesto.
Meanwhile, an Instagram post from what is believed to be Deniece's Instagram account @realdeniece—which circulated online on January 26, following Vhong's TV interview—points the lady to be a relative of GMA Network chairman and CEO Atty. Felipe Gozon.
However, Deniece clarified in an interview with GMA News' Kara David that it is Rod Cornejo, former top executive of GMA Network, who is her grandfather, and not Atty. Gozon.
READ: Atty. Felipe Gozon not related to Vhong Navarro's complainant
In the same Instagram post dated September 8, 2013, Deniece wrote in her caption: "it was so nice to hear that they want me to be one of their princess #letmethinkitover," implying that she was offered by GMA to be a contract artist.
Deniece is also finishing her Hotel and Restaurant Management course in La Salle College Antipolo, and dreams of putting up her own restaurant or fashion store, which she has already achieved.
MOTIVATIONAL SPEAKER. On Facebook, she also posted photos of the workshops she handled.
She was invited to talk at University of the Philippines' "Suit Up: Take The Lead, Get The Job" and Polytechnic University of the Philippines's "The Walking Brands" for the campus' 12th Advertising Congress.
CAUGHT IN A SCANDAL. In the past two days, a lot has been said by Netizens about Deniece's character. Most of them were pinpointing to an image that is darker than the colorful picture she has painted for herself as a careerwoman.
Why did she earn so many haters? Because she angered a throng of Vhong's fans and the sympathetic Kapamilya viewers who couldn't ignore his multiple injuries on the face.
At this point, nobody can really tell the truth about what happened on the night of January 22.
Even the parties involved have different stories to tell, hence, arousing more questions than answers.
But whether or not she is telling the truth is something we will all only find out later as the case progresses.
Finally, to answer the previous question: Who is Deniece?
She is a girl caught in a complicated scandal.
And she, like anybody else, deserves a little respect from foul-mouthed know-it-alls and, until such time the court gives its verdict, deserves some benefit of the doubt.