Assunta de Rossi was 19 and poised for big-time stardom when she married Jules Ledesma, a politician and scion of a prominent clan from San Carlos, Negros Occidental.
The union was definitely a controversial one.
Assunta was practically a teenager, and producer Mother Lily Monteverde was banking on her new, exciting contract star to lead the way to the box-office for Regal Films, when Assunta decided she would marry the landed, 41-year-old widower.
Showbiz insiders, not the least Mother Lily, quietly stepped back. They knew that marriage was the enemy of stardom, and all their best-laid plans would now be for naught. Their star wanted to be a housewife.

Assunta's family was clearly against the marriage. This counted her Italian father Luigi Schiavone, but most vocal about their displeasure were her Filipina mom Nenita "Neneth" Schiavone and her younger sister, award-winning actress Alessandra "Alex" de Rossi.

They worried about the 22-year age gap, and they also, according to a report by YES! Magazine in its May 2004 issue, worried that he was out to use her to further his political ambitions.

The union was, undoubtedly, quite sudden. Assunta had been, until then, living the life of an unattached teenager on the cusp of becoming royalty in Tinseltown, whereas Jules was an elected official with two children, Cristina and Julio Carlos Tomas, from his late wife, Viktoria Pek.

Assunta and Jules met in November 2001 in San Francisco, U.S.A., where she was taping for an episode of Bubble Gang. He had gone there to visit Assunta's co-star, Ara Mina.

But by January 2002, according to YES! Magazine, "Jules's affections had shifted from Ara to Assunta. And although Assunta initially did not like Jules, she was now clearly becoming fond of him."
No matter the objections that followed the couple, they were determined. In tearful civil rites, they married in Jules's hometown of San Carlos on December 14, 2002. No member of the Schiavone family was present.

Unfortunately, even Jules's mother, Conchita "Connie" Arenas vda. de Ledesma could not be present, as she was then in Canada for her semi-annual medical checkup.
Two years after, Assunta and Jules triumphed, again, with their "love conquers all" story, when they got married at the Sanctuario de Santonio in Forbes Park, Makati, on March 14, 2004.
FAMILY RECONCILIATION, AT LAST
This time, they married in grand style—and, if there were tears, they were of joy.

Because, this time, the Schiavones were all present—father Luigi, mother Neneth, sister Alex, and even younger sisters Margharita, then 14, and Isabella, then 11, who were based in Italy.

Alex and Assunta had reconciled four months before the church wedding, following a heart-to-heart talk, reported YES! In fact, Alex would go on TV to say, "Nakikita ko naman na masaya ang kapatid ko kay Jules, kaya okey na ako."

For her part, Mommy Neneth reconciled with Jules on the day of the wedding itself. As Neneth told YES! at the wedding reception, "Nilapitan niya ako, yumakap, sabi: 'Oh, Ma!' Na-touch naman ako."

Asked what made her change her mind about returning from Italy and coming to the wedding, Assunta's mom told YES!: "Kasi naman noong una, ang dami-dami kong nababalitaan na ikakasal na nga ulit, na ganito-ganyan. Kaso, wala namang nag-iimbita sa akin. Ibig kong sabihin, hindi baga direkta.

"Minsang, noong tumawag siya, sabi niya, uuwi ba daw ako? Sabi ko, bakit pa 'kako, wala namang nag-iimbita.

"Umiyak na, sabi niya, 'Ano ka ba naman, Mama, miss na miss na nga kita.' Nagkaiyakan na naman kami. Ganoon lang."

In interviews, Assunta had always said about the man she had chosen, "If only they'd give him a chance, they will not only like him, but they'll love him."

Finally, it seemed, they had.
THE GRAND RECEPTION
The wedding reception was held at the Makati Shangri-La Hotel's Quezon Ballroom, which top event stylist Robert Blancaflor had turned into a fairyland.

The 74 tables were filled with cherry blossoms, tulips, irises, and daffodils. YES! Magazine, in its May 2004 issue, wrote that, above the table where the couple sat in full view of guests, there hovered glass bubbles that looked like huge candles, and that "Assunta, a child at heart, was more than once caught looking dreamily at the 'candy bubbles.'"
The bride and groom's principal sponsors included then-President Gloria Macapagal-Arroyo and Imelda Cojuangco, better known in show business as Tonyboy Cojuangco's mother.

The ninongs were powerful men of politics and business, including then-House Speaker Jose de Venecia Jr, George Ty, Oscar Lopez, Manuel V. Pangilinan, Jose Mari Chan, and then Ambassador Eduardo "Danding" Cojuangco.

Jules's best man was Charlie Cojuangco, who was married to TV star Rio Diaz. Assunta's maids of honor were her sister Alex and Jules's daughter Christina.

From showbiz, Gretchen Barretto was the veil sponsor; Aga Muhlach and wife Charlene Gonzalez were the cord sponsors; and the bridesmaids—dressed in Patrice Ramos-Diaz gowns in coral, Assunta's color of choice—were Ciara Sotto and Rica Peralejo.

Music was top class. Throughout the night, a six-piece orchestra played.

Tenor Nolyn Cabahug sang Josh Groban's "The Prayer," with Assunta's close friend, Ciara Sotto, doing Charlotte Church's part in the duet. Nolyn and his sister Liza also sang the Broadway/West End songs "Sun and Moon" and "Music of the Night."
ASSUNTA RECALLS HER WEDDING
Last Wednesday, May 6, 2020, PEP.ph (Philippine Entertainment Portal) had an exclusive interview via email with Assunta.

PEP asked Assunta what her favorite moment from the wedding was.

Her answer was, it was the moment Jules unveiled the dessert buffet stretching the width of the entire ballroom.
Assunta recalled, "It does feel like a long time ago. I remember the dessert buffet during the reception. Jules wanted a small wedding cake and a 50-yard long dessert buffet.
"Dinner was sit-down, so when it was time for dessert, may kurtinang umangat sa likod namin, tapos ang haba nga nung table, puro matatamis.
"Ayun, nagtakbuhan mga tao papunta doon. Sira ang diet! I think my husband did that on purpose. Haha!"
Champagne flowed that night from a fountain called the "Tree of Life," a masterpiece by no less than premier glass sculptor Ramon Orlina.
Assunta says, "Memorable din yung champagne fountain by Ramon Orlina. Buhay pa yun! It's in his museum in Tagaytay. We'll get it back eventually."
Assunta looked stunning in her Vera Wang bridal gown. The couple flew to New York City weeks before the wedding to get the gown from the designer who is a favorite of would-be brides the world over.
Her veil was by Filipino designer Rhett Eala, who made one that, YES! noted, covered Assunta's beautiful face but did not obscure it, all the better for her perfect touch-up by Krist Bansuelo to be seen.
But for Assunta, there was something far more fundamental to think of: "All I kept thinking was huwag sana akong matalisod, kasi nakakahiya.
"I was instructed to just take my time. Ayun, umabot naman ako sa dulo nang matiwasay. I lost a bit of weight during that time, so the gown felt a bit loose."
Assunta said she still has the gown with her.
"It's in storage. Sana hindi nabulok!"
To complete her bridal look, she wore a necklace with 400 diamonds and earrings to match, that were a wedding gift from her husband.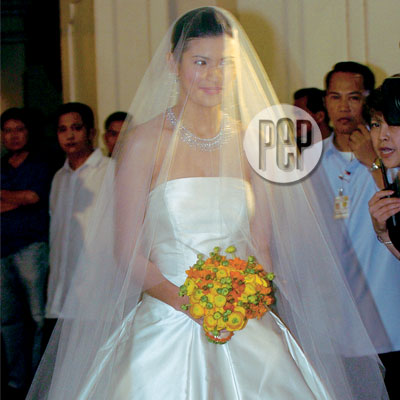 The wedding, of course, became an event. Rumor had it that the couple spent close to a hundred million pesos for it.
Assunta said, "Not true na PHP97 million!"
She went on, "Sobra naman yun! Our net worth at that time wasn't anywhere near that amount.
"PHP2 million of the budget was even paid by ABS-CBN for the exclusive coverage. We'll always be grateful to them."
The actress added, "We don't remember anymore. Probably a little less than PHP10 million.
"Most of it went to the Orlina champagne fountain, my diamond choker, and the Mercedes 600 car imported from the U.S.
"But those are assets, kaya ok lang gastusan. Wala kaming lugi at all sa mga yun."
Assunta and Jules' relationship has been a keeper. And after 18 years of being together, Assunta and Jules are now welcoming their first child.
Assunta says one thing she has learned about married life from all these years is this one thing: couples should make an active effort to maintain a romantic connection.
The beautiful Fil-Italian mother-to-be says, "We both know it takes a lot of hard work. It's been a crazy 18 years, but we're willing to do it all over again. At the end of the day, we still make each other laugh."