A doctor's Facebook post is currently going viral on Facebook.
In the time of COVID-19, Dr. Paula Erika Reyes chose to look at the bright side, and let positivity dispel her fears.
Her post dated March 15 began with a description of the mood in her work place, Philippine Heart Center in East Avenue, Quezon City.
"This morning as we prepared to go to work, we had this fear—fear of the uncertain, the indefinite, the unknown.
"But we were greeted by smiling security guards, vibrant nurses and aids, courteous and diligent house keepers. [smiling face emoji]"
And while most of the working professionals are advised to stay at home, she and her fellow health workers continue with their daily routine: Go to the hospital and deal with a number of patients.
But the other side of the coin: They get a lot of thank yous.
Dr. Reyes uploaded photos of food, drinks, toiletries, gifts, and handwritten letters—all coming from people who appreciate the efforts of doctors, nurses, and those who are currently on the frontline of fight against COVID-19.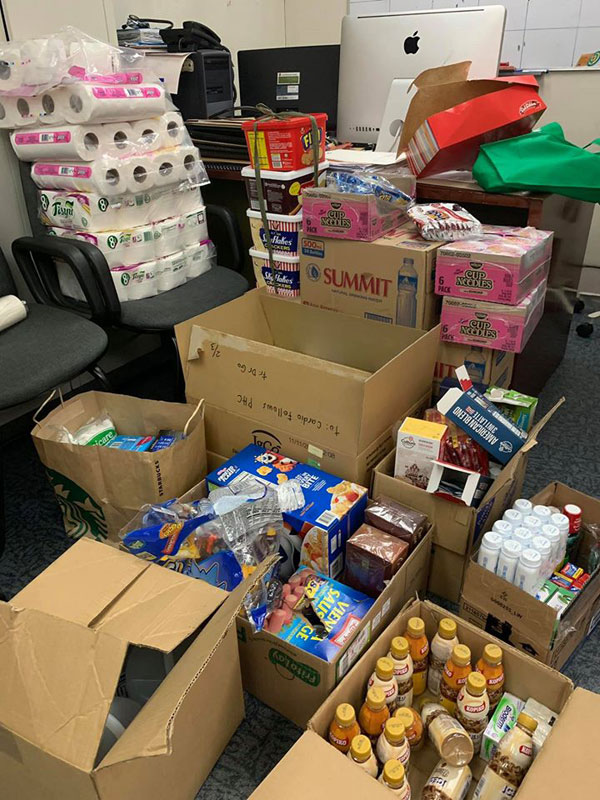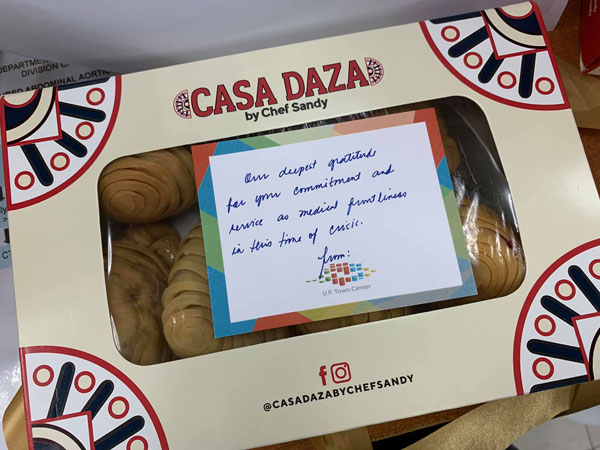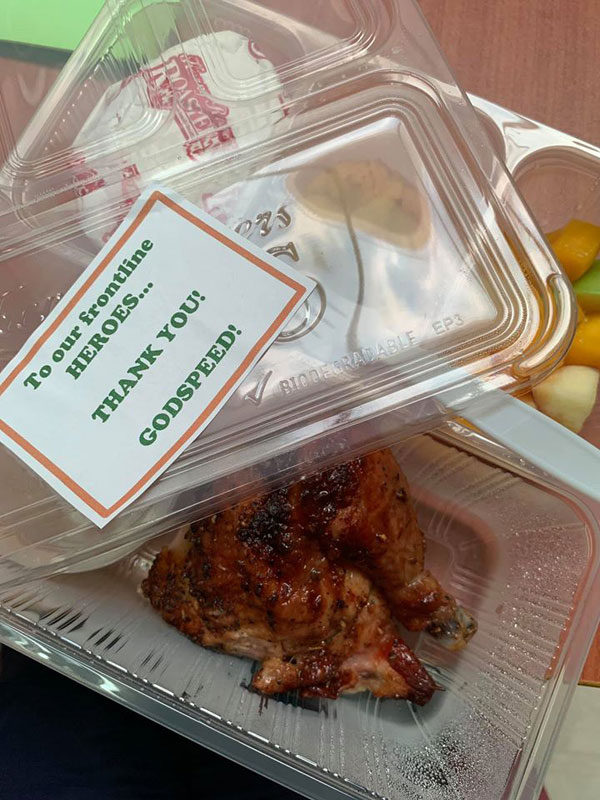 Dr. Reyes added: "Then throughout the day love poured in with heartwarming messages, labors of love, and acts of generosity from strangers, good samaritans, our consultants, our friends and families (two hearts emoji), and even gradeschoolers."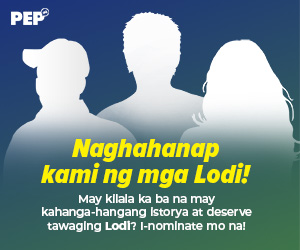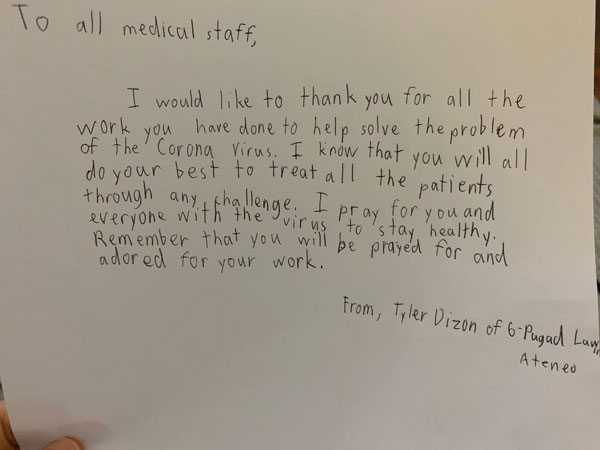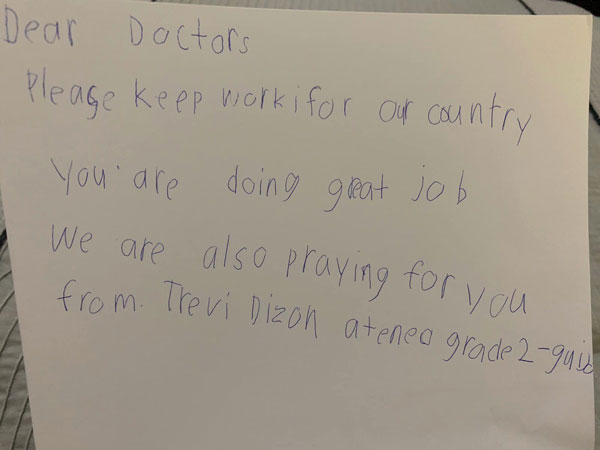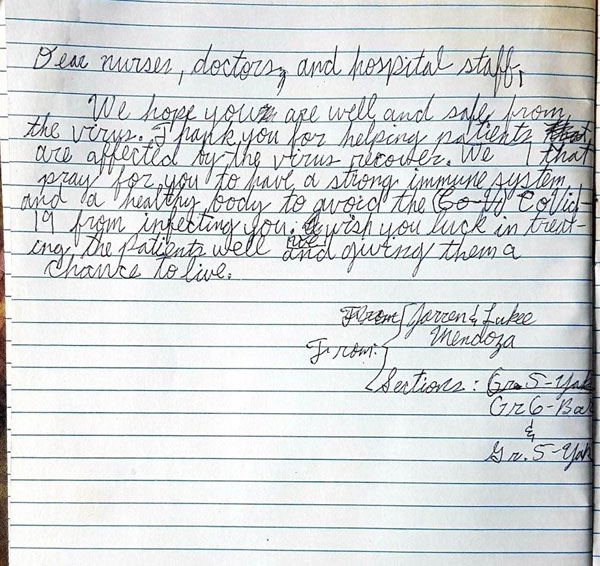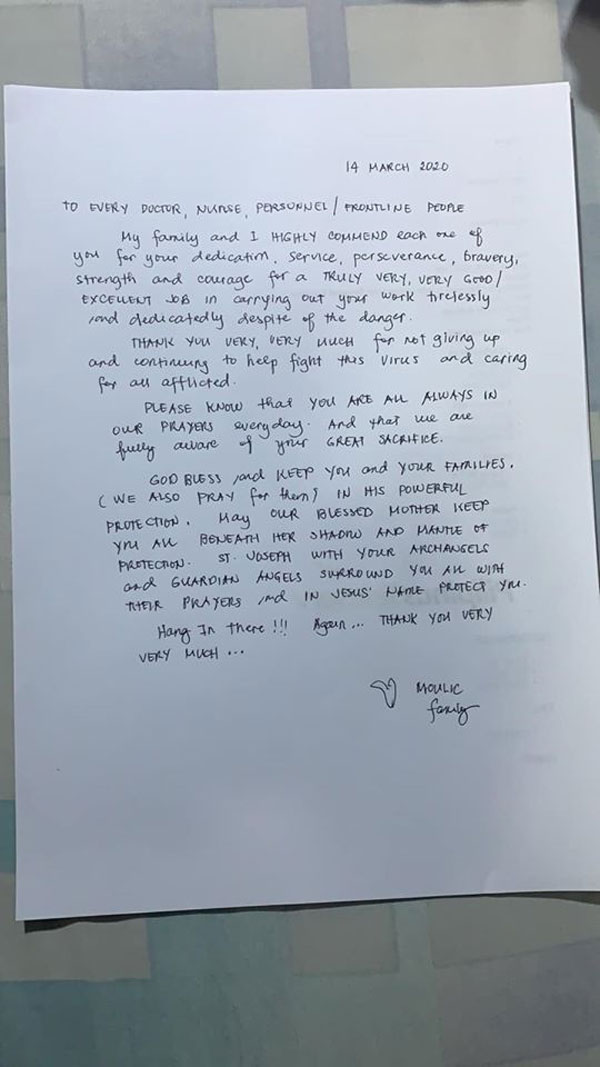 Feeling overwhelmed, she gushed, "We appreciate everything. Thank you po!"
Her post has so far generated 50,000 likes, 5,400 comments, and 19,000 shares.
THE DOCTOR APPEALS FOR COOPERATION, PRAYERS
Dr. Reyes did not forget to give her colleagues a shout-out, "There are things and areas and situations which we can not disclose in our posts.
"This is to acknowledge the unseen efforts of medical and non-medical staff who have answered to this call of duty.
"We do not wish to be glorified by this job, we only wish to do it well. (heart emoji)"
And to every Filipino affected by the community quarantine, she said, "Now we ask for your understanding, and for your cooperation.
"Take care of yourselves because spread begins and ends in our hands. (face with medical mask emji) (thumbs up sign emoji)."
Lastly, she asked the netizens to pray for the patients who were tested positive with COVID-19 virus.
"PS Not forgetting to ask for your prayers for our colleagues/brothers who are in critical condition and those under quarantine. (pensive face emoji)
"Our hearts are broken, but our faith remains full and firm. (three hands praying emojis)
"PPSS Salamat po sa lahat ng nagpadala ng concerns and words of encouragement, esp to our families, it means alot to us. (smiling face with smiling eyes emoji)"
ENHANCED COMMUNITY QUARANTINE
Ealier today, March 16, Presidential Spokesperson Salvador Panelo announced the implementation of "enhanced community quarantine" not just in Metro Manila but the whole of Luzon.
Malls and dine-in restaurants have started halting their operations.
Meanwhile, grocery stores, public markets, banks, drug stores, and food outlets with take-out counters will remain open.
The curfew, from 8 p.m. to 5 a.m., started taking effect tonight until April 14.
Based on the recent update of Department of Health, there are 142 confirmed cases of COVID-19 in the country.
Your extraordinary story has been submitted.