Fashion designer Mak Tumang has found new success in the reign of Miss Universe 2018 Catriona Gray.
The gowns he created for Catriona made their own mark for lending distinction to her winning carriage all throughout the Miss Universe competition last December in Bangkok, Thailand.
Mak studied Theater Design and Production Design and later in his career has imprinted his love for Philippine history in most of his designs—such as the "Sinag" gown and the "Mayon" gown that Catriona wore in her bid for beauty queen titles.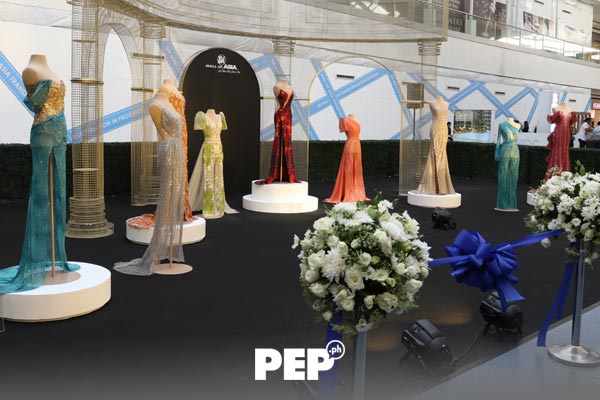 Here, at the ribbon-cutting ceremony of Mak's special Miss Universe gown exhibit held last March 21, at SM Mall of Asia in Pasay, the fashion designer narrated his fashion history with Catriona.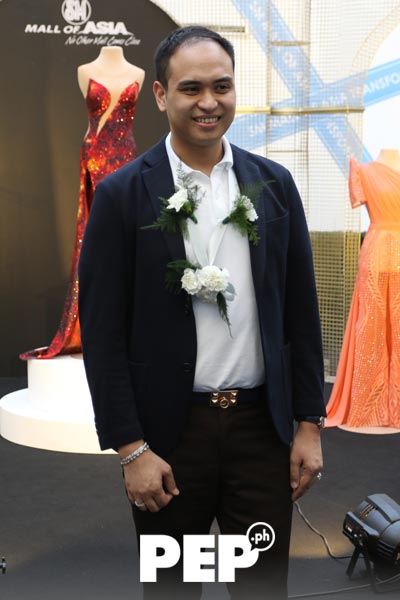 Catriona Gray Miss World 2016: "Paru-Paro"
Mak and Catriona's partnership began in December 2016.
"It started during her Miss World journey," he said.
"Parang, Reynaldo Santos, her stylist during that time, during Miss World, they connected me to Catriona to support her for her Miss World journey."
Catriona wore the "Paru-Paro" gown at the Miss World after-party.
At the time, Mak had yet to consciously infuse Philippine culture into his work.
He simply followed Catriona's main requests for the gown to be in color red and off-shoulder.
"Yun yung first na red gown na ginawa ko sa kanya. Very specific siya sa color na yun.
"Color lang yung gusto niya and then off-shoulder, then ako na bahala sa ibang details," Mak continued.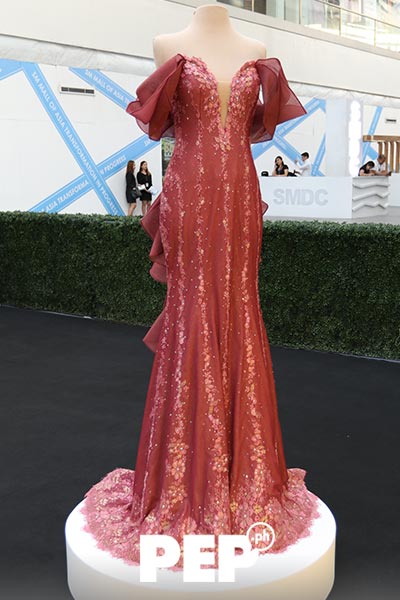 Catriona Gray Binibining Pilipinas 2018: "Sinag"
It took more than a year for Mak and Catriona to reunite.
"We never had a collaboration after nun. I also didn't see her sa modeling, I think she rested talaga," Mak said.
But when the new season of Binibining Pilipinas came around, Mak got a call from the future Miss Universe titleholder.
Mak revealed that the "Sinag" gown was Catriona's original concept.
This gown also secured Mak's place in Catriona's Miss Universe team.
He said, "During Binibining Pilipinas, she's very happy with the turn-out of the Sinag gown.
"Sabi nga nila, the Sinag gown is very Miss Universe caliber na, so what more?
"Ano pa ipo-produce ko? Paano ko lalagpasan yun? How will I top that?
"So, it's a pressure on my part."
What exactly was a "Miss Universe caliber" gown?
Mak remarked, "Actually, when you see it, may X factor ba? Kailangan makinang usually, pero when you see it, may spark. May dating...
"Usually kapag Miss World, for a gown, it should be sweet, queenly. Miss Universe should be sultry, sexy, very edgy.
"Yun yung Miss Universe gown na tinatawag."
Catriona was crowned Miss Universe-Philippines 2018 on March 19, 2018.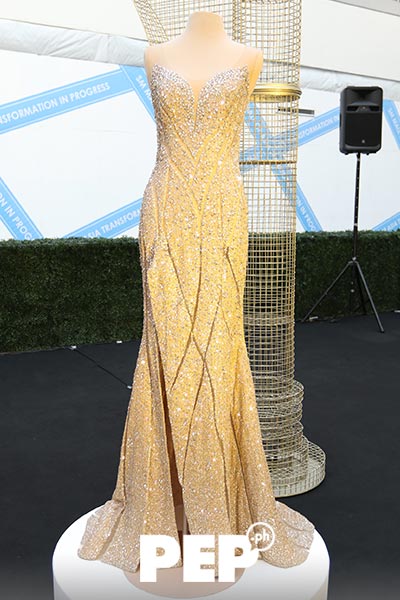 Catriona Gray ABS-CBN Ball 2018: "Bituin"
Before Catriona flew to Bangkok for the Miss Universe pageant, she also tapped Mak to design her gown for the ABS-CBN Ball.
Catriona wore "Bituin," which was an ode to the stars on the Philippine flag.
The Bicolana beauty was among the a standouts for that night.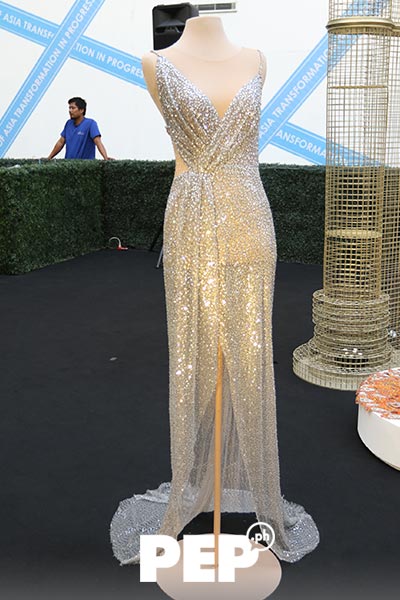 Catriona Gray Miss Universe Preliminaries: "Adarna"
December 2018 was the turning point of Mak's career as Catriona officially began her journey to winning Miss Universe.
During the Miss Universe 2018 preliminaries on December 13, 2018, Catriona lit up the stage with her Ibong Adarna-inspired gown.
Mak saw Adarna a fitting symbol for Catriona's Miss Universe journey as the mythical bird is an emblem of "resilience, rising and rebirth."
This gown, along with the "Mayon," was one of the original concepts Mak had for the competition.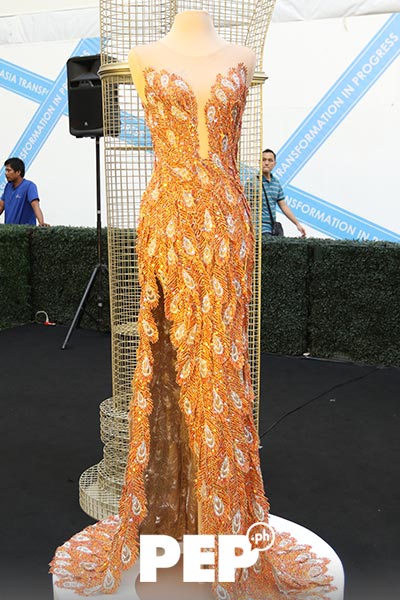 Mayon, the now-famous Catriona Gray gown
Mayon, Catriona gray's gown when she won the Miss Universe crown, can be considered as Mak's most memorable design to date.
For the grand coronation night, Catriona specifically wanted to wear red. That was the only request she gave.
The rest of the concept was up to Mak.
"At first kasi, she gives her ideas, specifically for the Sinag gown. Very detailed, very specific siya sa gusto niyang look sa Binibini.
"Pero sa Miss Universe, ako yung hinayaan niya sa lahat.
"She just requested for the red gown lang, so wala siyang binigay na Mayon story. The Mayon concept, it was all my idea"
For "Mayon," Mak took a risk.
He recalled, "Of course, the Mayon gown is very difficult to produce because it's very risky.
"I used digital print as a color guide, because no one used that.
"When you print on stage or even on an evening gown, it might look cheap because print is for ready-to-wear usually. Very risky.
"I'm scared kung ano yung outcome. Baka pagka nabatuan ko na o nagawa ko na, baka hindi maganda. Parang, what would be my other option?
"Since we have no other option for the Finals gown, just the Mayon gown, paano kung nag-fail yun?
"Kaya yun yung fear ko during that time.
"Also, for the sourcing of materials, it's very difficult because I used different shades of crystals.
"So, we cannot order ng isang bagsakan, baka ma-question yung sa amount or what. So, we did by batches muna.
"Also, the availability of the crystals hindi available agad, e. I had to wait pa for the time and all."
Looking back at his experience, did Mak ever think he would become a Miss Universe designer?
He said, "Hindi ko inisip. Never ko pinangarap na magiging popular in this field, in the pageant world. I just spoke to my clients before."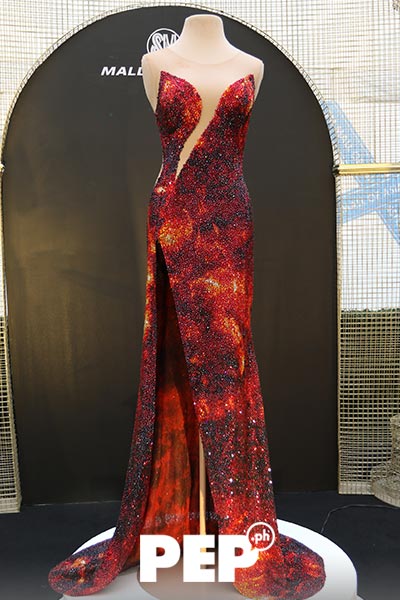 Catriona Gray Homecoming Celebration: "Corales," "Sampaguita," and "Alon"
Post Miss Universe, Mak felt the pressure to keep on delivering the same level of quality in his work.
He said, "I'm very pressured sa homecoming, e. Kasi yung expectations? Minsan hindi ako makatulog kasi nga yung expectations.
"And also, kailangan hinginan ka nila ng story, kailangan may story behind. Yun yung medyo mahirap, kailangan may story behind now kasi nasimulan ko, e."
But Mak clearly thrives under pressure as he finished three modern takes on the traditional terno.
Catriona's first look during her week-long homecoming celebration was the "Corales," which was inspired by our coral reefs.
She wore this terno pant suit during the grand homecoming press conference.
For Catriona's first homecoming parade, she wore a sampaguita-inspired terno pantsuit.
Mak specifically chose the sampaguita as his main inspiration because the name of the flower was derived from the words "sumpa kita."
It echoed Catriona's promise to return home.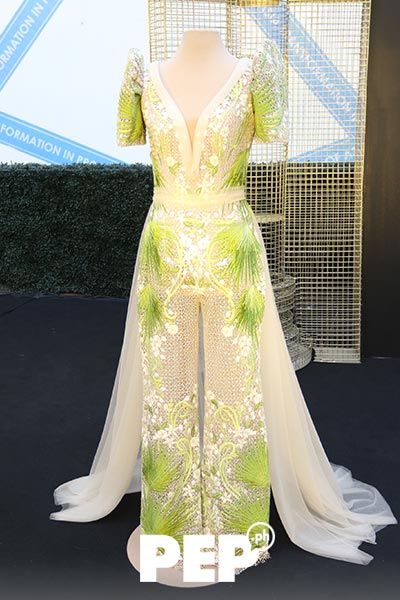 For her second homecoming parade, Catriona donned the sea wave-inspired pant suit, "Alon."
This design is a tribute to the seas of the Philippines.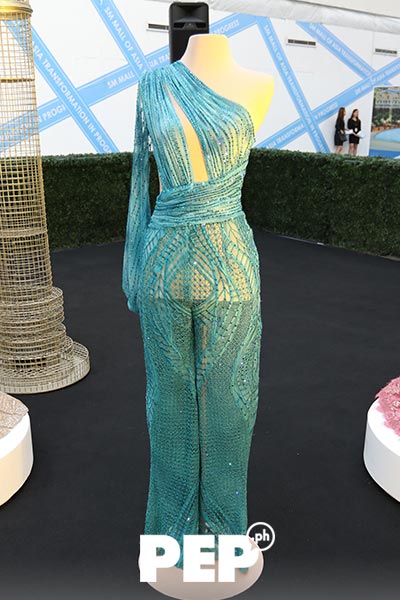 Catriona Gray Homecoming Concert: "Perla Oriente"
A few days after Catriona's Miss Universe coronation, it was revealed that there was one gown that she was unable to wear—the "Perla Oriente" or "Pearl of the Orient."
Mak wanted to execute this design because it was Catriona's original concept.
The fashion designer remaked, "Yung idea niya, it was a mash-up of two concepts.
"Originally, ito kasing Pearl of the Orient is originally red. So, that's also an option for the finals because ang gusto niya talaga suotin for the Finals is red lang.
"So, ito yung concept na gusto niya. She want a corset na sumisilip lang na may draping.
"Ako na lang yung nag pangalan na, 'Okay, let's make it Pearl of the Orient since I will use blue na medyo pagka sea, and then its use of pearl.'
"Idea niya itong gown na ito, so pinush namin to execute it."
Catriona eventually got to don it during her homecoming concert on February 24, 2019.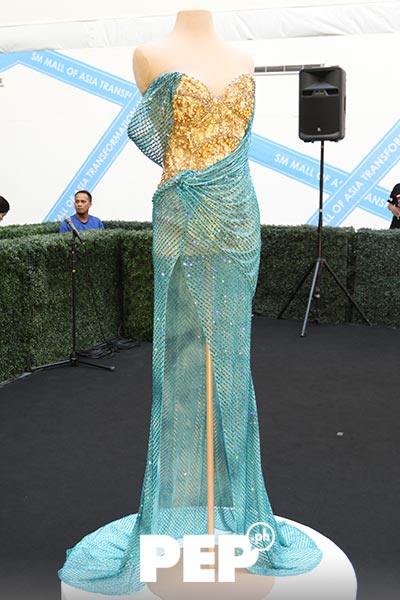 Catriona Gray Final Walk Gown
Mak revealed that he already presented his design for Catriona's final walk gown at the 2019 Binibining Pilipinas.
He said, "The concept was formulated during the homecoming nung ginagawa ko yung Sampaguita. Nabuo na. May story na. 'Ito, Cat, ito yung story.' And she loved it.
"Kasi ang nirerequest niya, 'O, Mak, I want sana this color to wear.'
"And then from that color, I will relate this color sa mga puwedeng ipasok na Philippine ano. Dun kami nagsta-start."
As for her Miss Universe final walk, the occasion was still too far ahead for Mak to worry about.
But Mak already felt the pressure to deliver.
He said, "Medyo pressure din. Almost all Filipinos nakaabang kung anong gagawin, kaya it's pressure.
Mak Tumang next dream project
Mak's grand wish is to design a national costume.
He said, "Someday, I want to do a national costume for the Philippine representative, because ang course ko sa college is Theater Design, Production Design. I do costumes.
"Sa bahay, marami akong collection ng books about Philippine costumes and history.
"I'm into costume-making talaga and also into Philippine history, so I'll be very privileged if, someday I will do a national costume for the Philippine representative.
"It's one of my dreams kahit na naka-produce na ako na nag-viral na finals evening gown, I still want to do a national costume. Someday, maybe."