Andi Eigenmann is celebrating the beauty of pregnancy with her latest Instagram post.
Pregnant with her second child, she bared her growing baby bump on the photo-sharing app, and captioned, "Having a baby live inside you is one of the most profound definitions of art in human form. #21weeks"
The celebrity mom announced her pregnancy on February 1.
Through a series of Instagram Stories, Andi had revealed that she was 14 weeks pregnant.
Philmar Alipayo, a surfing champion and Andi's current partner, is the father.
On March 9, Andi and Philmar revealed they are having a baby girl.
She is 21 weeks into her pregnancy.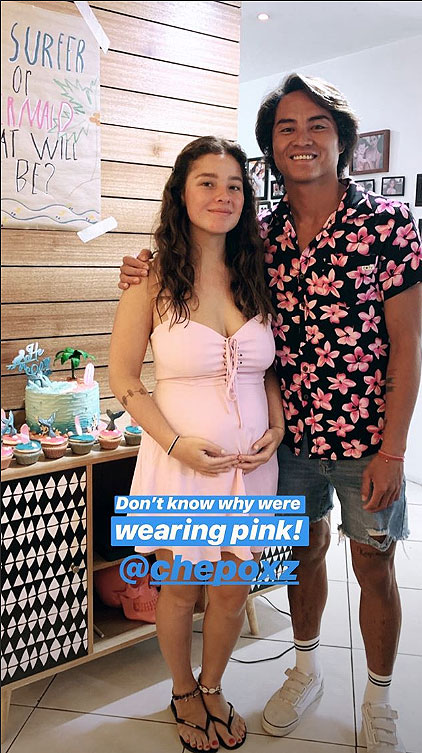 Andi has a seven-year-old daughter named Ellie by former boyfriend, Jake Ejercito, son of Manila Mayor Joseph Estrada.
SELF-LOVE
In celebration of International Women's Day last March 8, Andi reflected on her current pregnancy and role as a mom.
Posting a photo of herself when she was eight-weeks pregnant, she wrote, "In lieu of international women's day. Here I was a couple months back, 8 weeks pregnant and in my best shape.
"I look at myself right now a little over 19 weeks into my pregnancy and definitely looking and feeling rounder.
"One thing has remained the same: my self- worth.
"It was when I became a mother to Ellie, and even more now that I am a mother of 2 that I have realised the importance of self love and appreciation.
"It took me a while, but now I am able to define beauty for myself and I feel this way regardless of what shape I am in, and regardless of what others think!
"What motivates me to keep a mindset like this is the hope that by being the best version of myself, I can inspire my children to grow up to be the best version of theirs, imperfections and all.
"Happiness is not something I found, it is something I have created for myself, because its what I deserve.
"And you deserve it too, girl! [winking emoji]
"I fricking rambled away and did not edit my caption. IM SORRY! [tears of joy emoji] anyway, happy #internationalwomensday to all!
"Remember that you are powerful, beautiful, brilliant and brave!"