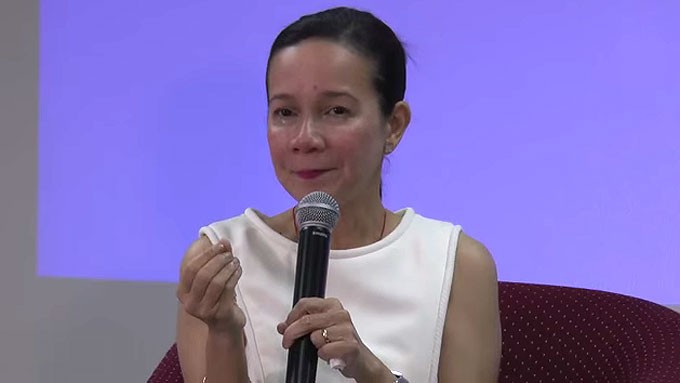 ---
Senator Grace Poe was brought to tears when asked if joining the presidential race is worth the controversies and legal cases that she is currently faced with.
At first, she could only muster a thumbs up as she was trying to keep her emotions in check.
After a few seconds, she said, "What a privilege it is to be in a position to help our countrymen.
"It is worth the fight.
"It is worth the fight if you feel that you can institute change at a faster pace and that it can be felt by those in need."
Since she started her political career in 2013, Poe pointed out that she was able to push for an institutionalized free lunch feeding program for public school kids nationwide to address malnutrition.
She also cited the amendments for the dangerous drug act that she has championed for it to be easier to file a case against drug pushers.
Poe further explained during the Meet the Inquirer forum today, January 28: "So, if they're questioning now my citizenship, I'm willing to go through it.
"Because I've seen that even in the senate—where your hands are tied because all you can do is legislate but the implementation is not in your hands—you can still do oversight, you can still do budget, that can be felt by our countrymen."
Poe, the adopted daughter of the late Fernando Poe Jr. and actress Susan Roces, is facing at least four disqualification cases soon after she filed her certificate of candidacy as president last October.
Last December 22, the Commission on Elections (Comelec) en banc ruled to disqualify her from joining the presidential race due to issues surrounding her residency and status as a foundling.
Read: Grace Poe disqualified with finality by Comelec en banc
The Senate Electoral Tribunal (SET), however, had earlier declared Senator Poe a natural-born Filipino.
ADVERTISEMENT - CONTINUE READING BELOW
Read: SolGen backs SET ruling that Grace Poe is natural-born Filipino
To date, the Supreme Court is still in the process of conducting hearings with regard to the disqualification cases filed against the senator.
Read: Supreme Court probes citizenship, residency of Senator Poe
To which, Senator Poe maintained, "I will exhaust all the legal means possible to be able to fight for our case."
Whether or not the Supreme Court will eventually issue an adverse ruling, the senator stated, "I would rather stay on the side of optimism."