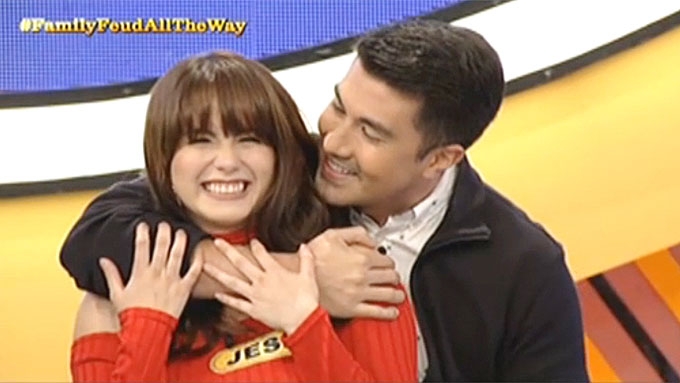 IMAGE Screengrab from ABS-CBN's Family Feud
---
After seven months of courtship and dating, Luis Manzano and Jessy Mendiola made it known on national television that they are indeed a couple.
In the taped episode of Family Feud yesterday, December 11, Luis made a show of their real-life romance with his sweet gestures towards Jessie.
At the beginning of the show, Luis told Jessy: "Never pa tayo nagkakasama sa Family Feud.
"Nagkasama tayo sa Kapamilya Deal or No Deal.
"So, gusto kita i-welcome. Yung tamang welcome ng Family Feud."
What happened next was Luis crept up behind Jessy and unexpectedly hugged her.
Turning his face close to Jessy's, Luis added teasingly, "Welcome to Family Feud."
Although speechless, Jessy was all smiles throughout Luis's antics.
And in the final round of the game, during Jessy's turn, Luis unexpectedly dared the Kapamilya actress to confess her feelings for him.
Using his term of endearment for Jessy, the 35-year-old TV host asked: "Chopie, unang katanungan ay mahal mo ba ako?"
Jessy was caught by surprise, but she quickly recovered, "Oo! Oo! Kasi naman, e. Seryoso na ako, e!"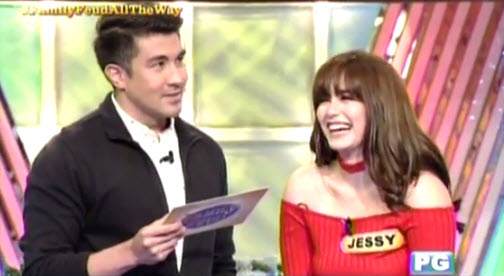 But even before that, Jessy had already declared that Luis was the best gift that she received on her 23rd birthday last December 3.
Luis prodded, "Paano mo nasabi na ako yung best gift na natanggap mo?"
Jessy answered, "Kasi pinapasaya mo ako."
Relentless, Luis went so far as to ask Jessy what's in store for both of them in the near future?
He asked Jessy again, "Next daw... after ikasal... Jessy, may masasabi ka na gusto niya makita na tayo next?"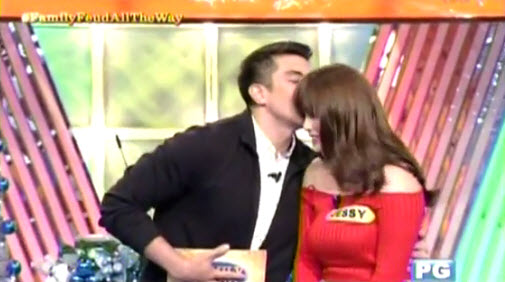 Read: Luis Manzano seen holding hands with Jessy Mendiola at Mano Po 7 premiere