Jun Sunga, husband of Vanessa Matsunaga, has defended his wife from bashers.
In the comments portion of Vanessa's post, he confronted a netizen who called his wife "a disgrace."
His Instagram comment read: "Easy to say when your identity is hidden. We were dragged in to the issue because of the speculations.
"Speculations that are disrespectful to the hard work of my parents in law.
"I'm proud that my wife spoke. She has every right to defend her family."

Jun also hit back at a netizen who bashed his wife Vanessa and accused Daniel of "taking advantage of his girlfriend's money."
His retort: "Seriously? Just because she was awfully upset to sever ties from us?
"Unang-una, Wala Kang Alam Sa nangyari and Kami rin nagulat Na final na pala yun.
"Dahil kahit part Kami ng Buhay nila, hindi naman sila pina pakialamanan dahil relasyon nila yun?
"E, ikaw? Sino na ka ba Sa Buhay ni Erich or Sa buhay ni Daniel?
"Tapang mo dito sa social media, a. Yan Ang pinapakita mong pinoy pride? Mahiya ka naman, ate. Ganyang mentality ang pinapakita mong Pinoy at proud KA pa? Ikaw Na!
"Wag Na kasi makisawsaw Sa relationship ng Ibang Tao especially when they both asked for privacy and respect..."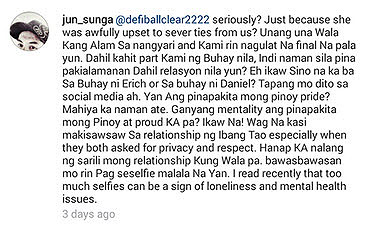 Jun also expressed his gratitude to those who understood why Vanessa and Daniel had to set things straight.
"You have no idea how great the Matsunagas are, especially the parents. Not a bad bone in their body.
"Don't know how else to say it but yung goal ko is to raise a similar family with Vanessa. Iba talaga!
"They don't deserve this kind of heat. Thank you for the support and the love."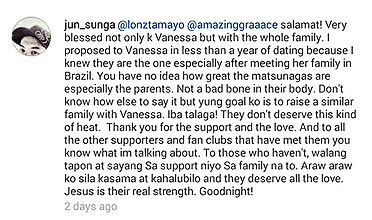 WHO IS VANESSA MATSUNAGA HUSBAND?
Vanessa Matsunaga's husband Jun Sunga was a photographer when he met the Brazilian model. He currently runs businesses, particularly, restaurants, but still takes all the beautiful Instagram photos of his wife. Vanessa and Jun tied the knot in November 2010, at the Bellarroca Island Resort and Spa in Marinduque. They have two children—Isabella and David.
THE ERICH-DANIEL-VANESSA EXCHANGE
Speculations about the money issue intensified when the interview in which Erich neither confirmed nor denied that money figured in her sudden breakup with Daniel made headlines.
Daniel promptly responded and said the cause was "never about money."
READ: Daniel Matsunaga on breakup with Erich Gonzales: "It was never about money."
Daniel's sister, Vanessa, also appealed to Erich to clarify the money issue to stop the netizens from jumping to conclusions.
READ: Vanessa Matsunaga to Erich Gonzales: "I honestly wish you had addressed the money issue."
READ: Vanessa Matsunaga defends Daniel Matsunaga's financial status
The following day, Erich released an official statement, and said that she was being provoked to "tell all" despite her insistence to put the matter to rest.
It was in that statement where Erich alluded to Vanessa's "rich" husband, Jun Sunga.
Addressing Vanessa, Erich said, "Hindi ako mayaman, Vanessa. Tama ka, mahirap lang ako, hindi ako kasing-yaman ng napangasawa mo.
"Pero sa mundong ito, ang realidad, hindi lang mayayaman ang nate-take advantage. Mas maraming mahirap ang napapagsamantalahan."
READ: Erich Gonzales on breakup with Daniel Matsunaga: "They want me to speak up...I will tell all."