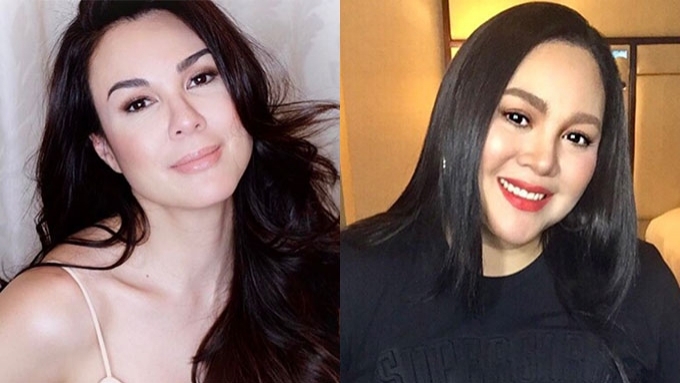 IMAGE Instagram @gretchenbarretto / @claubarretto
---
Gretchen Barretto slammed a netizen comparing her lean physique to her youngest sister Claudine's apparent weight gain.
The 47-year-old actress gave this statement upon seeing the netizen's comment on her Instagram post yesterday, July 7.
Talking about Gretchen's lean physique, the netizen commented, "Ganda ng outfit @gretchenbarretto buti na lang sa daddy ka nagmana sa body.kawawa ngayon ang laki ng mukha ni claudine"

Without mentioning Claudine's name, Gretchen responded, "@rkgt.ocon I DO NOT APPRECIATE YOUR COMMENT... do not put anyone down while praising me"

It should be noted that in the same Instagram thread, Gretchen and Claudine's brother Jay-Jay Barretto also asked the netizen to "refrain from making intriguing comments" about the two sisters.

The Instagram user with the handle name @rkgit.ocon immediately said sorry.

LONG-STANDING RIFT. Claudine and Gretchen have not been on speaking terms since the falling out among the Barrettos in 2013.
It happened around the same time Claudine went through a court battle with estranged husband Raymart Santiago.
The Barretto siblings Mito, Michelle, Jay-Jay, and Marjorie took the side of Gretchen; while Gia as well as their parents Inday and Miguel stood by Claudine.
At the height of their word war, the Barretto matriarch called Gretchen "liar" and "evil" for allegedly attacking Claudine with verbal abuse.
READ: Mrs. Inday Barretto defends Claudine; calls Gretchen "a liar"
Through an open letter, Gretchen revealed a litany of her mother Inday's alleged "abusive" behavior against her "for as long as I can remember."
READ: PEP EXCLUSIVE. Gretchen Barretto on Inday Barretto: "My mother is the person who is deeply pained by my happiness."
But last July 5, Jay-Jay revealed on his own Instagram post that he and sister Michelle have settled their differences with Claudine.
READ: Claudine Barretto reconciles with her siblings
GRETCHEN'S "SILENT WAR" WITH MARJORIE. Two years earlier—on March 10, 2015—Claudine and Marjorie made peace with each other at the 18th birthday of the latter's daughter Julia.
ADVERTISEMENT - CONTINUE READING BELOW
READ: Sisters Claudine and Marjorie Barretto reunite at Julia's debut party
At the time, Marjorie and Gretchen were engaged in a "silent war" that reportedly started from a simple tampuhan between them.
READ: Gretchen Barretto confirms silent war with sister Marjorie: "At least, it's silent!"