This is The PEP List of the 15 Greatest Movie Actresses in Leading Roles, 2000-2020.

Here are our Top 5: No. 1 Vilma Santos. No. 2 Judy Ann Santos. No. 3 Claudine Barretto. No. 4 Maricel Soriano. No. 5 Jaclyn Jose.
Choosing the very best among the best actresses in Philippine cinema can never be an easy undertaking. This is not an exact science. This is, in fact, a matter of taste. What we have done to balance the subjective vote is to back up our choices with another viewing of the movies and a study of the facts and numbers. For instance: How many movies? Range of roles? How many lead performances? How many times superior? And so on.

On top of this, we rank the actresses, which of course gets us into more controversial territory. After all, every lead actress will have her unmoving, uncompromising, unswerving loyalists. We therefore recognize that there will always be unhappiness surrounding lists and rankings, including ours.

But, we stand on our clear efforts, over the five-month period of November 2020-early April 2021, to discuss, argue, debate, defend our individual choices within our collective of 11, all of us members of the PEP TEAM at the time of deliberations and voting.
The 11-person collective includes: Editor-in-Chief Jo-Ann Q. Maglipon; Executive Editor Karen AP Caliwara; News Editor Erwin Santiago; Video Editor Rommel Llanes; Deputy News Editor Rachelle Siazon; Chief of Reporters Arniel Serato; Senior Reporters Bernie Franco, Jet Hitosis; Lifestyle Reporters Nikko Angelo Tuazon, FM Ganal; Guide Reporter James Patrick Anarcon.

GETTING THE VOTE

To get to our final list, the PEP TEAM went through five major stages.

First, we shortlisted our Top 15. In practice, each of us listed more than 15. Oftentimes we had 20, sometimes more. There was an unbelievably deep talent pool to choose from, seriously causing the members days of pained study. At this first stage, everyone's list was in flux. We could all change our minds, listen to contrary opinion, seek out affirmation, all the while guarding our wish list.

Then we set up an e-chart containing the names of actresses nominated by any of the 11 members. Again at this stage, we did not narrow down the list to just 15. We hovered at 20. Among members, the free-for-all mood continued: speeches extolling one actress over another, irreverent repartee, naysaying, knocking somebody else's choice down, banding together to back up one actress, breaking apart over who was superior to the other. It was, in sum, an impassioned series of sessions.

When we got to the third stage, we were just as impassioned, but more solemn. Everyone of us now had to whittle our individual list down to just 15. Hardest of all, we had to rank these choices. The discussions went on.

By the next stage, a mathematical computation occurring on the e-chart ranked our choices for all to see. We could watch the names going up and down. Actresses ranked No. 1 more frequently in the list of more members of the 11-person collective went higher on the chart. At the end of this stage, we had our Top 15.

The intense discussions did not stop. When views were shaken, some volunteered to rewatch the films in question. Others were enjoined to explore the films of any of the 15 actresses whose performances they had not followed closely over the years. All were willing to make sure their choices would stand the test of public scrutiny.

By the fifth stage, we voted one last time. We were free to change our minds even at this point. No one had to be pinned down to an earlier choice. We wanted to remain open up to the last. We wanted to be rational. Here, the ranking changed again. However, there was no more major movement from several rungs up to down or down to up. Most times, the issue would be between two rungs close to each other; say, who is No. 2 and who is No. 3?

Negotiations continued. Particularly when an actress's ranking boiled down to a difference of just one vote, more reviews of the film and more discussions followed.
Or when names were clustered tightly, more hard research was in order. Facilitating the discussion was the editor in chief, especially when there were deadlocks.

In the end, we got our list of the Top 15.


THE PARAMETERS OF OUR LIST

But, all right, exactly what are our parameters?

One, we picked the number 15. We could have chosen the higher number 25 and, in having more stars on the list, would have attracted fewer naysayers; or the lower number 10, which would have made our commentaries neater and shorter although we'd have attracted more and angrier fans. But, we chose to go with the Top 15, really a purely random choice.

Two, we named only actresses appearing in movies. Therefore, this list is not about lead actresses on television or stage, even if the actresses are the queens and princesses of high-rating comedies, teledramas, action series, and romcoms, and even if they were so over many years. For this reason, the names of television stars Sunshine Dizon, Marian Rivera, Maja Salvador, Kim Chiu, and Liza Soberano are neither on our shortlist nor on our final line-up. The talented goddesses of TV would definitely merit another listing.

When we speak of movies, we paid attention to mainstream movies mainly. There will thus be stellar actresses in indie films who will not be on our list. These names are many, with most of them remarkable in nearly all their appearances: Alessandra de Rossi, Mylene Dizon, Mercedes Cabral, Angel Aquino, Bela Padilla, Therese Malvar, Irma Adlawan, Glaiza de Castro. So impressive, in fact, is the roster of performers in independent films that, again, this totally demands a list of its own.

Three, we were on the main sticking to actresses in leading roles. We are looking at their performances, whether in an ensemble cast or in settings of more intimate casts, but where they carry the film, as it were. The more films, the higher the ranking. The more lead roles, again the higher the ranking. This is why the list is missing someone as genuinely effective and touching as Iza Calzado.

At the same time, actresses given a wider range of lead roles will have a higher ranking than actresses who have been, often because of their box-office success, limited to one genre. Here, two major talents come to mind: Regine Velasquez and Sarah Geronimo.
And four, we were limiting ourselves to movies released from 2000 to 2020. Performances outside this time frame, no matter how marked, will not count. Thus, there will be veteran actresses whose ranking will be lower than that of younger actresses because, within those two decades, the younger ones were given more vehicles to showcase their talent. This is why, also missing from our list is the superb and seasoned actress Lorna Tolentino.
At this point, it feels right that we acknowledge three actresses who are around today, whom we salute, but who are not on our list: Gina Pareño, Nora Aunor, and Gloria Romero.
At the age of 71, Gina Pareño was hailed Best Actress in international film festivals for the movie Kubrador (2006, directed by Jeffrey Jeturian). And mind, not just in one counry but in three: in India, at the Osian's Cinefan Festival of Asian Arab Cinema; in Belgium, at the 33rd Festival International du Film Indépendant de Bruxelles; and in France, at the Amiens International Film Festival.
She was also named Best Actress for the movie Serbis (2008, Dante Mendoza) at the Pacific Meridian International Film Festival in Russia and the Asian Film Awards in Hong Kong.

Anyone who knows local cinema, however, knows that these awards are not why Gina is someone we bow before. The actress is a force of nature. Even through the 2000s, with her age showing on the big screen, she remains a powerful talent. She hits no false notes. Her characterizations are material for a master class in acting.
Then there is Nora Aunor, the only one who ever deserved the title Superstar.

Nora Aunor bagged the Best Actress award for her movie Naglalayag (2004, Maryo J de los Reyes) at the 31st Festival International du Film Indépendant de Bruxelles Awards (Belgium).

Then she earned four Best Actress awards for Thy Womb (2012) at the Asian Film Award for Best Actress (Hong Kong), Asia Pacific Screen Award (Australia), Bisato d'Oro (Italy), and the 3rd Sakhalin International Film Festival (Russia).
Aside from being nominated, again for Thy Womb, as Best Actress at the Asia-Pacific Film Festival in 2012 and at the Asian Film Awards in 2013; and at the Asia Pacific Screen Awards in 2014 for Hustisya.
It almost leaves one dizzy.

Her other films shown from 2000 to 2020 are: Care Home (2006), Ingrata (2006), El Presidente (2012), Ang Kwento Ni Mabuti (2013), Dementia (2014), Taklub (2014), (Padre de Familia (2016), Whistleblower (2016), Hinulid (2016), Kabisera (2016), and Isa Pang Bahaghari (2020).
Of 15 films she made in the 2000s, one is mainstream, the other 14 are indie.

It is our loss that the majority of these films never reached us in a big way. We have the promise that is a Nora, but for now it would take a whole separate study to find her place in local cinema over the last two decades.
Then there is Ms. Gloria Romero. She was honored as Best Actress for her portrayal in Tanging Yaman (2000). But, it should barely matter if she does or does not receive an award. Her body of work in the 2000s—Bahay Ni Lola (2001), Magnifico (2003), Kamoteng Kahoy (2009), and Rainbow's Sunset (2018)—deserves a standing ovation.
Presenting the Top 5 of The PEP List of the 15 Greatest Movie Actresses in Leading Roles, 2000-2020.
JACLYN JOSE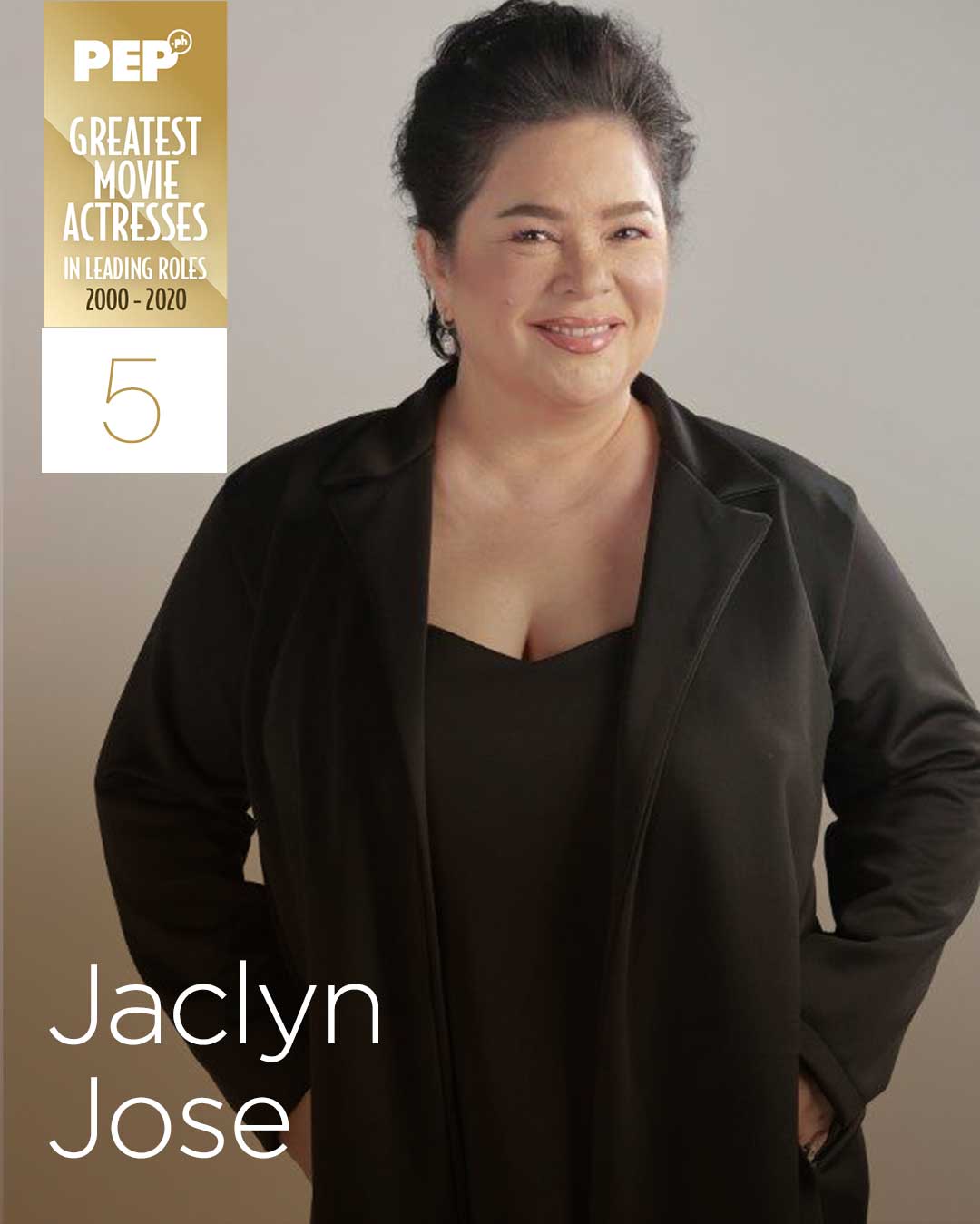 BY JO-ANN Q. MAGLIPON
For Jacyln Jose, we break our own rules for the first and only time.

We say that The PEP List of the 15 Greatest Movie Actresses puts focus on mainstream films and on actresses in leading roles. This is to keep the parameters clear for those of us who will vote and for readers who can do without the confusion.

On both counts, we make a bold exception of Jacyln.
The actress has appeared in an estimated 45 films in the last two decades, from 2000 to 2020. Of these, roughly 15 were in mainstream movies where she played only supporting roles, while the rest were in independent films where she played the lead, giving her at least 30 indie appearances over the last 20 years.
Such is the sheer number of her performances, marked with a depth and a range that can only be called stunning, that it has become impossible to shut her out of the list.

Suddenly, the vagaries of who gets the lead in mainstream cinema become an irritating issue, besides being a sad commentary on both producers and public alike. Put another way, it is deathly irritating that lead roles being written and big movies being produced in the last two decades center around young stars who, it must be said, cannot hold a candle to the likes of a Jacyln Jose.

Naturally, in such a landscape, the actress will get only the supporting roles.
We admit to being stumped. Not having Jacyln in the list would mean depriving the public her cache of superb performances. It means ignoring the whole vital body of work that she has given cinema. This not only leaves a void, it constitutes a major misstep in the making of a list of the greatest.
So, we make the decision: Jacyln Jose is in.

Then, when we vote, we make another discovery: Despite the absence of starring roles in mainstream movies—Aishite imasu (Mahal kita) 1941 (2004); Pacquiao the Movie (2006); Mano Po 5 (2006); Eternity (2006); You to Me Are Everything (2010); The Secret Affair (2012), for which she won FAMAS Best Supporting Actress award; Felix Manalo (2013); The Prenup (2015); Mang Kepweng Movies (2017 / 2020)—she keeps rising in the rankings of the Top 15.

I think that we in the team simply came together, without design or intent, and recognized the range of Jacyln's talent. She can be wealthy matron, she can be caustic companion, she can be regular folk, she can be troubled soul, she can be disciplined partner. And, you better believe that she is one and all of any of those.
When we begin to line up her leading roles in indie films, the dam breaks. All hesitation about breaking the rules just cease. Now made to stare at the depth of her talent, we are a mass of even bigger believers.

Sarong Banggi (2005), directed by Emmanuel dela Cruz, gave Jacyln her third Gawad Urian Best Actress award and her fifth Gawad overall. This is a personal favorite, even if it is difficult to watch a second time.

Here she plays Melba, an aging prostitute who spends a night with a young boy and initiates him into manhood. She is to find out too late that the boy is her own son. Jacyln's face, when she finally pieces the truth together, makes me want to turn my own gaze away.
Ma'Rosa (2016), directed by Brilliante Mendoza, gave Jacyln the Best Actress award at the Cannes Film Festival, becoming the first Southeast Asian actress to take home the prize. It is also, I dare say, the work of the award-winning director that does not work at stunning or shocking and so finally succeeds in touching the heart. This is another personal favorite Jaclyn performance, although it is a film that requires psyching oneself to watch hard reality unfolding.

Rosa's family lives off the income from their sari-sari store in a poor neighborhood. But because there is always so little money to be had, they begin selling crystal meth, or ice, an illegal drug, which brings in the bigger cash. When Rosa and husband are arrested, they are told by the police that they can get out if they come up with the bail, which of course means bribe money. Through it all, Jacyln makes you believe she is Rosa. The gait, the look, the manner, the speech—all are that of a woman being brave, coping, and making bad decisions while wanting only what every mother wants to give to her family.

For her, we broke our own rules. We do not intend to do that again. We can do that only for a Jacyln Jose.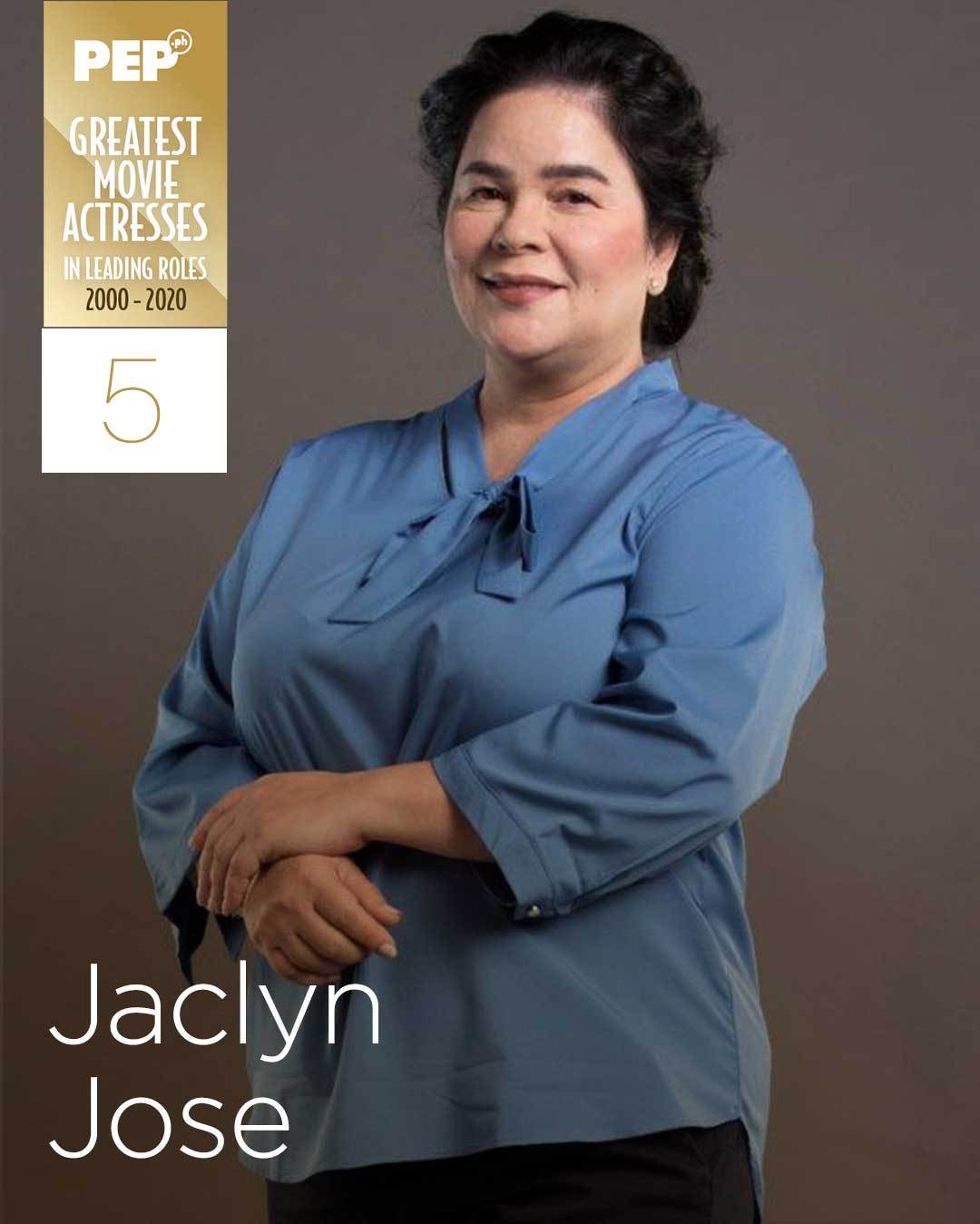 BY JET HITOSIS
KAPAPANALO LANG NI Jaclyn Jose ng Best Actress award sa 2016 Cannes Film Festival sa France para sa indie drama na Ma' Rosa nang gawin niya ang dark comedy na Patay Na Si Hesus ng taon ding iyon.
Bagamat matagal nang napapako si Jaclyn, 56, sa mother role—mapabida man siya o support—laging lutang na lutang ang anumang klaseng ina ang kanyang ginagampanan.
Tulad ng kanyang award-winning portrayal sa Sarong Banggi (2005), kung saan gumanap si Jaclyn bilang isang prostitute na hindi sinasadyang na-devirginize ang sariling anak, na inabandona niya 16 years ago.
O sa Kalel, 15 (2019), nang ang binatilyong anak niya sa isang pari ay nagpositibo sa HIV.
Ina ang laging role ni Jaclyn, pero fresh ang atake niya sa bawat pagganap.
Sa Patay Na Si Hesus, si Jaclyn ay ang Cebuanang si Iyay, na puwersahang isinama sa road trip pa-Dumaguete ang tatlong adult na anak para dumalo sa libing ng estranged husband na si Hesus.
Sa barubal pero malalim na religious satire na ito, na-highlight ang pamosong realist performance ni Jaclyn sa tabi ng sobrang off-beat characters na ginagampanan ng kanyang mga anak, isama pa ang kanyang hipag.
Larawan ng mala-adobe sa tatag—pero may sense of humor—na single mother si Iyay sa sari-saring adventures at misfortunes na pinagdaanan nilang mag-iina habang bumibiyahe patungo kay Hesus.
Ngunit biglaang nalusaw ang image na iyon ni Iyay nang matitigan na niya ang nakaburol na dating asawa.
Touching ang eksenang iyon dahil nasilayan ng manonood ang isa pang side ng karakter ni Jaclyn, na sa isang iglap ay biglang nanlisik ang mga mata at ubod-lakas na binayo ang kabaong hanggang mabasag ang salamin nito bago lumagapak sa sahig.
Maraming ganoong transition ng emosyon—in-exaggerate, siyempre pa, para nakakatawa—ng karakter ni Jaclyn, pero suwabe niyang naitawid ang mga iyon.
Sa huli, ipare-realize ng obrang ito na isinulat ni Patrick Tabada, sa direksiyon ni Victor Villanueva, na nadadaan sa dialogue ang pagpapakuwela kahit sa kalagitnaan ng isang dapat ay very dramatic scene.
Mapa-serious drama man o comedy, bida man o support, laging nananaig ang galing ni Jaclyn. Imposibleng hindi siya mapansin, imposibleng hindi siya maramdaman.
MARICEL SORIANO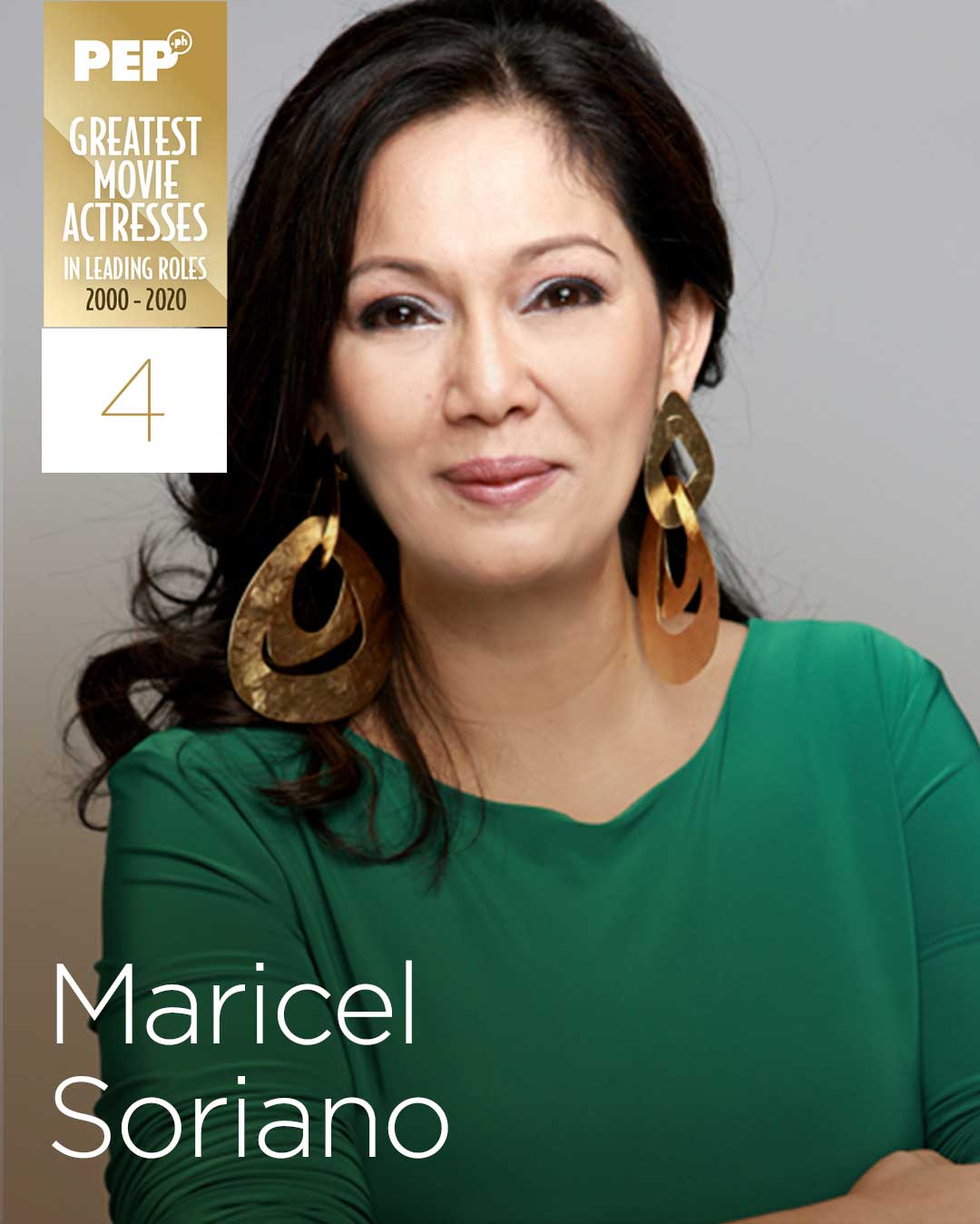 BY ERWIN SANTIAGO
HINDI MAAARING MAKUMPLETO ang listahang ito kapag wala ang pangalan ng Diamond Star na si Maricel Soriano.

Mula sa pagiging child actress noong '70s hanggang maging teen star noong '80s, nahubog si Maricel bilang isang pangunahing aktres noong dekada '90, at nagpatuloy ang ningning niya sa pinilakang-tabing nitong nakalipas na dalawang dekada.
Kabilang sa mga di malilimutan niyang pagganap sa pelikula ay ang Abandonada (2000), kung saan gumanap siya bilang isang ina, na matapos ng prison sentence sa Canada, ay umuwi sa Pilipinas upang bawiin ang anak mula sa mister niyang umabandona sa kanya;

Mila (2001), kung saan gumanap siya bilang isang guro na nakipaglaban para sa tamang kabayaran ng public school teachers;

Mano Po (2002), bilang panganay sa tatlong anak na babae ng isang mayaman at maimpluwensiyang Filipino-Chinese family;

At Filipinas (2003), bilang panganay na anak ng isang pamilya na maraming itinatagong sama ng loob sa bawat isa.

Ang apat na pelikulang ito ay idinirek ni Joel Lamangan.
Hindi rin matatawaran ang naging pagganap ni Maricel bilang mapagmahal na ina at yaya, sa Inang Yaya (2006), na idinirek nina Pablo Biglang-awa at Veronica Velasco; at bilang babaeng nagmahal ng isang lalaking may asawa, sa A Love Story (2006), na idinirek ni Maryo J. de los Reyes, tampok sina Aga Muhlach at Angelica Panganiban.

Tumatak din ang performance ni Maricel bilang isang inang nag-ampon ng maraming bata sa Bahay Kubo: A Pinoy Mano Po! (2007), sa direksyon ni Joel Lamangan; bilang volunteer na magdadala sa isang misteryosong orphan sa mag-aampon dito sa T2 (2009), na idinirek ni Chito Rono.

Naroon din ang pagganap niya bilang panganay na anak ng pamilyang nagmamay-ari ng pinakalamaking TV network sa bansa, sa Yesterday Today Tomorrow (2011), na idinirek ni Jun Lana.
Nitong mga nakalipas na taon ay tumatanggap na siya ng supporting roles sa pelikula, ngunit nagmamarka pa rin ang mga eksenang kasama siya. Hindi matatabunan ang isang Maricel Soriano.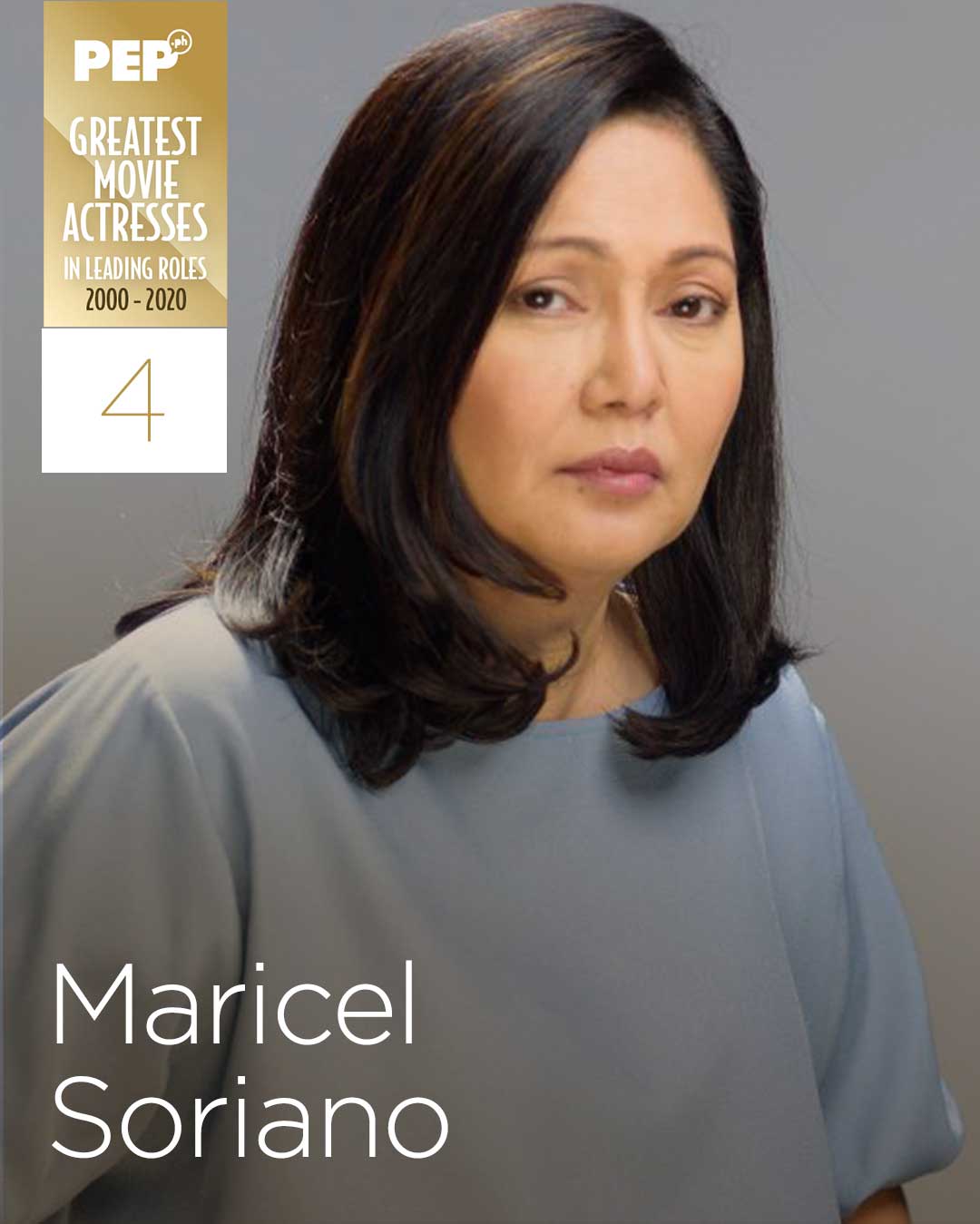 BY KAREN AP CALIWARA
TO MY MIND, no other actress can deliver these lines from the 1984 film Kaya Kong Abutin Ang Langit as powerfully as Maricel Soriano:
"Ayoko nang tinatapakan ako, ayoko ng masikip, ayoko ng mabaho, ayoko ng walang tubig, ayoko ng walang pagkain, ayoko ng putik!"
That is why everyone still remembers the lines. She punctuated every word to show that she was beyond anger, that she was exploding.
Maricel calibrates her emotions and not merely the decibel of her voice.
This was also evident in her superb moment in Filipinas (2003), where she played Yolanda, a woman who sacrificed a lot, including her one true love, for family.
As the wronged sister exposing her manipulative siblings Samuel (Richard Gomez) and Gloria (Dawn Zulueta), she was gripping—if I get carried away, I might even say magnificent—as she delivered the lines:
"Huwag mo akong tuturuan sa pagtuwid ng baluktot. Minsan ka nang nakiusap sa akin para baluktutin ang totoo. 1991 noon, di ba? Di ba namatay ang kaibigan mong si Rex? Wala siyang kasalanan. Self-defense yun sa tao. Pero anong ginawa niyo? Ikaw! Kayong lahat! Ano? Di ba pinigilan niyo ako para hindi ako magsalita? Para hindi ko sabihin ang totoong nakita ko?
"Pero ang totoo, yung baril mo na walang lisensiya ang dala niya, hindi ba? Pero kailangan mong sumipsip sa Tatay niya dahil pulitiko, e. Di ba matutulungan niya para makapunta ka ng Amerika. Kaya kailangan niyong ipagdiinan si Dindo. Napakatanga ko. Para lang matupad ang mga pangarap mo, tiniis ko lahat yun. Pare-pareho kayong lahat!
"Ikaw [Gloria], isa ka pa. Sinamantala niyo lahat ang kahinaan ko. Hindi, walang bagong taon. Wala sa pamilyang ito ang magbabago..."
The lines may have been provided by the scriptwriter, but how they come to life is patented Maricel.
She was really pitiful in Abandonada (2000) and Inang Yaya (2006), and truly magnanimous in A Love Story (2007). Once again, the characters' descriptions may have been built into the script, but if an actress were not believable, these characters could have fallen flat.
And when Maricel has to be funny, she is downright comical. Her role in Momzillas (2013) reminded me of her Inday Bote (1985) days, when she was even more artless and hilarious.
Maricel is indeed a diamond star—playing multifaceted roles, many times giving these added dimensions, and quite often doing all brilliantly.
CLAUDINE BARRETTO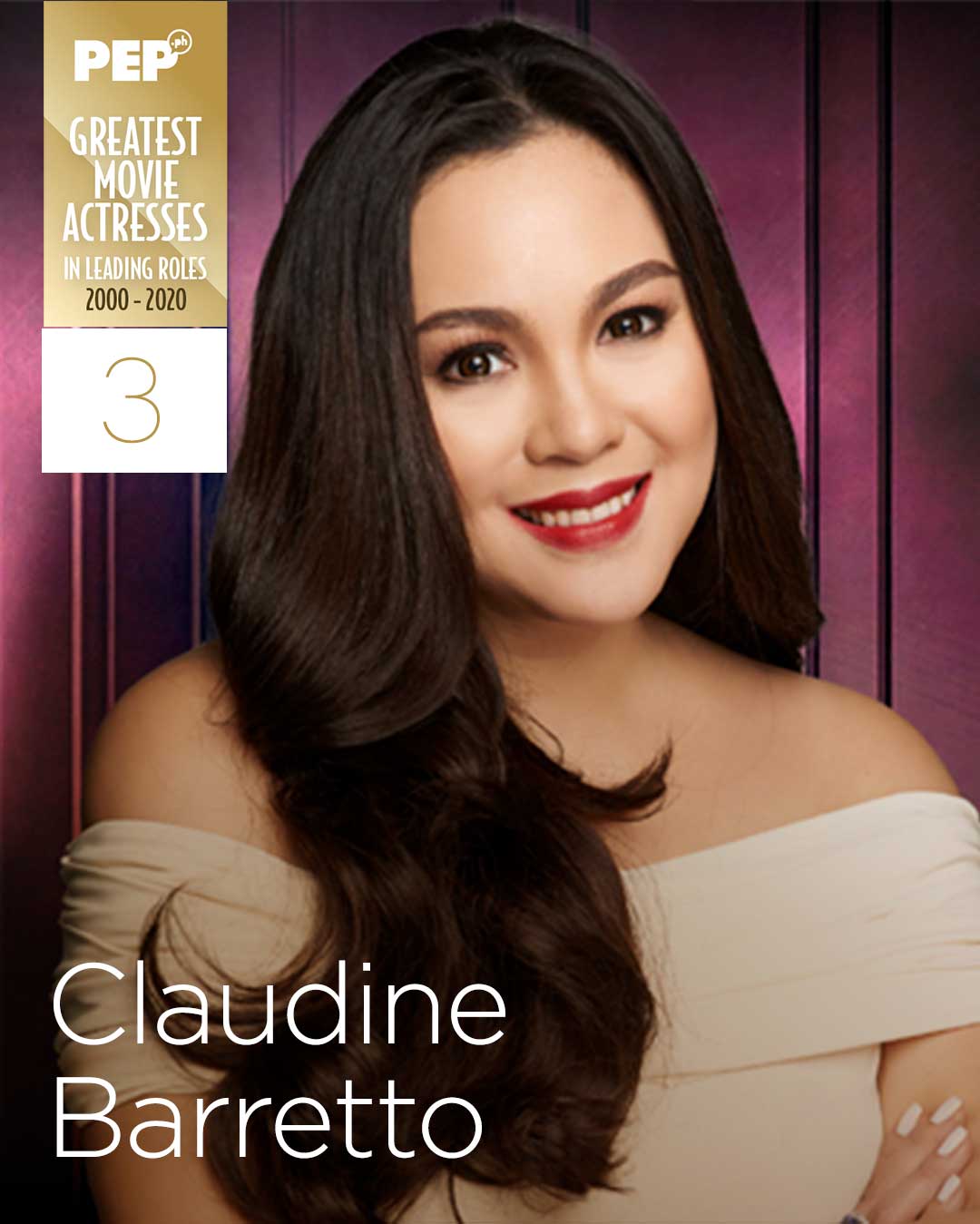 BY ARNIEL SERATO
NASUBAYBAYAN KO ANG buong karera ni Claudine Barretto, mula sa pagsisimula niya, sa kasikatan niya sa telebisyon at pelikula, at pati na rin sa masalimuot niyang buhay pag-ibig at sa kasing salimuot na kanilang Barretto family squabble.
Sa pagiging fan ko sa kanya, naging magkaibigan na tuloy kami ngayon. Ngunit kung sakaling hindi ko siya naging kaibigan, parehong-pareho pa rin ang sasabihin ko tungkol sa kanyang husay sa pag-arte.
Balikan ko lang ang kanyang mga pelikulang paborito ko: Anak (2000), Got to Believe at Kailangan Kita (2002), Milan (2004), at Dubai (2005).
Para sa akin, diyan sa limang pelikulang iyan lalong namamayagpag ang karera ni Claudine.
Iyong pag-arte niya sa Anak, ka-eksena si Star for All Seasons Vilma Santos, grabe iyong tama sa puso nang aktingan nila.
Lalo na iyong kumprontasyon ni Vilma (Josie) sa kuwarto ni Claudine (Carla), iyong nanghingi ng yosi ang ina sa anak. Dito ay kinumpronta ng anak ang ina dahil hindi nakauwi sa bansa ang ina noong namatay ang ama.
At nung sinugod ni Josie si Carla sa tinirhan nito dahil sa kanyang paglalayas. Grabe iyong eksenang iyon, parang sa totoong buhay.
Naitulak ng anak ang ina sa eksenang iyon, tapos pinagbabato niya ng kanyang damit.
Tapos nagbalyahan sila at natumba ang ina! Ay husay!
Samantala, sa Kailangan Kita ko naman nakitaan si Claudine ng kakayahan na maging isang maalindog at inosenteng aktres.
Ang inosente at probinsiyanang si Lena (Claudine) ay nabighani sa New Yorker na si Carl (Aga), isang chef.
Kahit na ayaw ni Carl ng mga pagkaing may gata at sili, e, ito ang specialty ng bayan ng kanyang fiancée, ang supermodel na si Chrissy, ang nakakatandang kapatid ni Lena.
Kung iisipin ko, ang pagluluto ang dapat sisihin kung bakit nagka-inlaban sina Lena at Carl. Pero kung magseseryoso ako, masasabi kong grabe ang atraksyon ng dalawa sa isa't-isa. Ramdam mo bilang manonood.

Ganoon kagaling si Aga (No. 2 Greatest Movie Actor ng PEP) at si Claudine (No. 3 Greatest Movie Actress ng PEP).
Sayang lang at maraming pinagdaanang gulo sa kanyang karera, pamilya, at pag-ibig si Claudine. Kung hindi, baka nagtuloy-tuloy ang pagbigay sa kanya ng magagandang leading roles.

Dahil, kung sa husay at husay din lang, walang aayaw na tawaging isa sa pinakamahusay na aktres ng huling dalawang dekada si Claudine Barretto.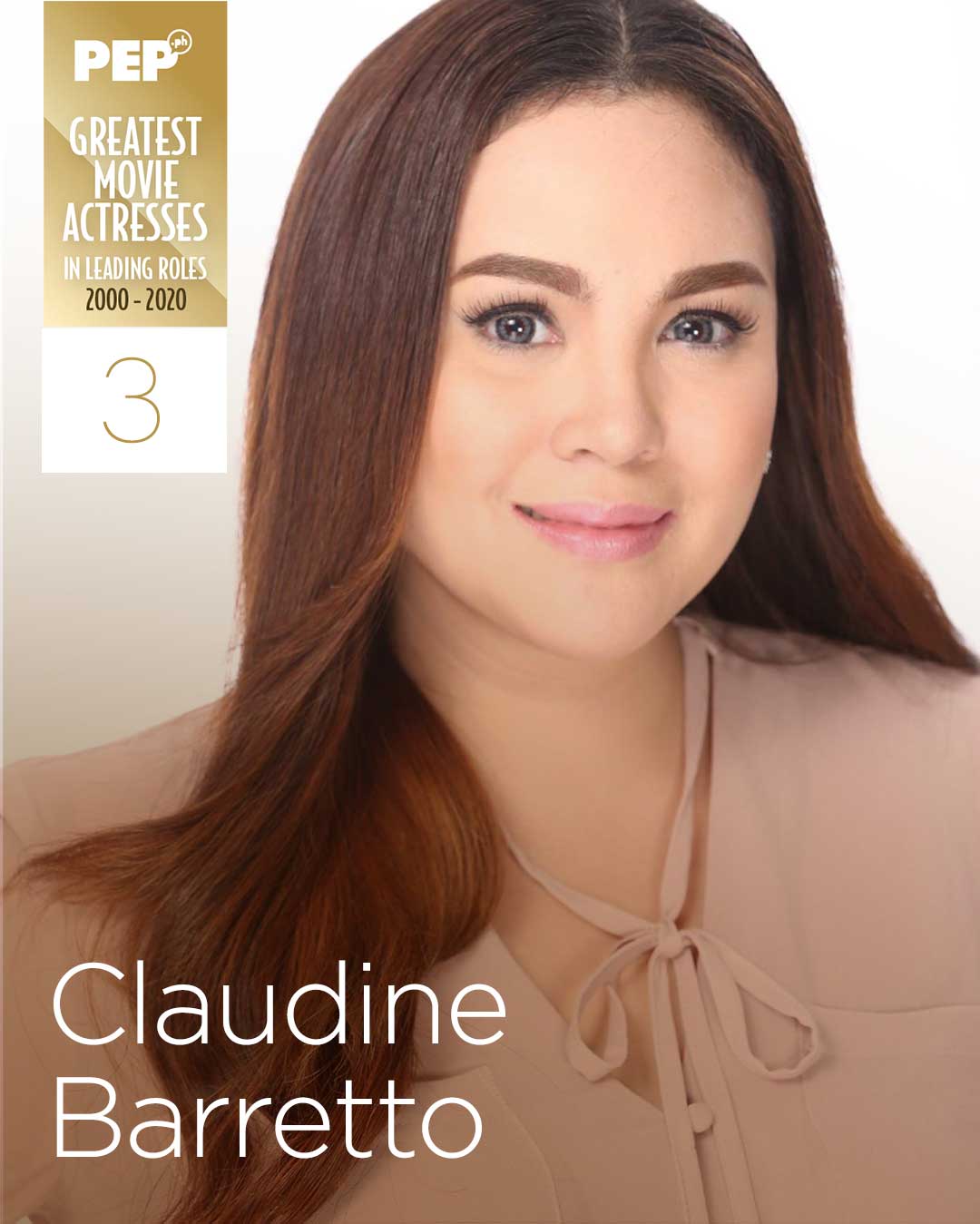 BY CHEZ GANAL
Claudine Barretto has made being a dramatic actress her career trajectory.
The actress started strong, starring with Vilma Santos in the highly publicized family drama Anak (2000), in which Claudine was the title roler. It was the young actress's splash into serious drama.

Her character was filled with angst, frustration, and confusion, a child unable to come to grips with why her mother (Vilma), an overseas contract worker, was never with her. Claudine held her own in the film, matching the vitality of Vilma, who is regularly regarded as just superb.

And while Vilma's monologue was one of the most memorable in the film, Claudine was given her own monologue, and she nailed it.

In the next six years, Claudine focused on building her movie career as a dramatic actress, sharpening her skills in the genre through many plum roles thrown her way. She began playing more conflicted but sympathetic characters, which audiences first witnessed in the romance-drama Kailangan Kita (2002), with Aga Muhlach.

This was a departure from her teenybopper flicks of the '90s. At the same time, the next years positioned Claudine as the prime leading lady of Star Cinema's films. This became more apparent after her award-winning performance in the excellent Milan (2004), which starred her with Piolo Pascual.

Claudine delivered a performance that perfectly mixed the theatrics of romance with the nuances of drama. She became a template for lead actresses thereafter, especially when it came to delivering pained declarations of love onscreen.

The Kapamilya star earned her first FAMAS award for Best Actress for Milan.
Claudine followed this success with the 2005 films Nasaan Ka Man and Dubai. Both films gave her another set of acting awards, including Movie Actress of the Year at the Star Awards for Movies for Nasaan Ka Man.

As she entered the second half of the 2000s, Claudine suddenly took a break from films. After the blockbuster success of Sukob (2006), she disappeared from the silver screen for four years. This gap may or may not have hurt her trajectory, but it did put her career to a major halt.

When she got ready for her return, the film In Your Eyes (2010) was not a strong-enough vehicle to convince audiences that Claudine still had what it takes.

Fans had to wait six more years to see her in a better comeback film, Etiquette for Mistresses (2016), but her appearance there was still underwhelming. Iza Calzado, one of the other mistresses in the film, made more of an impact.

Today, Claudine seems to be in search of the project that would make her return to the silver screen a memorable and permanent one. Going for her is her impressive track record—backed by the ABS-CBN network, the film company Star Cinema, and the talent-management group Star Magic—from the first half of the 2000s.

Already, this gives her great advantage over actresses in her generation—which, coupled with her genuine acting talent, gives her the greatest advantage of all.
JUDY ANN SANTOS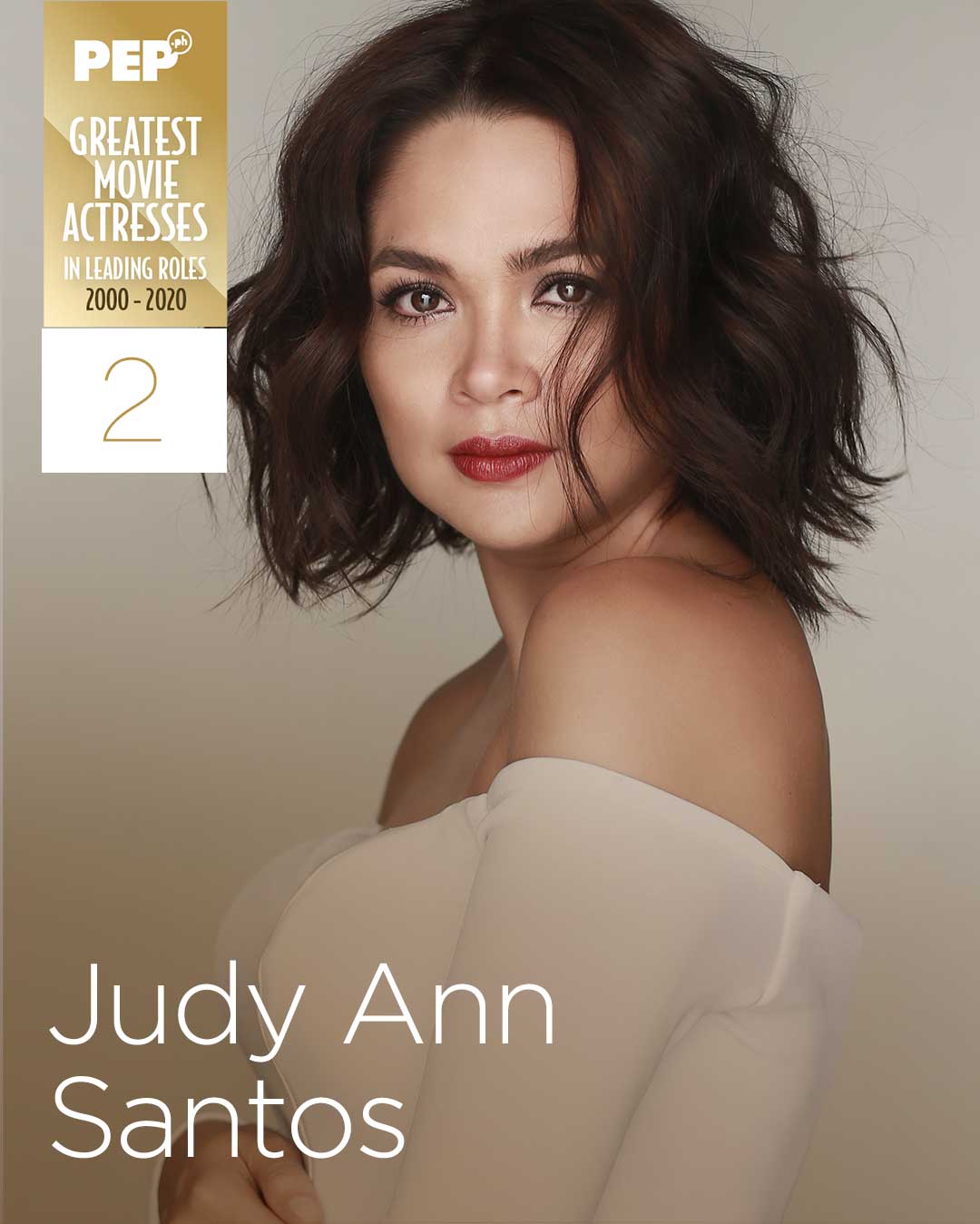 BY CHEZ GANAL
JUDY ANN SANTOS is an actress who plays it smart.
During the 2000s, Judy Ann tried her hand in different movie genres. She appeared in young romances, flat-out comedies, horror films, family movies, coming-of-age stories, and even war settings.
Starting 2010, Judy Ann was becoming a dramatic lead. Her rise was gradual, but steady. She began with a teen drama, Kahit Isang Saglit (2000). Two years later, she acted as second lead to Sharon Cuneta in the largely sad film, Magkapatid.
After another two years, Judy Ann headlined Sabel and Aishite imasu (Mahal kita) 1941. Both projects, released in 2004, earned Judy Ann her first Best Actress nominations across major award-giving bodies. Sabel gave the popular star her first Gawad Urian Best Actress award.
Her next major acting challenge happened four years later.
Ploning (2008) was the first time Judy Ann completely stepped out of her comfort zone and took on material more unconventional than what she was used to doing.
The film, directed by Dante Nico Garcia, was shot entirely in Cuyo, Palawan, with much of its dialogue spoken in the Cuyonan language.
Judy Ann played the titular character. The role tested her range and control. The film taught her to blend into the scene and not stand out. The place and story were the main characters, and it was Judy Ann's duty to make it stay that way.
Her next notable acting challenge came in 2016 when the actress took on the role of Juanita in Kusina.
The film was Judy Ann's comeback to the big screen after two years. It was an interesting return as this was probably the closest that fans will get to see Judy Ann acting in a stageplay.
She played the main character Juanita, who has lived her entire life within the confines of her kitchen. She played out Juanita's young adulthood, married life, motherhood, and sunset years in 120 minutes.
As a comeback film, Kusina proved to be a great acting vehicle for Judy Ann, who had to expose a variety of emotions without benefit of a scene partner. She also didn't have help from dramatic monologues and confrontation scenes. She had to amp her performance on her own.
The actress was left to unearth all these emotions from within. A tiring feat for any performer, as it wrung spectators dry, too.
But for those 120 minutes, the film reminded audiences why Judy Ann Santos is the powerful force she is in Philippine cinema.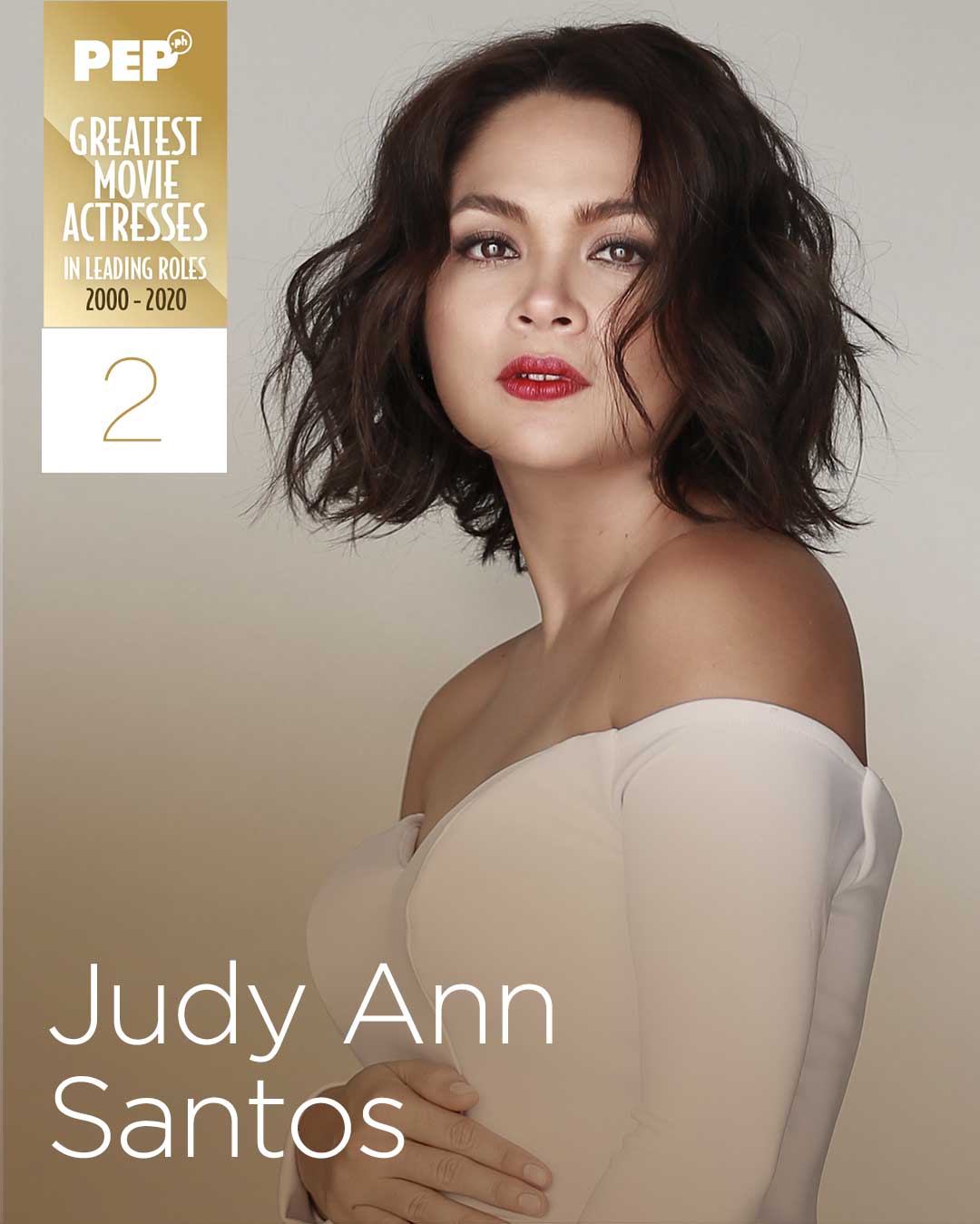 BY JAMES PATRICK ANARCON
KILALA NAMAN NATIN ang galing ni Judy Ann Santos sa drama, lalo na sa kanyang mga teleserye. Kaya nakakaaliw tuwing mapapanuod siya sa mga comedy movies.
Siyempre, hindi matatawaran ang portrayal niya as Angie sa pelikulang Kasal, Kasali, Kasalo (2006).

Tumatak naman talaga iyong eksenang hindi nakilala ni Ryan Agoncillo ang niluto ni Judy Ann na pochero, gayo't yun ang paboritong putahe ni Ryan.

Pero pinakagusto ko rito ay iyong nalaman ni Judy Ann na may kinikitang babae ang asawa niya. Ito ata ang nagpa-umpisa na hindi kailangang maging heavy ang confrontation ng wife at mistress dahil, kahit na dama ang galit at pagkadismaya ni Judy Ann sa eksena, natimpla niya nang maayos para mag-iwan pa rin ng comedy ngunit hindi absurdo ang eksena.
Noteworthy din sa akin ang recent comedy film ni Judy Ann na Ang Dalawang Mrs. Reyes (2018). Tawang-tawa ako sa eksena niyang sine-seduce niya ang asawang si Joross Gamboa pagkatapos niyang magparetoke ng dibdib.

Pero ang talagang nagpahalakhak sa akin ay yung eksenang sedated siya habang nagko-confess si Joross na may iba na siyang karelasyon. Kahit na dapat mabigat ang eksena, ang husay ni Juday at nagawing light at fun pa rin ang eksena.

Isa rin itong nakakatuwa: Dahil hindi nakapako si Juday sa itsura niya—ibig sabihin ay hindi siya conscious na dapat gandang-movie star siya parati—magkapareho man ng genre ang ilang movies niya, lagi siyang may bago at entertaining na naipapakita.

BY BERNIE FRANCO
JUDY ANN SANTOS once said that she always tries to reinvent herself.
From her commercially successful outings as part of a love team, she broke out, and transitioned into a respected dramatic actress.
Kahit sa kanyang personal na buhay tila in-apply ito ni Judy Ann. Hindi siya nagse-settle sa pagiging aktres lamang.
Halimbawa, nag-aral siya ng culinary na, nang lumaon, nagamit niya para magtayo ng food business at mag-host ng sarili niyang online cooking show.
Pagdating naman sa kanyang pinaka-propesyon, lalong walang takot si Judy Ann. Ginagampanan niya ang kakaibang roles na susubok sa kanyang kalibre bilang aktres.
Isa na rito ang pelikulang Kusina (2016). Comeback project ito ni Judy Ann pagkatapos ng two-year hiatus sa showbiz.
Makabuluhan ang pelikula na ang setting ay noong World War II. Kakaibang Judy Ann din ang mapapanood dito dahil ang treatment sa pelikula ay parang sa teatro. Nangyari ang lahat sa kusina.
Ang istorya ay umikot sa buhay ni Juanita, na lumaki sa kusina. Ipinamana kay Juanita ng kanyang lola ang kaalaman sa pagluluto. Ngunit hindi lang ito tungkol sa pagkain, dahil ang sinasabi ng pelikula ay, whatever you do, put your heart into it because that is what will make all the difference.
The movie highlights how important cooking is to Filipino culture. Maraming sangkap sa istorya para maging makulay. Sa kanyang pagluluto, naibabahagi ni Juanita ang kanyang buhay maging sa mga taong nakapalibot sa kanya.
Halimbawa, sa panahon ng giyera, ang masarap na pagkain ay panandaliang nakapagpapagaan ng pakiramdam ng mga tao kahit nang-aagaw eksena ang panganib at kamatayan sa buhay ng lahat.
Ang kusina ang naging santuwaryo ni Juanita sa panahong iyon. Ang kusina rin ang naging saksi sa malalaking kaganapan sa buhay ni Juanita mula pagkasilang hanggang pagtanda.
Bagamat may support cast, dinala ni Judy Ann ang buong pelikula. Ang lahat ng kanyang kilos at pag-arte ay magnified dahil siya ang main subject ng camera.
Tagumpay si Judy Ann. Sa pelikula, hindi maitatatwang mahusay siyang umarte.
Kagandahan nito, sa bawat pelikula niya, ganooon pa rin ang kitang-kita.
VILMA SANTOS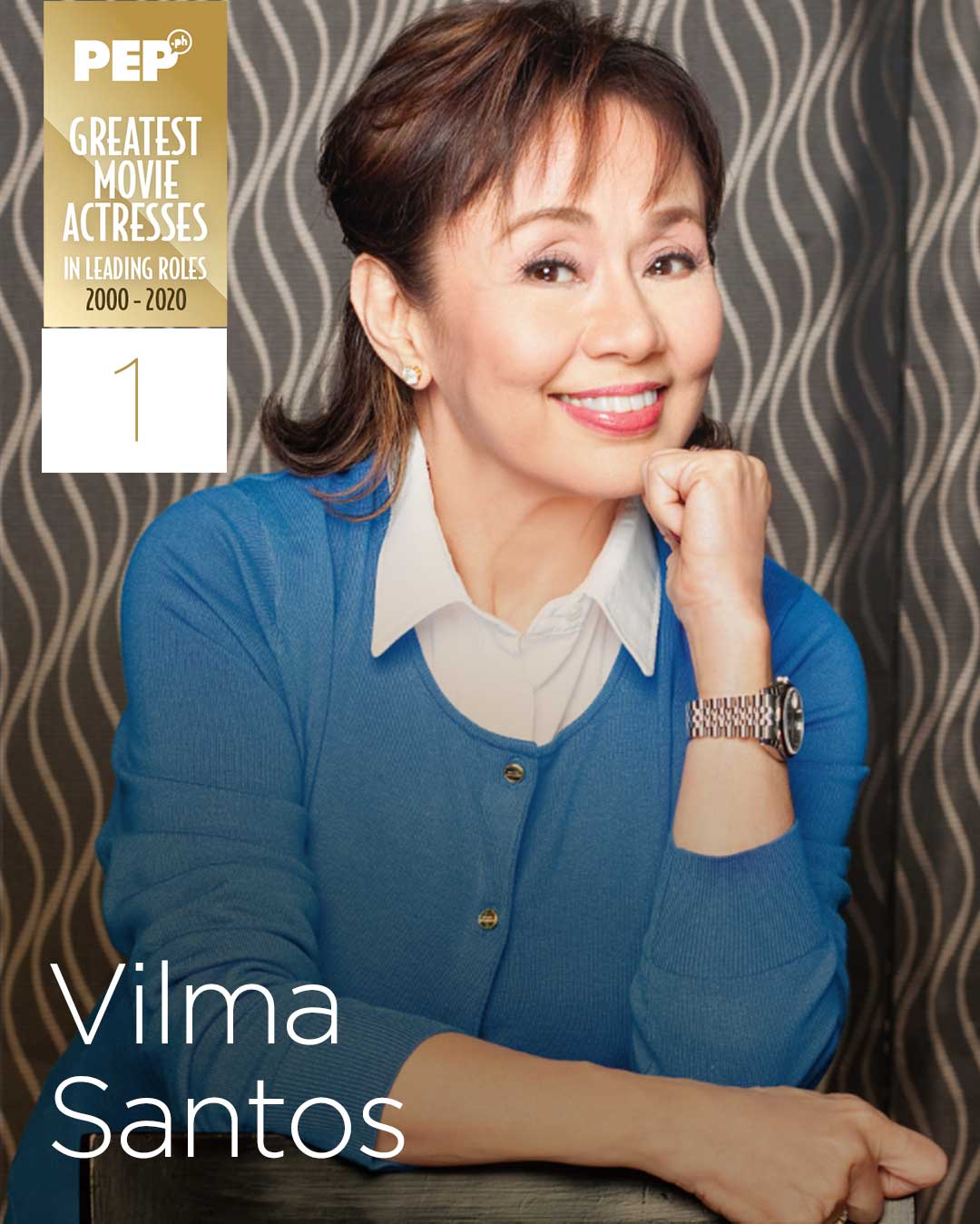 BY ERWIN SANTIAGO
MABIBILANG SA DALIRI ang nagawang pelikula ni Vilma Santos sa nakalipas na dalawang dekada, ngunit bawat isa nito ay malaking event sa Philippine cinema.

At bawat isa sa mga karakter na ginampanan ng tinaguriang Star for All Seasons ay sumasalamin sa iba't ibang mukha ng babae at ina.
Anak (2000, idinirek ni Rory Quintos), kung saan nakakaantig ang kanyang pagganap bilang OFW na naging estranghero sa kanyang mga sariling anak;

Dekada '70 (2002, idinirek ni Chito Roño), bilang isang ilaw ng tahanan at nag-iisang babae sa pamilya, na unti-unting namulat sa mapaniil na diktadurya noong panahon ng martial law;

Mano Po: My Love (2004, idinirek ni Joel Lamangan), bilang Filipino-Chinese anti-crime crusader na nanumbalik ang pagmamahal sa dating kasintahan;

In My Life (2009, idinirek ni Olivia Lamasan), bilang isang mahirap pakisamahang ina na nagkaroon ng conflict sa gay lover ng kanyang anak na lalake.

Sa lahat ng mga ito ay nagpamalas si Vilma ng brilyo bilang isang aktres.
Kasabay ng pagdiriwang ng kanyang ika-50 taon sa industriya, sinubukang tumawid ni Vilma sa ibang genre na malayo sa mga nakasanayan nang mapanood sa kanya ng publiko. Sa supernatural horror film na The Healing (2012, idinirek ni Chito Roño), ginampanan ni Vilma ang papel ng isang babaeng humingi ng tulong sa faith healer sa pag-asang gumaling ang ilang taong malapit sa kanya.

Sa kauna-unahang pagkakataon din ay gumawa ng indie film si Vilma, ang Ekstra (2013, idinirek ni Jeffrey Jeturian), kung saan ginampanan niya ang title character.
Sa huli niyang pelikulang Everything About Her (2016, idinirek ni Joyce Bernal), ginampanan naman ni Vilma ang papel ng isang matagumpay na negosyanteng na-diagnose ng Stage 3 cancer. Mala-Meryll Streep ng The Devil Wears Prada kung umasta siya rito sa kanyang mga empleyado, kasama si Angel Locsin.
Dahil bihirang gumawa ng pelikula, bunsod na rin ng kanyang political career, piling-pili at kalkulado ang mga proyektong tinatanggap ni Vilma. Lalo lamang itong nagpataas ng kanyang value sa Filipino film industry.

Nananatiling dekalibre at primera-klaseng aktres si Vilma sa edad na 67. Kung ang karamihan ng mga kasabayan niya ay tumatanggap na ng supporting roles at TV assignments, si Vilma ay nananatiling bida sa lahat ng mga pelikulang nilalabasan—na akmang-akma sa kanyang taguri bilang Star For All Seasons.

Bukod sa kanyang garantisadong mahusay na pagganap, na nagbibigay sa kanya ng acting awards, malaking bagay ang pangalang Vilma Santos upang makahatak ng mga manonood sa takilya.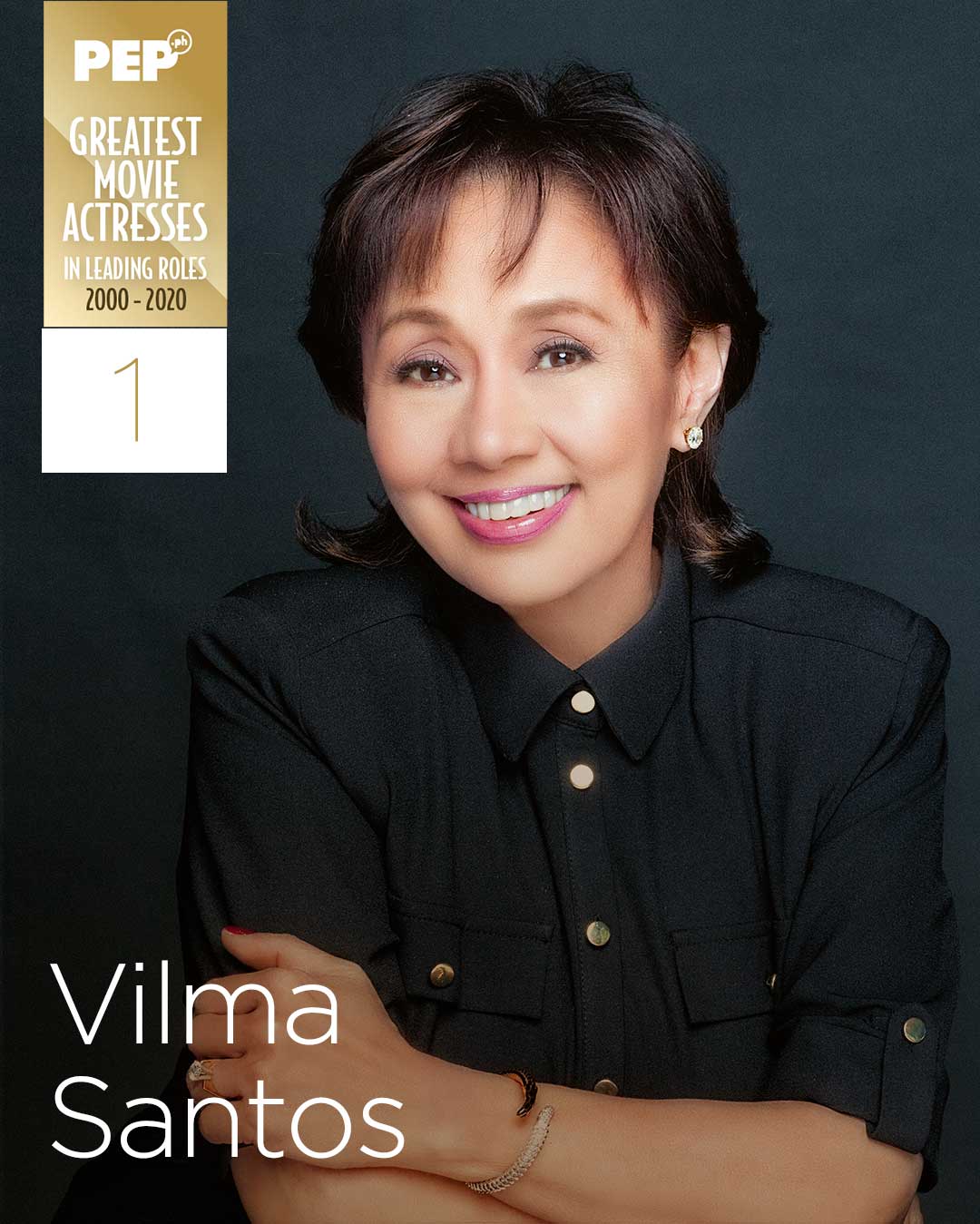 BY RACHELLE SIAZON
WALANG KUPAS ANG tagos-sa-pusong acting ng isang Vilma Santos.
Maliban sa umaatikabong heavy drama scenes, pinatunayan din niya ang kanyang timing sa mga eksenang nakakatawa ng pelikulang In My Life (2009).
Dito ay gumanap siyang si Shirley Templo, isang librarian/teacher na separada sa asawa. Nag-resign siya sa trabaho, at pagkatapos ay nagtungo sa U.S. para makapiling ang anak na lalaki dahil pakiramdam niya'y pinagkakaisahan siya ng mga anak na babaeng kampi sa dating asawa.
Maganda ang atake ni Vilma sa kanyang karakter na masungit, ayaw sa maingay, at sanay na laging nasusunod.
Mapipilitan kasi si Shirley na makibagay sa fast-paced life sa New York, at pati na rin kay Noel (John Lloyd Cruz), ang kinakasama ng kanyang anak na si Mark (Luis Manzano).
May eksenang nasisante si Shirley nang mamasukang errand girl sa isang restaurant.
Frustrated na napaiyak si Shirley sa pagkawala ng trabaho, pero nahaluan iyon ng comedy nang aksidente siyang matapunan ng harina at bumagsak sa tray ng mga itlog. Litaw dito ang pagiging childish ng kanyang self-centered character na nagpapadyak pa habang umiiyak.
May isa namang eksena na malumanay at nakangiti man si Vilma, naipadama niya ang lumbay ng isang inang nangungulila sa pansin ng mga anak.
On cue ang pagpatak ng l uha sa kanang mata ni Vilma matapos niyang sabihin na, oo nga't marami siyang anak, "pero pakiramdam ko mag-isa pa rin ako."
Ilan lamang ito sa build-up sa climax ng movie. Tahimik at ma-pride ang karakter ni Vilma, pero bigla siyang napahagulgol nang mamulat sa katotohanang kaya lumayo ang loob ng mga anak ay dahil marami rin pala siyang pagkukulang bilang ina.
Hindi tanging ang mahusay na script at mahusay na direksyon ang nakapagbuo ng eksenang iyon. Ang nakakaantig na pag-arte ni Vilma ang nagbigay-buhay dito. Tuloy, matatanong mo sa sarili kung ano ang ano na ang nawala sa eksenang iyon kung hindi isang Vilma Santos ang naroon.

Idagdag pa ang charisma ni Vilma sa big screen, hindi katakatakang siya ay A-list star noon at magpahanggang ngayon.

BY ARNIEL SERATO
HINDI BINANSAGANG STAR for All Seasons si Vilma Santos for nothing.
Siya ang original Trudis Liit (1963), kung saan kaagad nakitaan ng Sampaguita Pictures ng potensiyal si Vilma sa aktingan.
Imagine, unang sabak pa lang niya sa acting, ginawaran kaagad siya ng Famas Best Child Performer award noong taong iyon.
Ang ilan sa mga markadong pelikula ni Vilma—na kilala rin sa tawag na Ate Vi sa mundo ng showbiz—ay ang Lipad, Darna, Lipad (1973), Burlesk Queen (1977), Relasyon (1982), Sister Stella L. (1984), Alyas Baby Tsina (1984), Pahiram ng Isang Umaga (1989), Dahil Mahal Kita: The Dolzura Cortez Story (1993), Bata Bata, Paano Ka Ginawa (1998), Anak (2000), at Dekada '70 (2002).
High school pa lamang ako nung ipinalabas ang Dahil Mahal Kita: The Dolzura Cortez Story kaya hindi ko ito napanood mismo sa sinehan at telebisyon.
Pero, may mga clips na ito sa social media ngayon. Kuwento ito ng buhay ng first publicly recognized AIDS patient sa bansa. Nakakaantig ang eksena sa ospital kung saan sinabi ni Dolzura (Vilma) sa ina (Charito Solis) na baka hindi na siya magtatagal.
Ang pagpapalabas ng pelikula ang nakapagsimula ng AIDS awareness sa bansa.
Nagwagi si Vilma ng maraming Best Actress awards dahil sa kanyang pagganap sa Dahil Mahal Kita: The Dolzura Cortez Story.
Ito ay mula sa 1993 Gawad Urian, Manila Film Festival, Film Academy of the Philippines, Star Awards, Movie Magazine Awards, Intrigue Magazine Reader's Choice Award, New Fame Magazine Reader's Choice Award, at FAMAS Circle of Excellence in Acting Award.
Hanggang ngayon, grabe pa rin ang iyak ko kapag pinapanood ko ang Anak, Bata Bata, Paano ka Ginawa at Dekada '70.
Lahat ng pagganap ni Ate Vi diyan ay natumbasan ng kabi-kabilang Best Actress awards.
Sa Bata Bata, Paano Ka Ginawa, iyong eksena nila ni Carlo Aquino kung saan nasampal ni Vilma ang bata, grabe ang kurot sa puso nun.
Sana mapanood ito ng mga millennials.
Hindi talaga matatapatan ang galing ni Vilma sa aktingan. Sa palagay ko, wala pang sumusunod sa yapak ng nag-iisang Vilma Santos.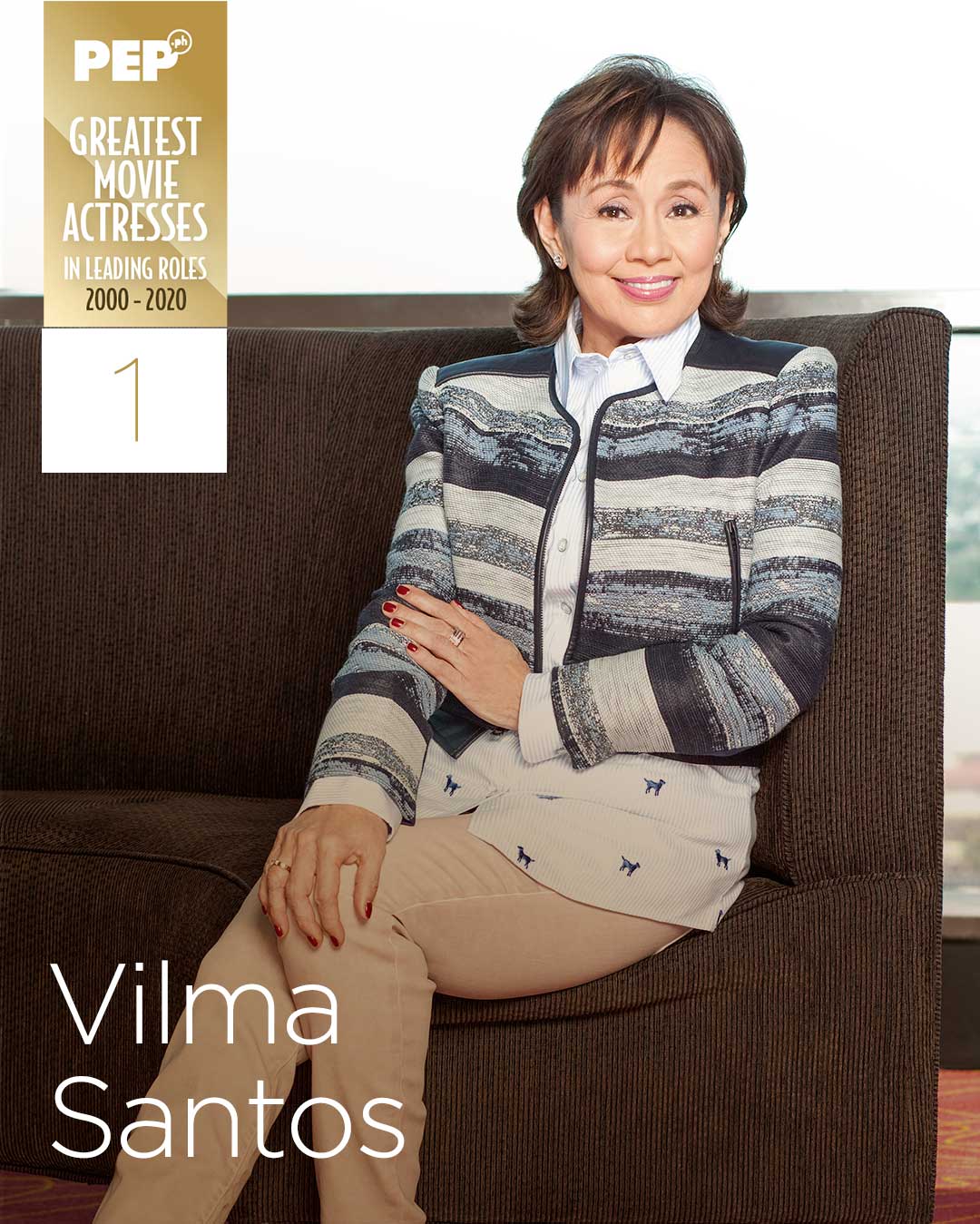 BY NIKKO TUAZON
There is no denying that Vilma Santos is one of Philippine cinema's best thespians. Mula nang nagsimula ang kanyang karera sa showbiz noong '60s, nagtuluy-tuloy ang kanyang pagsikat magpahanggang ngayon.
Isa sa maituturing na original queens of Philippine movies, si Vilma ay nagkaroon ng sunud-sunod na box-office hits noong '70s hanggang '90s. Ngunit maging sa 2000 hanggang 2020, namayagpag pa rin si Ate Vi bilang aktres.
Isa sa mga unang pelikula ni Ate Vi na napanood ko ay ang Anak: The Movie, kung saan kasama niya sina Claudine Barretto, Joel Torre, Amy Austria, Cherry Pie Picache, Baron Geisler, at marami pang iba. Iba ang husay na ipinamalas ni Ate Vi sa pelikulang ito Rory B. Quintos.
Dito ay ginamanpanan niya ang role na Josie, isang OFW, na napalayo na pala nang husto sa loob ng mga anak. I felt her agony as she delivered the line "kung hindi mo ako kayang ituring bilang isang ina, respetuhin mo na lang ako bilang isang tao" to her daughter Carla (Claudine) in a seven-minute confrontation scene.
Isa pang pelikula kung saan ipinamalas ni Ate Vi ang kanyang husay bilang aktres ay ang Dekada '70, na nagbunga ng tinatawag na "grandslam" win, na ibig sabihin ay napanalunan ng artista sa loob ng iisang taon ang apat na pinakamalalaking awards sa bansa: FAMAS, Urian, Luna, at Star Awards.

Fun fact: Kay Vilma din nagsimula ang term na "grandslam winner" noong 1983 para naman sa pelikulang Relasyon ni Ishmael Bernal.
Refreshing din mapanood si Ate Vi bilang Loida sa 2013 pelikulang Ekstra, lalo't sa tunay na buhay ay hindi niya naranasan kailanman ang buhay ekstra. Siya nga naman ay child star at title roler agad hanggang maging "Star For All Seasons."

Ngunit dahil napakahusay niyang aktres, animo'y hirap, very willing to please, at nag-aantay abutan na ekstra si Vilma sa pelikula.
Ibang klase siya. Kaya niya lahat. Isa siyang Philippine treasure.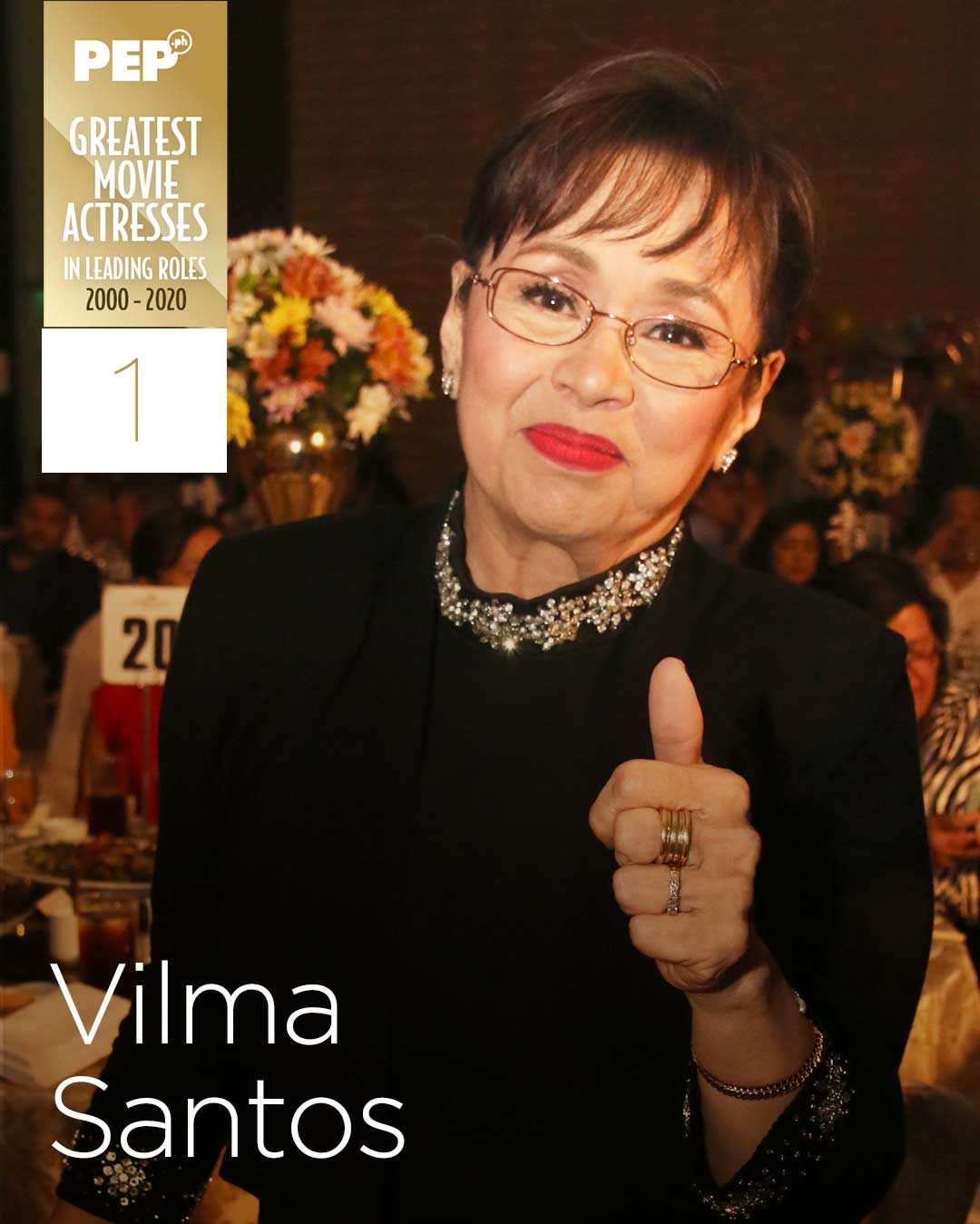 BY CHEZ GANAL
It took only two movies at the start of the 2000s to show that Vilma Santos is still at the top of her game in a career then running four decades. Today, in a career spanning nearly six, she remains up there.
Vilma is the "Star for All Seasons" for a reason. She is a "Grand Slam Queen," meaning she won four of the country's major awards all within the period of one year. She is a five-time FAMAS Best Actress winner, and was lodged in the FAMAS Hall of Fame in 1990. Then she started the 2000s as a seven-time Gawad Urian Best Actress winner.
In the following two decades, Vilma continued to receive Best Actress nominations from the Gawad Urian.
Her next nomination came from her performance in the Star Cinema film Anak (2000).
When people talk about Anak, the powerful scene—now considered iconic—between Vilma and co-star Claudine Barretto always comes to mind.
Vilma's character Josie, a returning OFW from Hong Kong, struggles to reconnect with her children. She struggles the most with Carla (Claudine), her eldest child. Carla refuses to acknowledge her mother's presence, choosing instead to preoccupy herself with vices. This leaves Josie confused, rejected, and troubled.
At the climactic point of the film, Josie has resigned herself to returning to Hong Kong so that she can keep providing for her family. When Carla learns of this, she acts out her anger and storms off, saying her mother is really very good at abandoning them.
This blow becomes the last straw for Josie, who retaliates for the first time.
Josie throws out Carla's clothes from the closet, pushes her out of the room, lashes out. Through gritted teeth, Josie paints a picture of how thankless the work of an OFW parent is. She asks Carla to see the sacrifices she has made for the family and demands that she be, if not loved, then respected.
This scene is perhaps one of the reasons why today's generation of moviegoers acknowledges that Vilma is the acting legend that critics and fans say she is.
When Vilma's character finally lashes out, there is an emotional release that the audience is made to feel. Vilma expresses her deep pain through waves of anger that the audience now considers justified after all the times Carla has pushed her away. When Josie does not hide her hurt anymore, the audience feels its sting.
Vilma is able to make audiences feel every inch of that pain by her performance. She knows when to dial it up and when to simmer it down to let the emotions hit the right spot.
This level of control and command is displayed once again in Dekada '70 (2002), where Vilma earns her eighth Gawad Urian Best Actress award.
Vilma plays a tonally different character this time in the martial-law era film. Her character Amanda is expected to be the perfect housewife and the perfect mother. She follows the rules, she does not make them. Because of this, Amanda is presented as a passive protagonist, and almost as a stand-in for the audience.
If Anak shows the spectrum of emotions that Vilma can play out, Dekada '70 focuses on how she can control the emotional beats of a film with only her eyes.
Vilma plays this role with a much more subdued and nuanced approach. With her character Amanda expected to submit herself to what patriarchy dictates, Vilma expresses her journey through body language. Emotions are depicted through minimal body movements or subtle facial expressions, but Vilma is able to get audiences to empathize with her character.
There is an inner turmoil that builds up within Amanda as the film progresses, and just as it was in Anak, audiences get to release their own emotions toward the end of the film. Vilma plays the drama with much more restraint in Dekada, and it is this approach that gives the scene more power.
Indeed, Vilma is the "Queen of Queens."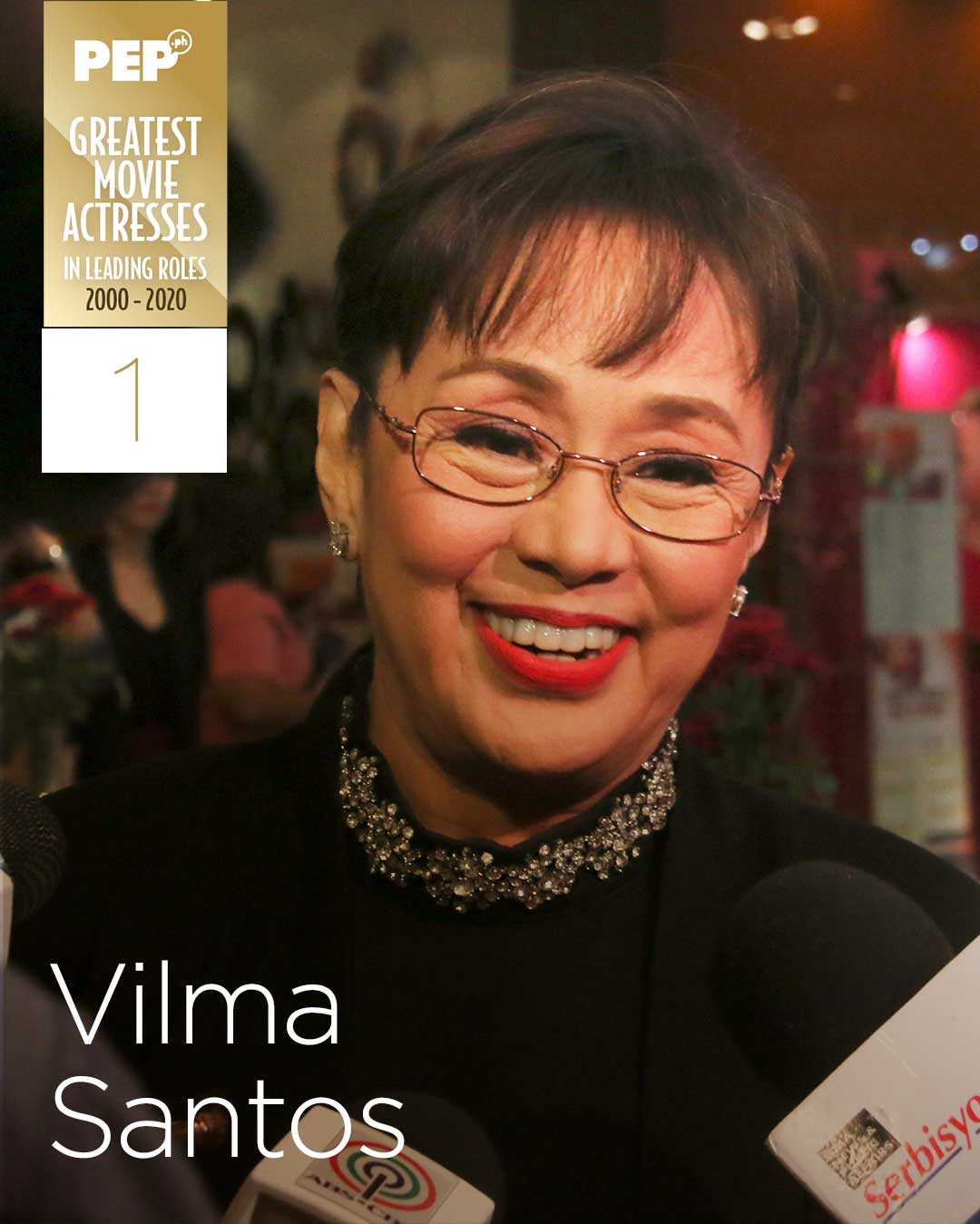 BY ROMMEL R. LLANES
Nasanay tayong makita si Vilma Santos sa karamihan niyang pelikula na glamorosa't maganda.
Kahit na sa mga pinagbidahan niyang proyekto kung saan gumanap siya bilang inang sinisikap na mapalaki nang maayos ang mga anak (sa Bata, Bata Paano Ka Ginawa, 1998, at Anak, 2000), maganda pa ring tingnan ang multi-awarded actress, sa tulong na rin ng magagaling niyang direktor at cinematographers.
Pero sa pelikula niyang Ekstra (2013), kung saan gumanap siyang bit player o "talent," hindi natakot si Vilma magpa-deglamorize at ilubog ang sarili sa role.
Naging kapani-paniwala bilang ekstra at karaniwang fan si Ate Vi.
Mahusay niyang ipinadama sa mga manonood ang excitement at kilig sa tuwing makikita ang mga artistang kanyang hinahangaan at makakaeksena.
Madarama mo ang pag-asam ng karakter ni Vilma na makilala at sumikat din balang araw, lalo na sa pagbanggit kung paanong dati ring nagsimula bilang mga ekstra ang mga iniidolo niya na sina Gloria Romero at Lolita Rodriguez.
Makikisimpatiya ka rin sa tuwing hindi maganda ang trato sa kanya ng mga taga-produksyon o ng nakakaeksena niyang artista.
Alam naman ng lahat kung sino si Vilma Santos. Alam ng lahat na isa siyang de-kalibreng aktres na laging bida sa kanyang mga pelikula.
Pero sa Ekstra, kahit na siya ang title role, pinalamlam ni Vilma ang kanyang kinang at hinayaang magningning, tulad ng hinihingi ng eksena, ang mga kasamang malalaking artista na katulad nina Piolo Pascual, Marian Rivera, Pilar Pilapil, at Cherie Gil.
Maging ang mga di-gaanong kilala ng fans na sina Direk Vincent de Jesus at Tart Carlos ay may kani-kanya ring moments sa eksena nila kasama si Vilma.
Muli ay ipinakita ni Vilma sa Ekstra na kahit ano pa ang ibigay sa kanyang role, makapagbibigay siya ng nararapat at sapat na pag-arte na hinihingi ng direktor para sa pelikula.
Mula nung batang artista pa lang siya hanggang sa nagkaedad at lumawak na nang husto ang mga kaya niyang gawin at abutin, pinatunayan ni Vilma na kahit ano pa ang ipagawa sa kanya—sa kahit na anong panahon at pagkakataon—magniningning at maipapakita niya ang kanyang galing.

BY JIMPY ANARCON
Vilma Santos isn't called the Star For All Seasons for nothing.
Sa iba-ibang panahon in the last two decades na nakagawa siya ng pelikula, kahit na kakaunti lang ito, sinigurado niyang tatatak sa manunuod ang bawat karakter na gagawin niya.
She opened the year 2000 with the family drama Anak. Sigurado namang karamihan sa reviews tungkol sa kanya bilang artista ay nababanggit ang pelikulang ito, pero talaga nga kasing hindi matatawaran ang pagganap niya dito bilang si Josie, isang inang OFW na gustong maayos ang strained relationship niya sa anak na si Carla (Claudine Barretto) and, at the same time, ang buhay ng anak.
Marahil ay laging nababanggit ang confrontation scene nila ni Claudine as a highlight of their acting prowess. Matatalim ang bawat bitiw ng salita at tulo ng kanilang luha, pero talagang kitang-kita ang chemistry ni Ate Vi at Claudine. Hindi sila nagsasapawan, kaya naman damang-dama ng manunuod ang hirap ng isang ina at ng isang anak in just one confrontation scene.

Already an established, award-winning actress at the time, tila hindi nagdamot si Ate Vi na ibahagi ang spotlight kay Claudine, na noo'y isa sa pinakamaiinit na teen actresses.
Sa huling pelikula ni Ate Vi na Everything About Her (2016), dito niya muling naipakita ang kanyang mean streak, na huli pa nating napanuod sa mga pelikula niya noong '80s, tulad ng Sinasamba Kita (1982) at Palimos ng Pag-ibig (1986).
Sa Everything About Her, siya si Vivian, isang successful businesswoman na kilalang strikta, metikulosa, at workaholic. Nagbago ang lahat ng ito nang malaman niyang siya ay may Stage Three cancer. Nakakaaliw ang treatment ni Ate Vi sa scene na ipinaalam sa kanyang siya ay may sakit.

Instead of the usual breakdown, strong na hinandle ng character ni Ate Vi ang impormasyon. Pero sa delivery ni Ate Vi ng linyang "cancer lang ito," ramdam mong gusto niyang magpakatatag ngunit gulat at kabado rin ang kalooban.

Sa pelikulang ito, convincing si Ate Vi magportray ng mala-Devil Wears Prada role ni Meryll Streep. Dalang dala niya ang kilos, tindig, at pananalita ng isang empowered woman na nahubog ng panahong hinarap niya ang lahat-lahat nang mag-isa.

Pero mabilis ang shift niya nang kailangan nang ipakita ang emosyon ng isang inang sabik sa pagmamahal ng anak. Naroon ito sa eksenang makikita ni Vivian, matapos ng ilan ding taon, ang anak na si Albert (Xian Lim). Halos nagpigil ito ng luha, gulat, at ngiti as she approaches her son. Ngunit nang lumabas na ng kwarto si Albert ay nag-shift agad si Vivian sa katarayan para alamin sa personal nurse na si Jaica (Angel Locsin) kung sinabi nito kay Albert na may sakit siya.

Sa eksenang ito, kita sa mga mata ni Vilma ang lungkot at ang kulang sa kanyang buhay na naka-disguise sa katapangan at katarayan.
Ang ganda rin ng chemistry ni Vilma at Angel sa mga eksenang silang dalawa lang ang magkasama. Naipakita nilang dalawa ang nakakaaliw na dynamics ng relasyon nila Vivian at Jaica bilang mag-boss, sa pamamagitan ng kanilang sagutan sa mga light scenes hanggang sa lumalim ito nang mag-iyakan ang dalawa at nagsabihan ng kanilang mga pinagdadaanan.
Hindi lang basta versatile at mahusay si Ate Vi sa kanyang acting pieces, mapagbigay din siya sa kanyang mga kaeksena.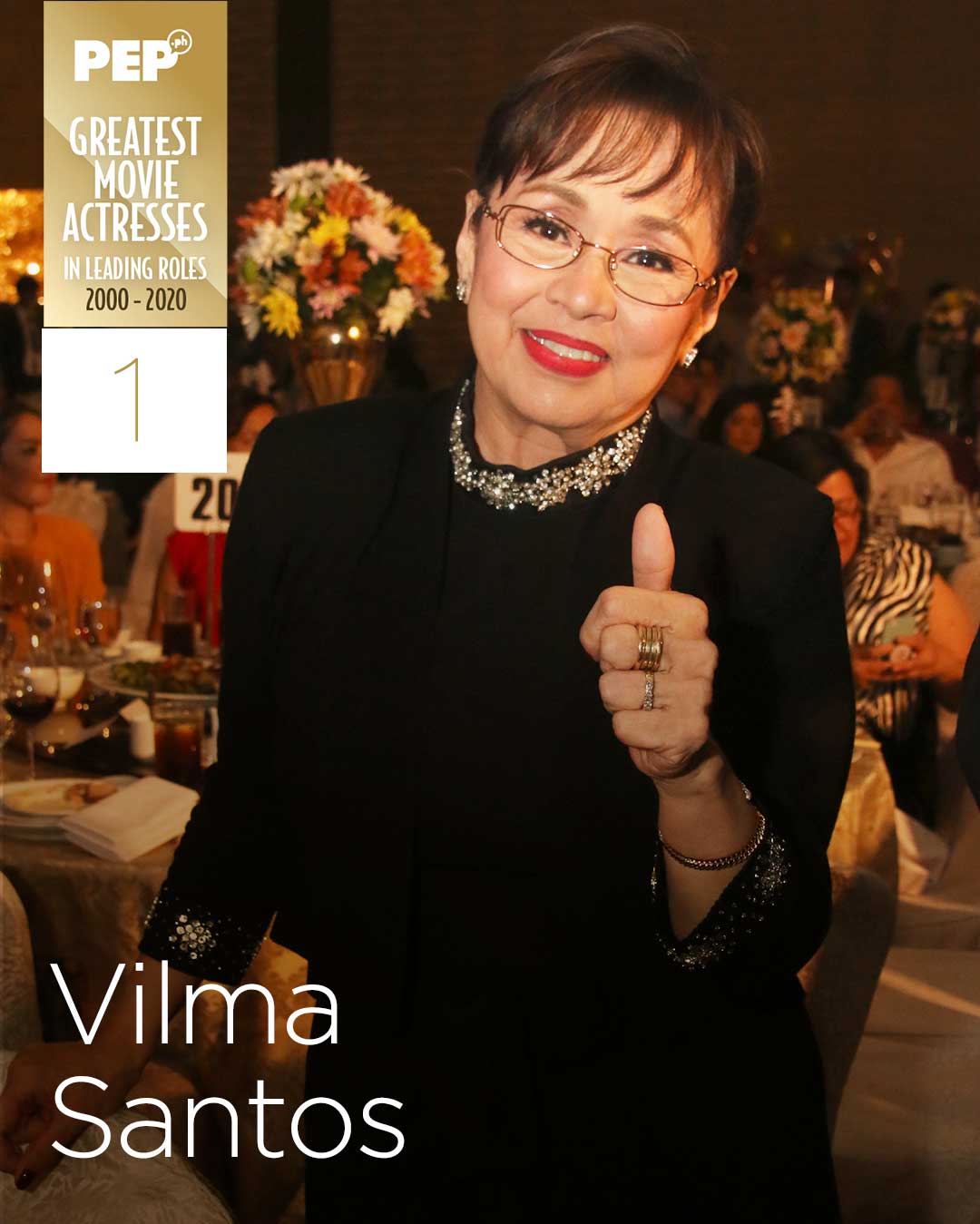 BY KAREN AP CALIWARA
Each time Vilma Santos makes a movie comeback, fanfare is required.
After all, her name alone is all I need as guarantee that the movie will not disappoint.
The Star for All Seasons has made superior acting synonymous with her name.
This is proven by the more than 200 entries in her filmography in the past five decades.
She has had a great acting teacher, too: her life experiences.
I don't know if it's just me, but her portrayals are punung-puno ng hugot.
Like when she laughs, I can really feel she's happy and she's not just umaarte.
She makes me forget that her dialogues are lifted from a script.
Even her delivery of such a short line as, "Cancer lang 'to, hindi ako mababaliw sa cancer," conveys the strength and sarcasm of a Dr. Vivian S. Rabaya, her character in Everything About Her (2016).
A part of me expected Dr. Vivian to be the incarnation of the haughty Miranda Priestly, Meryl Streep's character in The Devil Wears Prada (2006).
But I soon realized Vilma does not need a peg for the roles she plays. Dr Vivian's commanding voice, kunot ng noo, taas ng kilay, and buntong hininga are Vilma's own take of the character.
Vilma emotes from inside out, like when she yells at Angel Locsin in one scene, "Ano pang ginagawa mo diyan? Ang bagal," pati ako nataranta.
When she is fuming mad, it is obvious in just the tone of her voice, not in exaggerated facial expressions and body language.
Her mastery of using non-verbal cues is evident in her portrayal of Seth in the horror film The Healing (2012).
And what I like about her treatment is: natural siya, hindi aral.
She looked really scared when Martin del Rosario's character is about to stab her or when she sees Kim Chiu's doppelganger.
Just looking at her face, not minding the eerie sound effect, she already made me forget it was just a performance.
When her character is happy, she can make the entire cinema go sunny. When she's crying, parang pati langit, nakikiiyak. When she's in anguish, the mood goes bleak as winter. When she falls (whether literally or figuratively), she does it remarkably.
Vilma's movies are always a much-anticipated cinematic event, and her performances, always a cinematic treat for me.