Enrique Gil believes that he met his current onscreen love-team partner Liza Soberano for a reason. "If I didn't meet Liza, life would have been different for me," says the 27-year-old heartthrob. (Enrique Gil birth date: March 30, 1992.)
"My career, in fact, would have been different. I might have taken a different path. But when she came along, we clicked. And she's an amazing person to be with. And ano, we just fell in love. Everything happens for a reason, and whatever happens to my career, to my life, all from God 'yon, dahil nakaplano lahat ng 'yan."
For her part, Liza, the comely 21-year-old actress, can't imagine how her career and her life would have turned out if she hadn't crossed paths with Enrique. (Liza Soberano birth date: January 4, 1998.)
"Actually, hindi ko alam what would happen kung wala akong ka-love-team," she says. "Sa generation kasi ngayon, patok ang love team. But I think I would still be the same. I would still work very hard for each and every project that I would get. Pero hindi ko talaga ma-imagine na walang ka-love-team."
Liza is so used to having Enrique, nicknamed Quen, as her onscreen love-team partner that she sometimes finds it weird to work on something that doesn't involve him. With a soft laugh, she admits: "Pag may mga taping ako na di kasama si Quen, parang di rin ako sanay. I get so used to acting with him that when I work with other people, it's difficult sa una. Pero you can adjust naman, and it gets easier after a while."
THINGS LIZA & ENRIQUE HAVE IN COMMON
Not many know that Liza and Quen, aka LizQuen, enrolled in the online business management program of De Montfort University UK, which is one of 54 universities in the United Kingdom. The online program is coursed through Southville International School Affiliated with Foreign Universities (SISFU), a private university in Las Piñas City.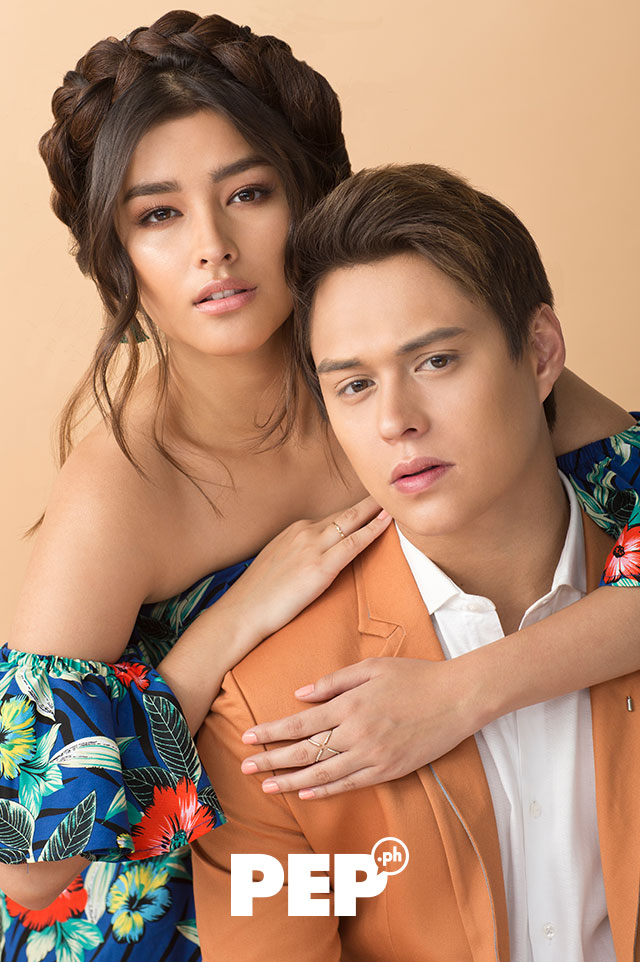 Enrique enrolled first, in October 2016, and Liza followed, in January 2017.
"Siya po talaga ang gustong mag-business," Liza says, referring to Enrique. "Ako, I grabbed the opportunity kasi gusto ko lang talagang bumalik sa school."
Liza says that if she were given the chance to attend college, she'd gladly take up psychology. "Kasi it's supposed to be my pre-law. But then, wala pong ino-offer na online classes for psychology. So I grabbed the opportunity, kasi I was so excited to go back to school."
Studying together and making movies and TV shows together have made the two young stars privy to each other's traits.

Not many people know, Quen says, that Liza—voted 2018 Most Beautiful Star of YES! Magazine—has her own insecurities to deal with. "Minsan, she feels that she's not pretty. People think that she's super. But she's a normal person. She doesn't feel pretty, even if it's not true, no. Just like other girls, there are some days na she'd go 'I feel ugly today,' parang gano'n. Iniisip ko tuloy, 'Seryoso, galing 'yan sa 'yo?' And that's what people don't know about Liza. She's also a normal person."
But Enrique knows that this normal person has more grit than most.

As Liza's long-time manager, Ogie Diaz, confirms: Liza is the type of person who never gives up easily. When she sets her sights on a specific goal, she will do everything that she can to achieve it.
Take, for example, her Filipino speaking skills. When she was starting out, Liza could barely speak a word of Filipino. Her American twang, too, was too obvious.
Ogie recalls: "I told her, ''Nak, aral tayo ng Tagalog, kasi medyo hindi bagay sa role. Mahirap 'yong buhay n'yo, 'tapos slang ka.'
"In fairness naman to Liza, pag gusto niya talaga 'yong isang bagay, naa-achieve niya agad. Kaya 'yon din ang sinasabi ko sa mga estudyante ko, sa ibang talents ko: 'Pag may gusto kayo, talaga maa-achieve n'yo 'yan, basta ilagay n'yo lang ang puso n'yo, 'yong dedikasyon n'yo, at saka kikilos dapat kayo.' Gano'n si Liza."
Liza's road manager, Maquie Raquiza, is another one that can attest to the young actress's determination and focus. She remembers that time Liza cried after hosting an event for a fast-food chain because Liza thought she had flubbed her lines: "Parang fourteen years old pa lang siya no'n. 'Tapos, hindi niya nabasa 'yong huling linya ng spiel niya. Ayun, nagkulong siya sa CR. 'Tapos, nalaman ko na lang na umiiyak na, kasi feeling niya, na-disappoint niya 'yong mga tao."
Liza is "madamdaming tao," Maquie says. "No'ng... taping day for MMK [Maalaala Mo Kaya, where Liza played Miss Universe Pia Wurtzbach], hindi niya nagawa nang maayos 'yong paglakad niya tulad no'ng kay Pia. Umiyak siya."
Where Liza's big trait is she has tunnel vision when she wants something, Enrique's is being frugal and forward looking.
For instance, he makes big-ticket purchases only when necessary. He says that at this point in his life, his hard-earned money should go into the right investments: "Number one 'yon for me, investments. Investing is the best thing that you can do because, you know, a career never stays long. So strike while the iron is hot. Why not double it, triple it, make the most out of it habang you're earning a lot? You don't start a business kung kailan wala ka nang career, kung kailan wala ka nang pera."
Enrique proudly says that he has changed a lot since he joined show business. He's no longer the wide-eyed boy who would just let the people around him dictate how he should handle his personal affairs. He now has his own voice and identity. "Now I understand more how showbiz works, the ins and outs of showbiz. Now you know how to make choices, and you have a voice for yourself. Dati, feeling ko, parang whatever they say, you do na lang."
Enrique takes pride in the fact that he can now make decisions on his own, something that he never got to do in his younger years. "Habang tumatagal, you know that you can also handle your own career. Kasi dati, ang alam ko, kung ano'ng sasabihin nila, you just go with the flow lang. Through the years, I noticed na you can also choose the path you want, alam mo 'yon?"
FIRST INTIMATIONS OF LOVE
In our interview with Enrique back in February 2015, the fair-skinned fellow already admitted that he was smitten with Liza. As he put it: "Parang tinamaan ako, e."
It was in June 2017.
Has Enrique's affection for Liza changed since then? With a wide smile on his face, Enrique answers: "Mas maraming tama na ngayon, e. Siyempre, habang tumatagal, mas nagiging close po kami. You know, the more we get comfortable, the more I get to know more about her. Akala ko last year, alam ko na siya, pero habang tumatagal, mas marami ka pang nalalaman. Like your friends. For sure, 'yong mga friends mo ngayon or ka-close mo hanggang ngayon, hindi mo pa alam lahat about them, di ba? So, it's a journey. It's a constant journey of learning about one another."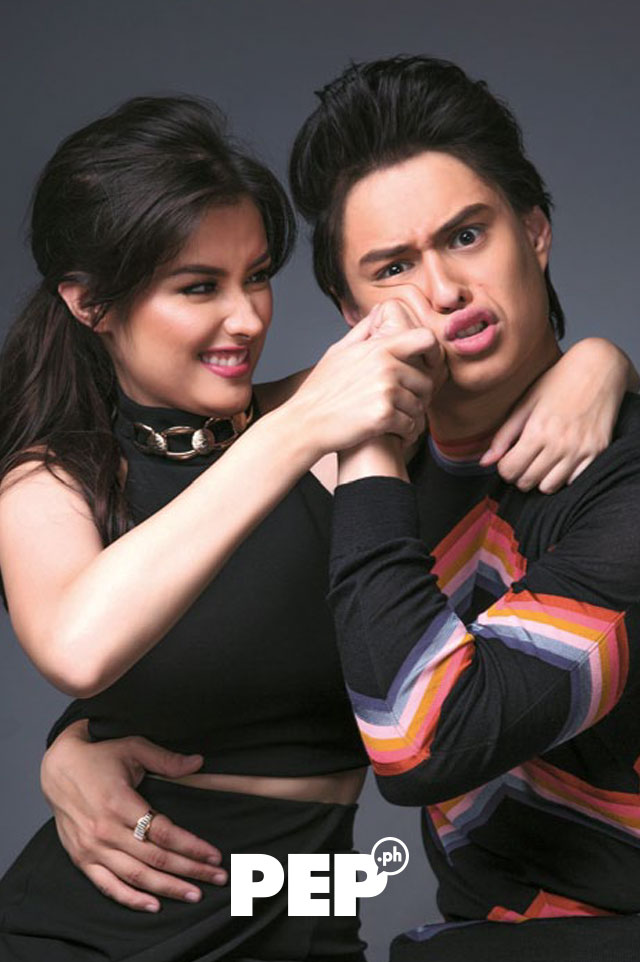 "Big ball of sunshine" is Liza's pet name for Quen. She chose that cute moniker because she finds him bubbly and jolly. "He's able to light up a room," she explains. "For some reason, when he goes inside a room, parang he commands attention. It's like everybody looks at him and he brings joy to everybody. That's why I call him 'big ball of sunshine.'"
"Monkey," on the other hand, is Quen's pet name for Liza. "Kasi, when I was a kid, favorite stuffed toy ko was Abu, 'yong monkey ni Aladdin," he explains. "Hanggang sa tumanda ako, kasama ko siya. 'Tapos, nakuwento niya [Liza] sa akin na meron din daw siyang stuffed toy na monkey. Parehas kasi kaming merong gano'n."

"Big ball of sunshine" and "Monkey" have already exchanged "I love you's" on social media. When Quen turned 25 on March 30, 2017, Liza posted a birthday message for him on her Instagram with those three magic words.
Liza holds back, however: "Para sa akin, ang 'love you,' hindi naman para sa magkasintahan lang. Puwede namang for anybody, like my friends. I love them."
And what did Quen feel when he read those words? "Siyempre, it felt good. Iba rin kasi when you say 'I love you' to somebody. It's a big word. It's also good to say 'I love you' kahit sa barkada ko. 'I love you, bro.' Hindi mo kasi alam kung ano mangyayari pag-alis niya. Malay mo, last time na kayong magkikita, sana sinabi mo man lang.
"Well, she's been there for me, the closest amongst everybody. I've been through a lot. So, it means a lot to me. I've been there for her too, throughout everything na pinaghirapan niya, mga problema niya."
All right, it's already 2017, after all. So a leap to an intimate question for LizQuen is plausible: if this "relationship with no labels" leads to a "happy ever after," how many kids does Quen want to have?
A very game Quen answers, "I'm, like, maybe two or three," suggesting that he and Liza have already talked about this matter. "I just like one boy, one girl, and I'm cool with that. But she's, like, 'Maybe four or five?' You're the one giving birth."
Regardless of the number of kids, Quen is sure that Liza will be a perfect mom. "She would have, as in, everything you would want in a mom. She has it. That's why I'm so in love with her."
FINALLY ADMITTING THEIR TRUE FEELINGS
It is in June 2017 when YES! asks Liza Soberano directly: "Do you like him?"

With her pretty brown eyes, Liza Soberano looks at the voice recorder and, without missing a beat, says, "I do. I think that he is..."
Before she can say another word, we ask her again. This time, we rephrase the question: "Do you love him?"
Liza opens her mouth to say something but stops herself. Her lips then curl into a smile—a sweet, innocent smile. Like that of a child who is about to spill a secret.
An awkward silence falls into the room. Even the hairstylist, who is busy preparing his paraphernalia beside Liza, stops and waits for her to answer.
Is she uncomfortable? Does she want to laugh out loud? Is she upset? We can hardly tell.
Looking down at the makeup kit neatly laid out on the table in front of her, Liza takes a deep breath and then smiles again. This time, her smile conveys something more recognizable: happiness.
"Yes, I do," she says as she looks up and gazes into the mirror. Upon seeing her own reflection, her eyes light up.
The lucky recipient of this confident young woman's love is, of course, Enrique Gil, her onscreen love-team partner. She already calls the Kapamilya actor her "big ball of sunshine"—the one who can make her laugh, the one who annoys her with his endless antics, the one who makes her feel safe, content, and, most important of all, happy.
But how and when did it all start? When did their reel love become real love?
LOVE: FROM REEL TO REAL
The thing about Liza and Quen's love story, however, is that it has no definite beginning.
If you attempt to trace where and how it began, you could start here: on the set of Forevermore, their hugely successful Kapamilya primetime series that ran from October 2014 to May 2015.
Forevermore was Liza and Quen's first big break as a love team. In the series, directed by Cathy Garcia-Molina, Liza plays Agnes Calay, a simple provincial lass who dreams of a better life for her family. Enrique plays Alexander "Xander" Grande III, the son of hotel tycoon. Their lives intertwine when Xander, while engaging in a form of extreme parachuting sport known as base jumping, accidentally falls into the strawberry farm of the Calay family.
It was during the sleepless tapings in different location shoots that Quen and Liza got to know each other better. And before they knew it, they had developed feelings for each other.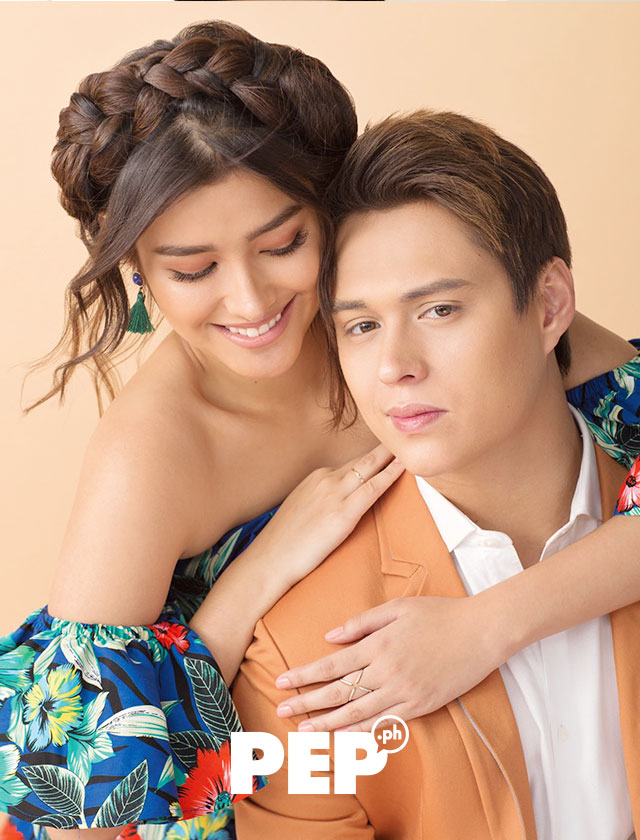 Quen has always been vocal about his attraction to Liza. In the April 2015 issue of YES!, he was quoted as saying: "Every day magkakasama, so nalalaman ko na 'yong buong pagkatao niya, buhay niya, everything. 'Tapos, napansin ko na lang, pag wala siya sa location, palagi ko na siyang hinahanap- hanap. 'Anong oras sila pupunta dito?' Sabi ko, 'Parang gusto ko na ata ito.'"
In the same report, Quen admitted that his leading lady already knew about his true feelings for her. "Well, sinabi ko sa kanya na gusto ko siya. At alam niya 'yon. At alam ko naman, sinabi niya sa akin na parang, 'Oh, yeah, I like you, too. Crush kita.' Pero sabi niya, she's only seventeen. So sabi nila [the people around them], 'Wait, wait muna, hindi pa puwede.'"
At the time, when Liza was just 17 years old, Quen was 23. Knowing that she was too young to be involved in any romantic relationship, Quen kept his distance.
Liza preferred to keep things between her and Quen that way. She had her sights set on many goals. A romantic relationship at the time would only have been an unnecessary distraction.
"I need to focus on that and also sa pag-arte, to make myself better and to ready myself as a young woman," she said in the April 2015 interview with YES! "I don't want to rush getting into a relationship na hindi ko man lang ma-handle, kasi if I wanna be in a relationship para ma-try ko lang, ayoko naman ng gano'n lang."
But Liza later revealed to YES! that if she were to have a boyfriend and her age were not an issue, Quen would most likely be the guy that she would choose. "If there's anyone that I want to be in a relationship with," she said, "it's somebody that I know and somebody I can trust. Out of all the guys I know, I trust him [Quen] the most."
Their feelings for each other did not change over the years.
In his May 2017 interview with YES!, Quen confesses that he's hopelessly in love with Liza. "Yeah, I'm super in love," he says, barely containing a laugh. "Sure, you get crazy about it also, you get hopeless sometimes. But that's why she's Hope [referring to Liza's real name], I am never hopeless. That's how I feel. I mean, that's how you feel when you're in love."
He admits that this is the first time he has felt a love this real and strong. "Yeah, that's why I know it is love. I mean, you can compare it to your exes before. I am not saying you didn't love your exes, but somehow, true love is deeper than just saying 'I love you,' or 'I love you, too' to each other. It's deeper than that."
Quen, who has previously disclosed that he had three "puppy-love relationships" before Liza, goes on: "Like now, if you're thinking about your ex, do you still miss her, care about her, or nag-aalala ka pa ba sa mga ex mo? No, di ba? You loved her, but you weren't in love like that kind of love. It's a different kind of love."
He pauses for a second, before saying, "This is the real love."
The mestizo actor goes so far as to say that when he thinks about the future, he can see Liza in the picture. "Yeah. It's her. And I tell her that naman. And it's the first time I tell that to any girl, so I guess she's the one."
Would Quen want to spend the rest of his life with Liza?
"Yes, yes, yes, of course. That's one hundred percent sure."
Quen goes on the record to say that he and Liza are in a "relationship with no labels."
He says that at this point, given the way they treat each other, a "boyfriend-girlfriend label" is no longer necessary. "Yeah, it's just a label. Just waiting for her to turn 21. When she's 21, 'Yeah, tayo na.' But right now, parang tayo na rin, e.
Sure, you can't say na 'Yeah, we're boyfriend-girlfriend,' but how we are to each other is no different. I don't think of it as a big deal."
So, as of May 2017, people around them already know that they are "exclusive" to each other. "Yeah, people see it naman," Quen says. "They see that I care for her, she cares for me. She's special to me, I'm special to her. And that special-ness is only between the both of us. People see it. Everybody sees it."
This means that Liza is taken and that no other guy can ask her out on dates or take her out to dinner or the movies. "I don't think so," Quen points out, chuckling. "I mean it's clear enough. I think when people see her, they know that she wants nobody else but me. Right? Halata. Siguro naman halata. O, hindi ba?"
With a smile that is both intriguing and infectious, Quen adds, "Halata naman siguro na in love kami sa isa't isa, di ba?"
Still in 2017, on a different occasion, we seek confirmation from Liza about this "relationship with no labels." Without hesitating, she agrees with what Quen has shared with us: "Yeah, we treat each other kind of in that manner, pero I don't know, I don't know. Not everything... We don't do everything that people in a normal relationship will do yet, but we'll get there, as soon as we get the approval of my lolo, my daddy, and of course, we're just waiting for the right time."
Even without the labels, Liza treats Quen the way a girl would treat her guy.
"It's true," she says. "I feel like napaparamdam ko naman 'yon sa kanya. And I always make sure that he feels different from everybody else. I don't wanna treat him the way I treat everybody else. There should be a fine line that makes him different from everybody else, just so that he feels special."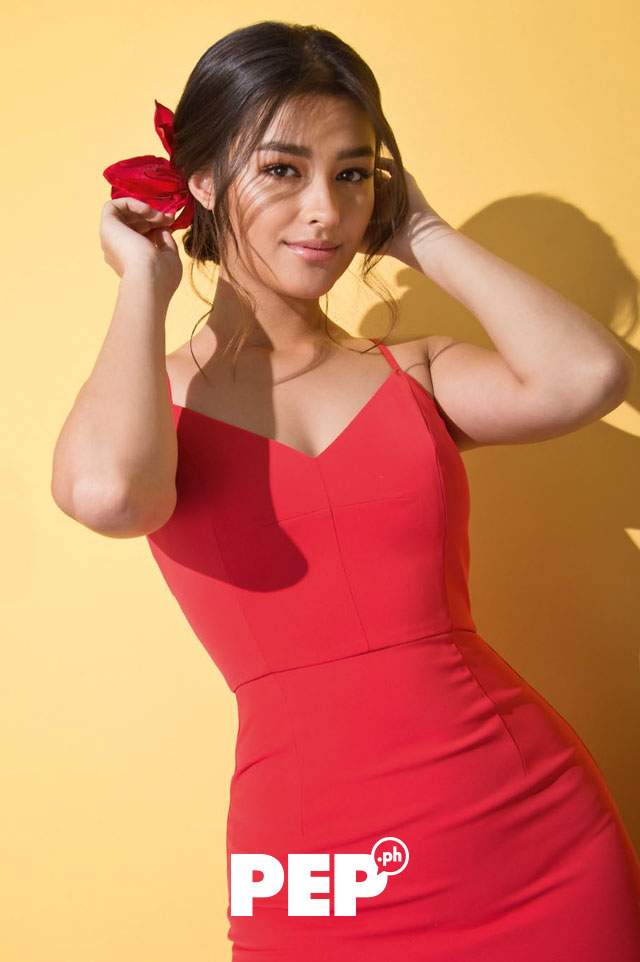 Liza admits that she knows that a lot of people, most especially from the press, can hardly wait for the two of them to announce that they're officially in a relationship.
"Probably because it gives them some sort of assurance?" she says. "Parang when you say that someone is your boyfriend or your girlfriend, it's kind of, like, you're claiming, you're owning them, and you're assured that no one else can get near or approach them in that sort of manner. So siguro, that's why people like to label things."
Unlike Quen, Liza has never been in a relationship. Yes, she's had crushes, but she has never emotionally invested in a guy. For many young girls who have never fallen in love or who have never had their hearts broken before, this is a scary thing. But not for Liza. The young actress knows that getting hurt is part of falling in love. And she's ready for it.
"I don't think love should be a scary thing," she says in a soft voice. "And I don't think people should be afraid of trying new things. Siguro, ang kinakatakutan lang natin is parang that change in your life, parang the shock. Pero, you know, you should never be afraid of trying new things.
If Quen and Liza truly love each other, why still maintain a "no labels" kind of relationship? Is she afraid that once they admit that they are in a relationship, the mystery of the LizQuen tandem will fizzle out?
"I actually never thought about it that way, na parang may mystery ang love team," Liza replies. "But siguro also, para hindi rin maging bad influence. Okay, not naman bad influence. I'm not saying it's bad influence to have a relationship at this age.
"But of course, there's a lot of younger children looking up to us, and we want to show them that love can wait and there's a right time for everything. We want them to know that and we want to show them that.
"And I wanna show to younger girls that before you have a boyfriend, you should really make sure that guy is the right one for you. Hindi lang 'yong mag-boyfriend ka lang dahil gusto mong mag-boyfriend."
That said, we take a leap and ask an intimate question of Liza and Enrique this 2017: if this "relationship with no labels" leads to a "happy ever after," how many kids does Quen want to have?
"I'm, like, maybe two or three," Quen says, suggesting that he and Liza have already talked about this matter. "I just like one boy, one girl, and I'm cool with that. But she's, like, 'Maybe four or five?' You're the one giving birth."
Regardless of the number of kids, Quen says he knows for sure that Liza will be a perfect mom. "She would have, as in, everything you would want in a mom. She has it. That's why I'm so in love with her."
EVERYONE APPROVES
Everybody seems to be happy for Liza and Quen—or at least, everyone who matters to the two stars.
Ogie Diaz, who has been keeping an eye on his beautiful ward, is fine with Quen as Liza's boyfriend. "Alam mo, wala akong alam na nanliligaw kay Liza kundi si Quen."
The talent manager is confident that Liza will not let herself get into something that would compromise everything she has worked so hard to achieve.
"Kahit si Liza isang half-Filipina, half-American, talagang nararamdaman ko na conservative pa rin siya. At wala naman din akong nabalitaang malandi si Liza o ano. Siyempre, hindi ko naman alam kung silang dalawa na. Hindi ko alam kung nagbabangayan ba kayo, kung nagba-Bible-study ba kayo or something, sila na 'yon. Pero 'yong pagka-conservative, talagang lutang kay Liza. Sobra siyang ano, 'yong family values niya."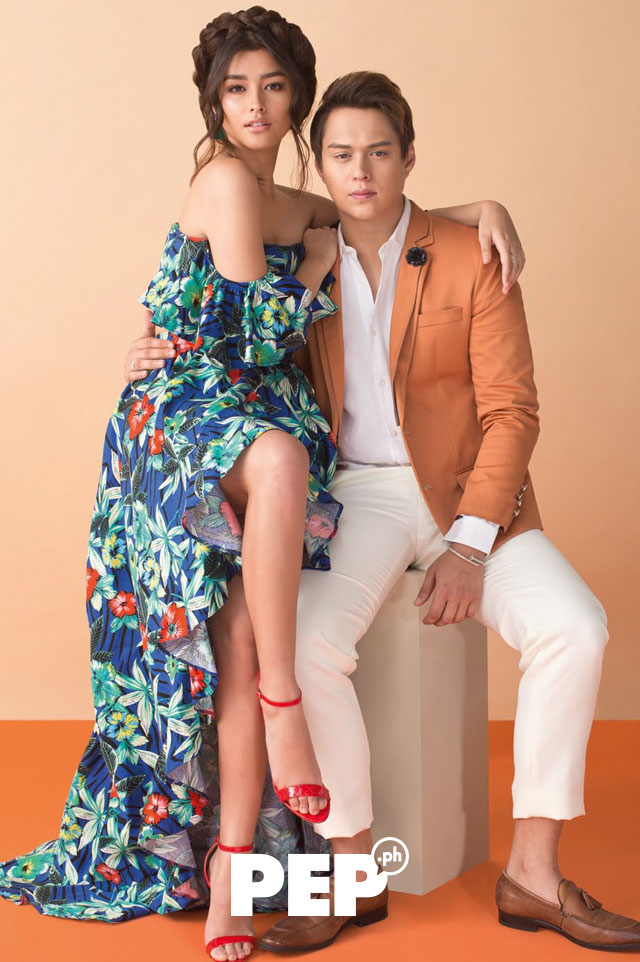 If indeed Liza and Quen are in a relationship, Ogie would not mind at all. "Kung sila ay exclusively dating, wala namang problema. Kung sila man, wala rin namang problema sa akin, dahil mas masha-shock ako kung ang maging jowa pala ni Liza ay ibang actor na hindi ko naman nakita't nababalitaan, 'tapos biglang sila na pala.
"Si Quen naman ay okey sa akin, mabait naman. Kasi una ko namang nakilala si Quen, hindi naman si Liza. So, kilala ko na si Quen.
"Ang importante ay nai-prove na ni Liza 'yong kanyang worth as an actress, na 'O, at least hindi mo pinrioritize 'yong love life over your career.' Talagang ang priority niya, career. So, siguro naman, deserve ng bata na maging masaya puso niya, di ba? So, ibigay na natin sa kanya 'yon."
Ogie has seen Quen's positive effect on Liza. For instance: "She admires Quen pagdating sa pagse-save ng money. So meron siyang mga inspirasyon na nakuha niya kay Quen."
Liza's long-time road manager, Maquie Raquiza, and her guardian, Tita Joni Castillo, are also fine with having Quen around.
Quen is "masayahin, parang cool sa kanya lahat ng bagay," Maquie says. "Hindi siya problematic. 'Tsaka ang maganda kay Quen, nagso-sorry siya kapag nale-late siya. Ayoko kasi ng late. Mabait sila. Between sa kanila ni Hopie [Liza's pet name], si Hopie ang parang nanay. Si Quen, parang bata."
Liza's Tita Joni couldn't agree more. "Mabait si Quen," Tita Joni says. "Unang- una, love niya ang family niya. 'Yon ang importante, e. Kumbaga, pag may malasakit at love ka sa family, siyempre magagawa mo 'yan sa next ano mo. Mahilig siya sa bata. 'Tapos, magalang din siya sa mga lola, 'no?"
Quen's family, according to Liza, has been warm to her: "His family is very welcoming. Tita Bambi, she's really nice to me. Basta, they're really a good family, and you can tell that they're okay. I can't explain it, 'cause it's different from my family. I grew up with my parents separated already, so hindi talaga naging normal 'yong family ko. Pero sila, normal naman, except, of course, minus the father, because his father passed away. But you can still feel that they're all on good terms."
With a giggle, she adds, "Plus, he's a big mama's boy."
We're putting this out there: They don't want to put a label on their relationship yet, but Liza Soberano and Enrique Gil are brave enough to admit they are madly, deeply, hopelessly, in love!
"If that's what they think, yeah!" Quen says. "Basta kami, kapag kami na, kami pa una mag-a-announce sa Instagram. Wala nang presscon... walang gano'n."
Liza then cracks a loaded joke that should put all the talk to rest: "Malalaman n'yo na lang kung kasalan na. Malalaman n'yo na lang, mag-wo-walk na po ako [sa aisle]. Joke lang."
THE ADMISSION
On February 10, 2019, the two have a guest appearance in Gandang Gabi, Vice!, the late-night Kapamilya weekend talk-show hosted by Vice Ganda. Here Enrique reveals that he and Liza have been together for more than two years.
CIRCA 2017: Q&A LIZQUEN
What's your favorite book or movie of all time?
LIZA: I would say na 13 Reasons Why, but parang sobrang big deal siya ngayon. Kasi when I read it, it wasn't a famous book or anything. So I'm gonna change my answer, kasi baka isipin nila dahil sa show. But I read the book first before the show... Siguro my favorite book will have to be Tuesdays with Morrie.

I don't know, it just made me cry a lot and it's very touching and it just made me realize how important people are in our lives and how every second counts. And you never know when you're gonna lose them. And you don't wanna regret anything that happened in your life.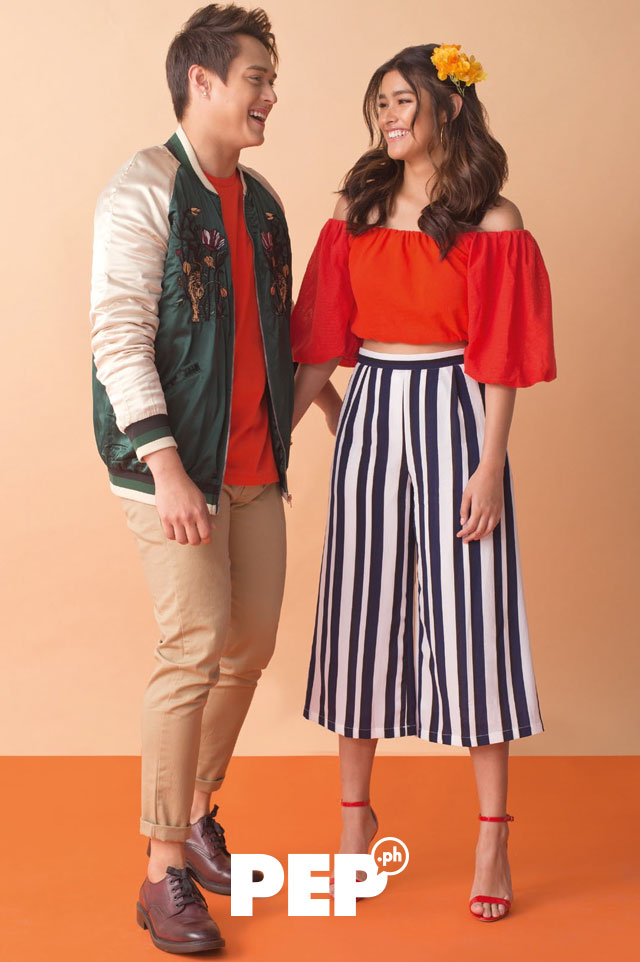 Guys, What's on your bucket list this year?
QUEN: Skydiving. And go to Paris. LIZA: Ako po, dream ko pong mag-Paris 'cause hindi pa po ako nakapunta do'n.
QUEN: And I wanna go to Maldives.
LIZA: It depends po, e, kung may time po. Kasi we're very busy going to provinces as of now. And I want it to be very special when I go to Paris. I don't just want it to be parang biglaang decision lang.
To Quen: Will the Paris trip be your gift?
QUEN: Yeah.
So you plan to go together?
LIZA: Opo sana, and with friends... with family.
QUEN: At saka sa Disneyland [Paris] din.
What is it about Paris that puts it on your bucket list?
LIZA: I don't know. Siguro... ewan ko, watching movies since I was little. It's always been parang a bit part of every other romance and everything.
QUEN: At saka do'n ako na-conceive.
LIZA: Ah, yeah. Do'n daw siya na- conceive, sabi niya.
QUEN: Sabi ng parents ko, made in Paris daw ako. The country of love, right?
What about you, Quen? What is it about Maldives that you want to go there?
QUEN: It's about the beach. I want to be in paradise. Though I'm already in paradise with her [Liza].
So, you're in paradise right now?
QUEN: Yes, of course!
What about your overall bucket list? What else is there?
QUEN: Well, I really want business. That's all I wanna do. And skydiving. And then build my dream house. And my business. I hope my business does good. I want my own house. My dream house for my family.
LIZA: Mansion talaga.
Where will it be?
QUEN: Sa South lang po. Sa may Alabang side. Then, dream car ko. And I want a property in the States, too. A house in the States.
You might be a real estate magnate.
QUEN: That's the best!
What about you, Liza?
LIZA: One thing on my bucket list is, kung hindi man ma-put-up 'yong foundation ko, at least be part of a big foundation. What else? He says to go to Paris. And three, na makumpleto 'yong family ko in one house.
You'll bring your U.S.-based family here?
LIZA: Hindi ko alam kung posible na maiuwi ko silang lahat, kasi most of them... some of my siblings prefer living in the States. They don't wanna move here. I don't know what they want. And 'yon nga, ang hirap, kasi sanay na sila do'n, e. So, if you bring them all of a sudden here, baka naman ma-culture- shock. But that's my dream.
[Since this 2017 interview, Liza has already built the house that would keep her family under one roof, says her manager Ogie Diaz.—Editor]
What do you think about when you're all alone?
QUEN: Pag nag-iisa ako? Sana me kasama ako.
LIZA: Quen, ano ba?
QUEN: Hindi nga. Seryoso. When I'm alone, I think of a lot of stuff. Kaya bago matulog, hindi ako nakakatulog. Ang daming iniisip, e. Ano siguro, dahil sa edad na rin. [He's only 25, folks.]
LIZA: Pag mag-isa ako, nararanasan ko, like, pag nasa car, 'tapos traffic, 'tapos biglang mapapaisip ka, "Bakit kaya ako ginawa ni Lord? Ano kayang feeling kung magkakapalit ako ng... like a soul ikinabit mo sa iba..." I think of those kinds of stuff. O kaya, "What if kaya me biglang zombie outbreak, 'tapos habulin ako sa kotse, ano kaya ang gagawin ko?"
QUEN: I know. I think of that with my friends. Pero pag akong mag-isa, parang future. "What's gonna happen in the future? Ano'ng mangyayari bukas?" Kaya gusto ko, secured lahat. Gusto ko, business. Basta lahat ng inhibitions ko sa future ko—kasi twenty-five [years old] na 'ko—so, you know, before thirty, gusto ko set na lahat. My dream house... everything.
If you were given the chance to pick your own name, what name would you choose?
QUEN: Ang normal na pangalan sa school, Josh, Joseph, or Carlo, Mark, di ba? Sa akin, Enrique. So, parang galing encyclopedia. So, wala lang, they call me Quen, it's a Spanish thing kasi. So, if I would change my name, ang gusto ko... Ano ba'ng magandang name?
LIZA: Ako na lang muna... Kasi, originally, my name was supposed to be Diana, after Princess Diana. Kasi idol ng mommy and daddy ko siya. But I was supposed to be Diana Elizabeth. I actually like the name Diana, because Princess Diana brings a lot of memories back to people. And it's such an elegant name. I just like the name Diana, or if not, Audrey—like Audrey Hepburn.
QUEN: Ako, pangalan ko, gusto ko ano, Hitler... Joke lang. Gusto ko, Kobe. Joke lang din. Ano ba'ng maganda? Bro! "Hey, Bro! What's up, Bro?" Hindi ko alam, e. Actually I like Enrique. Enrique is like...
LIZA: You look like an Enrique naman, e.
QUEN: ...Enrique is like super, like kingly.
LIZA: Kingly? You make up your own word... kingly.
QUEN: Enrique... it's like don.
LIZA: Feeling niya, ang macho niya with Enrique.
What sort of things do you look forward to each day when you wake up?
LIZA: Siya? He wakes up super late.
QUEN: I'm just happy I'm alive.
LIZA: Wow!
QUEN: Seriously.
LIZA: Hindi, what do you look forward to daw?
QUEN: When I wake up, I look forward to ano kaya ang gagawin ko through the day, malamang magkikita kami nito [Liza].
LIZA: Ako, what I look forward to... Kasi ako, sobrang nagi-guilty ako when I sleep in. Kasi, feeling ko, I don't accomplish that much in a day. So I look forward to accomplishing a lot in a day. Kailangan marami akong magawa, like malinis ko ang kuwarto ko. 'Tapos, kailangan makapag-grocery ako. Bili ako ng mga kailangan para sa aso...
You can still do that?
LIZA: Opo, pag may time po.
Do you still have time, given your schedule?
LIZA: Meron po minsan.
And you don't get mobbed?
LIZA: Magaling po akong magtago na hindi nila namamalayan na ako 'yon. Nakatungo lang ako... Quen, ikaw, what do you look forward to?
QUEN: I look forward... I never look back. Joke lang. Look forward to in a day?
LIZA: Like, before you go to sleep, what's the thing, like, you think about that you want to happen the next day?
QUEN: Be alive. I look forward to is just to ano... seeing my family. You'll never know kasi, di ba? I don't know kung medyo morbid ako mag-isip, pero that's how I think, e. Parang, bukas sana kumpleto pa lahat. Sana walang mangyari. Medyo napapraning ako, like, kaya lagi, pag nagda-drive na siya sa kotse niya...
LIZA: Text nang text, 'tapos magagalit pag hindi ako nag-text-back. Pa'no ako magte-text, nagda-drive nga?
QUEN: Hindi, hindi, hindi. Nagte-text ako na sabihin mo sa driver mo, mag-ingat, 'cause you'll never know. Hindi mo malalaman. 'Yon lang. Kasi feeling ko, pag may family member na nawala bigla, di ba, parang hindi mo inexpect na siya pa 'yong pinakamalakas, di ba? You'll never know, men. So, always appreciate every second.
You guys are still young, but do you have regrets so far? If there are, is it too late to change?
QUEN: 'Yong dad ko, dati, sinusundo ako sa school. Siya lang ang nakita ko na sumusundo... 'Yong ibang magulang, wala. Pumapasok pa siya sa school [grounds]. At saka, barkada niya 'yong mga ka-batch ko. Nakikipaglaro pa siya ng chess sa kanila. Parang dati, nahihiya ka, di ba? Pero ngayon, naisip ko... Kaya no'ng wake niya, lahat ng mga ka-batchmates ko, pumunta do'n na hindi ko in-invite—dahil naging tropa na nga niya. So, do'n ko lang na-realize na parang... right now, if I would be in high school again, hindi na 'ko mahihiya to be there with him, di ba? 'Papagmalaki ko pa. Siyempre, pag high school, hiya-hiya. So, 'yon lang. Appreciate people more.
LIZA: Ako, wala po akong maisip, e. I can't relate to the pain that he has gone through because I haven't lost a loved one in any of my immediate family. Actually, wala talaga. Not even a lolo at lola, 'cause they're all alive pa. So I can't relate to the pain that he feels... And sa mga decisions ko in life, I still feel like I haven't made any wrong decisions yet, like major decisions that I would regret. So, wala pa. And I hope walang maging regrets.
Quen is sporty. What about you, Liza? Any sport?
LIZA: Opo, varsity po ako ng volleyball dati.
QUEN: Nag-i-scuba-dive ako. Nag-i-scuba-dive na rin 'yan.
LIZA: No'ng bata ako, American football, soccer.
What qualities or traits of your parents do you think you took after?
QUEN: I took after my dad—crazy. My mom is like her [Liza]—strict.
LIZA: Wala po akong nakuhang ugali sa parents ko... Quen, you noticed, ako, wala akong masyadong kapareho sa magulang ko when it comes to attitude?
QUEN: Yeah.
LIZA: Kasi I didn't grow up with both of them, e. I grew up with my lolo and lola.
QUEN: Ako, pagka makulit, maloko—sa dad ko talaga. 'Yong mom ko, 'yong medyo, 'Psst... Quen!'
LIZA: Ako, 'yong mom niya ang kaugali ko.
Disciplinarian? Or are you just a disciplinarian because Quen needs some disciplining?
LIZA: Hindi po. Kasi I have a lot of younger siblings. So I'm used to being the mother figure. Kahit sa kanya [Quen], nadadala ko. Kahit sa dad ko.
QUEN: Pero okey din 'yon. My dad was, like, sobrang fun, makulit. At least 'yong dad ko, napapasaya niya si mom. Pero kapag masyado na siyang ano, si mom ang nagpapakalma. Balanced out din... So, kami [ni Liza], hindi puwedeng parehas kami ng personality, kung hindi magka-clash.
But when Enrique gets too hyper, how do you handle him, Liza? Hindi ka napupuno?
LIZA: A, napupuno po ako.
QUEN: Pero kapag wala ako, sobrang do'n mo 'ko mami-miss. Parang tahimik, wala na...
LIZA: Siya na nagsabi para sa akin...
QUEN: Aalis ako, tingnan mo.
LIZA: Ano gusto mo? Tawagin kita? Siya din naman po, nagpapa-miss siya. Sinasadya niya, kasi gusto niya 'yong feeling na hinahanap siya.
QUEN: Hindi, a!
LIZA: A, okey. Ako lang pala. One-sided.
QUEN: Hinahanap mo lang talaga ako.... Hindi, joke lang.
Pa'no siya magpa-miss? Pag hindi sasagot sa texts and calls?
LIZA: Opo. Hindi talaga siya sumasagot, kasi tulog po siya. Kasi natutulog siya mga three a.m., four a.m., kasi kaka-video-game niya. Nagpi-PS4 siya. Adik po 'yan sa ano, e—Resident Evil?
QUEN: Hindi, matagal na 'yon. Zelda na ngayon, sa Nintendo Switch.
LIZA: Ang ginagawa niya kasi, maglalaro siya ng game, 'tapos pag may bagong game siya, hindi niya titigilan hangga't hindi niya natatapos 'yong buong game. E, di ba, ang tagal no'n, kasi ang daming chapters, ang daming stages?
QUEN: Not for me, I'm an expert.
Quen, you choose your games over Liza?
QUEN: Hindi, a!
LIZA: Minsan.
QUEN: Of course not!
LIZA: Okay...
QUEN: Haler!
So, you admit you miss him when he's busy with other things?
LIZA: Hindi. Nami-miss ko po siya pag kunwari matagal kaming hindi nagkita. Kunwari three, four days, gano'n. Me times po na nasa Ilocos po siya, nagte-taping, 'tapos ako may endorsement shoot.
You miss his kulit?
LIZA: Opo. Kasi ano, e, minsan po, mababa energy ko. Siya ang nagpapataas.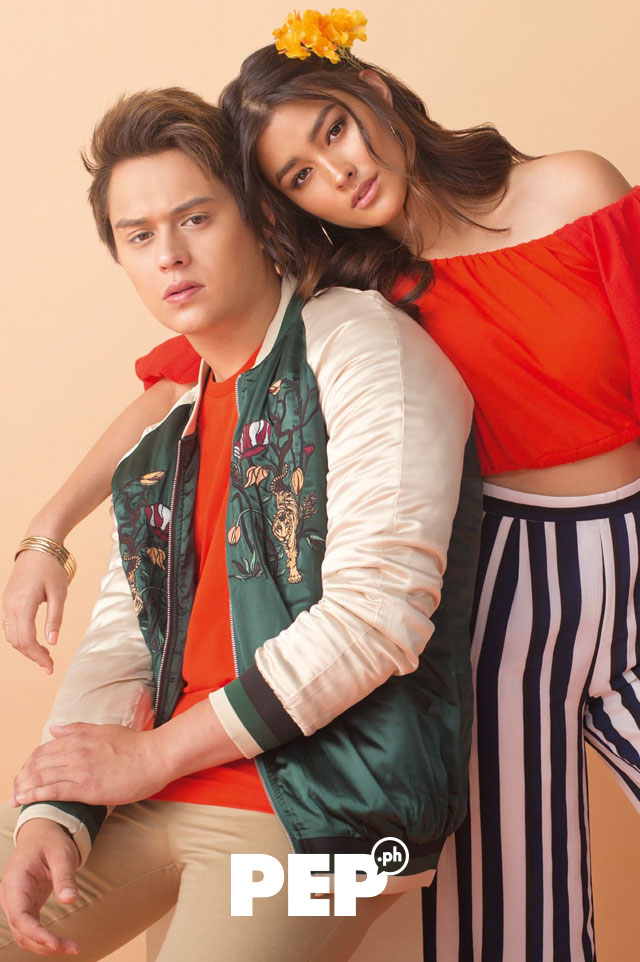 Published in PEP.ph April 2019
Adapted for PEP.ph by Jo-Ann Q. Maglipon
Originally published in YES! July 2017
TEXT: Gabby Reyes Libarios
INTERVIEWS: Anna Pingol & Gabby Reyes Libarios
PHOTOS: Paolo Pineda & Joseph Pascual
EDITOR IN CHIEF: Jo-Ann Q. Maglipon
EXECUTIVE EDITOR: Jose F. Lacaba