Cherie Gil did more than just reinventing the villain role in Philippine cinema.
The acclaimed actress succumbed to cancer on August 5, 2022 at the age of 59.
As an artist, Cherie was restless, always looking for new challenges to grow her repertoire.
While eternally grateful thåt her famous line "You're nothing… copycat" line from Bituing Walang Ningning has been immortalized, Cherie was not one to rest on her laurels.
She was constantly driven to prove there was more to her resumé than that 30-second confrontation scene.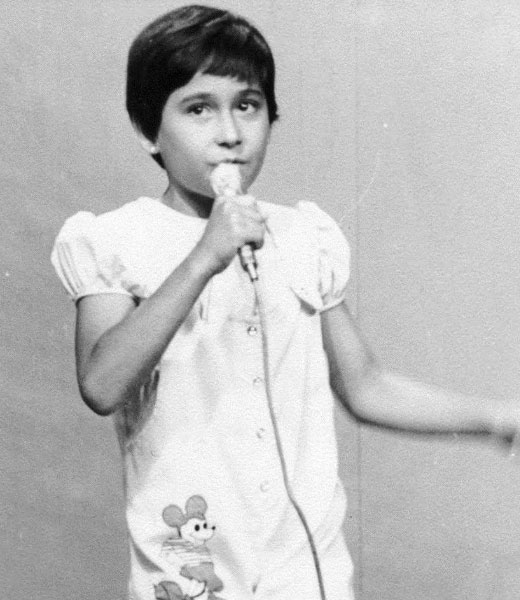 From a young extra to a singer with a radio hit in the early '80s, Cherie went on to become a respected actress admired by colleagues and directors from different generations.
Cherie would later venture into the world of stage acting where she found great joy and fulfillment as an artist.
In the end, Cherie, dubbed the country's "La Primera Contravida," has secured her place among the best to ever grace Philippine cinema and entertainment.
We take a look back at the memorable and colorful showbiz career of the one and only Cherie Gil.
FAMILY OF ACTORS
Evangeline Rose Gil Eigenmann was born on June 21, 1963, to actor parents Eddie Mesa and Rosemarie Gil.
She came from the acting Eigenmann clan, including her brothers, Mark Gil, who passed away on September 1, 2014, due to cancer of the liver, and Michael de Mesa were also actors.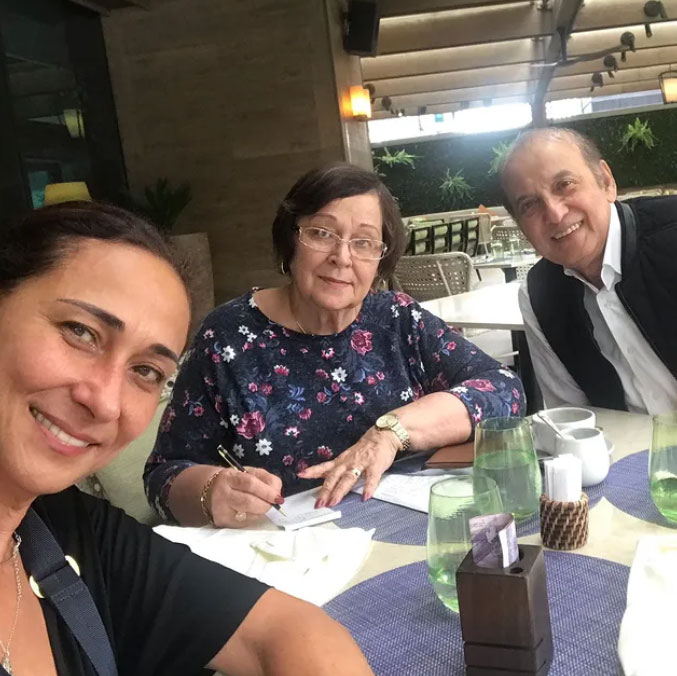 Cherie talked about her path to show business in the podcast Who Are You When No One's Watching hosted by Boy Abunda.
She told Boy, "The fact that my mother, Rosemarie Gil, is an amazing actress and has been doing it since she was 18. My father, he's also an amazing powerhouse on stage.
"So picture the atmosphere we experienced at home, from parties to dramas that happened in our real lives and parties where we had to entertain the guests.
"We were actually encouraged to do it because we didn't have [acting] schools. I didn't attend theater. I didn't attend any kind of training.
"Now I understand and it's making it a part of who you are."
The said podcast in early 2022 was one of her last known interviews before leaving the country.
FOLLOWING IN HER PARENTS' FOOTSTEPS
Cherie started acting when she was nine years old.
In 1977, she portrayed the role of Corazon in the movie Beerhouse directed by Elwood Perez.
Her launching film Bubot na Bayabas in 1978, however, failed to stir interest.
Cherie's next big break came in the 1979 movie Problem Child under Regal Films. She was paired with teen sensation Lloyd Samartino to help boost the movie's appeal to young fans.
Although Problem Child fared better than Bubot na Bayabas, it still wasn't enough to catapult Cherie's young career to the next level.
Cherie looked back, "Oh, my God, that was a disaster. That was not exactly fun, but, at the same time, it was like, I don't know how to explain that film.
"A great turning point for me to learn what I was getting into, there were a lot of pains in making that film.
"[It was] six months in the making and I was only 15, doing things that I was asked to do that were contrary or opposite to what I wanted to do, but, at the same time I was taking on the challenge. It was a very, very strange period."
In hindsight, Cherie, despite her misgivings about the film, acknowledged its overlooked significance in Philippine cinema.
"Looking at it now, as I went through it, I was proud at this point in time of my life to look back and say, hey, that was the first time a movie was showing teenagers getting drunk and having free love, sex.
"It was a time of rebellion, and, in a way, it was my time, my era, my generation."
Cherie would continue to appear in several movies, including the 1980 critically-acclaimed and controversial Manila By Night (later renamed City After Dark) directed by Ishmael Bernal.
She portrayed the role of a tomboy and small-time drug dealer named Kano in the movie.
"That's where I learned how much of a character can be developed through physicality. Also, the movements," said Cherie about the experience.
"I grew up with two brothers and I was a tomboy [in the film], so everything I did was based on what I picked up from my brothers' antics—from lighting a Zippo lighter to talking in the most 'porma' way."
By this time, Cherie's potential as an actress was starting to get noticed by filmmakers.
This would be in full display in the 1982 classic historical war drama film, Oro, Plata, Mata, directed by Peque Gallaga.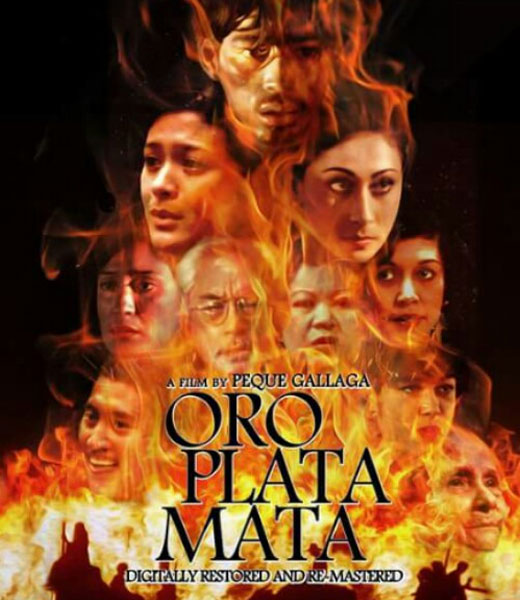 Cherie credited the movie for her growth as an actress.
Furthermore, Oro, Plata, Mata made her understand the power of camera angles to tell a story and convey emotions to the viewers.
"Peque has had a vision for his shots to be able to capture those feelings. So, there were times when he would tell me, 'Cherie, don't look down because it's too sharp. Just turn around, look straight.' It was technical… it was my first experience in learning how to work with the camera."
Cherie would then appear in more movies during the early '80s including Gaano Kadalas Ang Minsan (1982), Sana, Bukas Pa Ang Kahapon (1983), Imortal (1984), and Kailan Sasabihing Mahal Kita? (1985), among others.
All these movie projects prepared her for what would become the defining role of her long showbiz career.
ICONIC MOMENT
It was in 1985 when Cherie Gil was tapped by Viva Films to portray the antagonist role of singer Lavinia Arguelles in the film, Bituing Walang Ningning.
The movie was an adaptation of the serialized comics strip by Nerissa Cabral.
According to a 2006 article for The Philippine Star by Baby Gil, the role was first offered to an up-and-coming singer at the time named Zsa Zsa Padilla.
Baby revealed, "But Zsa Zsa, or her manager then, declined because it did not seem right for her to play a villain in her first film appearance."
However, a StarStudio magazine article published also in 2006 mentioned that the movie, as told by associate producer Trina Dayrit, "was really intended as a vehicle for Sharon and Cherie."
Regardless, and as fate would have it, the role fell on Cherie's lap.
The rest, as they say, is history.
It must be noted that Cherie was a good singer in her own right. She had a hit song titled "Boy (I Love You)" in the early 80s and would later record "Sing Me Your Song Again, Daddy" for Jose Mari Chan's Constant Change album in 1989.
So, she was a natural choice for the role of Lavinia, a singer enjoying her popularity, in Bituing Walang Ningning.
Through her character Lavinia, Cherie gave Philippine movies one of its memorable lines.
In that unforgettable scene, Lavinia utters in disgust, "You're nothing but a second-rate, trying hard copycat!" before splashing water on protagonist Dorina Pineda portrayed by Sharon Cuneta.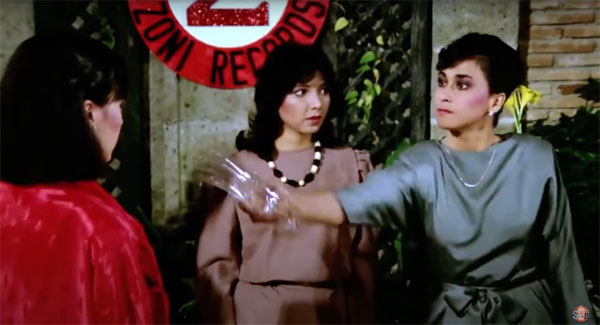 Cherie's rousing portrayal broke new grounds for her as an actress.
Said the StarStudio article, "Indeed, it established the dusky, lithe actress as a formidable name in movies but in the kontrabida mold."
As a villain onscreen, Cherie, with her sophisticated aura and patrician beauty, was in a league of her own.
Cherie would continue to make more movies after that: God, Save Me (1985), Palimos ng Pag-ibig? (1986), Kahit Wala Ka Na (1989), Nagsimula sa Puso (1990), and Ngayon at Kailanman (1992), to name only a few.
HIATUS AND SHOWBIZ COMEBACK
Cherie surprisingly walked away from showbiz in 1994 to focus more on her family.
She said in an interview on Showbiz Inside Report in 2013, "I met Rony [Rogoff, an Israeli violinist] and I married Rony and I knew that that was the best thing that could happen to me at that time, and even up to this day.
"But it came to a point that there was something missing in me, and he knew it was that creative side that I already had known and honed since I was a child."
Cherie made her showbiz comeback in 2000 through the film Sugatang Puso starring Lorna Tolentino and Christopher de Leon.
Cherie, right off the bat, picked up from where she left off.
Since her comeback, Cherie has appeared in more than 20 movies ranging from short to full-length projects produced by independent and major studios.
Some of these were Lastikman: Unang Banat (2004), Donsol (2006), A Moment in Time (2013), Sonata (2013), Mana (2015), Para sa Hopeless Romantic (2015), TheRapist (2016), Citizen Jake (2018), Just a Stranger (2019), and Tia Madre (2019).
Cherie would meander from doing major roles to cameos, something that she didn't mind as she told CNN Philippines in 2019.
"Sometimes, I just have to rise above the material," said Cherie—who won her first Best Supporting actress award from Gawad Urian for her role in Citizen Jake.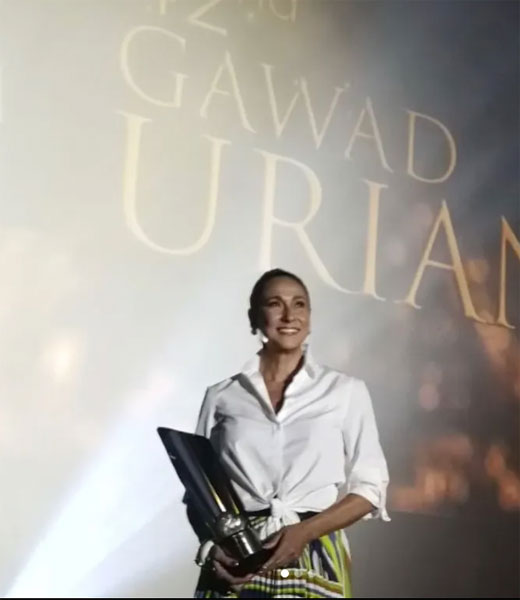 She enjoyed working with the new breed of directors and even became friends with some of them.
"I think it's a wonderful thing to support young artists because it gives us old-schoolers an opportunity to pass on [our knowledge]," she explained.
Cherie too was regularly seen on television since her showbiz return in 2000.
Some of the soap operas graced by Cherie include May Bukas Pa (2000), Sa Puso Ko Iingatan Ka (2001), the musical series Bituin (2002), Gulong ng Palad (2006), Katorse (2009), Grazilda (2010), Muling Buksan Ang Puso (2013), Dolce Amore (2016), and Onanay (2018).
It was through these soaps that young stars had the chance to experience and see first-hand Cherie's dedication to the craft.
Many aspired and dreaded sharing scenes with Cherie; her mere presence and aura were enough to intimidate co-stars on the set.
For actors young and old, a slap or a confrontation scene with the one and only Cherie Gil was a badge of honor.
Kapuso actress Kyline Alcantara told PEP.ph (Philippine Entertainment Portal) in June 2019, "First time ko po siyang na-meet. Na-starstruck po ako!
"Parang nakaganyan lang ako sa kanya. 'Tapos, sabi niya sa akin, 'Can you talk?'
"Sabi ko, 'Ahmm, kinakabahan po kasi ako. Sorry po!'
"'Tapos, nag-request ako sa kanya, 'Puwede niyo po ba akong sampalin?'
"Tinawanan niya lang ako.
"Nasa bucket list ko po talaga na masampal ni Ms. Cherie..."
Newbie Claire Castro likewise said, "Isa po siya sa magaling na konrabida and it would be an honor din po na masampal ni Ms. Cherie Gil."
Cherie's last TV series was GMA-7's Legal Wives in 2021.
She left the show midway, saying that her efforts were not "seen and met in the same light and given equal energy."
A few months later, Cherie departed the Philippines to reportedly settle in the U.S. indefinitely.
"I was getting tired of myself. And I was just so angry and unhappy, so I sold everything and packed up," Cherie said in an interview for Mega magazine published in February 2022.
THEATER AND PRODUCING
Cherie's search for continuous growth and challenge as an artist led her to the world of theater as well.
In total, Cherie appeared in eight theater productions starting with 2006's Doubt: A Parable.
She assumed the character of Maria Callas in Terence Macnally's Master Class in 2008.
In 2014, Cherie portrayed the popular fashion columnist and editor Diana Vreeland in the stage play, Full Gallop.
Cherie top-billed the play Arbol de Fuego produced by the Philippine Educational Theater Association (PETA) in 2015.
She gladly said at the time, "To be a part of a PETA production is possibly the most important project I have been involved with in my 36-year career.
"To be able to work with such a formidable company, and in Filipino at that, would have been an opportunity too hard to pass up as an actor; a challenge such as this would truly help me develop my body of work."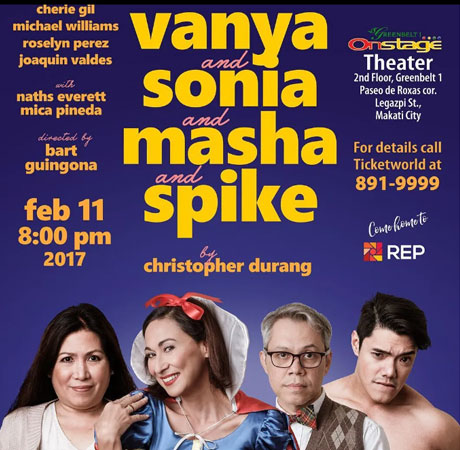 Theater fans also saw Cherie in The Sound of Music (2006), Nine (2012), Vanya and Sonia and Masha and Spike (2017), and Angels in America: Millennium Approaches (2019), where the veteran actress played multiple characters.
"Actually, this theater really broke the mold for me to feel that I'm growing and evolving as an actor," said Cherie.
"I'm just so happy that the door was opened to me in that regard, to walk into theater and discover a whole new, different milieu and different ways of learning and playing amazing roles."
Theater allowed Cherie to break free from the limitations of television and motion pictures, particularly when it comes to roles.
"When I am onstage, I am most happy. It demands more discipline from me. It demands more sanity, and it demands more challenge inside me that makes me feel growth," she intimated during a guesting at MINT College's CineFiesta 2017.
"The process of learning a part, and the research also educates me in terms of things I haven't been able to learn in school."
She went on, "This is, again, the challenge to in being a woman. When you don't find the right roles in cinema or teleseryes, at my age for that matter…
"[At this point you'll be casted as the] best friend… As a young girl, you may be the girl next door, unless you're an endorsable woman for posters, you get such roles.
"And you'll only find certain formulaic spots—the bad girl, or the good girl. Or, a mother! That's about it. So, it's in the theater that I find roles for myself. And it makes me feel alive."
As the founder of My Own Mann Productions, Cherie helped produce Full Gallop and the 2013 movie Sonata, in which she won Best Actress at the 2015 ASEAN International Film Festival and Awards (AIFFA).
GIVING BACK
With the COVID-19 pandemic in full swing in 2020, Cherie ventured into teaching to mentor aspiring and practicing actors.
The Cherie Gil Masterclass was launched on July 7, 2020, with Cherie personally designing the course syllabus for the six-day virtual workshop.
Cherie wrote on Instagram to promote the endeavor, "Truly excited for this.
"I've always aspired that one day, I would pass on what I've learned from the years I've been in the industry of show and performance."
Some of those who signed up in Cherie's class the were Kapuso artists Chynna Ortaleza and Barbie Forteza.
Barbie recalled in gmanetwork.com, "She's very inspiring and surprisingly comfortable to talk to especially when it gets personal. She really listens and does not judge.
"I expected her to be strict and hard to please. I learned that in our class, the only person I should please is myself.
"She turned out to be the coolest teacher and the most genuine actor I now know."
Cherie displayed that cool and genuine spirit while pondering life's intricacies and the prospect of facing death in her interview with Mega magazine.
She said, stressing, "May mga nagsasabi kasi marami akong pera but, in fact, they don't know anything.
"I'm just a human being. We go through the same ropes of the downs, the highs, and the lows.
"I am not going to be surprised if I die a pauper, but I have lived a life."
And, indeed, it was a life well lived.