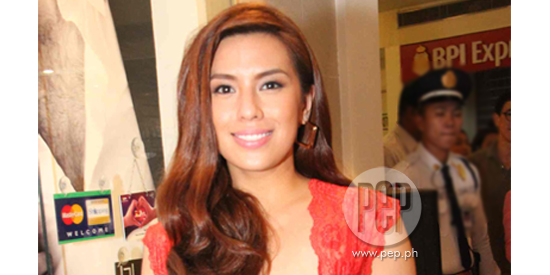 Nikki Gil on talk that her no-pre-marital-sex vow might have led to Billy Crawford's alleged womanizing. "People have said, 'E, kasi, lalaki. May pangangailangan.' My point exactly! See? Kung yun pala ang issue, [he didn't really deserve me]. Nobody told me to stay a virgin, or because I'm a stuck-up prude na holy-holy. It's my choice," says the 26-year-old in a no-holds-barred interview in Cosmopolitan Philippines magazine, December issue.
Photo: Allan Sancon
After months of silence, Nikki Gil has started to open up about her breakup with Billy Crawford and hinting that a third party was the reason.
In an exclusive interview with Cosmopolitan Magazine, Nikki disclosed that she brushed aside the rumor that her boyfriend of five years was cheating on her, even when she felt in her gut that it was true.
"There were always a lot of warnings, but I chose to ignore them—I couldn't wrap my head around the fact that it could be done to me.
"I'd ask him, 'Why were you [at this place]?' Then I'd back off and say, 'Never mind, I was just asking.'
"You just brush it under the rug, until one day, it all blows up in your face," said Nikki, who looks brave and bold on the cover of Cosmopolitan Magazine's December 2013 issue.
In retrospect, Nikki said she could hardly believe it, because she felt that this was the worst thing that somebody could do to someone like her who values faithfulness.
"I'm a woman and I protect what's mine, I don't touch what's not mine.
"If I were the kind of girl [who'd steal a boyfriend], I'd understand completely, but I cherish those things," she stressed.
Truth be told, news of the breakup of Nikki and Billy in July shocked the entertainment media and fans alike.
They were seen as an ideal couple, and it was hard to imagine how they could end up parting ways.
In The Buzz's July 28 episode, Billy declared that the reason he and Nikki broke up was that he felt "lost" and "confused."
He also denied that a third party was involved.
Read: Billy Crawford on breakup with Nikki Gil: "It all boils down to me."
NIKKI'S NO-PRE-MARITAL-SEX VOW. There were speculations that Nikki's clear stand against pre-marital sex contributed to the breakup.
The 26-year-old singer/actress/host was fierce in her reaction to this: