Despite the growing body-positivity movement, there are still those who continue to bash other people and impose their standards of beauty on others.
Celebrities are often the targets of these internet "negatrons" because of their high visibility on TV, movies and social media, where they are often mercilessly shamed—usually for the most frivolous reasons.
It's interesting to note that compared to their male counterparts, female celebrities or personalities seem to be more prone to body shaming.
For instance, some are being shamed for being too fat or too skinny, while a few others are ridiculed for their skin color, or for having a below-average bust size.
Fortunately, more and more celebrities have been pushing for body positivity and have been challenging societal views on the "ideal" body.
Here are 10 Pinay "flat and proud" celebrities who have embraced their "imperfections."
JULIA BARRETTO
Julia Barretto has always been "Team Nipple Tape" through and through. And she has actually been crowned by the netizens as "Queen of the Flat-Chested Community."
The 24-year-old ABS-CBN actress gladly accepted and embraced her new title in her interview for Tonight With Boy Abunda on May 14, 2019.
She told Boy Abunda during the interview, "I think mas natuwa ako kasi mas naging confident iyong mga girls who don't have big boobs.
"Siguro, natuwa lang ako sa mga comments [that show that now], they are more open about it. They're more proud of it.
"Kasi sometimes, if wala, they feel like it should be an insecurity or it should be something they're ashamed of [and] when they started to tag me in their posts, kasi parang, na-embrace na nila iyon."
LOVI POE
ABS-CBN actress Lovi Poe sent her Instagram followers a message of body positivity through an Instagram post on November 20, 2018. In the caption of her post, Lovi shared her love for lace and declared that she's "flat and proud."
He full caption read: "I am Lovi Poe. If there's one fabric I could wear forever it would be lace and I am also an advocate of self love. Yes I am flat and proud.[emoji] #LoviYourBody"
ALEX GONZAGA
In July 2019, Alex Gonzaga revealed in her Instagram Stories that she received an inquiry if she's open to doing a procedure on her boobs. But the 34-year-old actress/content creator declined the offer.
She posted a screenshot of the email along with several laughing emojis and the caption: "Nakaka-hurt!! Why would you think I need [one]!! Hanggang sa Korea nakarating 'to!?"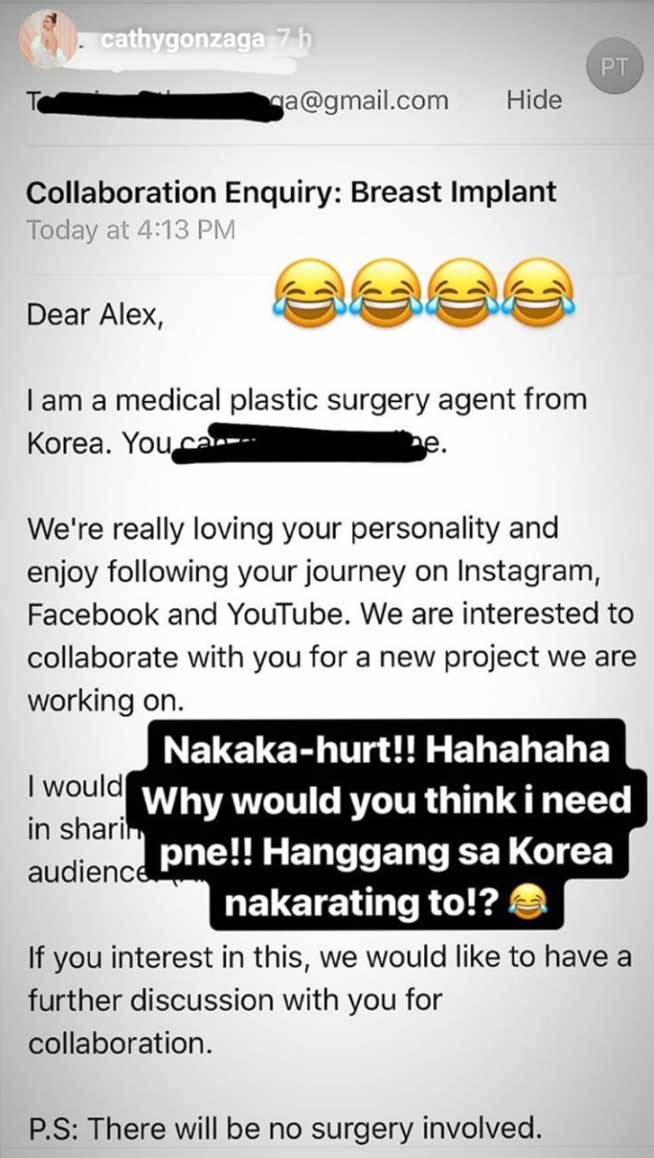 GABBI GARCIA
On Saturday, October 2, 2021, Gabbi Garcia posted a photo of herself wearing an olive green bikini that she paired with a wrap dress of the same color.
In her caption, Gabbi sent her Instagram followers an important message about body positivity and wrote, "I used to be so shy & hesitant when it comes to wearing triangle-shaped bikini tops.
"But now, I learned to finally embrace it [sparkle emoji] Flaunt it and be proud [white heart emoji] #FlatandProud"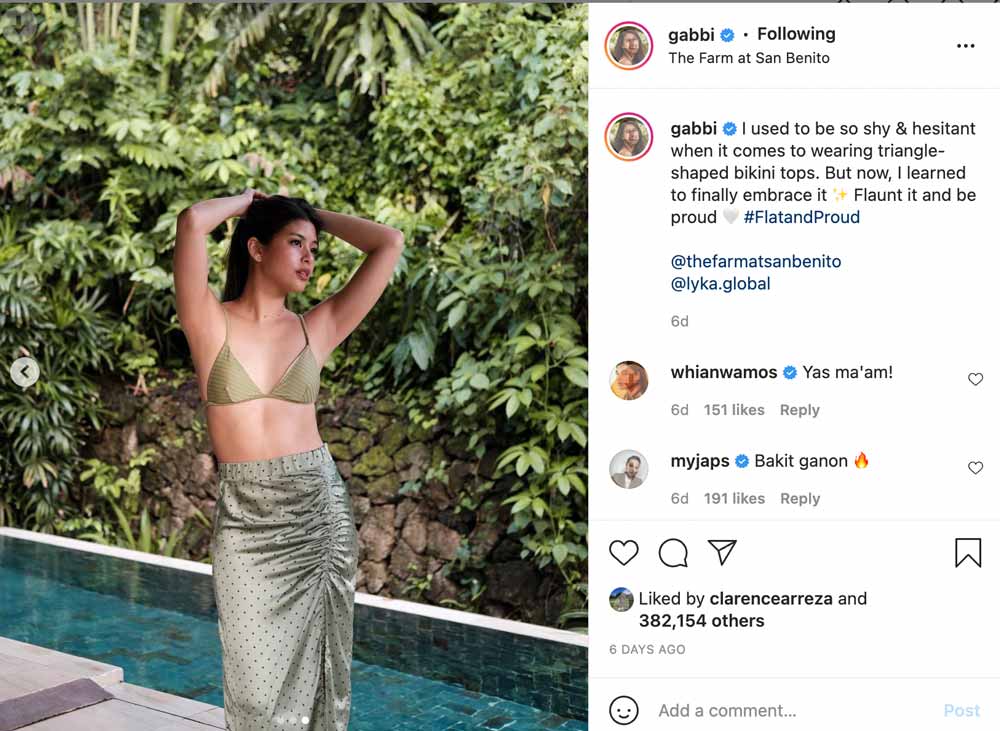 MAUREEN WROBLEWITZ
On June 18, 2019, former Eat Bulaga Dabarkads Maureen Wroblewitz didn't let a rude netizen's comment about her body affect her self-confidence.
In one of her Instagram posts, a netizen asked her, "Baket flat?"
Maureen responded coolly and said, "idk you can't have everything in life [emoji]"
On Twitter, the Miss Universe Philippines 2021 1st runner-up expressed how glad she is to have a strong core and not be affected by these kinds of comments anymore.
She wrote, "If I haven't already accepted my itty bitty titties then something like this would really hurt. What were you trying to achieve?
"Imagine if this was on someone's photo who was really insecure. we should be able to love ourselves and accept who we are. don't make it harder for us"
MARIS RACAL
When Maris Racal received a comment about her boobs saying "empty sismars," she had the most hilarious response.
Instead of taking offense, the 24-year-old actress/singer decided to poke fun at the comment. In a TikTok video posted on June 23, 2021, she said, "Guys, you care so much about the size!"
She continued while pointing at her chest, "May laman ba to? Wala!"
Her TikTok followers had the best laugh when she then pointed to her head and, "May laman ito? Wala rin!"
CHIE FILOMENO
Former Pinoy Big Brother housemate Chie Filomeno has always been bashed for being flat-chested. But she always keeps her comebacks interesting.
On May 12, 2020, Chie took to Twitter to share her witty response to bashers telling her "wala ka naman dede."
She wrote, "Oh ano naman? Tell me something I don't know. "19 kopong kopong na yang insulto na yan hahaha! "Untog kita sa malapader kong chest eh."

VALEEN MONTENEGRO
"I'm very confident with my babies."
This was Valeen Montenegro's statement about her boobs during her appearance on GMA-7's daytime talk show Mars Pa More.
During the show's "On The Spot" segment, Valeen opened up about the common negative comments she always receives on social media.
She said, "Shout out nga pala sa mahihilig mag-judge at sabihin na ako ay flat [chested] or nakatalikod. Sana ay mas malaki na lang yung boobs para mas perfect, mas feminine tingnan. Yun ang lagi nilang sinasabi."
But Valeen has always been confident about her bust regardless of its size.
She proudly said on national TV, "But for the record—actually, parang first time ko itong sasabihin sa TV—I'm very confident with my babies. I love them how they are.
"Kasi hindi siya hindrance. I'm not saying naman for other people that have bigger boobies than me are nahihirapan. Pero I love the way they are and I'm not at all insecure about them.
"As in, I'm so confident and I'm so blessed to have these."
HELGA KRAPF
In January 2019, celebrity mom Helga Krapf posted a feel-good message for ladies who are flat-chested like her.
In her post, Helga revealed that her two "besties" had shrunk in size after she weaned her daughter Amelie in April 2018. But she wasn't really bothered by it.
She told ladies and moms with small cup sizes like her, "Like I said, we can't have everything, and that's OKAY.
"Kahit flat chested tayo, ang importante ay inside of that chest beats a good heart and character and we are surrounded by the people who we love and love us back.
"In my case, I was also lucky to be blessed with some Vavavoom hips so I won't complain, mas madali dayain yung taas kesa yung baba eh, not to mention mas madali manganak..."
She ended it with hashtags "Girl Boss all the way" and "Flat Chested And Proud."
GRETCHEN HO
ABS-CBN TV host Gretchen Ho is also a victim of body shaming on social media.
In May 2019, she received a comment on Twitter which read, "@gretchenho Wala ka pala boobs #UKG hahaha"
The 31-year-old former volleyball player, however, remained undaunted and replied, "Loud and proud my friend"