Andi Eigenmann is coming to terms with the emotional aspect of the postpartum period.
In the weeks leading up to the birth of her second daughter Lilo, Andi has been vocal on Instagram about self-love.
But the new mom of two now realizes that she had only been focusing on the physical aspect of it.
She says, "I had focused so much on preparing my mind to accept myself for the way I will look even after giving birth, and the possibility of not 'bouncing back.'
"What i didnt realise is that there are also other aspects of being a new mom (again) that I may have needed to prepare my mind for as well."
Andi admits that she "neglected the part where emotional healing might be necessary too."
The young mom then says, "I guess this is what post partum depression looks like to me."
She relates, "I haven't been feeling like myself lately.
"Sleepless nights are getting the best of me. When the others are asleep I'd shed tears I'd normally save for my acting performances on tv show finales (lol).
"Ive been having so many thoughts of guilt. Ive been questioning every decision Ive made that led me here.
"I read so much about caring for a newborn and prepping to be a new mom again but I seemed to have ignored post partum depression. (I guess cus it didnt seem exciting.)"
Now, Andi wants to know more about postpartum depression and what she can do to address it.
"Just hoping that the fact that Im aware of other moms going through this, and that i am acknowledging what this feeling may be, will hopefully be helpful.
"But I know there are other more helpful ways. Any advice would be much appreciated!"
After posting, Andi finds moms on Instagram who can relate to what she's going through.
She also receives tons of advice and support from her followers.
Here are excerpts:
From a new mom: I had my baby 4 months ago via c-section and it really hit me hard like I always find myself crying to my husband due to sleep deprivation to the point that I wanted to go back home to the Philippines and leave my baby there with my Mum (i know i've been a bad mum for thinking that...For the advice please I know your exhausted but you have your partner with you. Have at least 2hrs break from your baby and take a nap. Don't ever think that you're neglecting your baby because you really need a break! Pump up some milk before you take a nap so your partner will be able to feed her in a bottle. Sleep is very important and some fresh air. Hope it helps! Goodluck, Andi! You can do it Momma! Lots of love from London!
From a mom based in Las Vegas, Nevada: I went through PPD as well. Having the best support system around me helped me go through that horror. I started with admitting to myself that I have PPD. Then I finally confessed to my Husband and my parents what I'm going through (not all the details). Whenever I think that I'm useless, I feed my mind tragic scenrios to harm myself or worse, take my life. When those moment occurs, I tried to breath in and out and remember God's words. I also decided to start asking for help with taking care of my baby from my parents and my Husband. Your baby will never judge you for having someone else look after her when you feel like you need rest or nap or just a time for yourself. Remember, in her eyes, you're the best Mom in the whole world. So give yourself some slack, you're doing more than fine.. You are not alone.
From a mom of two girls: While I can't relate on how you feel since it has been so long when I had to take care of a baby. I would like to suggest to stay off social media for now and focus on your health and your family. It won't be easy, but you can do it. The first 6 weeks after giving birth is hard. I would ask someone really close like your mom or any mom friend to help during the first 6 weeks so you can catch up on sleep. A few days of help is still better than no help! Go out more and get some sunshine, it helps to get some vitamin D in our body for depression. It's okay if the baby cries for 10 minutes, then after she cries pick her up and give her all the love you want.
Andi writes in an Instagram story, "Post partum depression IS real."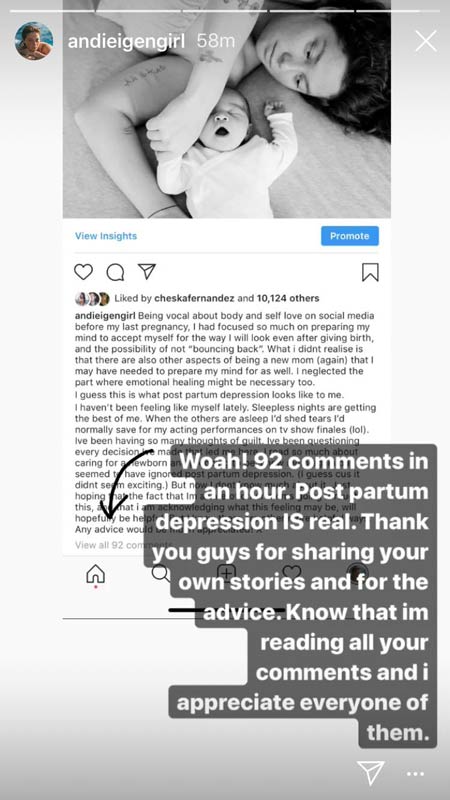 WHAT IS POSTPARTUM DEPRESSION?
According to WebMD.com, "it can start any time during your baby's first year, but it's most common to feel its effects during the first three weeks after birth."
Andi gave birth to her second baby on July 24.
MayoClinic.org said it is different from baby blues, which last only a few days to a week or two after the baby is born.
Here are the symptoms of baby blues:
Mood swings
Anxiety
Sadness
Irritability
Feeling overwhelmed
Crying
Reduced concentration
Appetite problems
Trouble sleeping
Postpartum depression, on the other hand, has signs and symptoms that are far more intense and last longer.
It can actually interfere with a mom's ability to care for her baby and handle other daily tasks.
Here are the symptoms of postpartum depression:
Depressed mood or severe mood swings
Excessive crying
Difficulty bonding with your baby
Withdrawing from family and friends
Loss of appetite or eating much more than usual
Inability to sleep (insomnia) or sleeping too much
Overwhelming fatigue or loss of energy
Reduced interest and pleasure in activities you used to enjoy
Intense irritability and anger
Fear that you're not a good mother
Hopelessness
Feelings of worthlessness, shame, guilt or inadequacy
Diminished ability to think clearly, concentrate or make decisions
Restlessness
Severe anxiety and panic attacks
Thoughts of harming yourself or your baby
Recurrent thoughts of death or suicide
When to see a doctor?
If the baby blues don't go away after two weeks, and it has become more difficult to care for your baby or sleep or bathe, and if the life-threatening thoughts or behavior intensified, consult a doctor ASAP.
WomensHealth.gov listed the following as the common types of treatment:
Therapy—where the mom will have sessions with a therapist or psychologist.

Medicine—which is usually antidepressants, and must be prescribed by a doctor.

Electroconvulsive therapy (ECT)—which

involves a brief electrical stimulation of the brain while the patient is under anesthesia. It is

used to treat extreme cases.
ANDI ON FINDING HER "SOUL"
Even though she is exhausted and "kind of" losing her mind, Andi says that she finds her "soul" through raising her two daughters Ellie and Lilo.
The mother of two writes in a separate Instagram post, "Its exhausting. but I love being needed by them, I love being there for them.
"So I am taking in and enjoying every bit of this stage of motherhood as much as I can.
"Because I know that time flies by quickly, and in a snap, they won't be little anymore."
Ellie (right) is Andi's seven-year-old daughter with former boyfriend Jake Ejercito, while Lilo is her two-week-old baby with current partner Philmar Alipayo.