#TheBarrettoFamilyFeud
"Thankful for family."
Julia Barretto is still grateful for her family despite the controversies that have sprouted from the wake of her late grandfather, family patriach Miguel Barretto.
The young ABS-CBN actress uploads a family photo on her Instagram feed, showing the family matriach, Inday Barretto, sitting at the middle of the front row.
Marjorie Barretto, who sits at the far left, is surrounded by her kids Julia, Dani, Leon, and Claudia.
Marjorie's siblings Gia, Mito, Mitch, and Jay-Jay are part of the photo as well.
Dani, who celebrates her 26th birthday today, October 20, posts the same photo on her Instagram Stories.
She captions, "Family is all that matters" and "We love you, Pikey!"
Pikey refers to the grandchildren's nickname for Miguel.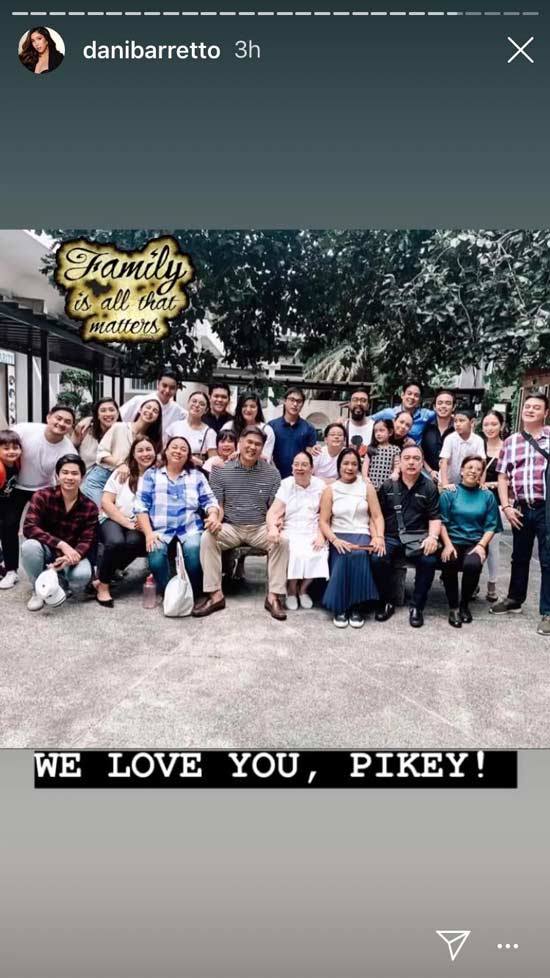 Where are Gretchen and Claudine?
Jay-Jay Barretto posts his own version of the same family photo on his Instagram feed.
He captions, "Bye dad .. [three black hearts ] [praying hands emoji]"
Netizens are quick to point out that neither Gretchen nor Claudine are in the photo.
One netizens asks Jay-Jay, "Where's @claubarretto?!"
Jay-Jay replies, "asleep.she hasnt slept in almost 3days"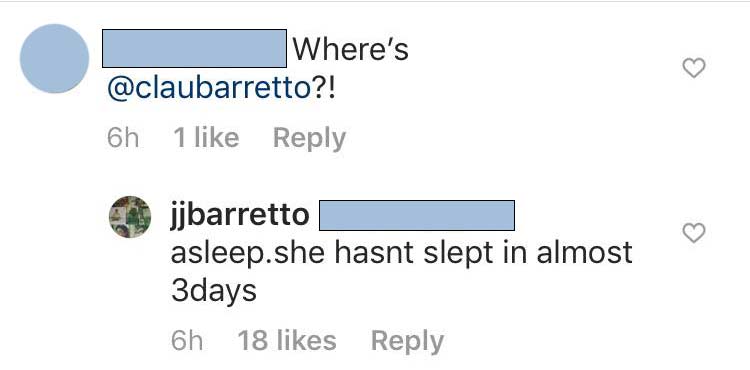 As for Gretchen, no one from the family has commented about her whereabouts.
But another netizen asks why Jay-Jay didn't post his picture with Gretchen and Claudine on his feed.
The three of them were seen together in an Instagram photo posted by Claudine yesterday, October 19.
Jay-Jay replies, "My choice"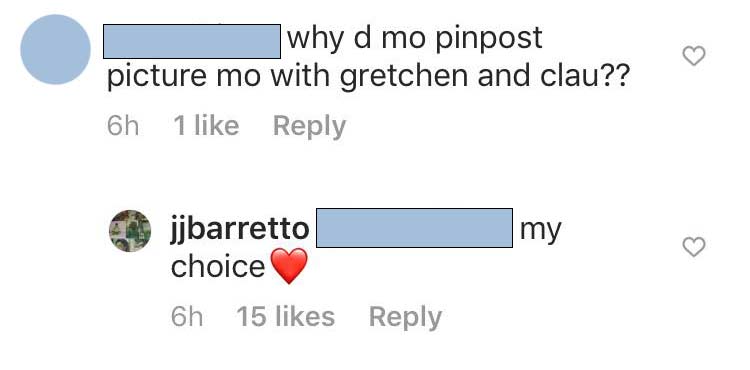 MARJORIE VS. GRETCHEN
Tension had always been rife between sisters Marjorie, 45, and Gretchen, 49, even before the passing of their father Miguel.
The sisters have had a "silent war" since late 2014.
Gretchen confirmed this through an exclusive interview with PEP.ph (Philippine Entertainment Portal) in February 2015.
Then during this 2019, the tension began to escalate, especially at the beginning of the Bea Alonzo-Gerald Anderson-Julia Barretto controversy when Gretchen became vocal about her support for Bea instead of her niece.
Gretchen then took a swipe at Julia's Instagram post addressed to Bea, commenting, "THE FACT THAT THEY HIRED A GHOST WRITTER FOR THIS POST IS HILARIOUS & MAKES HER SOUND DESPERATE TO SALVAGE WHATEVER IS LEFT."
Marjorie was then seen changing her Instagram bio to "Ghost Writer," which netizens read as a response to Gretchen's comment.
Gretchen fired back by changing her Instagram bio to "GHOST BUSTER."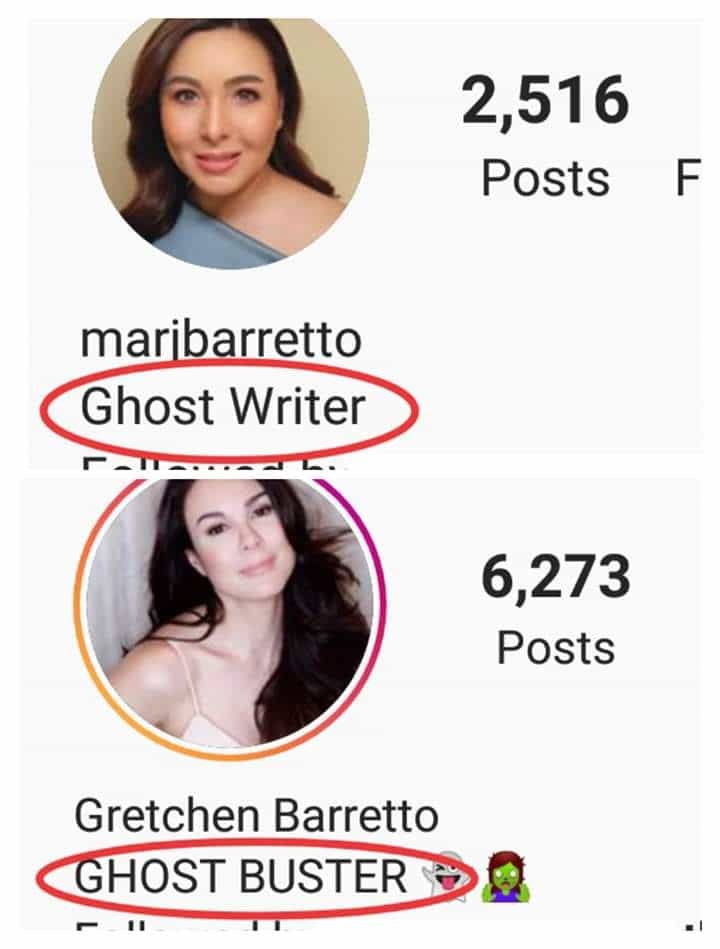 Things simmered down between the sisters when their father Miguel was rushed to the hospital early in October.
When the Barretto patriach passed away on October 14, showbiz fans wondered if Gretchen will make an appearance at the wake.
Threre days later, on October 17, Claudine posted an Instagram video confirming Gretchen's presence at the wake, which seemed to have put closure on her long-standing rift with her mother Inday.
But the same couldn't be said for her rift with Marjorie.
Reports have it that there was an altercation between the sisters, which President Rodrigo Duterte allegedly witnessed.
This confrontation also brought media attention to Jay-Jay's daughter Nicole, who was also reportedly part of the melee.
The family drama continued when Claudine was spotted at the hospital after she and Marjorie allegedly got into an argument of their own.
This argument was said to have also involved Julia.
Afterwards, Marjorie took to Instagram to say her piece. She slammed sisters Gretchen and Claudine, saying, "Don't be fooled by statements of my sisters."
Julia then expressed full support for her mom, saying, "We're behind you mom.
"The truth will set you free. You are protected and loved by many.
"You are the rock of this family. Everyone is behind you.
"We will all protect you. God is watching. He knows mom, He knows.
"Stand tall, and be still. You hold the truth, the whole family knows the truth.
"Everyone was a witness, everyone will stand by you."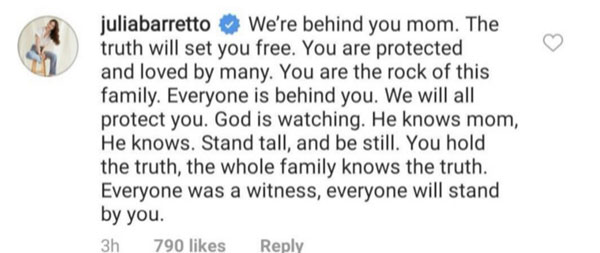 Meanwhile, Gretchen hits back at Marjorie and Julia with her own scathing statements.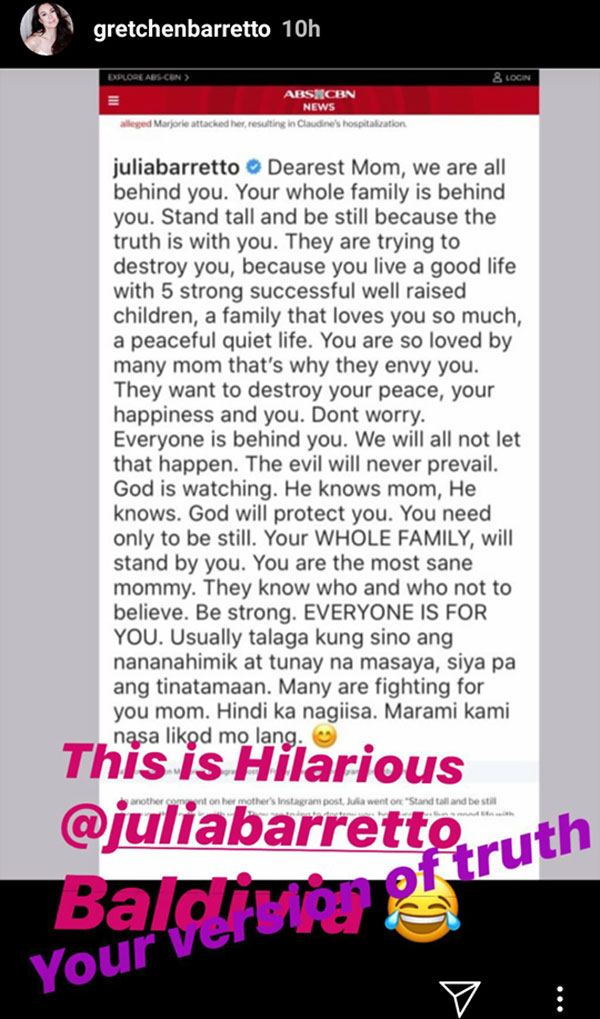 JULIA APOLOGIZES TO LATE GRANDFATHER
One of Julia's Instagram updates is a letter addressed to her grandfather, whom she fondly calls by his birthday "9/29."
The Kapamilya star apologizes "how a solemn occasion and celebration of your life turned into a circus. That instead of your legacy being remembered and given of attention, it created noise and more damage.
"This is not how it was supposed to be. I'm sorry that you watched all of this happen."
Julia then promises to focus on sharing "beautiful stories about how great of a person you were."
She concludes her post by asking people to "please stop attacking me and my family at this most difficult time.
"We are all in pain and we are all still grieving our loss."