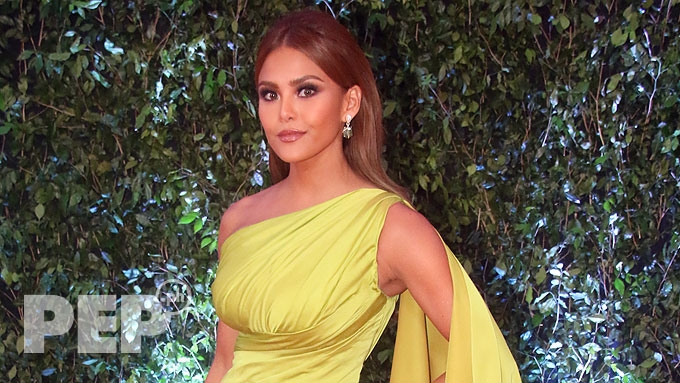 IMAGE Mark Atienza
---
ABS-CBN stated that the network respects the right of Kapamilya showbiz news anchor and reporter Gretchen Fullido to file a lawsuit against ABS-CBN News executives identified in the sexual harassment complaint that she filed before the Quezon City Prosecutor's Office earlier today, October 5.
In an official statement sent to PEP.ph (Philippine Entertainment Portal) by ABS-CBN Corporate Communications, ABS-CBN management maintained that the company took corresponding action when Gretchen filed an administrative complaint against unnamed respondents a few months ago. 
The statement read in full:
"ABS-CBN respects the right of news anchor and reporter Gretchen Marie Fullido to bring her sexual harassment complaint to the courts.
"Now that she has filed charges with the Quezon City Prosecutor's Office, we expect all parties to allow the legal process to take its course.
"ABS-CBN takes sexual harassment seriously and does not condone such acts in the workplace or by its employees.
ADVERTISEMENT - CONTINUE READING BELOW
"When Ms. Fullido filed an administrative case against a supervising producer and a segment producer for alleged sexual harassment in November 2017, the company took prompt action on the administrative complaint and decided based on the evidence presented."
It was Gretchen's legal counsel, Atty. Marvin Arceno, who earlier identified former ABS-CBN news executive Cheryl Favila and ABS-CBN news segment producer Maricar Asprec as respondents to Gretchen's sexual harassment complaint.
In an official statement published on his Facebook account, Atty. Arceno wrote that Gretchen allegedly received text messages "loaded with sexual innuendos" from Favila and Asprec. 
The lawyer also indicated that the two respondents "retaliated" and made life in the workplace difficult for Gretchen when she "rejected" their "advances" for the past three years.  
Gretchen's lawyer added that she has also filed a separate libel complaint against three other co-workers in the ABS-CBN News and Public Affairs department, namely, Cecilia "Ces" Drilon, Venancio Borromeo, and Marie Lozano.
ADVERTISEMENT - CONTINUE READING BELOW
Drilon, Borromeo, and Lozano allegedly accused Gretchen of trying to "leverage her employment status with ABS-CBN" when she filed a similar administrative complaint against Favila and Asprec before ABS-CBN management. 
Atty. Marceno's statement read in part, "Fullido in her Complaint Affidavit also said Drilon resorted to victim shaming and imputed statements that Fullido deserved to be harassed, since Fullido allegedly, was willing to wear a bikini with an inflatable pool with bubbles to shove up the ratings of TV Patrol, a leading daily news program.
"In July 16, 2018, ABS-CBN Management released a Decision dismissing the case for sexual harassment against Cheryl C. Favila but finding her liable for Gross Misconduct leading to her dismissal from the company recently." 
Gretchen is said to be a regular employee, and a news reporter and anchor for ABS-CBN.
She regularly appears as a showbiz news anchor and reporter for the ABS-CBN prime time newscast TV Patrol.  
ADVERTISEMENT - CONTINUE READING BELOW
PEP.ph has reached out to some of the concerned parties for an official statement about this matter, but has not received an response at press time.  
PEP.ph remains open to any statement that will be issued by the media personalities identified in this article.
PEP.ph's complete coverage of the Gretchen Fullido sexual harassment, libel complaints:
Gretchen Fullido files sexual harassment, libel complaints vs ABS-CBN colleagues
ABS-CBN issues statement on Gretchen Fullido sexual harassment complaint
Ces Drilon issues statement about Gretchen Fullido libel complaint
Jerika Ejercito, Melissa Ricks show support for Gretchen Fullido with #IStandWithGretchen
Lawyer of Cheryl Favila, Maricar Asprec on Gretchen Fullido's sexual harassment complaint: "Baseless"
Gretchen Fullido to public amid sexual harassment controversy: "Please just pray for me."
Karen Davila, Bianca Gonzalez speak up on Gretchen Fullido sexual harassment charge
Iza Calzado reacts to Gretchen Fullido sexual harassment claim
Cheryl Favila camp: "It's not sexual harassment, Gretchen just does not meet journalistic standards."
ADVERTISEMENT - CONTINUE READING BELOW
Gretchen Fullido claims implicit sexual favor asked; Cheryl Favila says texts distorted maliciously
Bryan Revilla airs support for Gretchen Fullido in her fight vs. colleagues
Ogie Diaz sides with Gretchen Fullido in her sexual harassment complaint