Just like most of us, celebrities work hard to provide for themselves and their families.
That's why as soon as they have earned enough money to acquire property, they secure a new home.
Afterwards, the possibilities of their next investments are endless.
But even with their own homes built and acquired, celebrities still aspire to live in their dream homes one day.
Alden Richards
Alden already bought his dream family home in an exclusive subdivision in Laguna.
But this two-story residence where his dad, grandparents, and siblings live is not yet his dream house.
While the Victor Magtanggol actor doesn't aspire to own a mansion, he works on having "the ultimate man cave," where he will put his wide collection of comic book superheroes in full display inside an underground glass chamber—or at least, something akin to Tony Stark's lab from the Marvel films.
Tony Stark is a popular character in the Marvel comics. He is known to many as Iron Man.
In the films, Tony Stark is played by American actor Robert Downey Jr.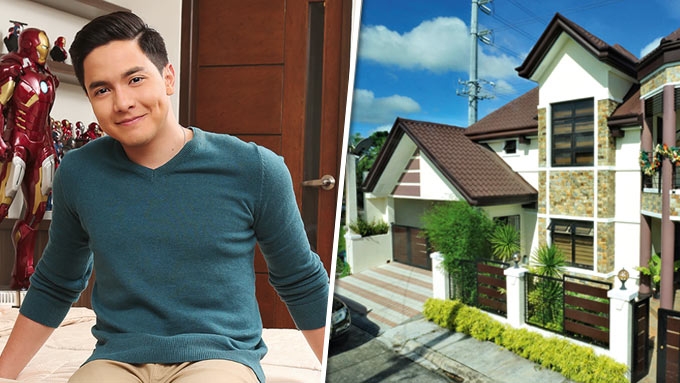 Maine Mendoza
Maine's dream house is a mansion.
Ever since Maine can remember, the Eat Bulaga! regular has dreamed of living in a two-story modern mansion.
The GMA-7 actress-host tells YES! magazine in its February 2018 issue, "Lobby pa lang, pasabog na.
"Gusto ko talaga ng malaking bahay—modern po. May pool, merong movie room, merong garden."
Maine envisions her mansion on top of the mountains, overlooking the city.
READ: Celebrities with upscale condo units in the metro

Julia Barretto
Julia was 18 when she began dreaming of her own home, and just two years later, she was able to start building it.
The I Love You, Hater star gave her Instagram followers a peek of her future home last October 2017.
Julia thanked God "for another answered prayer."
She said, "This is still so surreal to me."
Fast forward to May 2018, Julia sits on the first floor of her "almost finished home."
She told PEP.ph (Philippine Entertainment Portal) in an interview last November 2017, "I'm so excited for the furniture, for the interior design and everything.
"But the thing I'm most excited about is my walk-in closet."
The ABS-CBN actress still lives in her mom Marjorie Barretto's family home, where she plans to eat her meals even after the construction of her house is finished.
Jennylyn Mercado
Since she joined showbiz in 2002, Jennylyn has owned two homes: one was her "halfway home" and the other is her current home in Quezon City.
But neither of these houses is her dream home.
To suit the active lifestyle of the GMA-7 actress-triathlete, she hopes to have enough space for a lap pool.
"Kahit thirty meters, ganyan," Jennylyn tells YES! Magazine in its March 2016 issue.
"Gusto ko may lap pool na mahaba para nakakapag-training na rin ako [sa loob ng bahay.
"Hindi na ako lalabas pa."
Her two-story Quezon City home seems to be almost fulfilling her dream of a home training area.
In her recent interview with PEP.ph, Jennylyn revealed that she converted her home garden into a Pilates studio.
READ: Stunning homes of today's leading ladies

Gerald Anderson
It is no secret that "#BallIsLife" for Gerald.
Basketball has always been a passion sport for the ABS-CBN actor and just like every man aspiring the ultimate "ball life," Gerald's ultimate life goal is to have an indoor basketball court in his dream home.
After all, Gerald has always considered the basketball court his "favorite spot."
He also dreams of having a mansion that provides ample space for a full-size basketball court.
READ: Modern homes of today's leading men

Piolo Pascual
Piolo owns multiple properties here and in the U.S.
Back in June 2012, Piolo gave YES! magazine a tour of his two properties in the U.S.—Las Vegas and Los Angeles.
During that time, the Kapamilya matinee idol was in the process of building his dream home in an executive village in Quezon City.
When asked about his dream home, he told YES! Magazine, "I've always wanted Mediterranean. Kasi pumunta ako sa Greece with my mom before...
"I'm always for ano, e—iyong sprawling na semento?
"gusto ko, mga Greek na Mediterranean.
"Kaso, Greek is blue and white lang.
"E, I like terracotta."
Terracotta, which means "baked earth" in Italian, has more of an earthy aesthetic as opposed to Mediterranean's coastal hues, but Piolo seems to have figured out a way to combine those two design elements by making his dream home's color scheme a combination of whites and browns.
"My base is white. And then, tiles ko, off-white, and then iyong furniture mo na lang iyong may accent, kumbaga."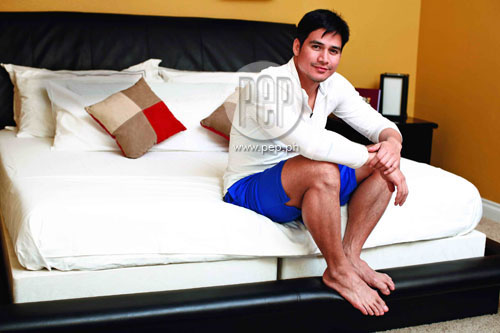 IMAGE: Roy Macam for YES! Magazine September 2012
Piolo also wants his dream home to have a minimalist and Zen feel.
He detailed, "Gusto ko may deck, gusto ko open.
"I wanted Zen type. I wanted Japanese type. So hindi ako ma-furniture...
"I'm planning to build five floors, two floors down, and then your lobby, and then two floors up, and then your entire back is open...
"Saka gusto ko may view."
Fortunately, his Quezon City dream home does have one: a grand view of the Montalban mountain range.
But even with this vivid description of the dream house he wants, Piolo admitted that he was still hesitant to build his dream home at the time.
He said, "Kasi gusto ko, pag bini-build ko—being practical and all—gusto ko kasama ko iyong asawa kong mag-build, para she has a say on how she wants her dresser to look, on how she wants the facade, or even, you know, iyong cost ng marteryales..."
Team Kramer
Early this year, Doug Kramer and Cheska Garcia-Kramer happily gave their Instagram followers a sneak peek of their future family home.
In their own words, this multi-level home is the "Team Kramer dream home."
Doug envisions their new family home to have a "modern rustic feel."
He wrote in one of his Instagram posts, "Our house will be something different… Lots of wood, stone, and with industrial touches. Lots of open space and the most important, fresh air and surrounding trees!
"The infinity pool facing multiple cities will be the icing on the cake!"
Their new family home will feature a number of exciting amenities that both parents and children can't wait to experience.
Apart from the infinity pool, it will also have a roomier home cinema, and a loft.
Kendra, Scarlett, and Gavin will also have their own classroom, playground, and even a tree house!
Meanwhile, Doug can't wait to have his basement man cave, and Cheska gets to have her dream walk-in closet.
The Kramers hope to move into their new home by the end of the year.