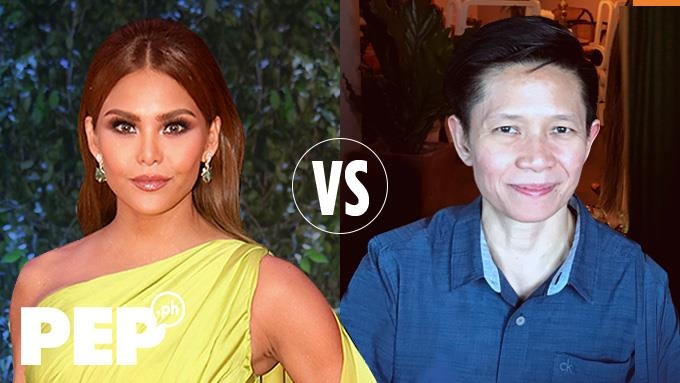 IMAGE Mark Atienza / PEP file
---
ISSUE 1: LAMBING/CRUSH KITA TEXT EXCHANGE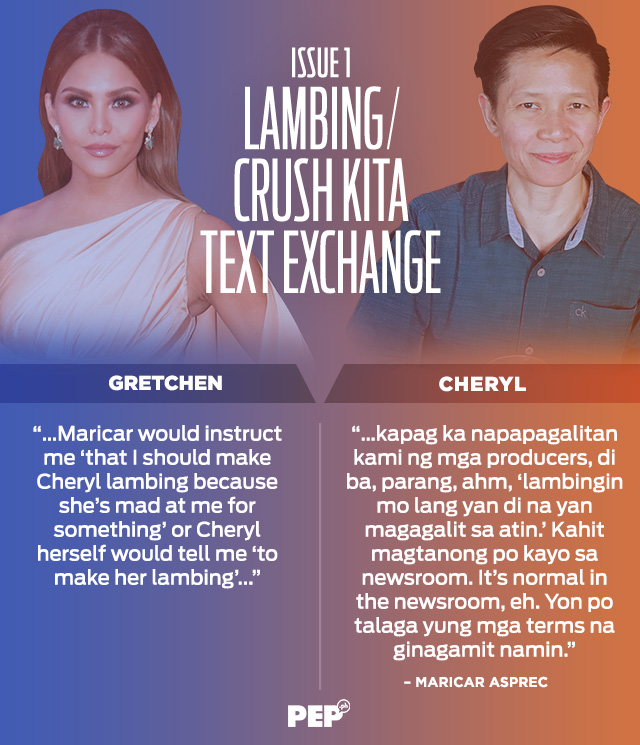 GRETCHEN
Gretchen Fullido, ABS-CBN TV Patrol entertainment news anchor and reporter, claims she was sexually harassed by colleagues Cheryl Favila and Maricar Asprec from 2015 to 2017, or a period of roughly three years.
The 34-year-old Gretchen—a TV personality who is also under ABS-CBN's talent-management arm, Star Magic—says that the two women bosses gave her the "feeling" that she needed to be "close" to them beyond the "Boss-Colleague level" if she were to get ahead in the newsroom.
ADVERTISEMENT - CONTINUE READING BELOW
In a Complaint Affidavit submitted to the Quezon City Prosecutor's Office on October 5, 2018, Gretchen says that she got this feeling when she began hosting "Tara Grets," TV Patrol's lifestyle and tourism segment, which was conceptualized by Cheryl and launched by TV Patrol in April 2015.
Beyond claiming this, however, Gretchen provides no more information. Instead, she lists multiple text messages, excerpted from among those the three of them exchanged, the lot of which she says made her "uncomfortable."
Earlier, in an Administrative Complaint she lodged with ABS-CBN in November 2017, Gretchen says she would "have to intellectualize what they are saying because I didn't want to assume things or put double meaning to their uncomfortable remarks."
The entertainment reporter also says, "In as much as I can, I always tried to look at good and didn't want to settle with vain imagination even if Maricar kept saying things like 'Cheryl has a crush or kras on me'…"
ADVERTISEMENT - CONTINUE READING BELOW
In the same Complaint, Gretchen provides screenshots of her text-message exchange with Maricar [published as is]:
Maricar: Teka lang...ikaw na lang ang magbigay nito kay Chair...basta ikaw na lang magbigay...Ngayon ko lang naalala...Kunin mo ilit ito sa akin beh
Gretchen: Oh ok...U sure? When is chair coming back?
Maricar: Bukas ata. Yes, ikaw magbigay. Lambingin mo. Masama loob nun sayo. Ngayon ko lang naisip. Di kita nakita kanina 
CHERYL
The 49-year-old Cheryl Favila, who was, until July 31, 2018, ABS-CBN TV Patrol supervising producer, denies this vehemently.
So does Maricar Asprec, 35 years old, who was then and now TV Patrol news segment producer.
To refute Gretchen's claim, the two submitted a Position Paper to ABS-CBN's Ad Hoc Committee that investigated Gretchen's complaint from January to July 2018.
Explaining newsroom lingo at the Kapamilya network, it says in part: "It cannot be denied that the people in the newsroom have their own special language and culture. The words 'crush ka, baka type ka ni Chair' came from Maricar Asprec, a millennial, who has been an employee of ABS-CBN for many years."
ADVERTISEMENT - CONTINUE READING BELOW
"Note that Fullido," the Position Paper adds, "removed the word 'baka' from 'baka crush ka.'" 
In the same Position Paper, Maricar provides an explanation for "crush ka." In newsroom culture, she says, "Nagbibilangan kami ng, 'Naku sabit na naman ako ngayon. May crush yan sa akin, pinapagalitan ako palagi.' So yong mga ganoon pong biruan. It's normal in the newsroom eh."
Addressing Gretchen's statement that she had been made  "uncomfortable" by the language in their text exchange, the Position Paper says: "…it is very telling that Fullido did not deny…in the formal investigation, that she took the text messages of...Cheryl Favila out of context or removed them from the conversation threads in which the text messages belonged." [itals provided]
Cheryl feels that Gretchen extricated the texts from the main body, and manipulated them to suit her claim of sexual harassment.
Cheryl does not deny, however, that she, Maricar, and Gretchen are not just colleagues, they are friends.
ADVERTISEMENT - CONTINUE READING BELOW
Explaining the dynamics among them, the 21-year newsroom veteran says: "Let me reiterate that despite our love-hate relationship at work, Gretchen Fullido was our friend. This meant that we had shared some personal things that were supposed to stay just between friends. Gretchen Fullido had shared with us things about her family..."
ISSUE 2: THURSDAY GIRL/YOU REJECTED ME
ADVERTISEMENT - CONTINUE READING BELOW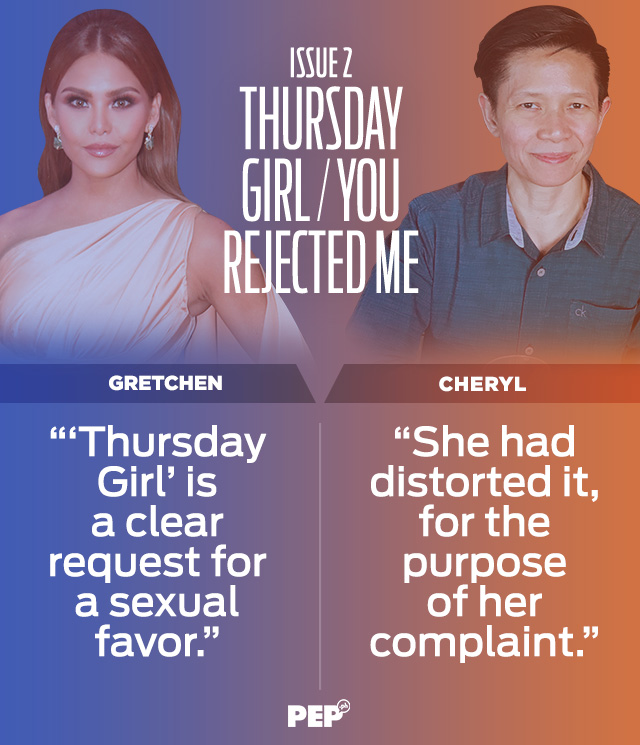 GRETCHEN
Gretchen's Complaint Affidavit, submitted to the QC Prosecutor's Office, makes the claim that Cheryl and Maricar, who are partners, are in an "open relationship," and that "Favila usually reserved her Thursday for a third party."
Gretchen claims further that Cheryl wanted Gretchen as her "Thursday Girl."
This was a "request/offer" that Gretchen says she rejected, because it was clear to her that "Thursday Girl" was about seeking sexual favors.  
Explaining this in her Administrative Complaint to ABS-CBN, Gretchen says, "Even if I knew what a 'Thursday girl' meant, I always evaded the issue so as not to offend anybody. I just pretended not to know what it meant…"  
And she knew it meant, says Gretchen, that she would be Cheryl's "cheat girl" on the "cheat day" of Cheryl's "open relationship" with Maricar. It meant, Gretchen spells out, Cheryl "wanted to have sex" with her.
ADVERTISEMENT - CONTINUE READING BELOW
This is the text exchange that Gretchen says she had with Maricar about being a "Thursday Girl" [published as is]:  
Maricar: Off the record, bakit nga ba hindi ka pumayag na maging Thursday girl?
Gretchen: Sorry late reply, just finished my night jog. I feel better compare to my mood kanina. Off the record, I really don't know what a "Thursday girl" is.
Maricar: Hahaha! Bahala kayong dalawa. Away kayo ng away tapos di pala kayo nagkakaintindihan. Ang hirap tuloy mapapayag lumabas kayo. Bakit ka kasi nag NO agad, di mo pala alam ano yun [monkey closed eyes emoji].
Following is a text exchange between Gretchen and Cheryl, which Gretchen also provides in her Administrative Complaint, saying it talks about rejection [published as is]:
Gretchen: Hi Chair, it was nice being able to observe production from the control booth. Learned a lot & so how tense you could all get, I can just imagine when it's a heavy news day. Happy weekend!  Let's catch up over dinner next week if you're free so we can try Unit 27 in fort.
ADVERTISEMENT - CONTINUE READING BELOW
Cheryl: Sure ka ba dyan? Baka you'll reject me again.
Gretchen: Morning! Huh? What do u nean?
Cheryl: Isipin mo…You rejected me once I will never forget that.
Gretchen: Sus, you're so madrama! Bawal super emo on a nice Saturday! Joke! Peace na tayo ha!
Cheryl: Hindi ba? Di ba ni-reject mo ako?
Gretchen: I didn't think of it that way then.  
CHERYL
"'Thursday Girl' was never about dating in the romantic or sexual sense," said Cheryl and Maricar to the ABS-CBN Ad Hoc Committee.
In the Position Paper and the Answer Affidavit they submitted to the body, they include screen shots of Cheryl's Instagram posts where Cheryl used "Thursday Girls" or "my Tuesday Girl" to describe Cheryl's time out with female colleagues on a day in the week she is off duty.
These female colleagues who joined Cheryl for dinner or drinks include, among others, broadcast journalists Doris Bigornia, Korina Sanchez, Pinky Webb, and Marie Lozano, with Ces Drilon, the eldest at 56, and Gretchen Ho, the youngest at 28. 
ADVERTISEMENT - CONTINUE READING BELOW
As proof that the Thursday nights out were totally innocent, Cheryl cites an October 2, 2015, conversation between her and Gretchen in the newsroom, when Gretchen asks if they can meet for dinner that week.
Cheryl suggests they meet on a Thursday, and Gretchen is quoted as saying, "…kailangan ba talaga Thursday?"
Cheryl then tells Gretchen directly, "Ah, ayaw mo maging Thursday girl. Why? What do you have in mind about it? Masyado namang mababa ang tingin mo sa sarili mo if you equate it with dating someone."
That Gretchen should look at "Thursday Girl" as being more than just an evening to unwind with colleagues upset Cheryl. She says, "At that time I felt I was being prejudiced. This is where I was coming from when I sent that 'you rejected me once' sms."
Cheryl points to a text exchange showing how "rejection" actually became a running joke between her and Gretchen:
ADVERTISEMENT - CONTINUE READING BELOW
Cheryl: Nakalimutan mo na ako…
Gretchen: Bakit naman? Ikaw kaya ang super dooper busy and sometimes snob…
Cheryl: Ay… May #hugot ka sa akin… Sumbong kita sa mommy mo.
Gretchen: Wala noh Friday game na lunch?
Cheryl: Parati naman akong game sayo. Ikaw lang ang may ayaw. Hindi ko pa nakakalimutan ang rejection mo. #hugotko
Gretchen: Di ba wala ng #hugot after nung new year?
In the end, Gretchen joined Cheryl on many Thursday nights. Showing so are the many social media posts by both Gretchen and Cheryl, plus the posts by other newsroom colleagues.
She cannot now understand, says Cheryl, how something that was innocent all those years could be turned into something lurid overnight. 
ISSUE 3. HOSTILE WORKPLACE VS. FULL SUPPORT
ADVERTISEMENT - CONTINUE READING BELOW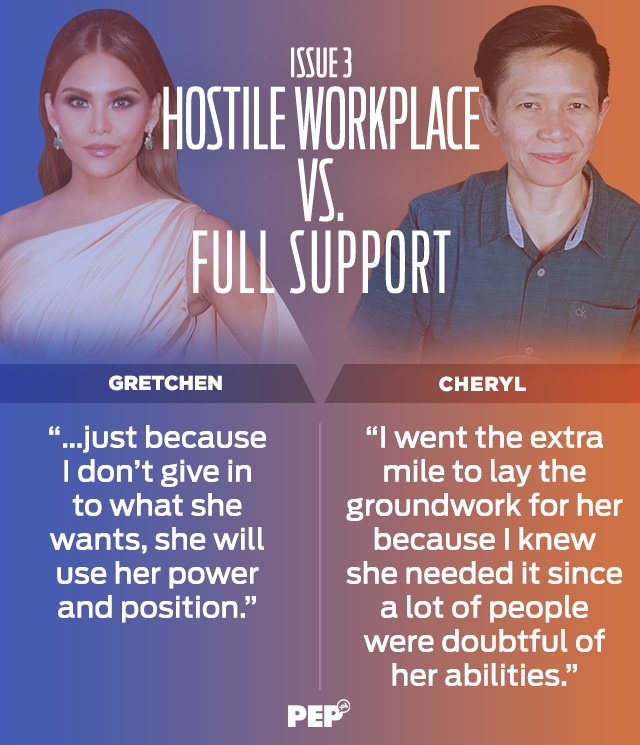 GRETCHEN
After she rejected Cheryl's "request/offer," says Gretchen, her work took a beating. Cheryl and Maricar, she claims, began making her work environment "hostile and offensive."
She discusses this in her Administrative Complaint to ABS-CBN in more detail: "It has been very difficult coming to work knowing that my boss has been inconsistent with the way she treats me and just because I don't give in to what she wants, she will use her power and position."  
Gretchen's Complaint Affidavit to the QC Prosecutor's Office also states that Cheryl and Maricar wanted to "control her life." To support this claim, she brings up two points.
One: She is constantly asked where she is. "They would often ask my whereabouts whenever they don't physically see me in the newsroom."
And two: Her stories are not aired on Cheryl's whim. "Cheryl had the power to choose which stories she would line up and air, my stories would be bumped off for whatever reason she could come up with because the reasons vary depending on her mood for the day."
ADVERTISEMENT - CONTINUE READING BELOW
CHERYL
Cheryl says that she, in fact, conceptualized "Tara Grets." And that, with it, she hoped Gretchen could be developed into a future lifestyle icon of TV Patrol.
Cheryl had the concept approved by ABS-CBN News and Current Affairs head Ging Reyes, and then got the help of the ABS-CBN digital team to do "social media listening." This meant that the team was to tune in on the "positive and negative feedback" of netizens on Gretchen's image.  
In her Answer Affidavit to ABS-CBN, Cheryl narrates what happened next: "This was when I was asked by our digital guys to tell News Gathering to stop assigning Gretchen Fullido to coverage of foreign male artists."
There was in the "online community," Cheryl explains, "widespread gossip" about Gretchen and a number of foreign singers she had covered. As a result, there arose a "strict policy for Gretchen Fullido on this." 
But Gretchen, says Cheryl, "read malice in the decision to forbid her from covering foreign male artists." This is also, Cheryl says, a possible reason why Gretchen accused her and Maricar of wanting to "control her life."
ADVERTISEMENT - CONTINUE READING BELOW
To prove that the restriction on Gretchen's access to foreign male singers did not come from her, Cheryl recounts: "[Chief] of reporters, Lynda Jumilla, and the desk editor of Fullido (at that time, Cherry Cornell) were advised about this collective decision."
Cheryl adds, "Fullido agreed to this decision during the meeting where she was present. This is a verifiable fact."
In the end, Cheryl says, Gretchen also agreed with the team's recommendation that she maintain a "wholesome image" as part of her "brand equity" as future lifestyle icon of TV Patrol.
There were real plans to create a lifestyle "icon" out of Gretchen, Cheryl says.
"I asked our ABS-CBN news online people to create a landing page for 'Tara Grets.' It's the only segment that has one. We thought that if this works, then it becomes a template for our future segments or shows. This is the kind of support that I gave Gretchen Fullido…  
ADVERTISEMENT - CONTINUE READING BELOW
"This is also the reason why I am deeply sad and hurt that our relationship as workmates and friends and our exchanges were twisted to something so low as sexual proposition."
Cheryl mentions an April 2015 message from Gretchen, where the latter expresses gratitude to Cheryl for giving her a big break even with others around "doubting her abilities."
But even after this show of gratitude, Cheryl says, Gretchen did not do a good job in her entertainment coverage.
"So many times, Gretchen broke her promise of working hard for her 'Tara Grets' and Entertainment reporter [functions]," says Cheryl in her Answer Affidavit to ABS-CBN.
"She'd always say that she will work harder, yet she makes excuses why the assigned story cannot air on the same day, or in a lot of instances, her story would have to be revised, or be put aside until she gets the complete interview and videos. This is a common experience with her of TV Patrol production staff."
ADVERTISEMENT - CONTINUE READING BELOW
To the accusation that Cheryl used her supervising-producer powers whimsically, Cheryl and Maricar point out in their Position Paper, that Gretchen has a bad habit of turning the tables around when backed into a wall.
Gretchen would, the Paper says, "assert generalities and vague claims, without going into details, and to fudge issues." 
It also notes that Gretchen "never denied or disputed" the sworn affidavits of seven ABS-CBN newsroom persons who "explained the reasons why Fullido's stories did not air."
Ces Drilon, one of the seven, says, "As a veteran journalist in ABS-CBN and having worked on TV Patrol, I know that bumping off stories does not happen due to malice or any ill motive on the part of the production staff including the producers.
"There are just too many eyes involved in the production of news and in decision-making over what to air (or what not to air) that this could not possibly happen. There are many layers of checks and balances.
ADVERTISEMENT - CONTINUE READING BELOW
"Cheryl Favila cannot control this process."
ISSUE 4: POWER TRIPPING VS. BLAMING GAME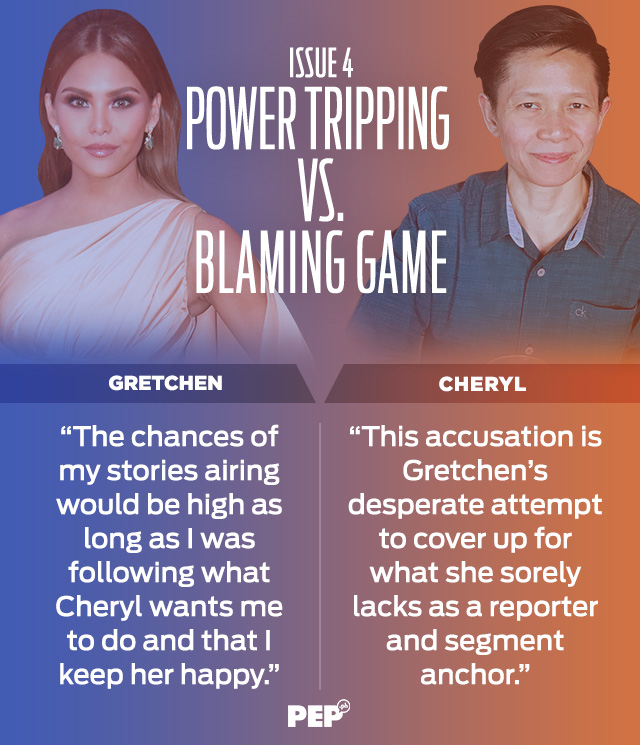 GRETCHEN
In her affidavits to ABS-CBN and the QC Prosecutor's Office, Gretchen says that, from 2015 to 2017, she repeatedly rejected Cheryl's sexual advances.
These advances came in the form, Gretchen claims, of text messages filled with sexual innuendos. As a result, Gretchen says she "suffered in the newsroom."
ADVERTISEMENT - CONTINUE READING BELOW
She talks about how her stories, even when these had been approved by the news-gathering team, were in  "many instances" not aired on TV Patrol. Gretchen says she even asked Cheryl what was lacking in her stories.
"Cheryl would say," Gretchen claims in her Administrative Complaint, "because my stories are not at par with her standards or she can be very vague about it and not answer me at all, or she would say there's something that she's mad about but would not tell me…"  
This would leave her "puzzled and confused as to what I did to anger her or what was the issue with my story."
She concludes, "Whenever Cheryl would be mad at me for whatever reason, my stories would suffer. During those times that I was in Cheryl's good books, my stories would have very little or no problems at all."
CHERYL
Cheryl says it was Gretchen who caused her own problems.
ADVERTISEMENT - CONTINUE READING BELOW
In her Answer Affidavit to ABS-CBN, Cheryl counters: "She attributed malice to us all for our decisions not to air her stories, when in truth it was her own incompetence, laziness, and lack of commitment to her work that caused her stories not to be aired," says Cheryl.
To go by Gretchen's reportorial output, Cheryl says, "Gretchen Fullido has grossly violated the ethics of professional journalism. She is a disgrace to the profession and does not deserve to be called a journalist."
Cheryl cites three separate text exchanges (September 2, 2016, September 6, 2016, and May 1, 2017) where she called Gretchen out for the latter's "propensity to blame" others for her reportorial mistakes.
In one, Cheryl tells Gretchen: "How dare you blame Jen and Reichelle? Si Jen na isa sa mga tao na araw araw nagtitiyaga at nagmamalasakit sa 'yo ang sinisisi mo?...How dare you point a finger on innocent soul(s)?"

Backing Cheryl on this, Olivia M. Zarate, segment producer of "Star Patrol," executes a sworn affidavit and allows its attachment to Cheryl and Maricar's Answer Affidavit.
ADVERTISEMENT - CONTINUE READING BELOW
It says: "…Madalas, sinisisi niya ang ibang tao sa mga kakulangan sa mga stories niya: kapag kulang ang shots ang cameraman ang may kasalanan; kapag kulang ang laman, utos ng minder niya o di kaya dahil sa advise ng minder niya na si Jane Globio."
Cheryl also cites 15 text exchanges with Gretchen, between July 9, 2015, to July 2017, where she mentored Gretchen to improve the latter's writing skills and editorial judgment, and thereby produce better stories for "Tara Grets." 
On the matter of Gretchen's poor journalism, Cheryl's Complaint Affidavit includes sworn affidavits from seven in the ABS-CBN newsroom: a veteran broadcast journalist, three segment producers, a senior story supervisor, and two executive producers of TV Patrol.  
All testify to Gretchen's "poor work ethic, lack of writing skills, and propensity to blame" colleagues when she is unable to accomplish tasks assigned to her.
In her Answer Affidavit, Cheryl states: "I'd like to challenge Gretchen Fullido to cite a specific story or coverage that made her remarkable in her almost 10 years as a reporter and in her 7 years as TV Patrol anchor.
ADVERTISEMENT - CONTINUE READING BELOW
"Was there ever a single story that made the audience remember her because of an exposé in the entertainment business? The answer is a resounding NO." 
ISSUE 5: THE BANK BAR INCIDENT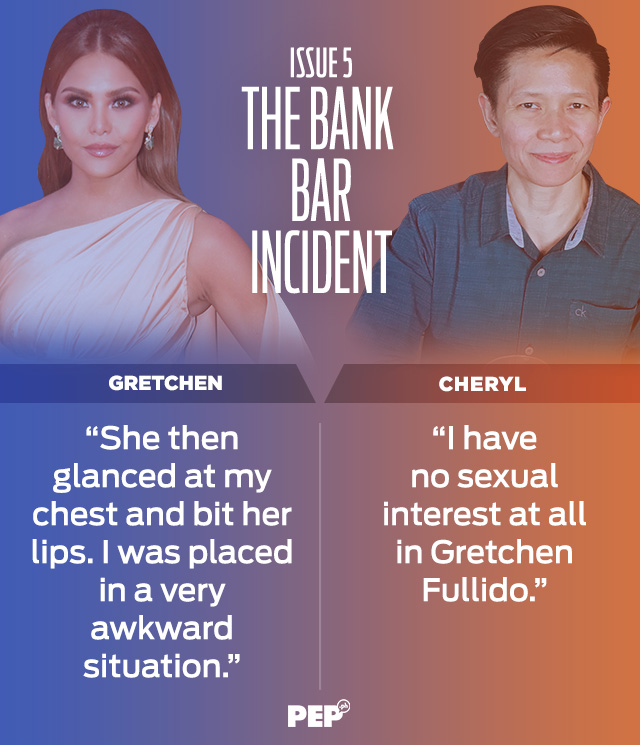 GRETCHEN
Gretchen describes an incident—in her affidavits to the prosecutor's office (October 2018) and to the Kapamilya network (November 2017)—where she says Cheryl told her that she "liked' Gretchen in a different way.
ADVERTISEMENT - CONTINUE READING BELOW
She says that on the night of March 9, 2017, she and Cheryl met at a bar at The Fort, Taguig City, for a dinner meeting on reviving "Tara Grets."
Gretchen narrates: "She then proceeded to compare me to my peers, Marie Lozano and Gretchen Ho, and told me I was different from them. She specifically told me, 'I like you' and added that she likes me in a different way compared to the other girls whom she is close to."
The entertainment news anchor adds, "She then glanced at my chest and bit her lips. I was placed in a very awkward situation. This night confirmed my suspicion that her intentions were never professional since the very beginning. I felt violated and manipulated by her. I was trying my best to divert the conversation by making jokes and changing the topic so as to not offend her because she is after all still my boss."
ADVERTISEMENT - CONTINUE READING BELOW
CHERYL
Cheryl denies this categorically.
In her Answer Affidavit, Cheryl says that she "never" expressed sexual interest in Gretchen before, during, or after the night Gretchen mentions.
Cheryl says, "The biting of lips is a mannerism that I've had since I was young. I do it unconsciously. Also, looking down is me thinking. Other people look up when they think. I look down. I am a very feeling person… So I may have bit my lip and looked down during the conversation, but I definitely did not look at Gretchen Fullido's breast."
In the same Answer Affidavit, Cheryl says, "I categorically deny that I made any sexual advance towards Gretchen Fullido that night or on any other occasion. I have never behaved towards her in a manner that could be remotely considered inappropriate or sexual." 
Cheryl also totally denies that she ever said "I like you" to Gretchen at any time.
ADVERTISEMENT - CONTINUE READING BELOW
"I never said 'I like you' to Gretchen during that night. In fact, I never said 'I like you' to her ever, whether in a conversation in person or by text or online.
"Nor did I ever say to her that I like her in a 'different way compared to the other girls' that I am close to. It was Gretchen Fullido who texted 'I love you' to me once."
Cheryl provides the complete thread of text messages between her and Gretchen between March 7 to March 10, 2017. These show that it was Gretchen who picked the date, time, and place for them to go for dinner and drinks.
The text exchange also shows that Gretchen had no misgivings about asking to "hitch" a ride with Cheryl, who agreed to bring her home after their night out.
When they parted ways, Cheryl says, she actually received a text message from Gretchen that read: "Chair, pls get home safe. Let me know when you're home. Had lots of fun tonight! I can't wait to take you out to more bars soon!!! Hahahaha!"
ADVERTISEMENT - CONTINUE READING BELOW
EDITOR'S NOTE:
PEP.ph obtained Gretchen Fullido's Complaint Affidavit from her lawyer, Marvin Aceron, in the morning of October 8, 2018. On the same day, this document was uploaded on Twitter and a blogsite dedicated to updates on Gretchen's sexual-harassment complaint.
Gretchen's Administrative Complaint, we obtained from an ABS-CBN insider, in the course of research triggered by Gretchen's filing of her complaint with the QC Prosecutor's Office on October 5, 2018. After we received a copy of the Administrative Complaint, we confirmed with Atty. Evalyn Ursua, counsel for Cheryl Favila and Maricar Asprec, that this was, in fact, the same document they responded to in the administrative case.
The two documents we cite here, as Cheryl and Maricar's response to Gretchen's Administrative Complaint, were the Answer Affidavit and the Counter Complaint they submitted to ABS-CBN. We obtained these from their legal counsel, Evalyn Ursua, during the PEP.ph October 7, 2018, interview with Atty. Ursua, Maricar Asprec, and Cheryl Favila.

ADVERTISEMENT - CONTINUE READING BELOW
PEP.ph's complete coverage of the Gretchen Fullido sexual harassment, libel complaints:
Gretchen Fullido files sexual harassment, libel complaints vs ABS-CBN colleagues
ABS-CBN issues statement on Gretchen Fullido sexual harassment complaint
Ces Drilon issues statement about Gretchen Fullido libel complaint
Jerika Ejercito, Melissa Ricks show support for Gretchen Fullido with #IStandWithGretchen
Lawyer of Cheryl Favila, Maricar Asprec on Gretchen Fullido's sexual harassment complaint: "Baseless"
Gretchen Fullido to public amid sexual harassment controversy: "Please just pray for me."
Karen Davila, Bianca Gonzalez speak up on Gretchen Fullido sexual harassment charge
Iza Calzado reacts to Gretchen Fullido sexual harassment claim
Cheryl Favila camp: "It's not sexual harassment, Gretchen just does not meet journalistic standards."
Gretchen Fullido claims implicit sexual favor asked; Cheryl Favila says texts distorted maliciously
Bryan Revilla airs support for Gretchen Fullido in her fight vs. colleagues
Ogie Diaz sides with Gretchen Fullido in her sexual harassment complaint