[This is a developing story.]
The ongoing war between two personalities associated with ABS-CBN's primetime newscast, TV Patrol, is playing out, not in the courts, but on social media and in mainstream publications.
Everything seems to be out there.
Gretchen Fullido, entertainment news anchor and reporter, has accused Cheryl Favila, former supervising producer of TV Patrol, and Maricar Asprec, segment producer for the same show, of "sexual harassment in the workplace."
Gretchen says she was a victim from 2015 to 2018.
In the PEP October 7 interview with Evalyn Ursua, counsel for Cheryl and Maricar, the lawyer narrated that an ABS-CBN Ad Hoc Committee was created to look into Gretchen's November-2017 complaint in January 2018.
The internal investigation of this committee, conducted between January and July of 2018, says Atty. Ursua, established that there was no physical contact between Gretchen and the two persons she has accused.
"Tinanong si Gretchen kung may physical contact, any kind of physical, sexual harassment," Atty Ursua says. "Sabi niya, 'No.' May request ba for sexual favors? Sabi niya, 'Wala.' Dagdag niya, 'Pero palaging may sexual innuendo.'"
Atty. Ursua adds, "Her claim was that there were text messages sent from Cheryl Favila that were sexually loaded. This is the basis of her complaint."
To this, Cheryl's lawyer says, "The allegations were baseless, maliciously distorted, and were a false narrative about being a victim of sexual harassment."
On July 16, 2018, the Kapamilya network's Ad Hoc Committee, passing judgment, declared: "The Complaint for Sexual Harassment filed by Complainant against respondents Cheryl C. Favila and Maricar Asprec is hereby dismissed."
It also dismissed, however, the Counter-Complaint filed by Cheryl and Maricar for "lack of merit."
Finally, the committee dismissed all charges against Maricar, "there being no evidence showing her guilt for the alleged acts."
But it found Cheryl guilty of "Offenses Against Person under the Company Code of Conduct," "serious misconduct under the Labor Code," and "unprofessional conduct resulting in Management's loss of trust and confidence in her ability to continue performing her functions as Head of Ecosystem 1A of Integrated News."
This, Atty. Ursua contests: "How can there be serious misconduct? You're using the same alleged facts, you're using the same evidence, the same claims, which we were able to prove were baseless and fabricated. And then you conclude that there was grave misconduct based on the same thing? That is totally anomalous."
In the end, Cheryl, a 21-year veteran of the news room, chose to resign from ABS-CBN on July 31, 2018, signing a "quit claim."
Maricar remained a segment producer for TV Patrol.
And Gretchen also stayed in the newsroom, in her positions as entertainment news anchor and reporter.
Nearly three months after, on October 5, Gretchen marched to the Quezon City Prosecutor's Office and filed a complaint of sexual harassment against Cheryl and Maricar.
She also filed libel complaints against two ABS-CBN personalities, Ces Drilon, currently content acquisition head for ABS-CBN Lifestyle, Marie Lozano, currently TV Patrol entertainment news reporter; and Venancio Borromeo, executive producer for Bandila.
TEXT MESSAGES
In Gretchen's Complaint Affidavit at the QC Prosecutor's Office, a 25-page document that has been circulating online since the morning of October 9, she relied heavily on text messages as proof of her sexual harassment.
These text messages were supposed to have covered three years, from 2015 to 2017, and were an exchange between her and the partners Cheryl and Maricar.
In the same Complaint, Gretchen said: "Complainant vehemently denies that she admitted that respondents never demanded any sexual favors for her. There was no explicit demand, but given the totality of events as narrated herein and as narrated in my submissions in the administrative complaint, the sexual favor was implicit and respondent Favila clearly made sexual advances upon Complainant."
Again in the same Complaint, Gretchen cited the ABS-CBN Ad Hoc Committee's decision that read: "We have reviewed the entirety of the exchange of messages between Fullido and Favila. There is no question that the bulk of this exchange uses terms that are obviously sexual in nature."
In their defense, Cheryl and Maricar submitted two documents (Answer Affidavit and Counter Complaint; Position Paper) to the ABS-CBN Ad Hoc Committee refuting all allegations.
Part of their defense stated: "Only Fullido gave those words sexual meaning.
"She did this by selecting the messages to cite in her incident report or complaint that would serve her malicious complaint, without showing the entire conversation thread where those messages belonged, thereby enabling her to distort, with evident malice, the context and meaning of those messages and to attribute to those messages sexual meaning."
As of today, Ursua, their legal counsel, says they do not have an affidavit responding to Gretchen's Complaint because they still do not have a copy of the Complaint itself.
The procedure is, in fact, that the Complaint has to be raffled off to a particular prosecutor before Cheryl and Maricar can be given a copy.
However, the public already seems to have had information overload on Gretchen's Complaint (same one submitted to the QC Prosecutor's Office) on social and mainstream media. Her friends have also been using #IStandWithGretchen on Twitter, Instagram, and Facebook.
Following this, Cheryl's Answer Affidavit and Counter Complaint (same ones submitted to ABS-CBN) have also begun to reach social media. There have also appeared a #NOTOFAKEMETOO call and Stand with Cheryl Favila and Maricar Asprec Facebook page.
From these, PEP has obtained copies of the stand of both sides. We deal here with the "Thursday Girl" issue raised by Gretchen against Cheryl and Maricar.
THURSDAY GIRL
Gretchen said it was Maricar who asked her to be Cheryl's "Thursday Girl."
Cheryl and Maricar are in a relationship, but Gretchen claimed in her Complaint: "Respondents were in an 'open-relationship.' Under this relationship, respondent Favila usually reserved her Thursday for a third-party."
Gretchen also said she rejected the "request/offer," saying that "to be the 'Thursday Girl' is a clear request for a sexual favor."
On the other hand, Cheryl's and Maricar's Position Paper firmly denied that "Thursday Girl" had a sexual connotation.
Cheryl explained that the term "Thursday Girl" refers to the women friends she went out with on Thursdays to have dinner and drinks.
As Atty. Ursua wrote, "'Thursday Girl' was never about dating in the romantic or sexual sense.
"In fact, Favila was open about this innocent practice of going out with 'Thursday Girls,' such that she had posted pictures on Instagram of 'Thursday Girls' or 'My Tuesday Girls.'"
These girls, the Position Paper stated, included ABS-CBN newsroom colleagues Ces Drilon, Pinky Webb, Doris Bigornia, and others, all of whom Cheryl called her "Thursday Girls."
Atty. Ursua told PEP, "Thursday Girl was really about going out on a Thursday—or not necessarily Thursday, but one day a week—and being with friends and drinking.
"Because Maricar doesn't drink, it's like one day in a week that their agreement is Chair can go out and have drinks with friends. Sometimes Maricar is there, sometimes she's not." (Chair is the nickname for Cheryl.)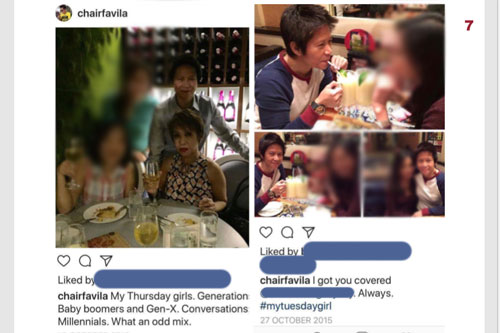 Seen above are screen shots of Cheryl's Instagram posts showing her dinner dates with her "Thursday Girls," including Doris Bigornia.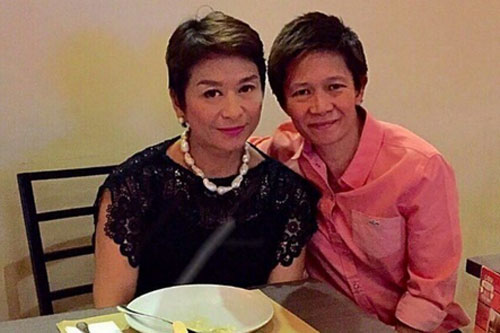 Above is a photo of Cheryl with colleague Ces Drilon, whom the former also calls one of her "Thursday Girls."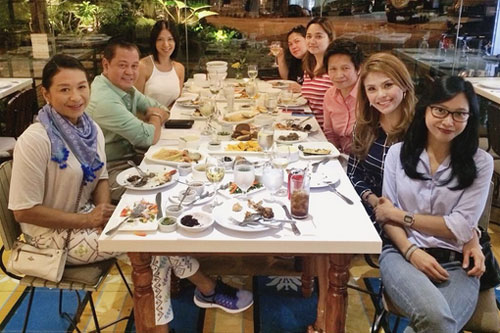 In an Instagram post of Gretchen, she is seen with Cheryl and other colleagues from the ABS-CBN newsroom, including Noli de Castro, Ces Drilon, and Pinky Webb.
TRANSCRIPT OF TEXT EXCHANGE
One set of text exchange between segment producer Maricar and entertainment reporter Gretchen had the latter asking what "Thursday girl" meant.
This is culled from Gretchen's complaint submitted to the ABS-CBN Ad Hoc Committee:
Maricar: Off the record bakit nga ba hindi ka pumayag na maging Thursday girl?
Gretchen: Sorry late reply, just finished my night job. I feel better compared to my mood kanina. Off the record, I really don't know what a "Thursday girl" is…
Maricar: Hahaha! Bahala kayong dalawa. Away kayo ng away tapos di pala kayo nagkakaintindihan. Ang hirap tuloy mapapayag lumabas kayo. Bakit kasi nag No agad, di mo pala alam kung ano yun [monkey closed eyes emoji].
Text exchange between Gretchen and Cheryl dated March 7, 2017:
Gretchen: By the way, are we Tuloy with our dinner on Thursday?
Cheryl: Still thinking about it.
Gretchen: You saved it in your phone na diba? [smiley emoji]
Cheryl: Is that supposed to be a commitment already?
Gretchen: Well it would be a good opportunity to talk about work. [smiley emoji].
Cheryl: Ang kulit mo rin… Sige, ikaw ang Thursday girl ko.
Gretchen: Ok I'll see you for our meeting on Thursday. Goodnight [smile emoji].
Cheryl: Meeting? Akala ko ba dinner? Teka… Kung meeting, why don't we just do it in my office?
Gretchen: Dinner meeting [smile emoji] Where do you want to eat so we can make reservations?
Cheryl: Thursdays are precious to me eh. Didn't realize that I calendared a Thursday meeting.
Following is an exchange of text messages between Gretchen and Cheryl dated March 8, when they agreed to go out for dinner and drinks.
This is culled from Cheryl's Position Paper:
Gretchen: Chair, I didn't bring a car pala today coz I came from coverage [monkey with closed eyes emoji] Was going to ask if I can hitch a ride with you going to Fort then will uber home nalang? If it's not a hassle for you.
Cheryl: Of course! I'll bring you home too. No prob.
Gretchen: Sure? Ok thanks [smile emoji].
Cheryl: Sus! Maliit na bagay.
Gretchen: Chair, let me know when you're ready to go [smile emoji].
Cheryl: Game?
Gretchen: Yes, where are you?
Cheryl: Walking. Meet you at the guard going to basement 1?
Gretchen: Ok [smile emoji].
Cheryl: You know my parking? Pwede doon?
Gretchen: Na. Yup. Reserved. [smile with tongue sticking out emoji].
SUGGESTIVE, SEXUAL TEXT MESSAGES?
In her Complaint Affidavit to the QC Prosecutor's Office, Gretchen alleged that Cheryl sent her text messages that were suggestive and sexual in nature.
Examples of text messages from Cheryl that Gretchen included in her Complaint Affidavit:
Cheryl: Nothing really. I just want to say you were very sexy when you went up to me in the newsroom.
Cheryl: Parati naman akong game sa'yo. Ikaw lang ang maayaw. Hindi ko pa nakakalimutan ang rejection mo. #hugotko.
Cheryl: No. It's more of a guy thing. Pwede paglalapit ka, wag masyadong malapit? Unless tayong dalawa lang
Cheryl: Thank you, Gretchen! Pero gusto ko ng live rendition ng Happy Birthday song mo, na aka super sexy outfit ka. Hahaha! Birthday ko naman, di ba?
Cheryl: …Maricar is the one who's been pushing me persistently asking me to give you one last chance. For her, I will. BUT you have to give me one GOOD reason why I should. It's not about having dinner again, or crying again, or asking for forgiveness again. It is about giving complete trust to each other, keeping your word, and most of all, it is about COMMITMENT, just like in any other relationship. Come back to me when you can already commit – to me, and to your dreams. Otherwise, we will just be washing our time. Otherwise, just pretend you did not meet me this lifetime.
CHERYL PROVIDES COMPLETE TEXTS
In her own Complaint to ABS-CBN, Cheryl said that Gretchen deliberately "manipulated" their text messages to suit her purposes.
Examples of Cheryl's full thread of text exchanges with Gretchen. It showed the supervising producer's frustration with the entertainment news anchor for not maintaining "a wholesome image" in public—which, Cheryl and Maricar said, was part of Gretchen's "deliverables" when she got her own lifestyle segment, "Tara Grets!"
April 26, 2015
Cheryl: Gretchen, from the very start, we have agreed that you will avoid two things to jump off the turn around of your image – first, no very revealing clothes; second, no sexy compromising poses, in and out of abs-cbn. This was when we were just planning your segment last year, which was way, way before the Brand Essence was made. Countless times, you did not honor this agreement. We both fell into the cycle of: 1. You defying what we have agreed on; 2. I get angry at you; 3. We will talk and make-up; 4. You doing it again. I have tried stretching my patience. But my heart is now tired and battered. Enough.
Cheryl: Promises fulfilled – I have opened the doors to your dreams by creating your own segment on TV Patrol, despite doubts and criticisms from various camps; I got you a talent fee which is double of currently what you are getting (not really bad). I have set-up the stage for you. Now, it's time for me to continue the journey to my destiny. Maktub. Good luck to yours. It's nice to have crossed your path this lifetime, Gretchen.
May 5, 2015
Gretchen: Ok, I understand. I hope and pray that one day you will find it in your heart to forgive me and talk to me. It feels weird not being able to talk to you as a friend and ask for your guidance when it comes to #TaraGrets but I will not push it. Sana huwag ka naman super deadma masyado kung pwede lang naman. Take care.
Cheryl: I told you I can be the most passionate and intense person you will ever meet this lifetime. BUT I can swing to the extreme of being cold-hearted. I told you not to bring me there. I warned you: don't push me to stop caring because I can. Maricar is the one who's been pushing me persistently asking me to give you one last chance. For her, I will. BUT you have to give me one GOOD reason why I should. It's not about having diiner again, or crying again, or asking for forgiveness again. It is about giving complete trust to each other, keeping your word, and most of all, it is about COMMITMENT, just like in any other relationship. Come back to me when you can already commit – to me, and to your dreams. Otherwise, we will just be washing our time. Otherwise, just pretend you did not meet me this lifetime."
May 8, 2015
Gretchen: What do you want? Coffee, dessert? May utang talaga ako sayo… This weekend. Still composing it.
Cheryl: Nothing really, but an answer if you will still take the journey together. I am waiting for the 'commitment' answer. I don't think I can be with you in the same room without a clear idea on how to proceed with everything.
Gretchen: Going back to your earlier message. I'm ready to commit because I know it's what's best for me, my image, my career, my future, and my life. Moving forward, I always ask that from today onwards… whatever photos/issues from the past will not be a cause of argument because that's already there. It also hurts to be crucified by malicious intent and be helpless about it. But now I'm more confident that I can make better decisions and avoid putting myself in compromising situations.
October 16, 2015
Cheryl: Remember this always: a Commitment is a Commitment. If you commit on something, even if later on you've realized you've made the wrong decision, fulfill that commitment anyway. Just learn the lessons from it to avoid being compromised next time. Keeping one's commitment will make a person gain one of the most values in life-INTEGRITY.
Gretchen: Thank you, Chair. It's just sad that I can't fulfill both that everybody's happy. I don't like the feeling that I let someone or people down because of my decision. But I guess sometimes it's inevitable. But yes, a commitment is a commitment, and I can't bear the thought of breaking my word. It's just not right.
PEP.ph's complete coverage of the Gretchen Fullido sexual harassment, libel complaints:
Gretchen Fullido files sexual harassment, libel complaints vs ABS-CBN colleagues
ABS-CBN issues statement on Gretchen Fullido sexual harassment complaint
Ces Drilon issues statement about Gretchen Fullido libel complaint
Jerika Ejercito, Melissa Ricks show support for Gretchen Fullido with #IStandWithGretchen
Lawyer of Cheryl Favila, Maricar Asprec on Gretchen Fullido's sexual harassment complaint: "Baseless"
Gretchen Fullido to public amid sexual harassment controversy: "Please just pray for me."
Karen Davila, Bianca Gonzalez speak up on Gretchen Fullido sexual harassment charge
Iza Calzado reacts to Gretchen Fullido sexual harassment claim
Cheryl Favila camp: "It's not sexual harassment, Gretchen just does not meet journalistic standards."
Gretchen Fullido claims implicit sexual favor asked; Cheryl Favila says texts distorted maliciously
Bryan Revilla airs support for Gretchen Fullido in her fight vs. colleagues
Ogie Diaz sides with Gretchen Fullido in her sexual harassment complaint