There are different ways a woman can become a mother, and these celebrity moms have shown just that.
Their stories have reminded us that motherhood is a blessing that comes in many forms.
Miriam Quiambao: God's perfect time
Miriam Quiambao and husband Ardy Roberto had been praying for a baby ever since they got married in March 2014.
At that time, the former beauty queen was already in her late 30s, which meant that the chance of her getting pregnant was lower than usual.
They kept on praying until the couple decided to consider adoption and in vitro fertilization as their options.
But a miracle happened: Miriam got pregnant at 43 years old.
There were some struggles along the way.
Miriam was diagnosed with an autoimmune disorder; the baby was "too small for his age."
The couple already prepared themselves for the possibility of having a premature baby.
On Miriam's 35th week of pregnancy, she was scheduled for an emergency CS.
On February 16, her son Elijah was born.
Bettina Carlos: "Superpowers" of a single mom
Bettina Carlos was in a state of disbelief when she found out about her pregnancy.
She was then 23—fresh out of college.
For the first three months of pregnancy, Bettina didn't tell anyone, including her family, about it.
But she knew she couldn't keep it to herself for so long.
It was an emotional time for the then-soon-to-be mom as her parents had a difficult time accepting it.
Bettina got the much-needed support from her lola, who reminded her to remain positive for the baby's sake.
But all things came to a good end on March 7, 2011, the day Bettina's daughter Gummy was born.
Today, she inspires a lot of moms by openly shareing her journey as a single parent on social media.
Back in March, Bettina told PEP.ph (Philippine Entertainment Portal), "Us single moms, we need superpowers, and superpowers can be drawn from the Lord.
"God knows what we face every day, the things that need to get done and the strength to get those done.
"We can only get from Him."
Recently, she organized a conference made specially for solo parents.
Her announcement post read: "Finally.... An event for SOLO parents that will encourage and empower us to face our realities as they are...
"Stir our hearts to do what is right in the eyes of the Lord... Choose what is best for our children not only what is merely convenient or comfortable for us... And connect us to a spiritual community for a stronger support system.
"Hear REAL stories of struggles dilemmas and pain. No sugar coating. Pure bare vulnerabilities our speakers are willing to share. For sure you will OOOOH AHHHHH LAUGH AND CRY.
"Who knows you may even hear YOUR OWN story just through another solo parent's life. And maybe even get answers to questions you never dare ask nor be confronted with.... Because in Christ we have the power to do what is right even when it is hard.
"In Him there is no more condemnation. We embrace our present life and walk into our abundant future with no more shame recollecting the past... In Him we experience true freedom.
"I AM SO EXCITED FOR HOW THE LORD WILL SPEAK TO YOU AND ME THROUGH the #SoLovedConference"
Judy Ann Santos: The Beauty of Adoption
Judy Ann Santos never understood why some people give the word "adopted" a bad connotation.
"It's the most beautiful word that you can encounter because it just means na a family adopted you. They wanted you, they chose you to be part of their family," the ABS-CBN actress remarked.
This is one of Judy Ann's constant reminder to her adopted daughter, Yohan.
"Sinasabi ko sa kanya, 'Sweetheart, it was my choice.'
"I know naman at some point, I could still have a child.
"It's just that I so wanted to have a child, and I prayed. I prayed for years to have a baby girl. I'm very specific with my prayers.
"I want to have a baby girl at 26. And I got a call a week after I turned 26. And it was a baby girl.
"'So that was you. Even before I had a family, it was you and me only.'
"Dun, ano na siya, 'Ah, oo nga. Sa iyo ako kasi ginusto mo.'
"You can see it in her glow, e, that she's confident.
"She's not ashamed of being an adopted daughter."
Korina Sanchez, Joel Cruz, Cheska Kramer: Miracle of IVF
In vitro fertilization or IVF is no longer a hush-hush topic in the industry.
After perfume magnate Joel Cruz openly talked about this option, celebrity parents have become more candid about this reproductive procedure.
ABS-CBN broadcaster Korina Sanchez was among the latest local personalities to share the miracle of IVF on social media.
Korina, 54, and husband Mar Roxas, 61, are now parents to twins Pepe and Pilar.
They announced the news back in February when they were in Pittsburgh, Pennsylvania, U.S.A.
Korina, who has always loved children, was ecstatic about finally calling herself a mother.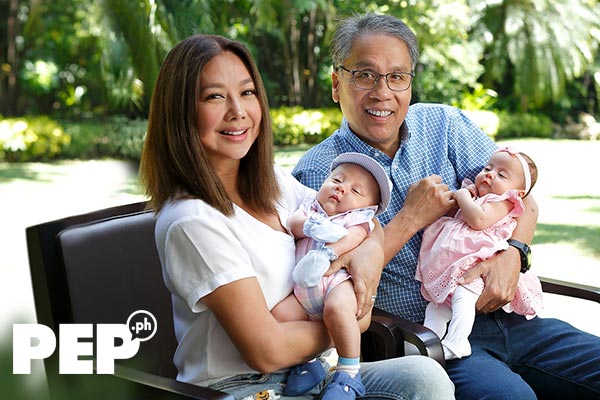 Meanwhile for Team Kramer, IVF became a way for Doug Kramer and Cheska Garcia to have a baby again after six years.
Cheska got a tubal ligation, a permanent type of birth control, after she gave birth to their son Gavin.
In February 2019, the couple expressed their desire to have Baby No. 4.
In March, they began their IVF journey.
Rica Peralejo, Karel Marquez: A rainbow after the rain
Some parenting journeys begin with heartaches.
These celebrity moms had to suffered miscarriages.
Before she was able to give a sibling to her five-year-old son Philip, Rica Peralejo suffered two miscarriages in 2016 and 2017.
In 2018, Rica focused her energy in preparing her body for another go.
She detailed this part of her journey through a YouTube vlog, which she posted in August 2018.
In January 2019, Rica happily announced the good news: She was four and a half months pregnant.
Rica, who is now in her third trimester, has yet to reveal the gender of her baby.
And while she awaits the baby's arrival, she keeps on giving her firstborn Phillip a shout-out on Instagram.
One of her posts read, "Five whole years of just the three of us. I know I would have been very happy if someone followed my firstborn right away, but at the same time I feel like too short a time wouldn't have been enough for me to fully enjoy my first little person — so deep, so rich, so profound.
"Thank You Lord for the five years. Five years was perfect. Thank You."
Another celebrity mom who will be meeting her rainbow baby soon is Karel Marquez.
After marrying her husband Sean Fariñas in December 2016, the couple felt blessed when they learned about Karel's pregnancy in June 2017.
Sadly, the happiness was short-lived because she lost the baby a month after.
Karel "grieved quietly."
In November 2018, the couple revealed that they're expecting a baby boy.
Karel has two kids—Keiley and Kyler—from her former relationship.
Saab Magalona: Hope after loss
Saab Magalona and husband Jim Bacarro lost their daughter Luna after the former prematurely gave birth to twins in February 2018.
Thier son Pancho survived and spent more than three months in the NICU (Neonatal intensive care unit).
It took Saab nearly a month before she could inform the public about her family's loss.
"We are taking it one day at a time, focusing on all the good things we are blessed with," the musician-blogger wrote in her post back then.
"I am still alive, I have a strong and loving husband, and God has shown us so many miracles through our little boy."
In March 2018, a few days after revealing the sad news, Saab and Jim honored their Luna by establishing the Luna Isabel Magalona-Bacarro Memorial Fund.
On Luna's birthday last February 8, the musicians released a lullaby.
In April, Saab and Jim had good news: they were expecting again.
She wrote, "A Christmas gift to our family, a birthday gift to Pancho — whatever he/she is — we are so grateful for baby number two."