Die-hard TV fans of all ages are again enjoying reruns of Esperanza since the Jeepney TV YouTube channel started uploading episodes of the Judy Ann Santos-starrer in April 2020.
The viewers fell in love with the story of Esperanza Estrera Salgado (Judy Ann) as proven by its record-breaking ratings.
To this day, Esperanza holds the record of the highest rating for a TV drama series based on AGB Nielsen, registering an all-time high of 67.0% in one of its episodes in 1997.
The replay episodes are an ultimate throwback feast for fans who wax nostalgic in seeing the younger versions of Judy Ann and her co-stars.
While some of these actors went on to becoming popular drama actors, a few others decided to leave showbiz.
PEP.ph (Philippine Entertainment Portal) looks back on the 12 teen stars who had their first taste of drama acting in Esperanza.
JUDY ANN SANTOS
Judy Ann Santos played the title role of Esperanza. It was her follow-up project after the success of Mara Clara, which ran for four years and six months.
The series catapulted Judy Ann into becoming a soap-opera darling, as this was followed by several top-rating drama projects with ABS-CBN.
Eventually, in 2010, she earned the title Queen of Pinoy Soap Opera.
Where is Judy Ann now?
Judy Ann is currently not doing any drama projects, as she openly admitted that she's afraid to shoot outside of her house because of the pandemic.
However, she remains active on television as the host of ABS-CBN's docu-drama series Paano Kita Mapapasalamatan, where her spiels are taped at her own house. She also continues to upload episodes on her YouTube channel, Judy Ann's Kitchen.
Judy Ann is married to TV host Ryan Agoncillo. They have three kids: Yohan, Lucho, and Luna. Running their popular restaurant, Angrydobo, 24/7 is more than enough to keep the couple constantly busy.
WOWIE DE GUZMAN
Wowie de Guzman played the role of Anton, the love interest of Esperanza. This was his next project with Judy Ann after Mara Clara.
Their love team also top-billed several blockbuster movies.
Prior to his stint as a drama actor, Wowie was a member of the dance group Universal Motion Dancers.
After Esperanza, Wowie and Judy Ann parted ways as a love team, and Wowie transferred to GMA-7, where he started his career as a character actor.
Over the past years, Wowie appeared in TV shows in ABS-CBN and GMA-7.
WHERE IS WOWiE NOW?
He is a single father to his six-year-old daughter, Raff, after the death of his wife, Sheryl in 2014.
Currently, Wowie enjoys being a Zumba instructor.
MARVIN AGUSTIN
Marvin played the role of Danilo, Esperanza's long-lost brother. While doing Esperanza, Marvin was also part of another TV program, Gimik, where his love team with Jolina Magdangal became popular.
WHERE IS marvin NOW?
After Esperanza, Marvin focused on doing dramatic roles in ABS-CBN and GMA-7 teleseryes.
Aside from being an actor, Marvin is also a businessman, restaurateur ,and chef. One of his most current products is the cochinillo, a weeks-old piglet cooked inside ovens.
ANGELIKA DELA CRUZ
Angelika dela Cruz played the role of Cecille, the youngest sister of Esperanza in the series.
Before Esperanza ended its run in 1999, Angelika's character was killed in the show after she decided to transfer to GMA-7.
Angelika was then able to play lead roles in GMA-7 teleseryes.
She would later return to ABS-CBN in 2003 and transfer to GMA-7 again in 2007.
WHERE IS ANGELIKA NOW?
She remains a Kapuso up to this day.
Aside from being an actress, Angelika is also a public official. She is currently the chairwoman of Barangay Longos in Malabon.
Angelika is married to businessman Orion Casareo. They have two children, Gabriel and O2.
JERICHO ROSALES
Jericho Rosales played Buboy, the love interest of Cecille.
After his Esperanza stint, Jericho was groomed by ABS-CBN to become the network's next matinee idol through Pangako Sa 'Yo, where his love team with Kristine Hermosa became popular.
Jericho earned the title Asian Drama King after Pangako Sa 'Yo and his other shows—Sana'y Wala Nang Wakas (2004), Kahit Isang Saglit (2008), Magpahanggang Wakas (2016)—were aired in several countries in Asia.
Jericho has a son named Saint with former partner Kai Palomares.
In 2014, Jericho married Kim Jones.
In 2021, Jericho topped PEP.ph's list of the Greatest Filipino Movie Actors from 2000-2020.
WHERE IS JERICHO NOW?
At present, he is in the U.S. pursuing his Hollywood dream, and is set to headline ABS-CBN International's Sellblock.
In April 2022, he earned a best-actor nomination at NewFilmmakers Los Angeles 2022 awards.
DIMPLES ROMANA
At 12 years old, Dimples Romana had her first kontrabida role in Esperanza as Paola, the daughter of Esperanza's father from another woman.
Dimples then started doing character roles on television until she took a hiatus in 2003 when she married her husband, Boyet Ahmee, and got pregnant with her first child, Callie.
She returned to acting in 2006 and has since become visible on teleseryes.
In 2015, Dimples gave birth to her second child, Alonzo.
In 2016, Dimples got a big break in her career when she played Amanda in the afternoon series The Greatest Love.
This was followed by another breakthrough role in the 2018 afternoon series Kadenang Ginto.
Just last year, in April 2020, Dimples opened a restaurant in Singapore called Allegria Singapura. Dimples is now in her lock-in taping for the upcoming ABS-CBN series Viral.
WHERE IS DIMPLES
NOW?

She recently gave birth to her third child, Elio, and is set to be participate as a juror in 50th International Emmy Awards.
CHESKA GARCIA
Esperanza is one of Cheska Garcia's first teleseryes, where she played the role of one of Cecille's friends who bullied Esperanza.
Afterwards, she became part of Gimik and later transferred to GMA-7 where she portrayed several kontrabida roles in teleseryes.
She also hosted the defunct Studio 23 show Us Girls with Iya Villania and Angel Aquino.
In October 2008, Cheska married basketball player Doug Kramer. They now have three kids: Kendra, Scarlett, and Gavin.
WHERE IS
CHESKA

NOW?

Cheska and Doug share their adventures as a family through their YouTube channel Team Kramer.
TANYA GARCIA
One of Tanya Garcia's earliest projects is Esperanza, where she played the role of Andrea, the sister of Esperanza from her adoptive parents.
Tanya had to leave Esperanza in the middle of its run when she decided to transfer to VIVA Artists Agency and GMA-7. She landed lead roles thereafter, with Dingdong Dantes as her leading man.
In 2007, Tanya decided to lie low from doing TV projects when she got pregnant with her firstborn with Mark Lapid, Mischa Amidala.
In 2010, Tanya and Mark got married and had two more children, Matilda Anika and Madeleine Ariana.
WHERE IS
TANYA

NOW?

Although she has now focused on motherhood full-time, Tanya still appears occasionally in teleseryes.

Tanya's most recent comeback project was GMA-7's afternoon drama series Babawiin Ko Ang Lahat, which finished its run in May 2020.
SPENCER REYES
Spencer Reyes started as a member of the Streetboys dance group before he entered acting via Esperanza as the younger brother of Marvin Agustin.
He dabbled in more acting projects thereafter until he decided to leave showbiz permanently.
WHERE IS
SPENCER

NOW?

In his interview with PEP Troika in May 2020, Spencer revealed that he is now a bus driver in Scotland.

He went to England in 2008 to study Nursing and later transferred to Scotland in 2014 where he studied Electrical Engineering, Heating, and Plumbing in a vocational school.

He then took an exam for his application as a bus driver.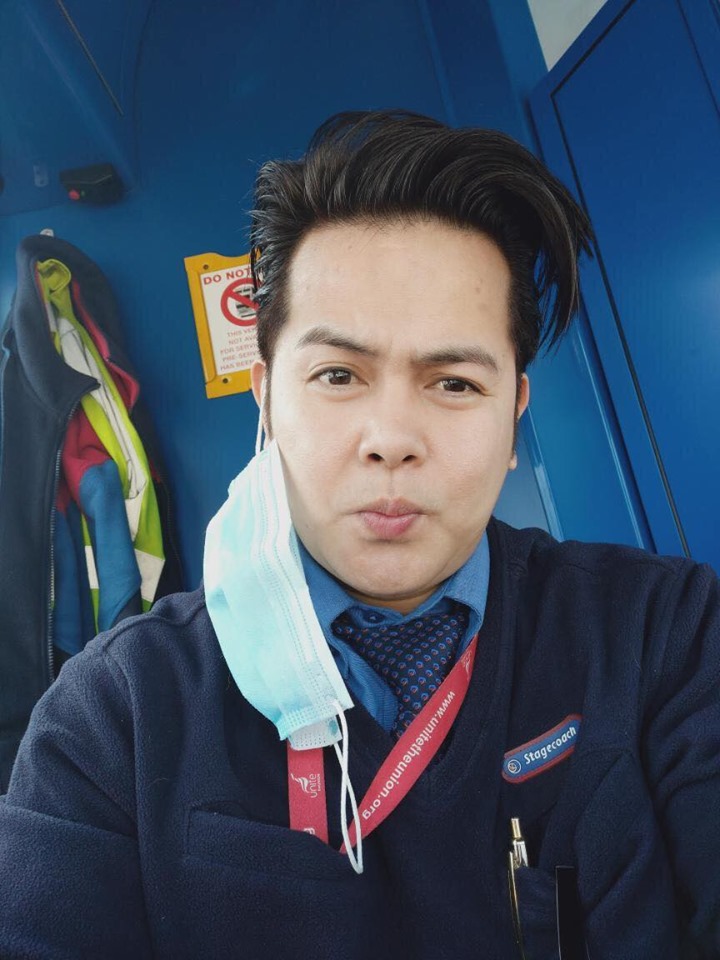 TRICIA ROMAN
Did you know that even before Tricia Roman became associated with GMA-7's youth-oriented show Click, she had an earlier stint in ABS-CBN?
Tricia was one of the original cast members of Esperanza as a friend of Cecile and an enemy of Esperanza. One of her key scenes was when she had a catfight with Esperanza in a carinderia.
After Esperanza, Tricia became known in the Kapuso programs Bestfrends and Click. She also did a few character roles on television.
WHERE IS
TRICIA

NOW?

In 2007, Tricia decided to leave show business when she got married to her husband, Weston Wade Cruz. They have two kids, Andri and Wednesday.
JANE ZALETA
Jane Zaleta, who started her career in the youth-oriented gag show Ang TV, was part of Esperanza as Alma, one of Esperanza's closest friends.
However, Jane was not able to finish the series.
In 1998, she got married to former PBA player Aries Dimaunahan, and got pregnant. Unfortunately, she lost her firstborn son to a congenital condition called diaphragmatic hernia.
Jane briefly appeared on the teleserye Pangako Sa 'Yo and, later, decided to completely leave showbiz and focused on her two children: Christiana and Chanel.
WHERE IS
JANE

NOW?

Currently, Jane works as section manager for the Physician Relations Group of St. Luke's Medical Center.
DIEGO CASTRO
Diego joined the cast of Esperanza in the middle of its run in 1997. At the same time, he was also part of another show, Gimik, which also starred Judy Ann.
However, in 1998, Diego transferred to GMA-7 to join then-girlfriend Raven Villanueva in VIVA's series Growing Up.
Diego and Raven have since broken up, but they have one daughter, Claire Castro, a newbie playing a main role in GMA-7's upcoming drama series, Nagbabagang Luha.
WHERE IS
DIEGO

NOW?

Diego shifted from acting to hosting.

He was part of UNTV's morning show, Good Morning Kuya, for nine years until he transfered to One PH, the teleradio news channel of MediaQuest Holdings Inc., which owns TV5.

He is presently the co-anchor of One Pilipinas, where his wife Angela Lagunzad is also working.

On August 29, 2020, Diego collapsed in a restroom of a grocery store. An unidentified man helped Diego and called Angela about what happened. Two days after the incident, Diego posted on Facebook a thank-you message to the Good Samaritan who helped him.