"Sobrang baduy neto pero this girl really did something good to my soul. i'll always be grateful."
This was the sweetest thing John Lloyd "JL" Cruz had publicly said about his partner Ellen Adarna back when they were not yet an official couple in 2017.
John Lloyd and Ellen's whirlwind romance started off with controversies testing how far they will go for love.
Despite John Lloyd eluding marriage with his past seven relationships and Ellen being known for her free spirit, their seemingly accidental entry to parenthood may have sealed the deal, proving that theirs is turning out to be something for keeps.
How did ABS-CBN's premiere TV-and-movie-actor and the sexy star from Cebu gravitate toward each other?
In this special timeline, PEP.ph traces their unexpected and controversial combination:
ELLEN'S HIGH SCHOOL DAYS
John Lloyd and Ellen crossed paths as early as when she was still in high school.
According to Ellen, she first met John Lloyd and his fellow Kapamilya star Luis Manzano when they visited her hometown in Cebu.
Ellen was just a fan at the time.
John Lloyd was already a matinee idol, appearing in a string of ABS-CBN prime-time series such as Kay Tagal Kang Hinintay and It Might Be You.
In a past interview, John Lloyd agreed that he had probably been in Cebu for a mall show.
"Dun kami unang nagkakilala. We go from way, way back," he said during the January 31, 2017 presscon of Home Sweetie Home.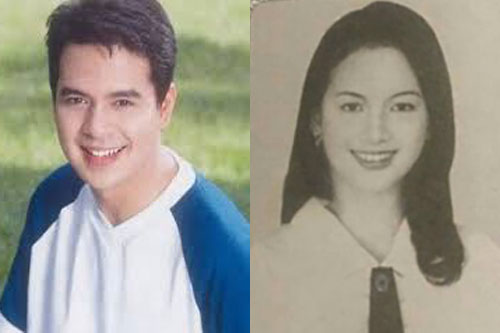 OCTOBER 8, 2016: FIRST PHOTO TOGETHER OF JOHN LLOYD AND ELLEN
It was on October 8, 2016 when Ellen first posted a photo with John Lloyd on her Instagram account.
Ellen's caption read: "'Ako nalang' Ahhahahahahah 'you had me at my...' #JLC #popoy&bashta lol"
The vivacious star was channeling Bea Alonzo's character in One More Chance, the movie the latter topbilled with John Lloyd in 2007. In the film, one of the most iconic scenes had Bea uttering the line, "Sana ako pa rin, ako nalang, ako nalang ulit."
At that year's Star Magic Ball, insiders claimed Ellen was seen getting chummy with John Lloyd when they saw each other at the annual féte.
But during that time, the then 29-year-old vixen was still romantically involved with Sebastian "Baste" Duterte, son of President Rodrigo "Tatay Digong" Duterte.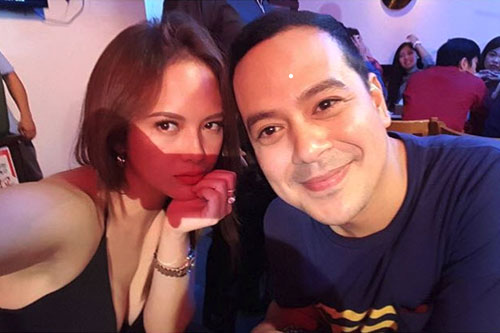 NOVEMBER 2016: JOHN LLOYD AND ELLEN WORKING ON A SITCOM
Ellen started appearing as a guest star in Home Sweetie Home where she was cast as Tanya, a lass who took on the promise of John Lloyd's character Romeo to help her find work.
She would later become a mainstay as her character set her eyes on stealing Romeo from his wife Julie, played by Toni Gonzaga.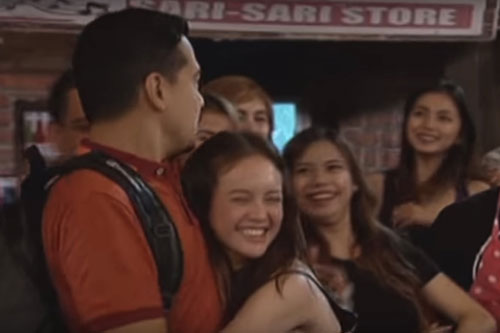 JANUARY 31, 2017: DID JOHN LLOYD AND ELLEN CHECK IN AT A HOTEL?
Ellen joined the third anniversary presscon of Home Sweetie Home, which was held at 9501 Restaurant in ABS-CBN's ELJ Building in Quezon City.
It was during the presscon proper when Ellen denied speculations she and John Lloyd were an item.
The Kapamilya sexy star made it clear that the 34-year-old actor never made a move on her.
It should be noted though that on February 6, six days after they quashed romance rumors between them, PEP.ph received a feed that John Lloyd and Ellen were spotted at the lobby of EDSA Shangri-La Hotel in Mandaluyong City.
The PEP Alert read: "Ayon sa source, tila nakapambahay lang daw si John Lloyd, habang naka-shorts naman pero naka-heels si Ellen."
It would be the beginning of more JL-Ellen sightings outside work.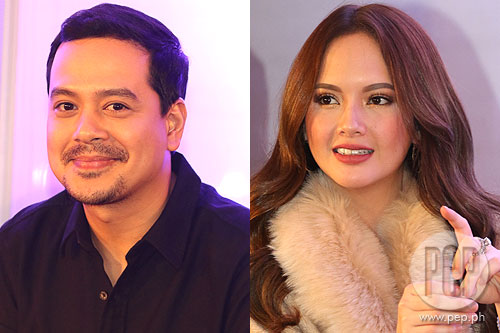 MARCH 2, 2017: ILOCOS GETAWAY OF JOHN LLOYD AND ELLEN
John Lloyd and Ellen's Ilocos Norte getaway fanned speculations that romance seemed to be brewing between the co-stars.
They were part of a close group of celebrities and non-showbiz friends sighted swimming, and touring the sand dunes in Paoay.
It was also during this trip when Ellen witnessed her close friend Beauty Gonzalez's engagement to painter-boyfriend Norman Crisologo.
By this time, it had been a year and three months since John Lloyd's breakup with ABS-CBN actress Angelica Panganiban.
Ellen, for her part, has been single since Baste broke up with her in a text message back in December 2016.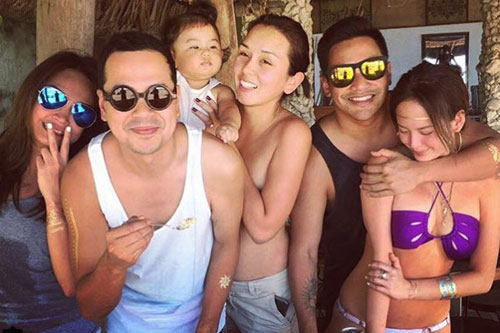 MARCH 22, 2017: JOHN LLOYD AND ELLEN AS GODPARENTS
Two months after their Ilocos trip, John Lloyd and Ellen were then bonded by their duty as godparents to Beauty's daughter Olivia.
Based on photos posted by Nice Print Photography, the Home Sweetie Home co-stars were among many celebrities who attended the Baby Olivia's christening.
Around seven months after the baptism, it was Beauty's turn to attest to the "love" between her "close friends" John Lloyd and Ellen.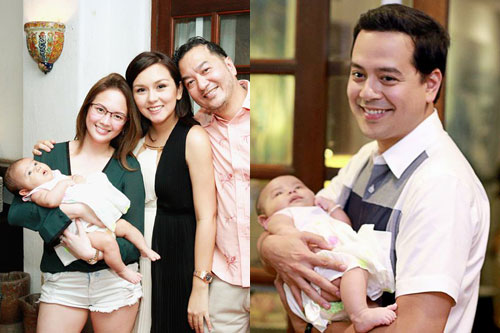 SEPTEMBER 1, 2017: JOHN LLOYD AND ELLEN CHASE THE SUNSET
The past six months left no glaring clues as to the real score between John Lloyd and Ellen.
But on September 1, they were spotted anew waiting for Manila Bay's famous sunset, with a seaside view from Sofitel Philippine Plaza Manila, Pasay City.
They were accompanied by a non-showbiz friend.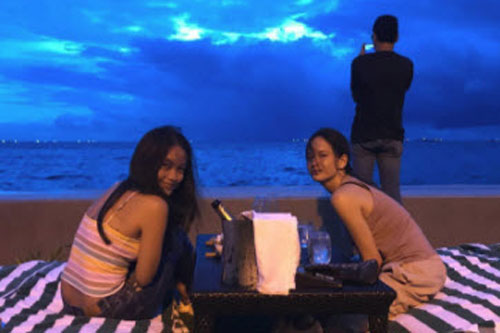 SEPTEMBER 2, 2017: ELLEN'S APARTMENT
The following day, John Lloyd was seen at Ellen's apartment together with the sexy actress's non-showbiz friend Doreen Ting.
The Kapamilya matinee idol seemed to feel at home, playfully horseback-riding Doreen's brand-new luggage.
Their tagged location was at North Syquia in Malate, Manila, which is Ellen's known residence.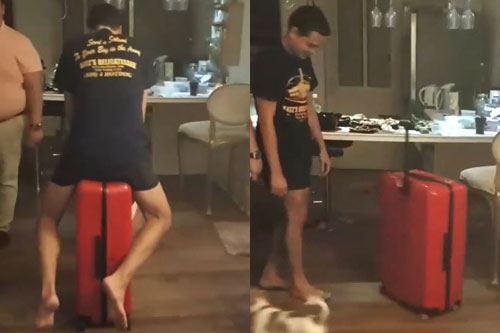 SEPTEMBER 8, 2017: THE VIRAL CEBU TRIP OF JOHN LLOYD AND ELLEN
It was John Lloyd and Ellen's getaway in Bantayan Island, Santa Fe, Cebu, however, that instantly went viral.
On her Instagram account, Doreen Ting first posted a photo of John Lloyd and Ellen lying side by side on the beach, heads touching and feet up in the air, browsing through her mobile phone.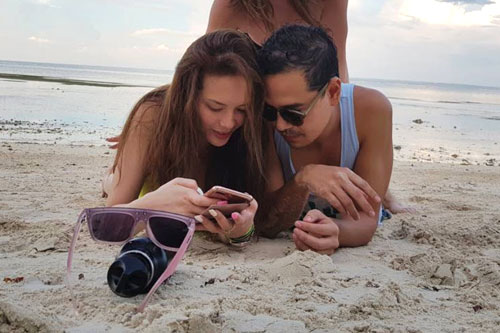 Ellen's own Instagram posts also showed her and John Lloyd cozying up to each other and soaking up the Cebu beach vibe, with the Kapamilya actor looking so carefree and in high spirits.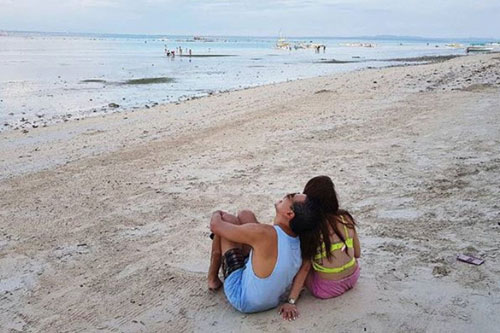 Another insightful clue that romance was already in the air was the picture of them holding hands while walking by the beach at sunset, the sea and sand reflecting the sky, making the two appear as if they were walking on cloud nine, heading off and throwing all caution to the wind.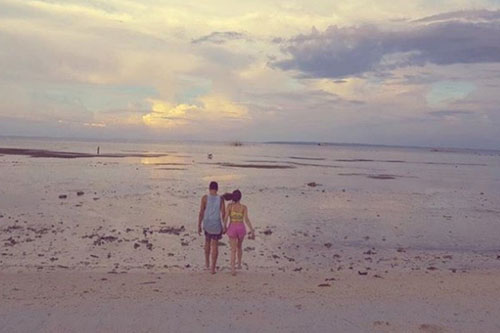 They even had a term of endearment for each other based on an Instagram video where John Lloyd was heard calling Ellen, "Baby."
In screenshots below, John Lloyd can be seen busy chopping while Ellen was preparing to cook her "specialty paksiw."
The two had been "arguing" over what to some may be mundane stuff, but John Lloyd seemed to pacify Ellen as he gently told her, "I'm just saying, baby..."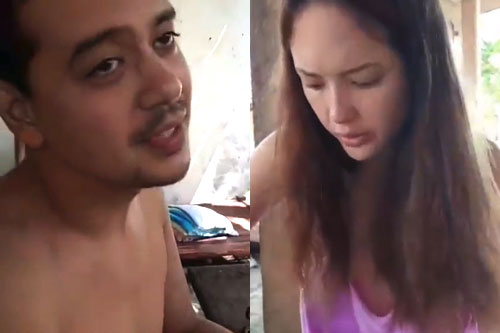 In what seemed to be an unguarded moment in that same trip, the actor serenaded Ellen with the romantic song "Kailan," channeling his character Miggy Montenegro who sang the same song to Laida Magtalas, played by Sarah Geronimo, in the 2009 blockbuster movie A Very Special Love.
Sweet, isn't it?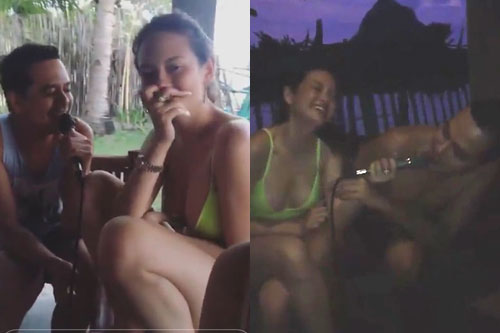 However, their rare display of affection caught-on-cam was eclipsed by their viral videos showing ABS-CBN's premier TV-and-movie actor and celebrity endorser singing, dancing, and doing things seemingly without a care in the world, including hiding underneath a kitchen stove while Ellen was busy pouring drinks.
Some netizens questioned the behavior of the actor—who, for many years, has cultivated a private, serious, and brooding image—saying he was acting oddly at worst, and differently at best.
According to PEP.ph's September 11 report, however, a source close to the rumored couple insisted their group was just having some "clean fun" on Bantayan Island.
The source added, "He's very happy lang to do normal things na nagagawa ng isang ordinaryong tao.
"Namalengke siya at nakakapaglakad siya na di pinagkakaguluhan ng mga tao."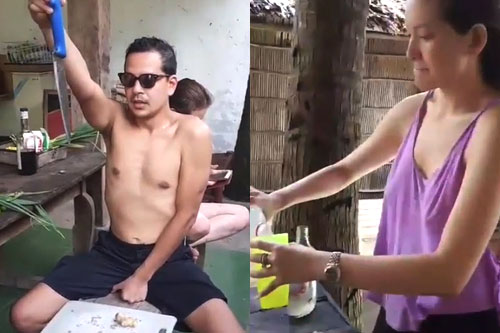 SEPTEMBER 11, 2017: JOHN LLOYD'S STATEMENT
With netizens speculating about JL's behavior, the matinee idol issued what appeared to be a sorry-not-sorry statement, via his own Instagram, saying, "diz iz mi lerning. very humbling but i do apologize to the little boys & girls. no regrets babies just life revealing its raw beauty."
That same day, Johnny Manahan, chairman emeritus of Star Magic, ABS-CBN' talent-management arm, issued a short statement in John Lloyd's defense.
Manahan, better known in the entertainment industry as Mr. M, said the star was just getting some much deserved time out of work.
Mr. M added, "In this age of an all pervasive social media, what is ok and innocent in private becomes worthlessly controversial in public.
"He will have learned his lesson and be more careful in the future."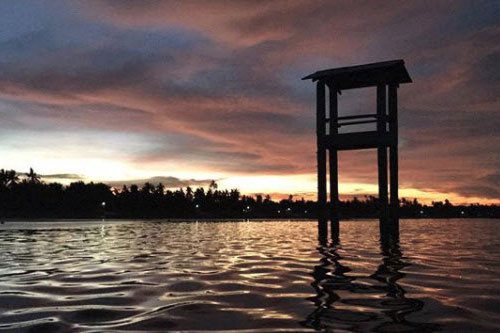 SEPTEMBER 16, 2017: JOHN LLOYD AND ELLEN BACK IN CEBU
A week after the controversy, John Lloyd and Ellen were back in Cebu for another vacation.
From the looks of it, riding what looks like an all-white rental party raft, they only had eyes for each other while enjoying a relaxing chat away from everyone including with friends.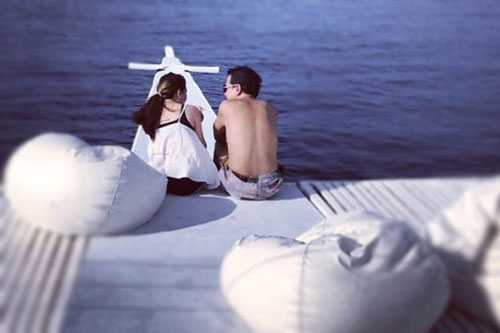 The two also made use of their time off work to do create artworks and catch up with friends.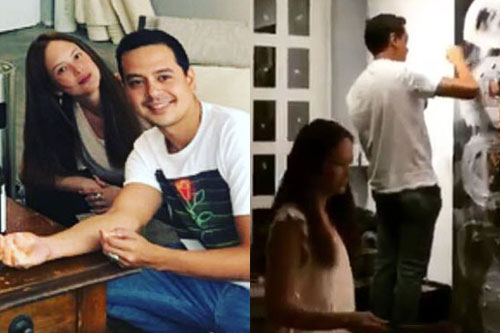 Lots of cuddling time too!
The two love birds make us recall a Leonardo di Caprio-Kate Winslet scene in Titanic what with them sitting on the boat's edge, John Lloyd bearhugging Ellen from behind.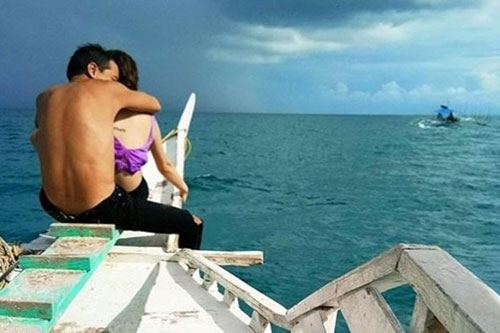 SEPTEMBER 18, 2018: JOHN LLOYD SAYS NO TO "MANIPULATED BULLSHIT"
With Ellen by his side, John Lloyd seemed to be at peace.
Amid persistent speculations about their real relationship status, JL posted on Instagram a picture showing his and Ellen's feet almost touching the glittering sea water during yet another boat ride.
John Lloyd wrote in his caption: "this is the real life talk. not some manipulated bullshit. learning & living."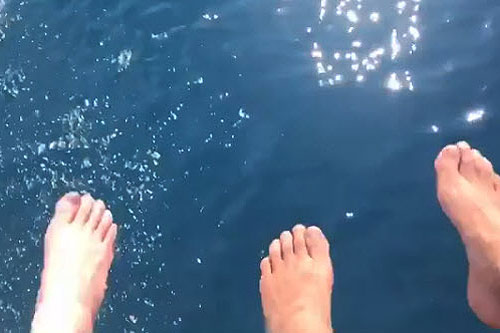 SEPTEMBER 19, 2017: ELLEN'S "BABY LOVE"
Again, that telling term of endearment!
This time, it was Ellen who called John Lloyd her "baby love" during the rumored couple's series of chess games with their common friend Erwin Romulo, former Esquire Philippines editor-in-chief and of the influential political Romulo clan.
Ellen even joked that Erwin may have defeated John Lloyd, but she came to the rescue by beating the enemy thrice.
Speaking like a true Pinay heiress, she added, "sabi nga nila, 'just like in the game of chess, the queen always protects the king' lol #sabeh"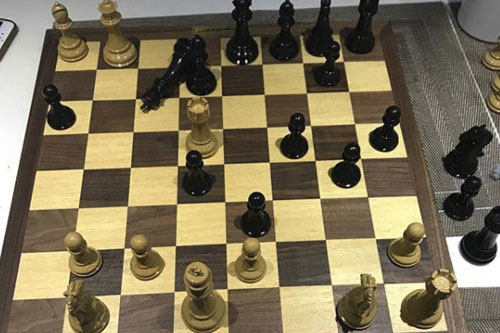 SEPTEMBER 21, 2017: SENDING OFF ELLEN'S BFF
John Lloyd and Ellen continued to keep their still-unconfirmed-but-much-speculated relationship under wraps.
It had been quite evident how the Kapamilya actor made time not just for Ellen but even her friends.
In the photo below, Ellen's friend Doreen thanked the daring duo for seeing her off to the airport.
Doreen's caption read: "Un-breakable bond! Thizzzz izzz it! No goodbyes but just see you again. IN 3 WEEKS!???? LOVE LOVE LOVE these 2 @maria.elena.adarna @ekomsi"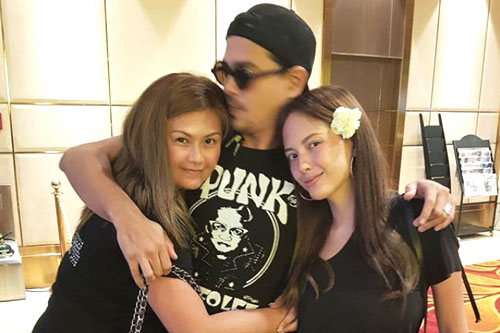 SEPTEMBER 22, 2017: JOHN LLOYD-ELLEN ROMANCE IN FULL BLOOM
There was no denying John Lloyd radiates with happiness when around Ellen.
In this photo, with John Lloyd's head in profile, he flashed a huge smile in Ellen's direction, clearly smitten and sporting a newly-razored haircut.
Ellen's Instagram caption read: "@ekomsi ang fresh ni kuya parang highschool lang hahaaha #chessNights"


Indeed, the candid portrait clearly screams the two were in love, and no amount of denial or admission was necesarry to confirm or deny what these two felt and what looks like still feel for each other.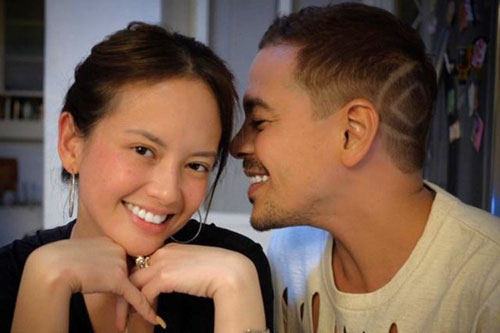 In a separate photo, John Lloyd was seen leaning his head on Ellen's left shoulder.
Is this a sign that they're in love?
Leyte Representative Lucy Torres-Gomez thought so.
That same night, Lucy and Ellen had an exchange via Instagram direct messaging, with the congresswoman taking note of Ellen's sweet photos with John Lloyd.
Lucy told Ellen, "Romansa is alive and live!"
Ellen responded, "Hapit na!! Haahhaahahahahaa! (Malapit na!! Haahhaahahahahaa!)"
Based on the screenshot of their conversation, Lucy seemed to be urging Ellen to light a candle and pray for a happy romance with the Kapamilya star.
In response, Ellen wrote, "Thanks my mother mary version ahahahhahahahah"
Looks like Lucy's wish for her fellow Visayan came true!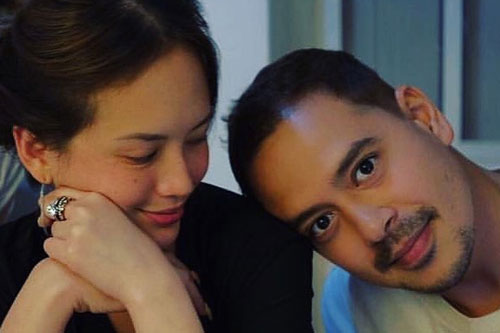 SEPTEMBER 24, 2017: JOHN LLOYD DESCRIBES ELLEN AS "GOOD TO MY SOUL"
After weeks of speculations, with John Lloyd looking completely smitten with Ellen at that point, the Kapamilya actor himself took to Instagram to express his feelings for Ellen.
John Lloyd's caption read: "Sobrang baduy neto pero this girl really did something good to my soul. i'll always be grateful."
It was accompanied by a photo of the rumored couple laying comfortably in a fluffy white bed.
John Lloyd was seen beaming with happiness, his face squished so close to Ellen's as she gave him a sweet kiss.
In John Lloyd's previous posts, he had hinted at how Ellen was so at ease around him that she usually leaves her hair extensions strewn across the bedroom—either on the pillowcase or on the floor—and it never fails to shock him.
In the words of the Dashboard Confessional song, "Your hair is everywhere..."
As JL himself puts it, "f sh*t"
Talk about accepting each other, flaws and all.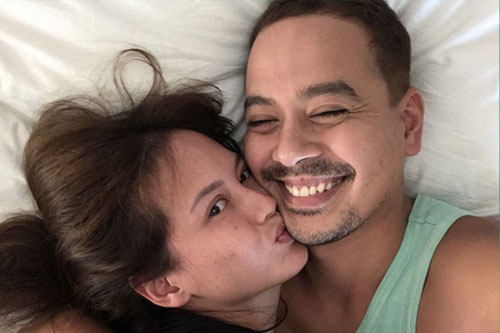 SEPTEMBER 28, 2017: ELLEN SHUNS "MANIPULATIVE PEOPLE"
On September 28, however, or just four days after posting their kissing photo, John Lloyd deleted all of his Intagram posts where he and Ellen can be seen together.
Ellen also deleted every lovey-dovey photo with John Lloyd, including the ones taken from their trip to Bantayan Island.
Netizens asked: Did they break up? Were they told by highers-up to keep their much-speculated romance off social media? Or were they just being plain unpredictable?
Your guess may be as good as ours.
The only crumb was Ellen's cryptic quote card about shunning manipulative people, as seen below: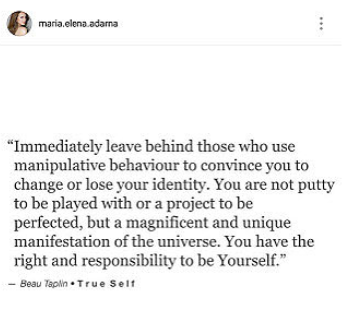 OCTOBER 1, 2017: JOHN LLOYD SAYS "FUCK FAKE NEWS"
But if there had been talk that John Lloyd and Ellen have broken up, it immediately died down when John Lloyd posted a photo of what looked like his and Ellen's shadows holding hands while strolling around an undisclosed neighborhood.
It was the morning after the annual Star Magic Ball where John Lloyd had flown solo, skipped the red carpet, and evaded any and all media members angling for an interview or even just a meaty sound bite.
And for a still-unknown reason, the controversial Kapamilya actress was also no-show at the annual féte.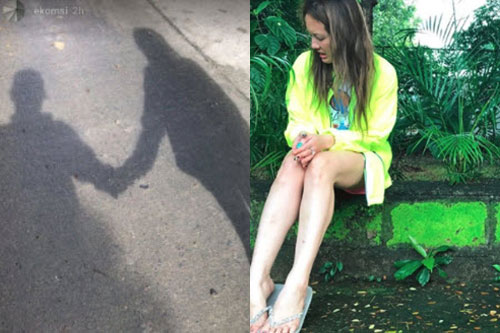 But between John Lloyd and Ellen's own Instagram posts, the couple seem content spending time away from the glitz and glamour of showbiz, but in their own way still publicly displaying their jaunts, on their own terms and free from the shackles that have contstrained John Lloyd in his long, storied, and some may even say sordid, career.
Later that night, John Lloyd alluded to his supposed breakup with Ellen by posting the words, "fuck fake news."
It was accompanied by a picture of him and Ellen sharing laughs over a simple but festive meal, complete with Asian cutlery, and a warm light that cast strategic shadows on their faces, that some may think was taken by someone else, but could very well have been snapped using John LLoyd's long arm.
It was clear the two were themselves having a field day and were giving everyone something to talk about.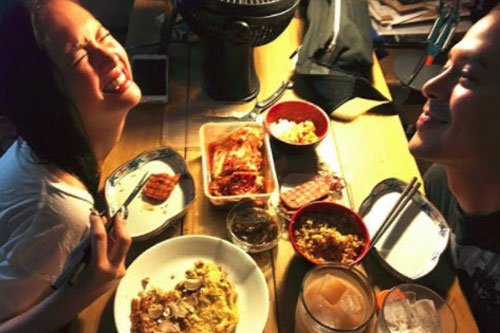 OCTOBER 3, 2017: ELLEN'S JUST-WOKE-UP VIDEO
At around 9:30 in the morning of October 3, Ellen posted on Instagram Stories a video of her and John Lloyd lying in bed, looking like they had just woken up.
With a just-woke-up-like-this face that made hundreds of people use her photo as their Friendster profile pics back in the day, Ellen casually greeted her followers saying, "I'm so hangover. I don't know what to do with my life."
John Lloyd, for his part, was seen quietly browsing his mobile phone.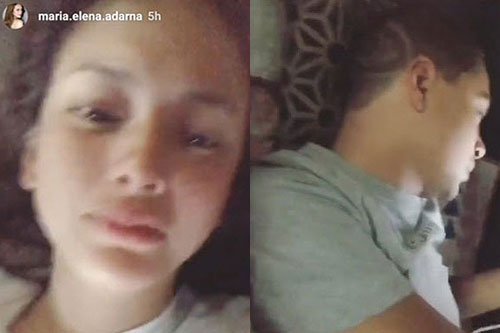 OCTOBER 6, 2017: JOHN LLOYD GOES ON "INDEFINITE LEAVE"
Weeks after his controversial Bantayan Island getaway, John Lloyd Cruz made it known that he was taking a vacation.
His talent management Star Magiv released an official statement announcing that the actor was taking an "indefinite leave of absence" from his work engagements.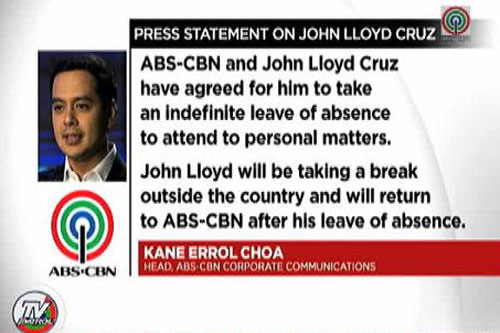 OCTOBER 8, 2017: JOHN LLOYD-ELLEN EUROPE TRIP
Then, just after two days, John Lloyd and Ellen were already seen vacationing in Casablanca, Morocco.
It was Ellen who posted a video via Instagram story showing a couple of guys playing soccer by the beach.
Then she also posted what looked like a late upload of a photo series featuring John Lloyd looking engrossed while taking photos on top of a rock by the beach, that upon closer inspection, looked uncannily like the sunset-viewing area of Sofitel, or could pass off as any other luxury hotel in the world for that matter.
Through her Instagram Stories, Ellen also gave updates about how she and John Lloyd cooked adobo and rice back at their hotel room, which hotel room though, she did not specify.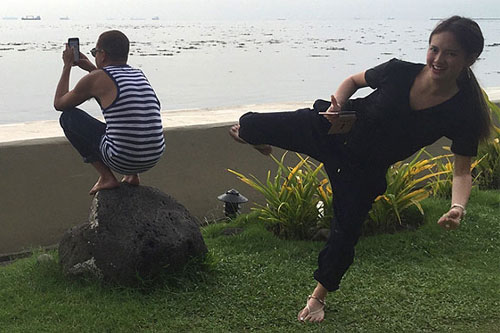 OCTOBER 12-13, 2017: JOHN LLOYD AND ELLEN GET COZY IN PARIS
After a few days, the rumored couple then traveled to Paris, France, in time to witness the wedding of Rex Atienza and Jay Sarmiento.
Rex is John Lloyd's longtime friend and stylist.
The Kapamilya actor, in turn, brought Ellen to the welcome party for the wedding guests held at Lido de Paris, a French cabaret at Avenues des Champs-Élysées, known for its luxury boutiques, cafés, and theatres.
It was during the wedding reception on October 13 when John Lloyd was spotted giving Ellen an affectionate kiss on her cheek, with an arm wrapped around her while she read what appeared to be the menu on their table.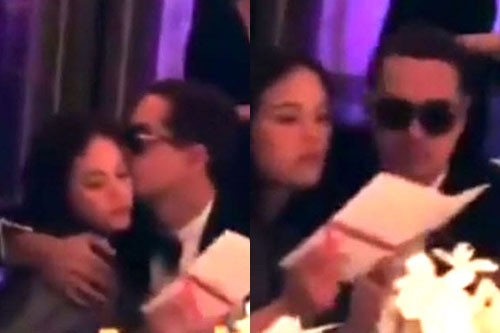 Still in high spirits after the wedding, both John Lloyd and Ellen posted these sweet photos on their respective Instagram accounts.
Back in Manila, former veteran newscaster Jay Sonza circulated on Facebook that his niece "Elena," who is vacationing in Morocco, is pregnant.
Netizens began to guess if he was referring to Ellen Adarna, who was known to be vacationing in Morocco with John Lloyd at that time.
In a Facebook message sent to PEP.ph dated October 12, however, Ellen dismissed the pregnancy rumor and clarified that she is "not related" to Jay.
Could she have been pregnant at this time and just wasn't aware of it yet? Or was this a planned step by the duo to keep the speculations going as to their whereabouts?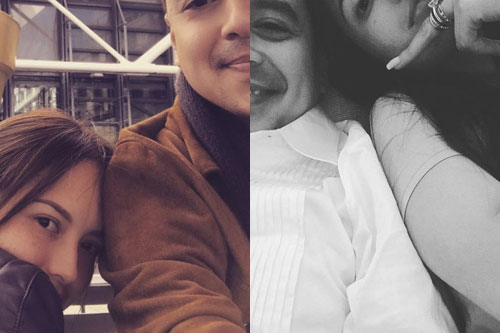 OCTOBER 17, 2017: JOHN LLOYD-ELLEN POWER HUG!
Continuing their grand European vacation, John Lloyd and Ellen finally arrived in Switzerland.
It was the destination she was so excited about in her Instagram post dated October 6, the same day John Lloyd announced he was taking an indefinite leave.
On October 17, Ellen marked her arrival in Switzerland with a close-up shot of her overjoyed reaction with John Lloyd hugging her tight.
Her caption, "Squishy Mashhhh and eating Mashhhhh #mood switzerland"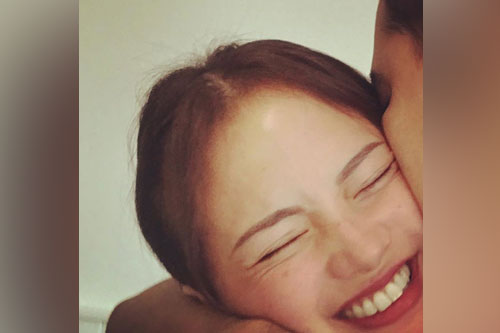 OCTOBER 21, 2017: JOHN LLOYD AND ELLEN SKIING IN SWITZERLAND
The rumored couple crossed another item off their bucket list: skiing on the Swiss Alps.
They headed to Glacier Paradise, a popular destination in Zermatt, Switzerland, not just for skiing enthusiasts but also for tourists looking for a panoramic view of the snow-covered alps.
The last time Ellen was there had been "four years ago," but she still took on the challenge of playing John Lloyd's "ski instructor."
In one of her Instagram posts, Ellen proudly showed how well her "baby love" John Lloyd performed in his very first skiing lesson.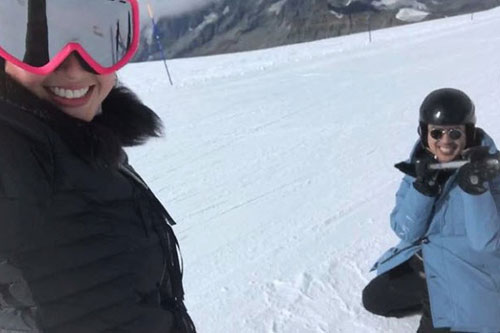 After spending hours in the freezing cold, Ellen and John Lloyd warmed up and took a twofie aprés ski.
Her caption: "Today's [skiing emojis] sesh @ekomsi my [baby love emoji] is a fast learner i took him to the intermediate slope without him knowing... #justdoit we both had our ups and downs [emojis]."
The two spent several days in Switzerland before returning back to Manila.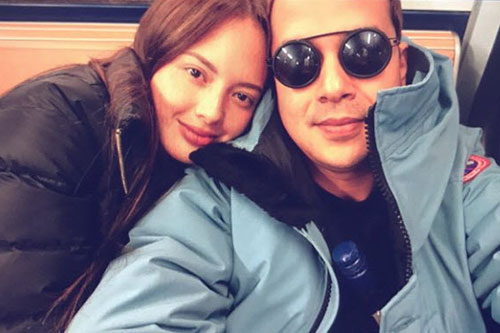 NOVEMBER 13, 2017: JOHN LLOYD MEETS THE PRESIDENT
It was not clear exactly when the couple returned to Manila but on November 13, photos of John Lloyd and Ellen visiting the wake of Lupe Romulo—daughter of former senator and Department of Foreign Affairs Secretary Alberto Romulo—made rounds online.
Lupe was also the sister of Erwin Romulo, the same Erwin Ellen beat weeks ago in a chess match to save John Lloyd's gaming dignity.
As it is during wakes of prominent and popular people, paths are bound to cross that sometimes blur lines.
In this case, it was the same night John Lloyd met and shook the hands of President Rodrigo "PDuts" Roa Duterte, with netizens noticing he is the father of Ellen's ex-boyfriend Baste.
With all eyes and every camera pointed at them, both "Tatay Digong" and JL were ready with their game faces on.
The money shot, as seen below, also allowed observers a peek on possible power players in this ongoing showbiz-political-love saga to which we all continue to bear witness.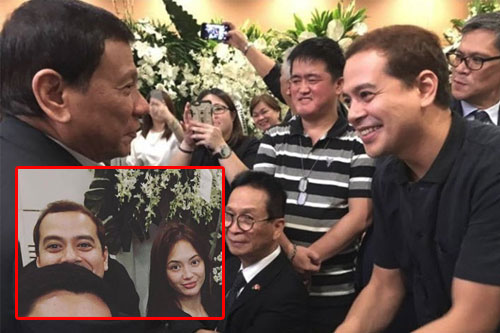 NOVEMBER 18, 2017: A BABY ON THE WAY
In a report dated November 18, PEP.ph confirmed that Ellen was pregnant with John Lloyd's child.
The report stated that on at least two occasions, Ellen was heard confirming to close friends that she is on the family way.
It was said to be the reason why the rumored couple had to cut their European vacation short.
Ellen also reportedly opted not to join the much-anticipated Bench Under the Stars denim and underwear fashion show—where she was supposedly expected to walk the ramp—because of her condition.

John Lloyd, for his part, had been in the U.S. since November 15.
He reportedly went there to attend a cousin's wedding as well as to visit his two older siblings, Allan and Gil.
A day before John Lloyd left for the U.S., Ellen posted on Instagram a throwback photo of her and the actor taken during their Paris trip, as seen below: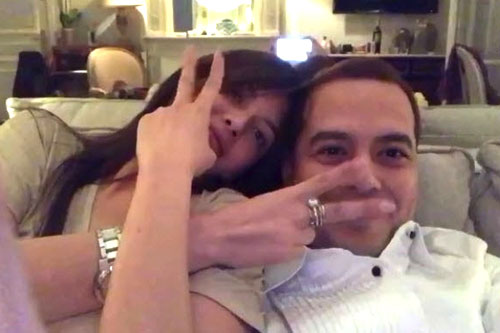 DECEMBER 3, 2017: JOHN LLOYD CRUZ AND ELLEN ADARNA'S INTIMATE KISS
The news about John Lloyd Cruz and Ellen Adarna having a baby still had not died down when a photo of the couple exchanging an intimate kiss on the lips made rounds online.
It was originally posted on Ellen's Facebook account that was supposedly on private setting.
Netizens speculated that it was a throwback photo taken during the couple's controversial getaway in Bantayan Island, Cebu back in September.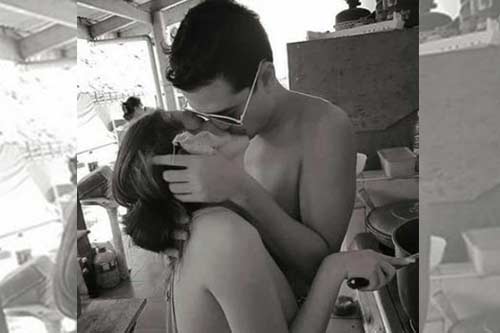 DECEMBER 5, 2017: JOHN LLOYD-ELLEN ENGAGED?
Weeks after PEP.ph reported that Ellen was pregnant, word got out that Ellen and John Lloyd were already engaged.
This is in connection with Ellen's Instagram Story where she was seen wearing what appeared to be an engagement ring.
While it only seemed like a random video of Ellen playing with her dog, eagle-eyed followers did not miss Ellen's diamond ring, with its sheer size and sparkle alone grabbing attention away from her four-legged friend.
Few days after the video made rounds online, veteran showbiz reporter and talent manager Lolit Solis posted on Instagram a screen shot of the supposed engagement ring.
Lolit then claimed that John Lloyd allegedly purchased a princess-cut diamond ring worth "P3M" for Ellen.
As early as October, PEP.ph also received a feed that John Lloyd had been eyeing an engagement ring worth millions of pesos for Ellen.
But the couple kept mum despite speculations that John Lloyd had already popped the question and given Ellen an engagement ring.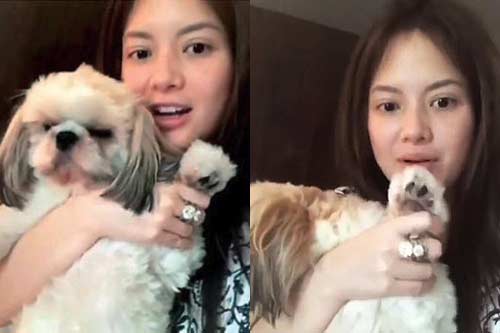 JANUARY 3, 2018: JOHN LLOYD-ELLEN OFFICIAL COUPLE
Ellen finally confirmed that she and John Lloyd were in a relationship on Wednesday, January 3, 2018.
She made the announcement on the same day she posted a photo of John Lloyd seated amongst her immediate family members in the Adarnas' home in Cebu.
In the comments' thread of her Instagram post, Ellen responded to her non-showbiz friend who took note of the actress's happy love life.
Ellen wrote in Bisaya, "Di ba??? Hahaha kinsay nag too na ma kami diay lol. (Di ba? Hahaha sinong mag-aakala na magiging kami lol.)"
In a separate Instagram post, John Lloyd himself showed an old photograph of Ellen, taken from what appears to be a collection of portraits at her parents' residence.
The Kapamilya actor seemed right at home with her family, based on the numerous times he has hung out with them.
JANUARY 17, 2018: DATE NIGHT
Ellen proudly showed via Instagram Stories that her boyfriend John Lloyd prepared a cozy "dinner date" at home.
It was not clear whether they were at John Lloyd or Ellen's residence, but the couple feasted over grilled fish, bacon, and vegetables at a lanai which had a tent decorated by Christmas lights.
They were also joined by three of their household staff, with Ellen's yaya making dinner conversation about marriage and parenthood.
Ellen's yaya was saying, "Ang asawa, puwedeng palitan. Pero ang anak, hindi mo talaga ipagpapalit kahit kaninong lalaki, kasi anak mo 'yan, e. Lalo na yung nanay mo."
The sexy star interjected, "Ang asawa?"
Her yaya reiterated, "Ang asawa puwedeng palitan. Pero ang nanay at anak, hindi mo ipagpapalit kahit kanino."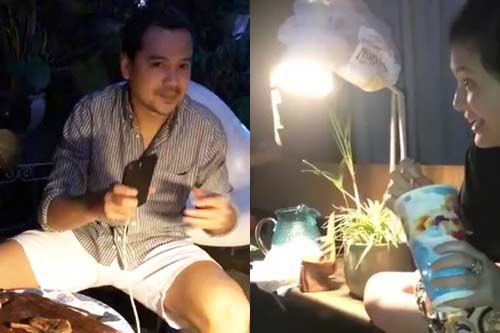 FEBRUARY 1, 2017: THE FUTURE HOME OF JOHN LLOYD- AND ELLEN
John Lloyd and Ellen had their Instagram followers guessing about them yet again when they did an ocular of a still-vacant property in an unidentified location.
Speculation was rife that this could be their future family home.
It started with the couple's identical Instagram posts of a property in a wooded area overlooking mountains and trees.
John Lloyd's caption was short but telling: "mine. yours."
Ellen was a little more to-the-point, writing "Our Future view," followed by house emojis.
The couple were accompanied by John Lloyd's close relatives on this ocular visit.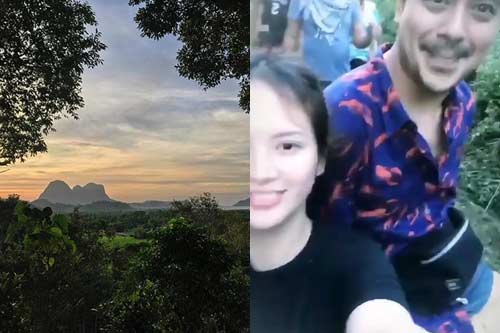 FEBRUARY 15-26, 2018: JOHN LLOYD-ELLEN SECRET WEDDING?
John Lloyd and Ellen were rumored to have secretly tied the knot in a church wedding in Quezon City on February 15, or the eve of Chinese New Year.
This was according to an item from PEPalerts dated February 16.
There was also talk that they could have gotten married in a civil wedding ceremony officiated by Quezon City Mayor Herbert Bautista.
But in a follow-up report on PEP.ph, dated February 20, Mayor Herbert denied that he officiated the supposed wedding of John Lloyd and Ellen.
This was the mayor's text message sent to PEP.ph: "Hindi po. Pero kung gusto nina Lloydie and Ellen na ako ang magkakasal sa kanila, okay sa akin. Hehehe!"
Amid wedding rumors, Ellen flew to Japan with John Lloyd for vacation.
The couple were first sighted in Mactan, Cebu airport prior to their departure for Japan.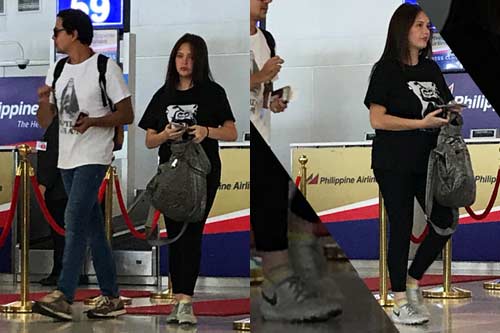 It was on February 22 when Ellen posted on Facebook a photo of her and John Lloyd at Kobe-shi, Hyogo, Japan.
Joining them on the trip were Ellen's brothers Rico and Danton Adarna.
In a separate Instagram post, Danton's wife Kim Araneta also showed a "family" picture with the celebrity couple, hinting that the actor was a welcome addition to the Adarna clan.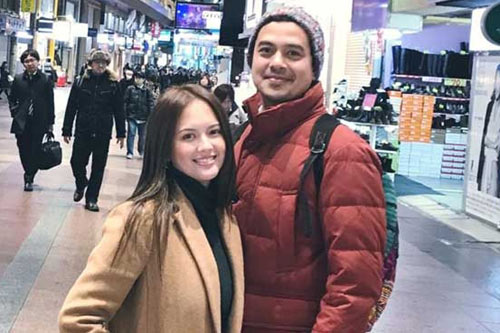 MARCH 25, 2018: ELLEN'S BABY BUMP
It was during Ellen's advance birthday party in Cebu when netizens noticed her wearing an oversized top in an attempt to conceal her baby bump.
Based on photos and videos from her birthday bash, Ellen seemed to have gained weight especially with her choice of loose outfits.
A netizen—who uploaded screenshots of Ellen's arrival at her party—asked, "Sige kayo ang humatol. Buntis or not sa advance birthday sorpresa ni Ellen na ang punong abala sa kaganapan ay si Lloydie?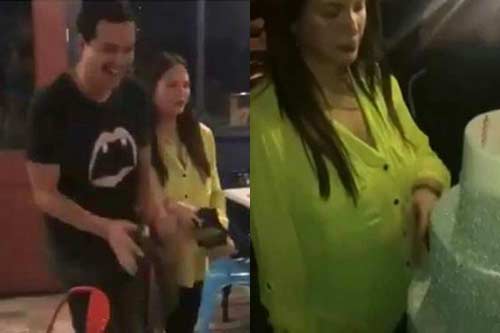 APRIL 7, 2018: IS JOHN LLOYD READY FOR THE BABY?
On April 7, John Lloyd made headlines when he posted on Instagram a picture of a play pen situated near a stairway.
He simply captioned it with "guada."
It prompted speculations among netizens that John Lloyd might have been alluding to the gender of his and Ellen's unborn baby.
According to babynamespedia.com, "guada" is a derivative of the English and Spanish name "Guadalupe" usually given to baby girls.
By this time, however, John Lloyd and Ellen were still tight-lipped about PEP.ph's November 19 report that they were expecting their first baby together.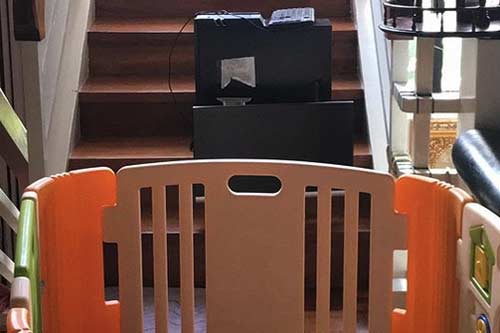 MAY 4, 2018: JOHN LLOYD-ELLEN "PAPARAZZI" ISSUE
Ellen and John Lloyd stepped out for a ramen fix at a Makati restaurant when the sexy actress accused a fellow customer of taking their photos without permission.
Ellen got back at the alleged paparaza by posting a video of the unidentified girl via Instagram Story with a caption that read: "Oo yan ha... you know the feeling...uncomfy noh? When you PAP us, We PAP you too! #nasa resto eh [ramen emoji]its a tie"
The teen netizen strongly denied Ellen's allegation, insisting that she was only taking photos of her food and that she didn't even recognize the celebrity couple at the restaurant.
In a series of tweets, the teen netizen wrote that it was "wrong" of Ellen to "assume things" since the latter could have easily settled the matter right there and then.
But Ellen insisted she caught the teen netizen taking a video of her and John Lloyd.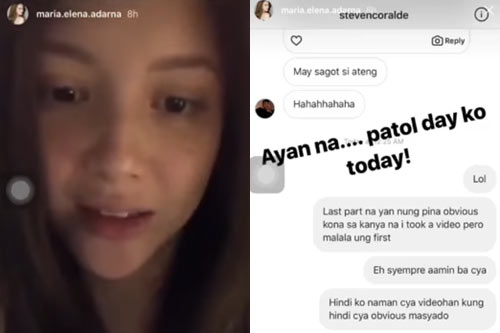 MAY 7 TO MAY 15, 2018: ELLEN'S LEGAL ENTANGLEMENT
The issue escalated when the teen netizen's mom Myra Santos demanded a public apology from Ellen but got none.
By May 15, the teen's parents Myra and Roel Santos filed cybercrime and child abuse complaints versus Ellen before the Pasig City Prosecutor's Office.
But both Ellen and John Lloyd kept mum about the controversy, with the Kapamilya actor dodging a showbiz interview when he was spotted at an art exhibit.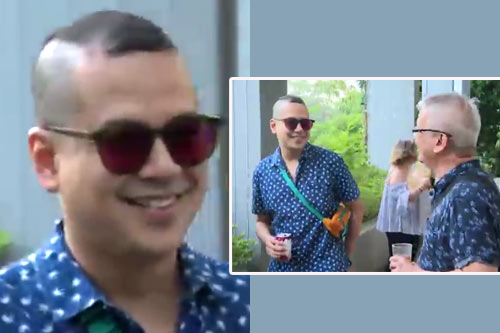 MAY 17, 2018: PREGNANT ELLEN IN PALAWAN
Amid the "paparazzi" controversy, a photo of Ellen flaunting her very noticeable baby bump surfaced online.
PEP.ph received the photo from a source who confirmed that it was taken during John Lloyd and Ellen's vacation at the luxurious Amanpulo resort in Palawan.
While the couple also documented their trip via Instagram, Ellen refrained from posting photos that will show her being pregnant.
She also kept mum even when other photos of her baby bump went viral online.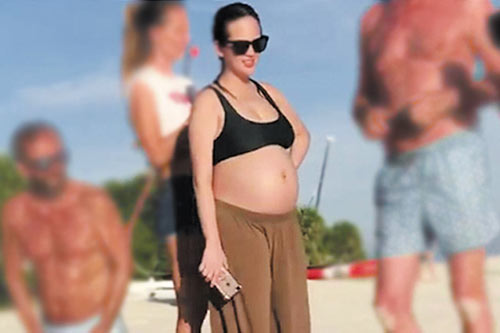 JUNE 3, 2018: ELLEN'S FATHER PASSES AWAY
Ellen's father Alan Modesto Adarna died due to cardiac arrest.
Photos of Ellen and John Lloyd attending her father's wake in Cebu made rounds online.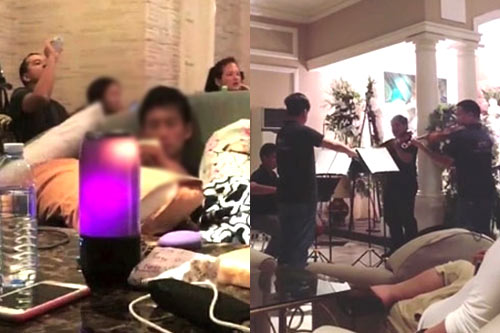 The passing of Ellen's father was said to be the reason why she failed to appear the next day, June 4, at the first hearing for the Anti-Cybercrime and Anti-Child Abuse complaints filed against her before the Pasig Prosecutor's Office.
Only the complainants, the teen netizen's parents Myra and Roel Santos, came to the hearing and had it reset on June 11.
JUNE 11, 2018: JOHN LLOYD AS PROXY FOR ELLEN
It was John Lloyd who appeared instead of Ellen at the second hearing at the Pasig Prosecutor's Office.
He was accompanied by Ellen's legal counsels Atty. Rene "Rebo" Saguisag Jr., Atty. Reggie Ukol, and Atty. Des Ukol.
According to ABS-CBN News reporter MJ Felipe, Ellen's camp requested for another reset of the hearing since she couldn't make it that day.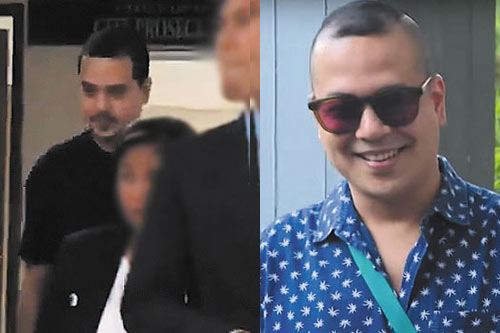 JUNE 25, 2019: ELLEN NO-SHOW IN HEARING
Ellen was again a no-show for the third hearing at the Pasig Prosecutor Prosecutor's Office.
In an interview with PEP.ph, Ellen's legal counsel Atty. Saguisag said that she couldn't make it due her delicate pregnancy.
Citing a medical certificate submitted before the Pasig Prosecutor's Office, Atty. Saguisag explained that Ellen was advised against "any form of travel."
He added, "Parang may binanggit dun na under normal fetal weight. Magaan yung bata masyado.
"Again, hindi pinapabiyahe ang aming kliyente.
"And as you know, she's still in mourning after the death of the father."
On the other hand, complainant Myra Santos was "very disappointed" at Ellen for delaying the hearing and requesting for another reset on July 9.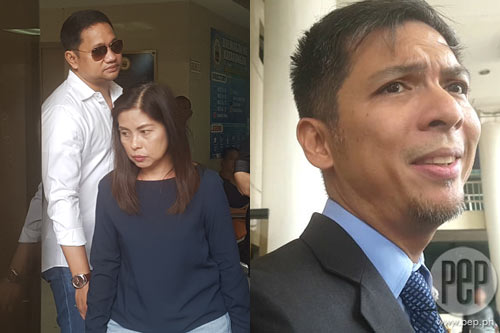 JUNE 27, 2018: ELLEN GIVES BIRTH
On June 27, social media was abuzz with reports that Ellen gave birth to a baby boy at Chong Hua Hospital in Cebu.
There was also talk that the hospital was under tight security, with Ellen accepting only a select group of visitors who are close to her.
Both Ellen and John Lloyd had yet to issue an official statement about the sexy actress's delivery date.
However, John Lloyd slammed as "fake news" the report of preen.inquirer.net about his and Ellen's child getting their son baptized at the hospital.
The report in question cited details mentioned in an earlier report from PEP.ph.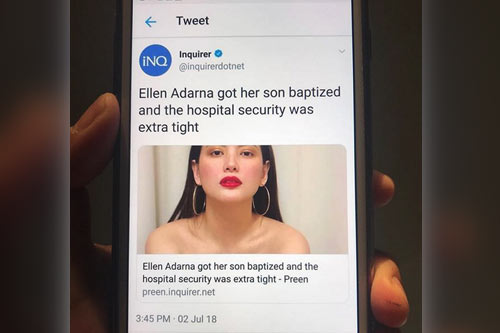 When has Ellen given birth? Will the couple share a first look of their newborn baby? Are Ellen and John Lloyd getting married now that they have a family together?
JULY 2018: NAME OF JOHN LLOYD AND ELLEN'S BABY REVEALED
It was Ellen's legal counsel Rebo Saguisag who later confirmed that Ellen had given birth on June 27, 2018.
Atty. Rebo gave the information by way of explaining why Ellen failed to appear at a July 9 hearing for the the libel complaint filed against her.
John Lloyd and Ellen, for their part, still didn't issue any official statement about their newborn baby.
But on July 7, 2018, a PEP.ph report came out that the Kapamilya actor was spotted in Cebu buying a stroller and a car seat for his "newborn baby boy."
Soon it was revealed in a separate report from TV5 reporter MJ Marfori that John Lloyd and Ellen named their son Elias Modesto.
The child was named after Ellen's father Alan Modesto, who passed away 25 days before Ellen had given birth.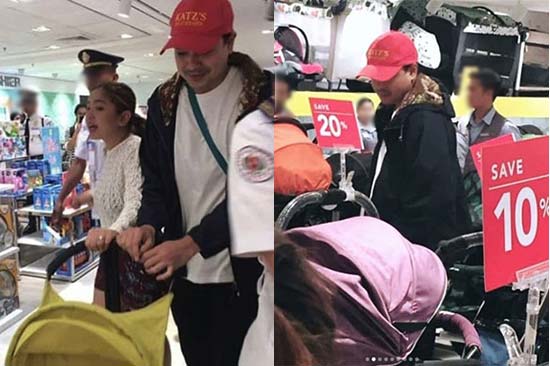 OCTOBER 2018: JOHN LLOYD AND ELLEN AS HAPPY PARENTS
Then on October 1, 2018, John Lloyd went public about having a son with Ellen by posting a handwritten poem that he penned for his baby boy.
The poem partly read: "Mangmang pagdating sa'yo
"Sa iisang tunog mong taglay
"Sa kaaya-ayang sorpresa ng paglapit mo..."
Then at the end of his heartwarming poem about parenthood, John Lloyd wrote a dedication saying "Para kay Elias."
This was posted in the Kapamilya actor's Instagram account, using the handle name @dumpsitegallery, formerly known as @ekomsi.
Ellen was clearly touched by her babydaddy's sweet gesture for their son.
"We love you papa," was her reply to John Lloyd, as seen in the comments' section of his post.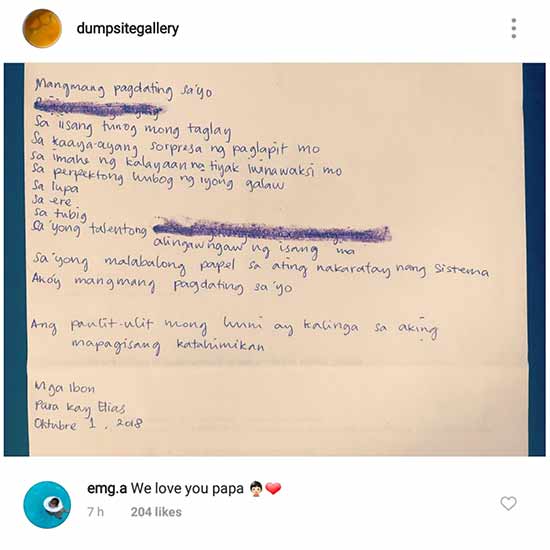 JANUARY 2019: JOHN LLOYD AND ELLEN'S NEW YEAR IN JAPAN
Just like the early days of their relationship, John Lloyd and Ellen's love for travel remained the same.
They even brought their son Elias for a family trip to Japan.
On January 9, 2019, PEP.ph obtained photos of their holiday vacation from a source.
Taken at Disneyland, Tokyo, John Lloyd and Ellen were spotted with their baby as well as Ellen's mom, brothers, and sister-in-law.
Other photos sent to PEP.ph showed them posing with a big group identified as relatives from Ellen's side of the family.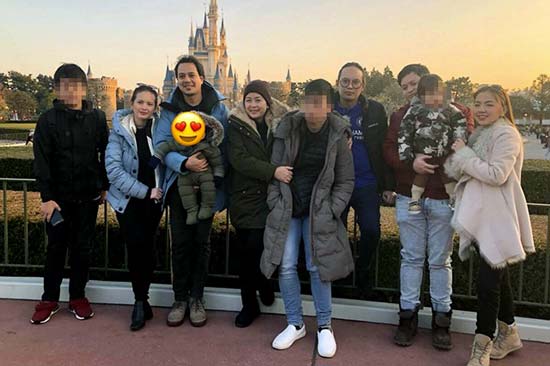 Eventually, more photos of John Lloyd and Ellen being sighted with their son came out in the news.
But the couple continue to shy away from showbiz.
John Lloyd, in particular, reportedly prefers to live simply.
In several occasions, he was even seen getting a 40-peso haircut, riding a jeep, and buying street food without a care in the world.
APRIL 2019: JOHN LLOYD AND ELLEN'S SUMMER IN CEBU
On April 3, 2019, John Lloyd and Ellen were seen walking inside a memorial park in Cebu, where her deceased father was laid to rest.
In the photo sent to PEP.ph by a source, John Lloyd was pushing a stroller while Ellen was carrying their son.
This came out around the same time news of John Lloyd's "pagbabalik" for an endorsement went viral online.
Some of John Lloyd's co-stars in the Kapamilya network—including Bea Alonzo, Jodi Sta. Maria, and Jericho Rosales—were thrilled with the possibility of John Lloyd getting back to work after a year and a half of being away in the limelight.
John Lloyd, however, has yet to confirm if he'll be doing a new TV or movie project anytime soon.
For now, he seems content with his family life.
APRIL 5, 2019: JLC SURPRISES A 90-YEAR-OLD LOLA
Meanwhile, John Lloyd was also spotted attending a birthday party of a 90-year-old fan in Cebu.
Identified as Lola Vicenta Araneta, she had the surprise of her life when John Lloyd came to her party last April 5.
In an exclusive interview with PEP.ph, Lola Vicenta's grandaughter Shing Araneta confirmed that it was Ellen's brother who told John Lloyd that the birthday celebrant was a huge fan of his movies.
Shing happened to be the cousin of Kim Araneta, the wife of Ellen's brother Danton Adarna.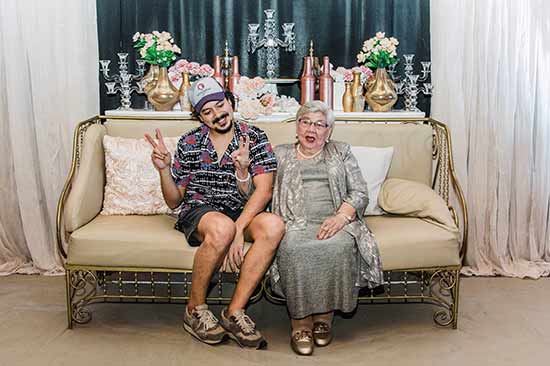 So PEPsters, do you think John Lloyd and Ellen will still go back to showbiz?